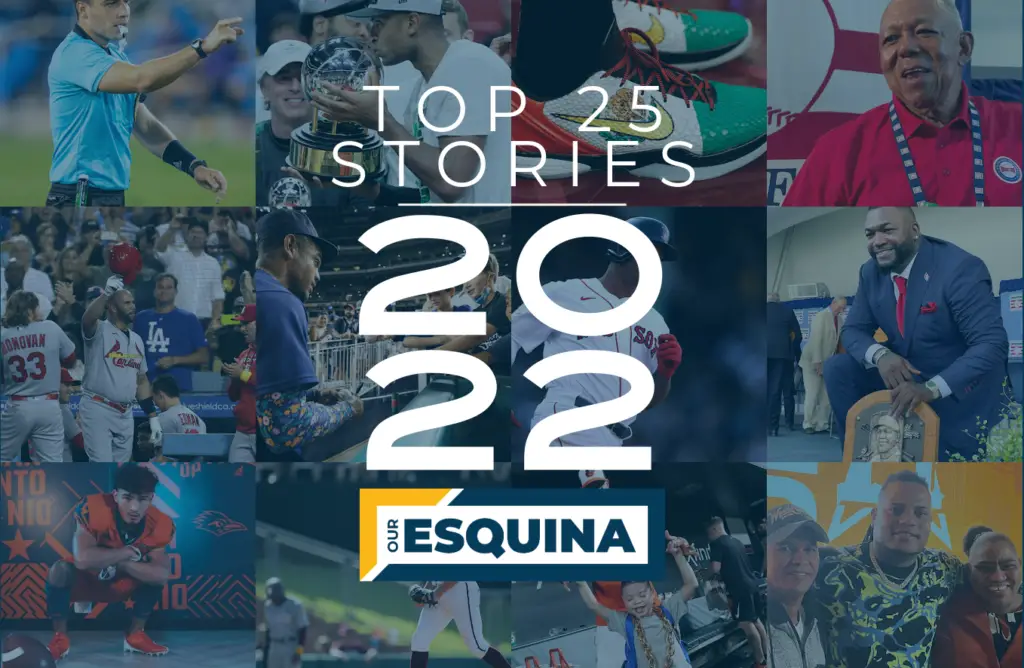 Top 25 stories from Our Esquina in 2022
Our Esquina staff's Top 25 stories of the year.
What a year it was for Latinos in sports and culture. As we welcome in 2023, Our Esquina staff compiled a list of the Top 25 stories of the year.
They include professionals from all across Latin America at their absolute best. Stories like that of Dominicano Cristian Javier, who helped lead the Houston Astros to two no-hitters, one of which was in the World Series. It was only the second no-no tossed in World Series history, the only one completed by committee. Bryan Abreu, Rafael Montero and Ryan Pressly entered that game in relief.
A pair of Dominicans entered exclusive clubs. David Ortiz became the fourth Dominican member of the National Baseball Hall of Fame, joining Juan Marichal, Pedro Martinez and Vladimir Guerrero. Albert Pujols became the only Dominicano to join the 700-home run club.
Magic everywhere
Yordan Alvarez's family was able to watch him play this postseason. Most memorably, they were able to watch him secure the Astros' second World Series title since 2017 with a towering home run to center field in the final game of the Series.
This year saw NBA All-Stars representing Mexico, a Puerto Rican relief pitcher come into his own while also reuniting with his ill son, and a Venezuelan rookie make the starting lineup for the New York Yankees in the postseason.
It was a truly remarkable year in Our Esquina – Our Corner of the sports world. Click on the headlines for the full stories on the Our Esquina staff's favorite stories of the year.
Whether amateurs proving to be the best football players in the country or superstars on the biggest stage, Latinos shone often in 2022.
North Shore quarterback/wide receiver David Amador proved to be one of the best high school football players in Texas. He proved that Mexican Americans can indeed star in football.
He executed at a high school on the east side of greater Houston, not far from where Astros rookie shortstop Jeremy Peña made quite the name for himself.
Get the Our Esquina Email Newsletter
By submitting your email, you are agreeing to receive additional communications and exclusive content from Our Esquina. You can unsubscribe at any time.