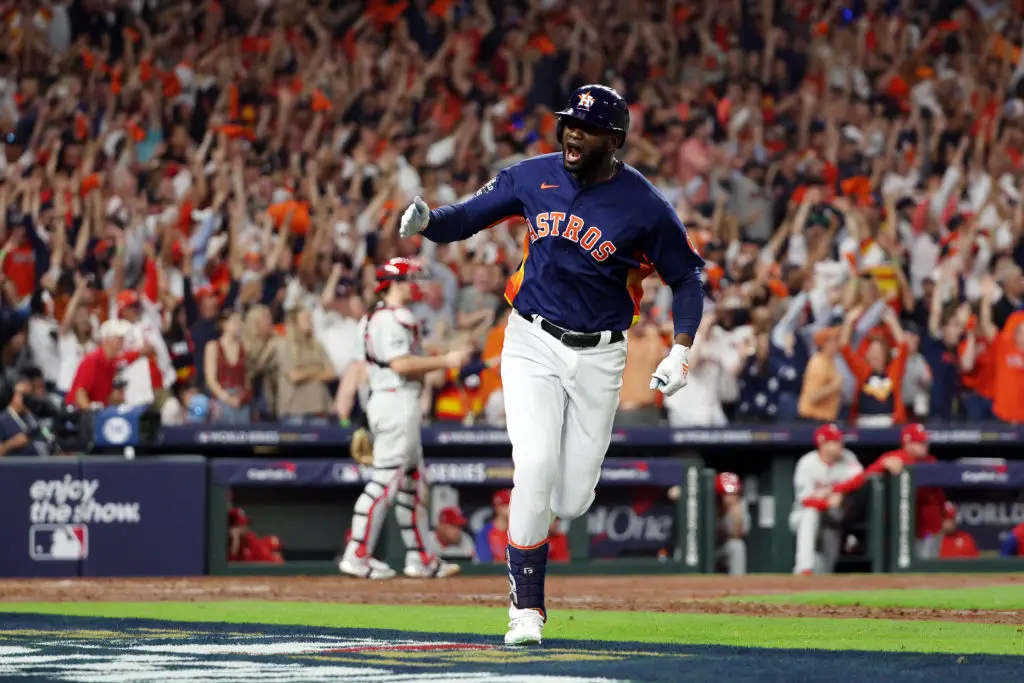 Yordan Alvarez seals Astros' World Series title
Yordan Alvarez credits father with putting him at ease before World Series clincher
HOUSTON – Agustin Alvarez could sense the weight of disappointment his son Yordan was carrying in the World Series. So as the Astros' Cuban slugger went to say good night on the eve of the decisive Game 6, Agustin asked his son to sit down for a brief discussion.
Yordan Alvarez was reminded that he owned each situation. Agustin urged Yordan to approach each at-bat in Game 6 as he had approached every other at-bat in the majors. Nothing more, nothing less. Agustin promised that the results would come if Yordan did what he had always done at the plate.
Agustin delivered the same message Saturday afternoon minutes before Yordan drove to Minute Maid Park, where he hit the winning three-run home run to give the Astros their second World Series title since 2017.
"Just imagine, his confidence means everything," Yordan Alvarez said after the Astros beat the Phillies 4-1 in Game 6 to win the best-of-seven Series 4-2. "I think he's my guardian angel. He's always talking to me. Yesterday I got home, and we hadn't talked much about baseball.
"Obviously, when I told him I was going to go to bed, he pulled me aside. He told me a couple of things he had inside him to tell me."
Yordan Alvarez at ease with parents in Houston
In years past, those conversations would have been held over the phone with Yordan in Houston and his parents in the Dominican Republic while they waited for permission to travel to the United States. Agustin and his wife Marilyn Cardogan Reyes finally got their passports to watch their son play in the United States in late August, reuniting the family in Houston for the first time.
Six weeks later, Marilyn and Agustin saw the 2019 American League Rookie of the Year and 2021 ALCS MVP play in a postseason game in person. They rejoiced when their son hit a walk-off, three-run home run in Game 1 of the Division Series against the Mariners.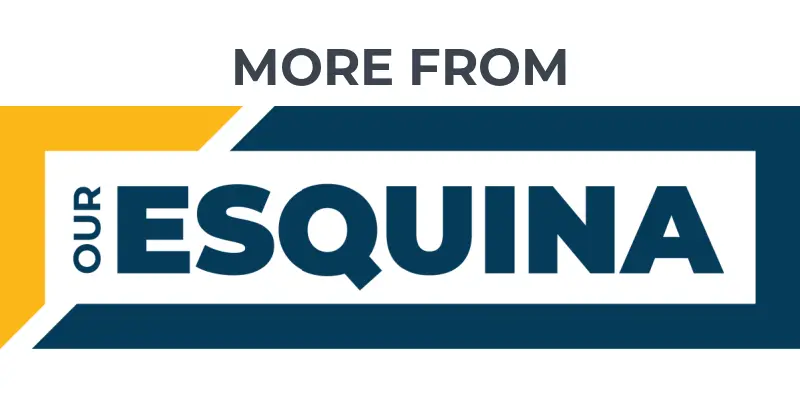 Ramon Urias is Mexico's first Gold Glover since '86
Jeremy Peña, Nolan Arenado make Gold Glove history
Yordan Alvarez earns 'El Grande' nickname
Yordan Alvarez added a go-ahead, two-run homer in Game 2 of the Division Series against the Mariners. Then Yordan cooled down significantly while he and his teammates completed the three-game sweep over the Mariners and then a four-game sweep over the New York Yankees in the ALCS. 
Yordan Alvarez went 0-for-4 in Game 5 of the World Series against the Phillies to give him a .105 average (2-for-19) with three RBIs and no home runs in the Fall Classic heading into Game 6.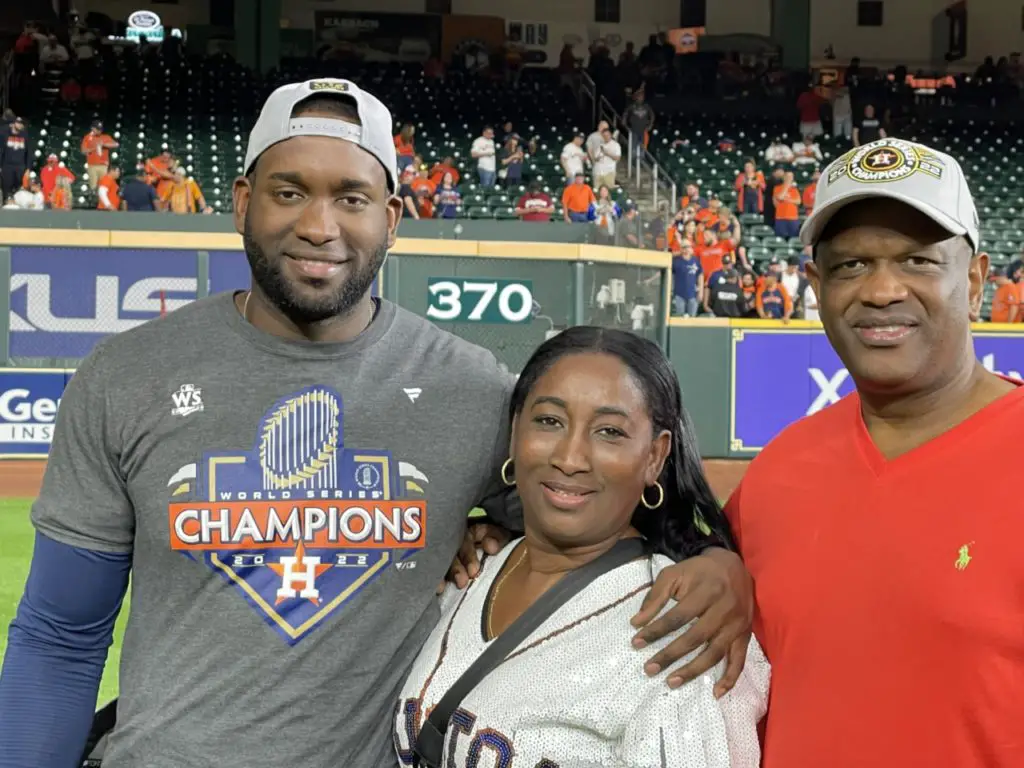 "I've gone through everything," Yordan said. "Evidently I wasn't feeling comfortable at home plate, but I kept the faith that the moment would come. 
"I knew I could give more. When I got that at-bat, I had an incredible peace. Thank God it came."
Redemption
Alvarez got his chance for redemption in the bottom of the sixth before a raucous crowd of 42,958. Phillies righthander Zack Wheeler hit Martin Maldonado with a pitch to lead off the inning. Jose Altuve followed with a fielder's choice grounder to third. Then Jeremy Peña, the World Series MVP, singled to center to put runners at the corners for Alvarez.
This was the moment Agustin Alvarez told his son about Friday night and Saturday afternoon. This was the situation Agustin wanted his son to own. Phillies manager Rob Thomson called veteran lefthander Jose Alvarado to set up the lefty-lefty duel.
As Yordan Alvarez strolled to the plate, his parents could hardly contain themselves. They were on their feet in Section 122. Despite the ear-piercing buzz as the crowd roared in anticipation, Agustin Alvarez "talked" to his son.
Suddenly, the row appeared too confining, so Agustin slipped into the aisle and practically swung along with his son. 
Hitting together
"I just remember that I had my hands on my hips," Agustin said. "Each pitch, I'd move with him."
Agustin swung along with his son as Yordan fouled Alvarado's first offering, a 98-mph sinker. Alvarado's next pitch was a 92-mph cutter out of the strike zone, prompting Agustin to say in Spanish, "No, not that one."
Then Alvarado's 1-1 pitch was a 99-mph sinker out of the strike zone.
"No, not that one," Agustin Alvarez said out loud. "That's outside. Let it come inside"
That's exactly what the Phillies' Venezuelan lefthander did with his next pitch, a 99-mph meatball. Alvarez crushed it to straightaway center an estimated 450 feet.
"Man, that ball was hit hard," Peña said. "I've never seen anything like it. And if I have seen it, it probably came from him as well. So shoutout to him. He's a strong boy. But he's a great hitter. We're glad he had the special season he had this year."
The Astros' Cuban slugger hit that bomb with the power of two men, which seems quite appropriate considering Agustin swung at the pitch as well in the middle of the aisle.
Parents bring Yordan Alvarez peace
"Then the swing, I felt like I hit it the same way," Agustin said. "After that, people would have to tell you what happened because they said I did so much I cannot imagine.
"That's where I was concentrating. I was saying, 'Be calm, don't worry, be calm, this is the at-bat. Then thank God, he made contact."
Christian Vazquez drove in Alex Bregman to cap the four-run rally in the sixth. That outburst rewarded lefthander Framber Valdez with the decision after he threw six strong innings of one-run ball.
"It means everything," Yordan Alvarez said of having his parents in attendance after they could only watch him on television during the 2019 and 2021 World Series. "Speaking to them yesterday brought me peace. To connect that blast at that hour, I think it's incredible."
Yordan Alvarez's guardian angels were only about 100 feet away Saturday night when he delivered the biggest blow to help Dusty Baker and the Astros win the World Series. Then they celebrated with him in center field afterward, reunited in glory on baseball's biggest stage.
The long wait for his moment only made the celebration sweeter.
Get the Our Esquina Email Newsletter
By submitting your email, you are agreeing to receive additional communications and exclusive content from Our Esquina. You can unsubscribe at any time.