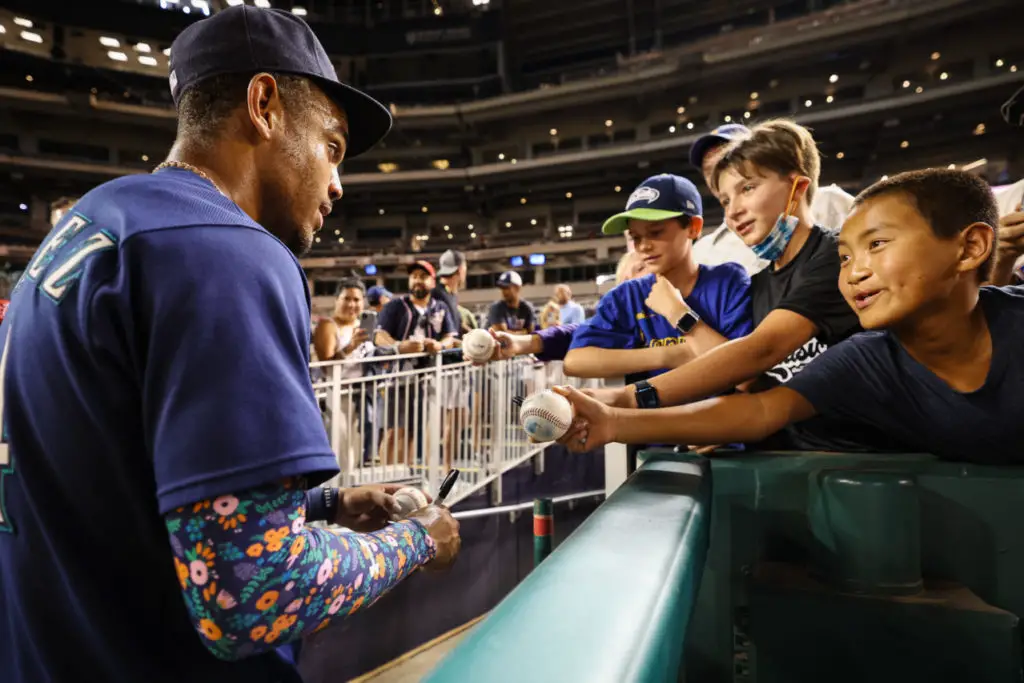 Julio Rodriguez earns Ken Griffey Jr. comparisons
Mariners rookie sensation Julio Rodriguez eager to leave own legacy
HOUSTON – Halfway through his rookie season, Julio Rodriguez is already being compared to one of the greatest outfielders in baseball history. The kid is definitely leading the surging Mariners. But he shrugged when a fan at Minute Maid Park called him the next Ken Griffey Jr.
Rodriguez is humbled by the comparisons to the Hall of Fame outfielder, but he isn't interested in being the next Griffey. With his bright smile, Rodriguez politely told the fan, "No, I want to be Julio Rodriguez."
Julio Rodriguez is more than making a name for himself. The native of Loma de Cabrera, Dominican Republic, leads baseball's hottest team.
Rodriguez, 21, is the frontrunner for the American League Rookie of the Year. He's headed to Dodger Stadium next week as a member of the AL All-Star Game. He paid tribute to the Dominican Republic during last year's Futures Game.
Julio Rodriguez eager to build own legacy
He was also selected to participate in the Home Run Derby, putting him in the center of the Midsummer Classic Festivities. He'll join the legendary Albert Pujols and young superstars Juan Soto, Ronald Acuña Jr., perennial AL MVP candidate Jose Ramirez and two-time Derby champ Peta Alonso.
The Mets' Alonso, by the way, is trying to tie Griffey's record of three Home Run Derby titles. The Phillies' Kyle Schwarber also will participate in the Derby. 
Griffey, a 13-time All-Star, had one of the best left-handed swings in baseball history. Rodriguez bats from the right side. That's just one of the differences.  
Making his own name for himself is "very important," Rodriguez said. "I know that Kenny Griffey Jr. was a great player, but I guarantee you if … somebody else would say he's going to be whoever it is, I guarantee you he's going to say the same thing that he just wants to be Ken Griffey Jr. 
Sign up for Our Esquina's free weekly newsletter
"So that's kind of the same way that I want to approach it. I want to just create my own legacy, leave my own footprints."
Rodriguez's early footprints are quite impressive. Rodriguez entered Thursday's action leading all rookies with 15 home runs. He's second among all rookies in RBIs with 44, one behind Kansas City Royals shortstop Bobby Witt Jr. He's third in OPS (.807).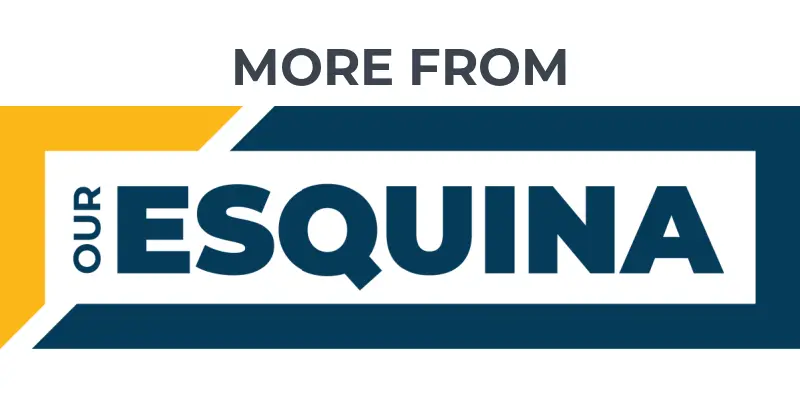 He is second on the Mariners in home runs and RBIs, just behind Eugenio Suarez (16 homers, 47 RBIs).
Charismatic kid
"Julio's certainly a very talented young player," Mariners manager Scott Servais says. "He has all five tools. He can run, he can hit, hit with power. He brings that to the ballpark every day.
"But what really stood out for me is he really loves baseball. He plays with a certain joy. He has a smile on his face. You see him blowing the bubble gum. He's a young guy that I think our fans attach to and pull for."
That description sounds like another star who began roaming center field in Seattle in 1989. Griffey starred for the Mariners from 1989 through 1999.
He earned 10 consecutive All-Star nods from 1990 through 1999 with the Mariners. Griffey extended that streak to 11 years in his first season with the Cincinnati Reds in 2000. He was an All-Star again in 2004 and 2007.
Despite the Griffey comparisons, though, Rodriguez has actually learned more from another Mariners great destined for the National Baseball Hall of Fame in Cooperstown, N.Y.
Julio Rodriguez and Japanese legend Ichiro Suzuki is his throwing partner when the Mariners are in Seattle.
"The way that he does things, the intensity he puts in, the effort, the focus he puts in everything he does, it's pretty cool," Rodriguez said. "I think that's the biggest thing that I can take from him, just what it really takes to be very good in this game."
Rodriguez has come a long way since he was a child in the Dominican looking up to Alex Rodriguez, Pedro Martinez, David Ortiz and Ichiro Suzuki.
Productive summer of 2021
Julio Rodriguez had just been promoted to Class AA Arkansas a year ago at this time. He capped last summer with the Dominican Republic team that won the bronze medal at the Olympics. 
"It was a really cool summer," Julio Rodriguez said. "I learned a lot. I feel like without last summer I wouldn't be here talking to you. Definitely a lot of experience, a lot of talk with a lot of older guys too like Jose Bautista, Milkey Cabrera.
"I learned a lot. Especially the Future Stars Game really helped me on how to have that little taste of what it would be like to play in a packed, full stadium playing baseball."
Rodriguez has earned a return trip to the Midsummer Classic. The kid from Loma de Cabrera will be on bigger stages this time: the Home Run Derby and All-Star Game.
Get the Our Esquina Email Newsletter
By submitting your email, you are agreeing to receive additional communications and exclusive content from Our Esquina. You can unsubscribe at any time.