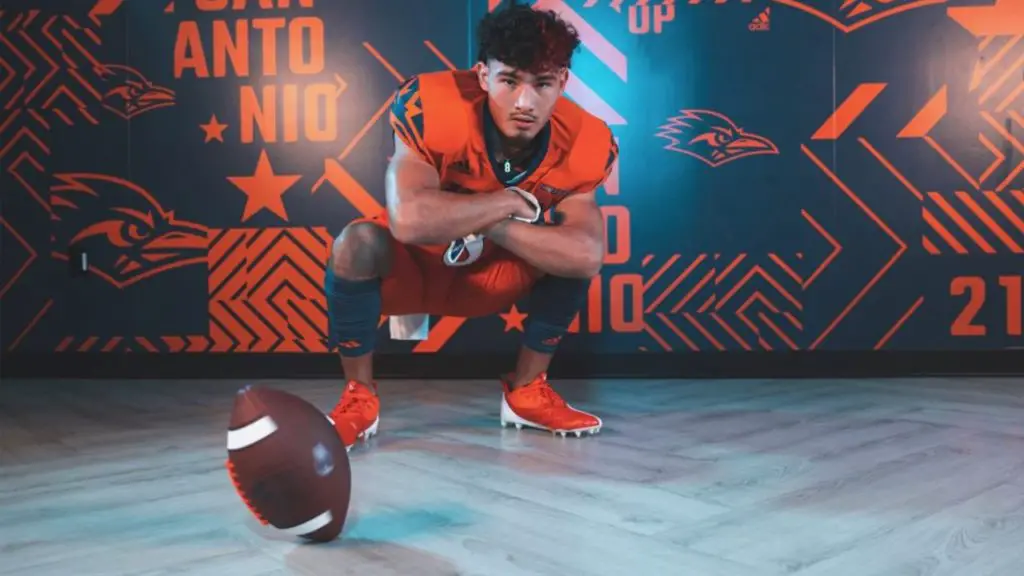 David Amador shows Mexican Americans can ball
North Shore star quietly becomes one of the best football players in Texas
HOUSTON – For as long as David Amador can remember, he has been underestimated by football opponents at first glance. On the 7-on-7 football circuit, defensive backs were often quick to dismiss the "Mexican kid."
 "What's this taco-eating guy doing here?" some wondered loudly enough for Amador to hear at a camp. 
"Hey, come on, let's roll the Mexican. He's in the wrong sport. Take this Mexican out of here," David Amador Sr. remembers opponents saying at a 7-on-7 event.
The tune changes quickly after opponents have to face the speedy Amador.
'He's got game'
"At the end of the day," David Amador Sr. said, "they always say, 'He's got game. Ese's got game. Ese's got game, bro. That's the life.'"
That's what happens when you make the winning catch to secure a state title at the highest level of Texas High School Football, as Amador did last year. The 6-foot-1 senior isn't done yet. He's eager to lead Galena Park North Shore High to a second consecutive state title and the sixth in school history.
The younger David Amador is a quiet, unassuming kid. The speedy wide receiver has always let his quick feet, ankle-breaking cuts and arm do the talking on the gridiron. Without much fanfare, he has become one of the best football prospects in Texas.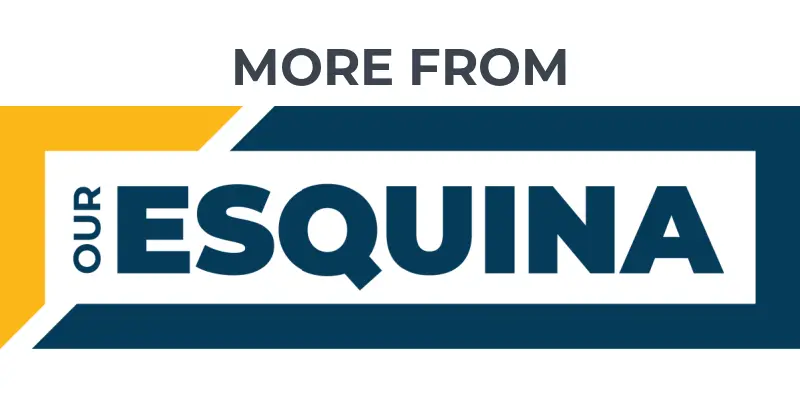 Joenel Aguero leads Latino All-America team
Cardinals manager Oliver Marmol settles in
Lots of Latino college football talent in 2022
Truth be told, he's criminally underrated as a 3-Star prospect committed to the University of Texas-San Antonio. Amador left his mark in the history books last December when he made a 39-yard touchdown catch late in the Texas 6A Division I state championship game to give the Mustangs a 17-10 victory over Duncanville.
After the Mustangs lost star sophomore quarterback Kaleb Bailey to injury this season, Amador was moved to quarterback for the Houston area power. He led the Mustangs to a 38-7 rout over Humble Atascocita a week ago to earn a berth in the state semifinal against perennial Texas power Austin Westlake.
They'll play the state semifinal at 3 p.m. Saturday at Rice Stadium.
David Amador can do it all
Amador's versatility was on display a week ago in that Region I final. He rushed for 159 yards and a touchdown on 15 carries. He also completed 11 of 17 pass attempts for 126 yards and a touchdown.
"I think sometimes because there's not a whole lot of Latino receivers, he's kinda become a cult hero," North Shore coach Jon Kay said. "I don't think he's just the best Hispanic receiver we've had in school history. 
"He's the best wide receiver we've had, period. I think sometimes he gets lost in the shuffle because he is quiet."
That's quite the compliment considering all of the Division I football talent that has been developed at North Shore. Kay has been at North Shore for 27 years, spending the last nine as head football coach.
He has led the Mustangs to four of their five state titles – 2015, 2018, 2019 and 2021. He was an assistant coach when former Alabama and NFL wide receiver DeAndrew White played for the Mustangs.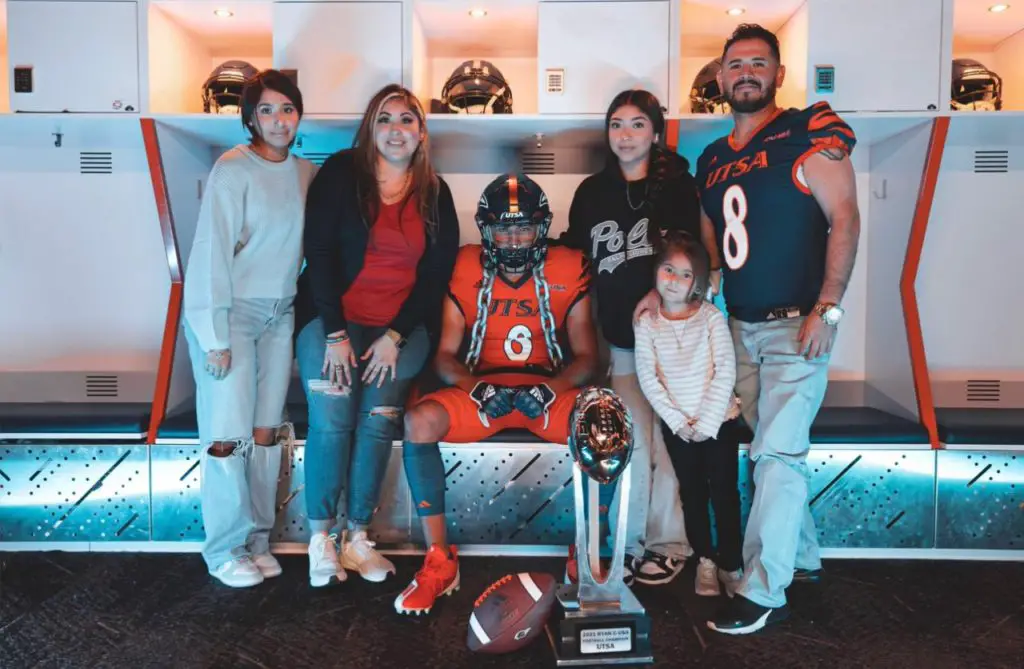 TCU linebacker Shadrack Banks also was a star wide receiver at North Shore while helping the Mustangs win the 2018 and 2019 state titles. Amador has done it all this year on offense while accounting for 27 touchdowns. As a quarterback, he has completed 59 of his 80 pass attempts for 1,073 yards, 12 touchdowns and two interceptions for a 151 quarterback rating.
David Amador has averaged 10.5 yards per carry while rushing for 800 yards and 11 touchdowns on 76 carries for 800 yards. He also had 13 receptions for 279 yards and four touchdowns before moving to quarterback. 
Among the best in Texas
"David is one of those kids that when I say he's the top football player in the state of Texas, I'm not blowing smoke," Kay said. "I've seen a lot of film. He's the best in terms of intangibles, playing receiver, playing quarterback, running the ball. I'm just so impressed with everything he's brought to this program."
Amador has committed to play at the University of Texas-San Antonio. His father David Sr., who played defensive back at Austin High in the historically Latino enclave of the Second Ward, cried when his son was offered a full-ride scholarship.
Amador Sr. was born in Houston to parents from Mexico. He spent a lot of time as a kid in his father's home state of Tamaulipas, Mexico. The elder Amador put a football in his son's hands as soon as David could walk. The younger David also played soccer, baseball and basketball earlier in life.
He has been one of North Shore's top track runners the last few years. Even though the younger Amador lived in the Houston suburb of Katy, they drove to Houston's majority Latino East End so he could play tackle football for the Magnolia Sharks. 
After his first season, Amador won the Sharks' award for the best defensive player and the best offensive player. He wasn't declared the team MVP, however, prompting him to tell his father that he would be the MVP the next season.
East End roots via Tamaulipas, Mexico
Despite his athletic prowess, some coaches were hesitant to play him at quarterback. 
"Only white kids and Black kids can play quarterback, not Mexicans," David Amador Sr. remembers being told. 
"We always got the runaround," Amador Sr. says.
Amador's parents are divorced. He lived in Katy with his mother until he moved in with his father and stepmother July Carreon when he was in eighth grade. The North Shore kids didn't know much about him when he went out for summer workouts before ninth grade.
Although the student body at North Shore is 70 percent Latino, there aren't many Latino stars on the powerhouse football team. It didn't take long for David's football teammates to realize he belonged among the best.
His Latino classmates have also taken special pride in his accomplishments. 
"It means a lot trying to represent the culture of Mexico," he said. "There's not a lot of people like me out there representing. I get a lot of kids texting me telling me I'm inspiring them for the culture and to keep doing my thing and representing."
He has been buoyed by the texts from Latino classmates and the respect from his Black and white teammates and coaches. 
Coach Kay plays pivotal role
Amador credits coach Kay with preparing him for college and life beyond football. He's grateful that Kay has focused on teaching him and his teammates about "being grown and having smart mentalities off and on the field."
When Amador talks about coach Kay, he raves about his coach beyond the football lessons. He describes him in a way you'd describe a parent, noting that Kay has helped him mature as a person.
Together, they're eager to win another state title. Two is better than one, Amador notes with pride. 
"I put my heart and soul into this game," he said. "Nobody can take it from me. This racial stuff is not going to stop me from getting the best out of my ability."
The Mexican American can play. Nobody is doubting David Amador anymore.
Get the Our Esquina Email Newsletter
By submitting your email, you are agreeing to receive additional communications and exclusive content from Our Esquina. You can unsubscribe at any time.