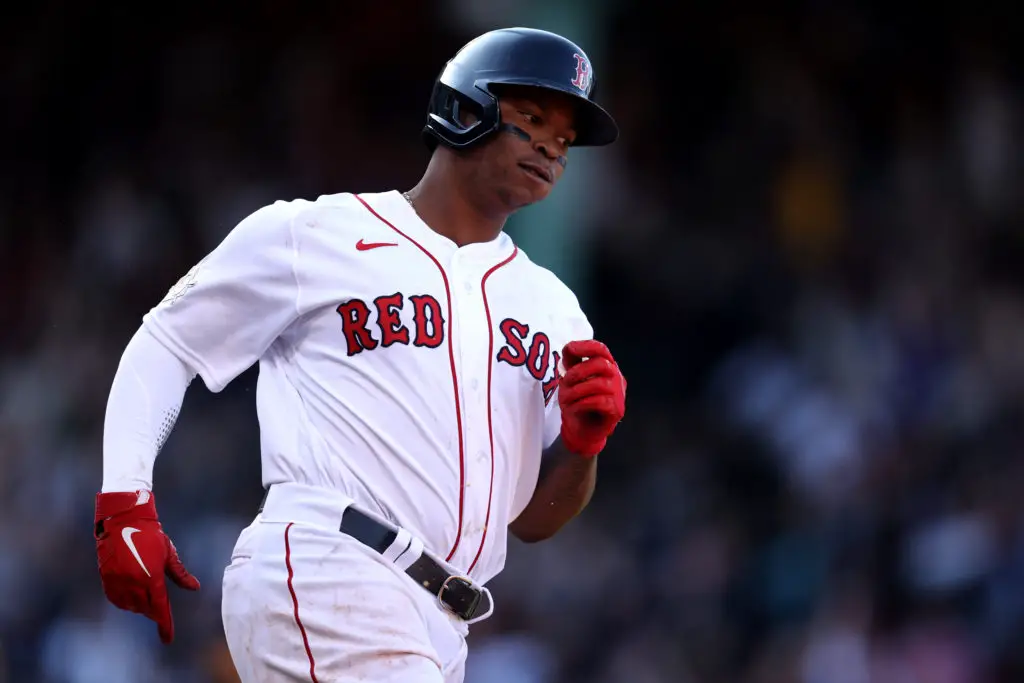 Red Sox slugger Rafael Devers lives cowboy dream
Rafael Devers does what he loves.
BALTIMORE – Growing up, Boston Red Sox third baseman Rafael Devers loved two things: riding horses and playing baseball. If he wasn't at home, you could usually find him playing baseball or riding a horse.
Sitting at the end of the visitor's dugout at Oriole Park at Camden Yards recently, Devers reminisces about his school days back in the Dominican Republic. The 25-year-old from Los Róbalos, a region situated in Samaná, had two passions as a child.
In grade school, when his parents sent him to school, sometimes he'd skip it altogether. Instead, he concedes sheepishly, he would go ride horses.
The Silver Slugger award winner also admits that he wasn't a very studious student. Attending school was like working on a dreaded chore. He was in school physically, but in spirit, however, he wasn't. He couldn't wait to meet up with his friends to play baseball or some form of it or go ride horses. This is what he loved and looked forward to most.
He always played baseball with his friends after school.
"I liked hanging out and playing globo," he said. "Then, when I moved to Santo Domingo, I played a lot of vitilla."
Globo and vitilla are two iterations of baseball. In the former, a pitcher lobs a ball for hitters to have their way with. The latter is played with a broomstick and a bottle cap. 
Combined, both games can explain how Raffy became a master at the plate.
A father's influence
His love for baseball was born when his father Rafael Sr. took him to his Liga Campesina games in Samaná. Unfortunately, his father had to stop playing to keep up with work. But the light had already been turned on – so to speak.
"He would take me to the games and ever since I can remember, that's all I wanted to do, play ball," The Boston Red Sox star said.
Since making his MLB debut in 2017, Devers has gained a reputation for being able to handle any pitch. He became a sensation on a nationally televised game against the rival New York Yankees just three weeks after appearing in his first big league game.
Facing off against Aroldis Chapman in the top of the ninth inning with his team trailing by one, Devers crushed a 102.8 mph fastball over the left-center field wall at Yankee Stadium to tie the game.
That season, batters posted a batting average of .148 against Chapman's fastballs above 102 mph (4 hits in 27 at-bats). Devers was the only one to homer against it. 
The pitch might as well have been a globo.
"When I'm in the box, I don't focus on who is throwing," he said. "I just focus on getting a hit and doing my thing. There are always tough pitchers. They're superstars, but I can't tell you which pitchers are difficult and which aren't. I focus on me and not allowing myself to get out."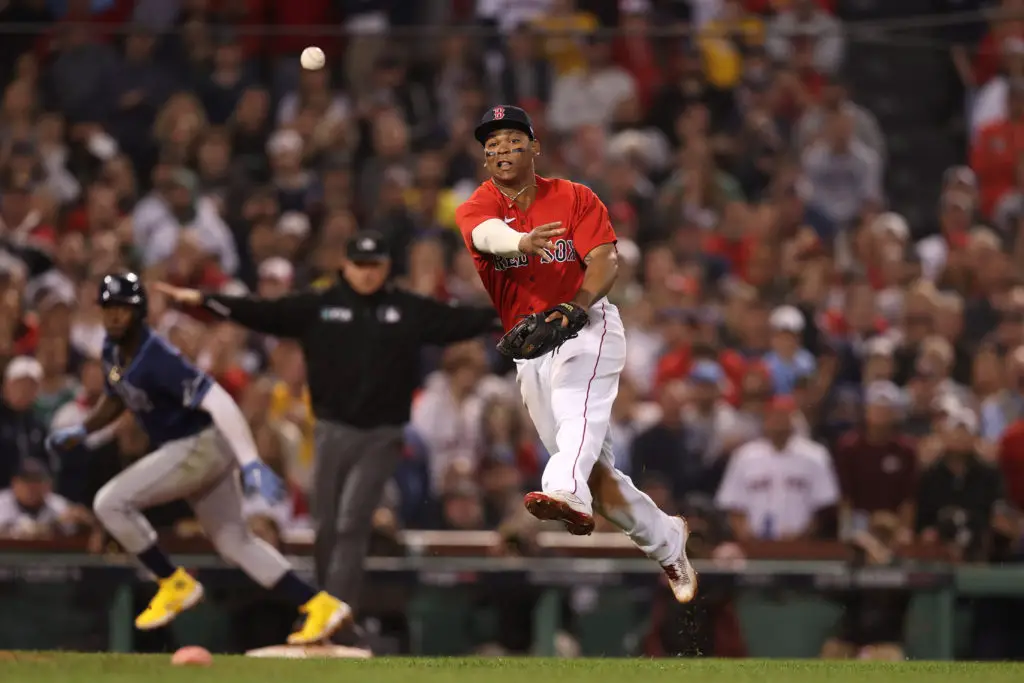 Rafael Devers, a natural at the plate
Rafael Devers was called up out of necessity in the summer of 2017. With the Red Sox in need of an offensive boost out of the hot corner, the team couldn't resist the baby faced 20-year-old who was excelling in the minors.
Devers provided an offensive boost, but defensively he was a liability. By the end of the 2017 season, among players with a minimum of 500 innings at third base, he was at the bottom in every category.
"I played with one of the great ones in Los Angeles, Adrián Beltré, and he made (29 errors) his rookie season," Red Sox manager Alex Cora said. "You know, guys like that, when they get called up so early, there's a lot of stuff that you miss in player development."
Over the years, Devers has worked on improving his defense. He works closely with Red Sox third base coach and paisano Carlos Febles before every game taking grounders alongside teammate Xander Bogaerts.
Raffy even took to playing long toss with outfielder Kiké Hernández, which has helped him make the routine throw across the diamond from third base to first base.
"He always had unbelievable range," Boegerts says about Devers. "The only problem that he had was the routine plays. … but this year, he's been really really good on the routine plays."
His hard work and persistence seem to have finally helped him to put it all together. This season, he has a top-five defensive rating, according to FanGraphs.
A dream come true
At the end of the day, Devers just wants to do what he loves, be with his family, and remain anonymous. A search for the slugger on social media will yield very few results. He tends to remain low-key.
"I'm a quiet guy. I don't like talking too much or anything like that," he said. "I want people to know that I'm a low-profile person and I just want to do my thing."
His motivation is his two children, who have changed his life and provided him with perspective.
In the offseason, Devers goes home to his children in Samaná. He is constructing a home there with a farm that houses cows, horses, chickens, and many other animals.
He is most at peace there.
"I do it for my well-being," he said. "I have always wanted to have a farm of my own, and it's always something that kept me motivated. Thank God, I'm building it and I'm going to make it 100%."
In many ways, not much has changed for Rafael Devers since his days back in grade school. The only difference is that he doesn't have to daydream about playing baseball anymore. Instead, he can live the dream out to the fullest.
Get the Our Esquina Email Newsletter
By submitting your email, you are agreeing to receive additional communications and exclusive content from Our Esquina. You can unsubscribe at any time.