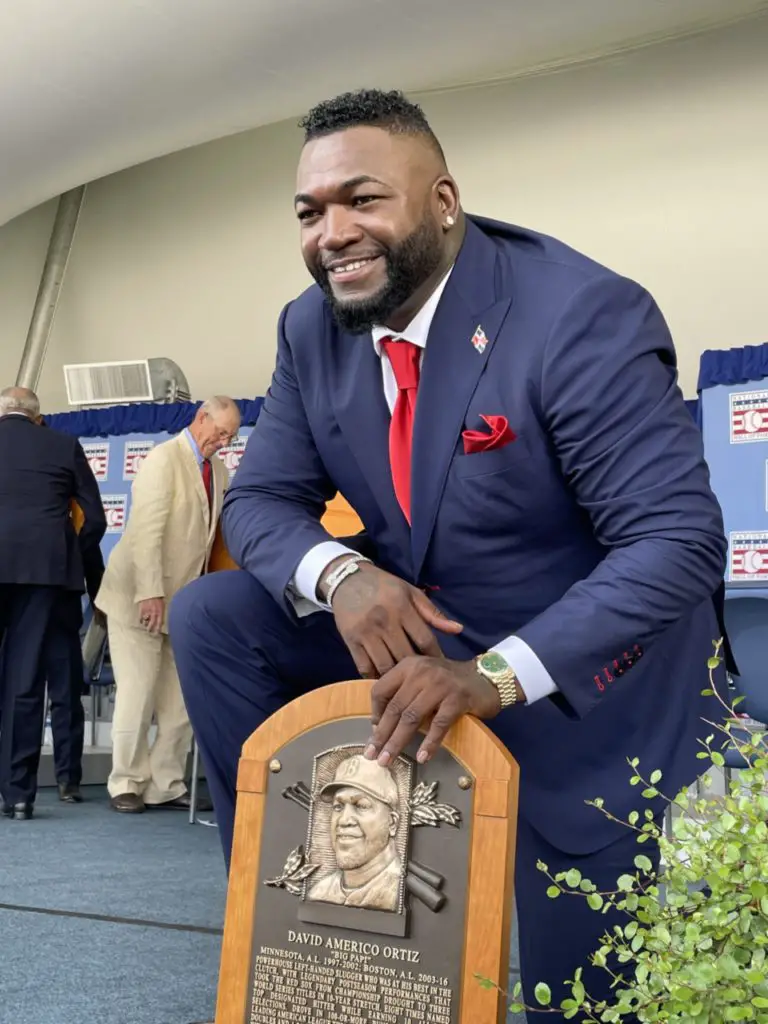 David Ortiz hits right notes in Hall induction speech
David Ortiz delivers one more time
COOPERSTOWN, N.Y. – David Ortiz electrified an estimated crowd of 35,000 fans on Sunday during his Hall of Fame induction speech. Big Papi was the final of the seven players inducted.
And the native of Santo Domingo, Dominican Republic, wouldn't have had it any other way before a heavily Dominican crowd.
As Tony Oliva, Jim Kaat and relatives of the other four inductees spoke, Ortiz waited as a fitting main act.
"It was good (that) I was left for last," he said in his post-ceremony presser. "That kind of relaxed me a little, and I just went at it."
It's no surprise that the 3-time World Series champion excelled in the cleanup role. His ability to come through in the clutch is quite possibly the reason why he is here today.
And it all appears to have begun after his first at-bat as a member of the Boston Red Sox in Spring Training. 
After attempting to move a runner over, Ortiz returned to the bench anticipating high fives. After not receiving any, manager Grady Little pulled him aside and told him not to move runners over.
Little wanted Ortiz to drive the runners in
"The rest is history," Ortiz said before the crowd erupted in cheers.
Cooperstown, Little Dominican Republic
It helped the Dominican Republic native see familiar faces in the crowd Sunday at the Clark Sports Center. 
From his relatives to his fans, ahead of his induction speech, Cooperstown resembled a little Santo Domingo.
A large Dominican presence made itself known as Ortiz, the newest member of the Hall, was introduced. Dominican flags waved in the air.
"Papi! Papi! Papi!" the crowd chanted as he took the stage for the first time. he pounded his chest and saluted his supporters.
Since Juan Marichal was inducted into the Hall of Fame in 1983, Dominicans displayed in the Plaque Gallery have grown by three. In 2015, Pedro Martínez joined Marichal. He was followed by Vladimir Guerrero in 2018.
Sign up for Our Esquina's weekly newsletter
Not surprisingly, these four legendary players received the largest reception on Sunday. Only the legendary Sandy Koufax was greeted as enthusiastically.
And the 10-time All-Star was there, batting fourth among these Dominican greats, delivering an ode to the land referred to as Quisqueya La Bella – Quisqueya the Beautiful.
"The Dominican Republic, my land," he said in Spanish. "The land that I was born in, thank you! Thank you to your people, who accepted me like one of their favorite kids (and) for your support, step by step, throughout my career.
"Thank you for your music that has filled me with life and happiness. Thank you always for being Quisqueya La Bella. Nothing compares to it."
Family Over Everything for David Ortiz
One message resonated among all: family. 
From his teammates, which he referred to as Los Chicos Locos – The Crazy Boys – to his parents, his children, and ex-wife Tiffany. For David Ortiz, none of this would be possible without his family.
When he was growing up in Santo Domingo, his parents worked tirelessly to give him and his sisters the life they never had. 
Boy did they succeed.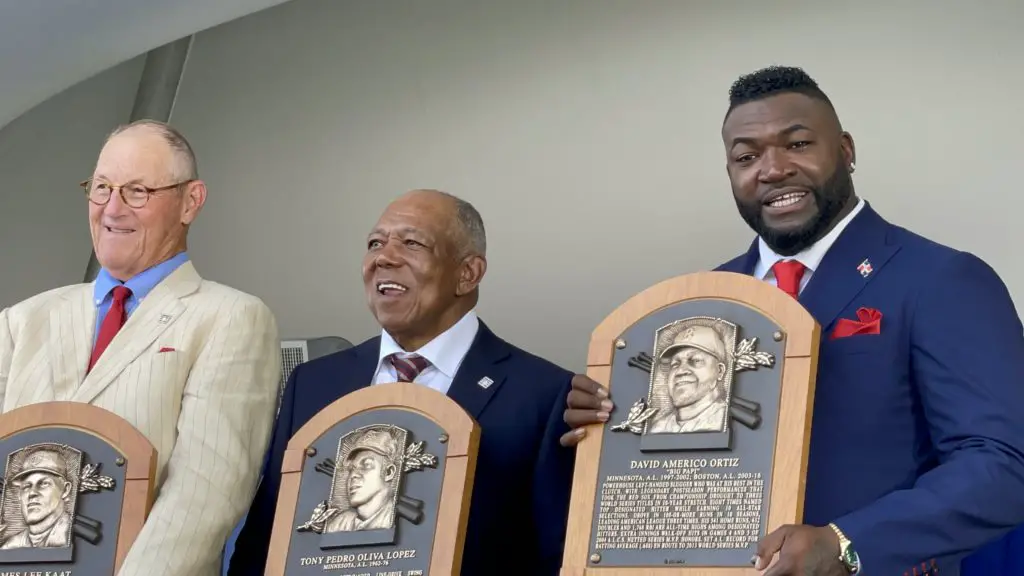 Years later, they could not have imagined that their granddaughter – Alexa Veda Ortiz – would be singing the national anthem ahead of their son, David Americo's Hall of Fame induction.
It all began with a gift, Ortiz noted.
"The first gift (my dad) gave me was a glove and a bat. The glove was for a shortstop. You know how that went," Ortiz remembered laughing.
Little did he know, that gift would change their lives forever.
Get the Our Esquina Email Newsletter
By submitting your email, you are agreeing to receive additional communications and exclusive content from Our Esquina. You can unsubscribe at any time.