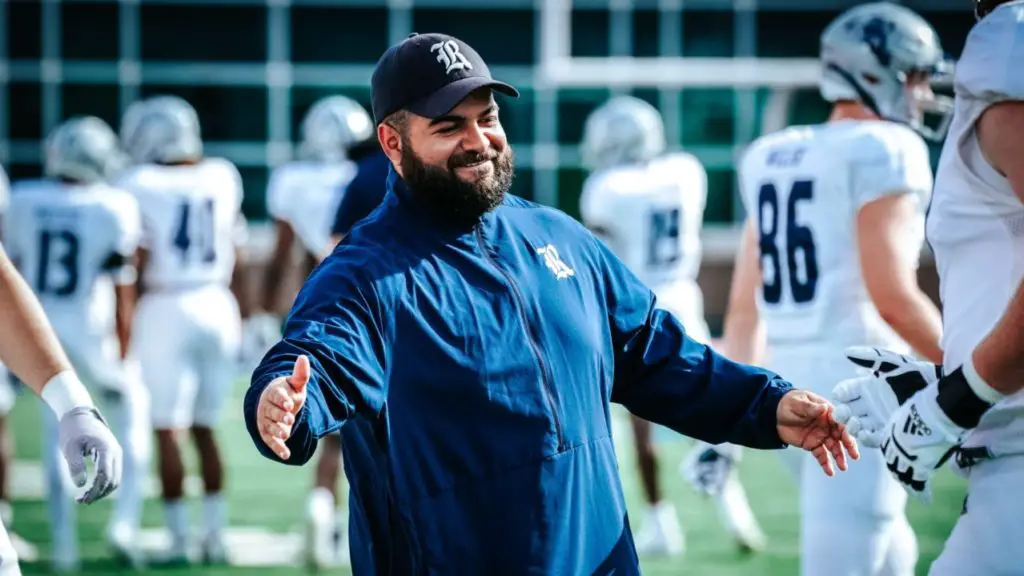 Marco Regalado plays sweet tune at Rice
Marco Regalado serves as director of player personnel for Rice University's football program
HOUSTON – Marco Regalado initially didn't want to play the sport that is now paramount in his life. Fortunately for the director of player personnel and recruiting innovation for Rice University's football program, his mother Dinorah insisted that he play football.
Playing the guitar was his passion. He preferred to follow his older brother's path to the renowned Zapata High Mariachi. Complicating matters even worse, the freshmen athletics and mariachi classes were both held in the sixth period.
Varsity teams practiced in the eighth period, and the affable Regalado wasn't close to varsity material. Dinorah Regalado, who taught calculus at Zapata High, encouraged her three children to be well rounded.
That meant participating in mariachi, theater, athletics and even prose and poetry competitions. Marco's parents Sergio and Dinorah signed him up for sports early. They put their sweet boy in karate and baseball. Performing came naturally for Regalado. Athletics did not.
'Sweetest kid'
"I wanted him to be more aggressive in the sense of just becoming stronger," Dinorah says. "He was just so kind, just the sweetest kid. When he got into junior high everybody got into football. 
"I thought he needed to be there. He needed to exercise and become healthy and form social skills as far as team sports, but he hated it. He truly hated it."
His past indifference is difficult to envision now that Regalado helps Rice head football coach Mike Bloomgren court the brightest and most talented football players in America. By the time he graduated as valedictorian at Zapata, Marco Regalado desperately wanted to play college football.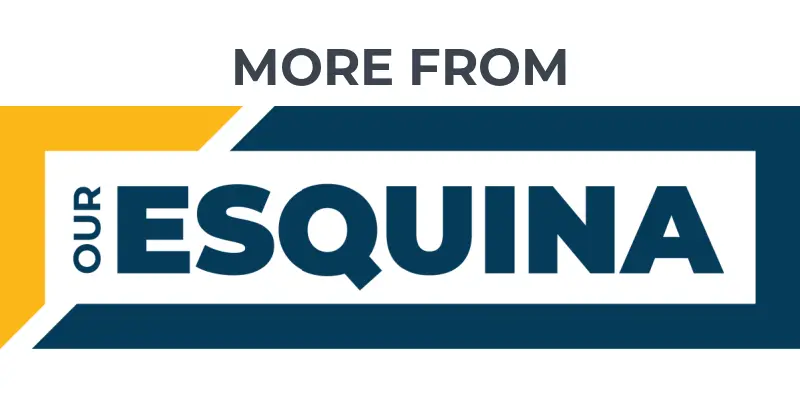 Goat stew emblematic of Astros winning culture
Damien Martinez breaks out for Oregon State
Jeremy Peña pushes Astros into World Series
Ranger Suarez seals Phillies' World Series berth
He received a Division II offer, but he went to Texas State in hopes of walking onto the football team. There aren't many spots for a 5-foot-9, 200 pound offensive lineman in Division I, though. 
Nonetheless, he tried out twice for the Texas State football team with no success. Desperate to satisfy that football itch, he founded Texas State's club football team, which played a semi-pro schedule. 
He can thank his mother and his coaches at Zapata for setting him on a circuitous route to Rice's beautiful campus on South Main.
Mom played crucial football role for Marco Regalado
"I felt so bad, but I made him play," Dinorah Regalado said. "I said, 'You need an athletic credit. Once you get it over with that's it, you don't have to play anymore.'
"He was a mariachi player. His passion was playing the guitar. The freshman athletics (class) was in sixth period, and there was no way he was going to drop mariachi to play sports."
Dinorah also needed to persuade Zapata High football coach Mario Arce to let her uninterested freshman into the varsity football class. 
She told Arce about the conflict with the mariachi class. Dinorah promised Arce that he would hardly even notice her son in the class. She did worry, however, that the seniors would bully Marco.
"I said, 'Diosito (Baby Jesus), just help me with this,'" Dinorah says. "That changed his life because for some reason those seniors nurtured him.
"Obviously he got to practice with the varsity. His confidence grew. After the third or fourth practice, he said, 'Mom I get it. … They just never explained it to me.' It just completely changed him. He learned it and he fell in love with football."
Mariachi and football star
Marco Regalado nurtured his love of mariachi music and football on parallel tracks. When he wasn't in football season, he competed in mariachi competitions throughout the state and even in New Mexico. He also performed with some of the most famous mariachi bands in the world. 
Marco Regalado still plays the rancheras that his father first heard growing up in Guadalajara, Mexico. He can also play Eric Clapton's work and country music too. He keeps two of his guitars at his office at Rice football complex.  
Football has taken him from South Texas to the Dallas-Fort Worth Metroplex and eventually to Washington State University and Rice. The Owls are now banking on his football knowledge.
"Coming out of high school I had that itch," he says. "I missed being around the team, the athletics, the sports."
He originally attended Texas State on an academic scholarship to study physical therapy. He stuck with that plan until his senior year. After a 300-hour internship, he returned home to Zapata and told his mom that he no longer wanted to be a physical therapist.
Change in direction
Dinorah wasn't happy. She made him promise to get a master's degree, so he enrolled at Texas A&M-Kingsville for graduate school. While there, he became a graduate assistant athletic trainer for Olympic sports.
"It's tough, but even though it was a little more fast paced it still wasn't scratching that itch," he said. "It wasn't what I wanted to do for the rest of my life. So while I was an athletic training (grad assistant) I'd still find time to sneak away and go hang out in the football meetings."
Elijah Garcia leaves legacy at Rice University
Jose Cruz Jr. capitalizes on Rice brain power
Rice University a family affair for Jose Cruz Jr.
He could usually be found in the defensive meetings when he wasn't doing his athletic training duties. So when a grad assistant job opened up with the Texas A&M-Kingsville staff for the 2016 season, he got a call and accepted. He eventually got a master's in higher education.
From Texas A&M-Kingsville, Marco Regalado went to Santa Gertrudis Academy High School to serve as a wide receivers coach from 2016 to 2018. Three high school assistant coaching jobs later, he was hired as a recruiting assistant at Washington State in February 2021. 
He rose to director of recruiting in 11 months at Washington State. Then in June, Rice brought him back to Texas. Regalado has a corner office overseeing the practice field.
"I knew that Marco was a former high school coach that had a great passion for this game, because we talked ball," Bloomgren said. "I've also seen him on the other side as a high school coach trying to push his kids to me … working so hard for each kid he had trying to get them opportunities. 
"Even being up front with me like, 'Coach if he's not right for you is there somewhere you can help me get him? Because this kid wants to play football and I believe in this kid.' I saw that side of it."
Marco Regalado keeps busy
He usually arrives at the office around 6:30 a.m. Once he settles in, he makes a to-do list and crosses off the tasks as he gets them done. Marco Regalado keeps track of recruits on a big board in his office. He lists all of the players who have committed to Rice, been offered or are under consideration to be offered.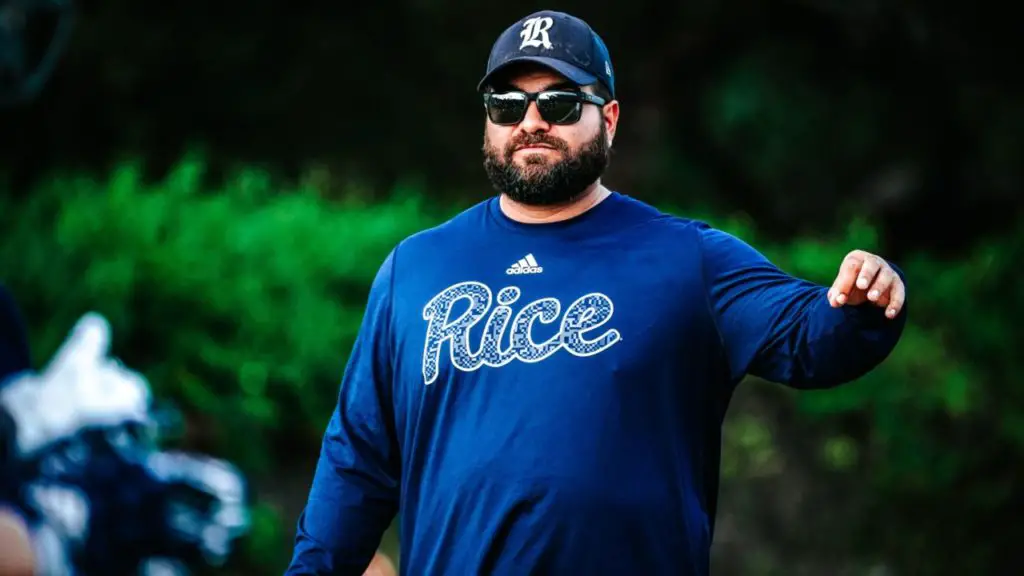 He does most of the player evaluations in the morning. When he's not in staff meetings, he is focused on wrapping up the Class of 2023, building the 2024 recruiting board and monitoring the transfer portal. 
He's also Rice's liaison to pro football teams. NFL scouts usually come through Rice after lunch. Every NFL team has visited Rice at least once this Fall. He greets NFL scouts and sets them up in a room. Then he connects the scouts with Rice's strength and conditioning coaches and position coaches. 
"I'll set them up to watch film," he says of the NFL scouts. "But that's really what takes up the second half of my day leading up to practice. That's when I take the NFL coaches as well to watch practice."
Music remains part of routine
If he finds time during the day, he'll take out his guitar and play a few tunes. Sometimes he'll play a Vicente Fernandez classic like Volver, Volver. Other times he'll play a little Eric Clapton. He has really gotten into country music lately.
"Anybody you've ever talked to that's ever worked with Marco paints a picture that what you see on social media is what you get," Bloomgren said. "You get a great talented individual that's going to work hard for your team and going to be a great teammate." 
The kid who didn't want to leave mariachi to play football now finds time for a little mariachi music in between all his football duties.
Marco Regalado is one of the few Mexican Americans working for Division I football programs. 
"I'm real proud (of) just kind of where I came from and just so many other things," Marco Regalado said. "My dad what he went through growing up. He's from Mexico. Just being able to hopefully have people follow in my footsteps and show people, especially from Texas, that you can do anything that you want." 
Get the Our Esquina Email Newsletter
By submitting your email, you are agreeing to receive additional communications and exclusive content from Our Esquina. You can unsubscribe at any time.