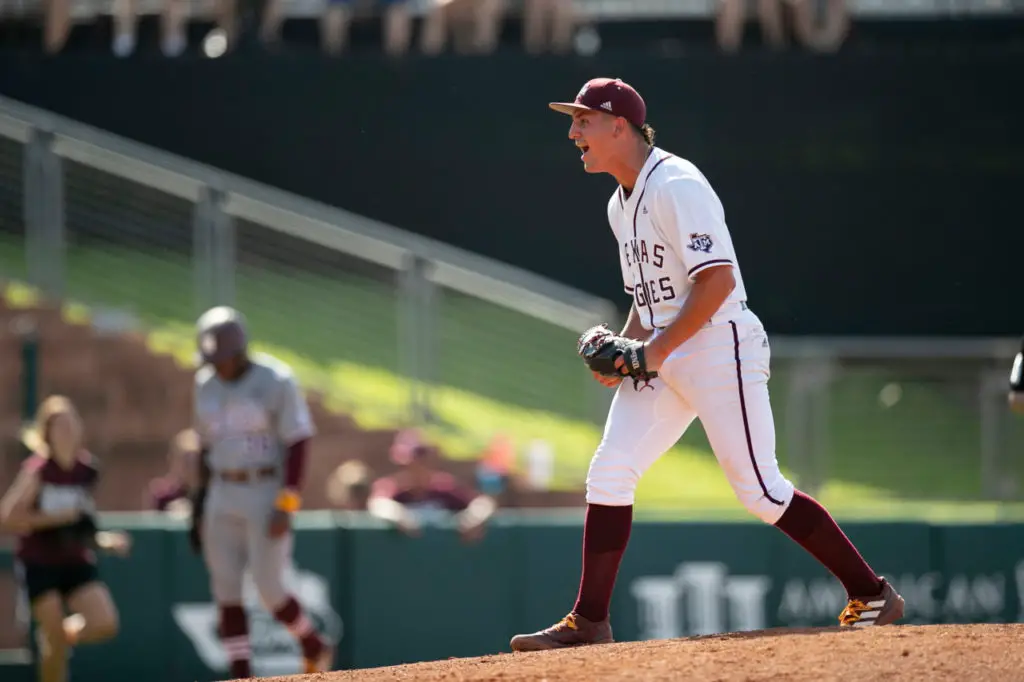 Texas A&M righty Chris Cortez lands in Omaha
Freshman Chris Cortez set sights on College World Series early
Chris Cortez had never visited Texas A&M until he arrived for the start of his freshman year in August. The hard-throwing righthander from Las Vegas had not even met baseball coach Jim Schlossnagle in person.
Cortez didn't know what to expect in College Station, Texas. But he was certain about one thing, his primary goal.
He headed to Blue Bell Park soon after arriving on campus. Then Cortez allowed himself to dream as he looked at pictures of former A&M teams lining a hallway at the stadium.
"At the very end of the hallway it says, 'Omaha,'" Cortez says. "I remember talking to him and pointing to that."
Ready for Omaha
That's how Cortez began the first in-person conversation with his new coach.  Cortez and the Aggies are definitely in Omaha, Neb. They are at the College World Series much sooner than most could have expected when Schlossnagle was hired last June. Texas A&M didn't even make the SEC Tournament last year, after all. 
Now they're set to open the College World Series Friday against Oklahoma. The Mexican American freshman from Las Vegas will play a pivotal role.
Cortez (6-3, 4.78 ERA with 31 strikeouts in 43 1/3 innings) is one of the best fireballers in college baseball. He has done so well, he can barely pick a favorite highlight from his freshman season.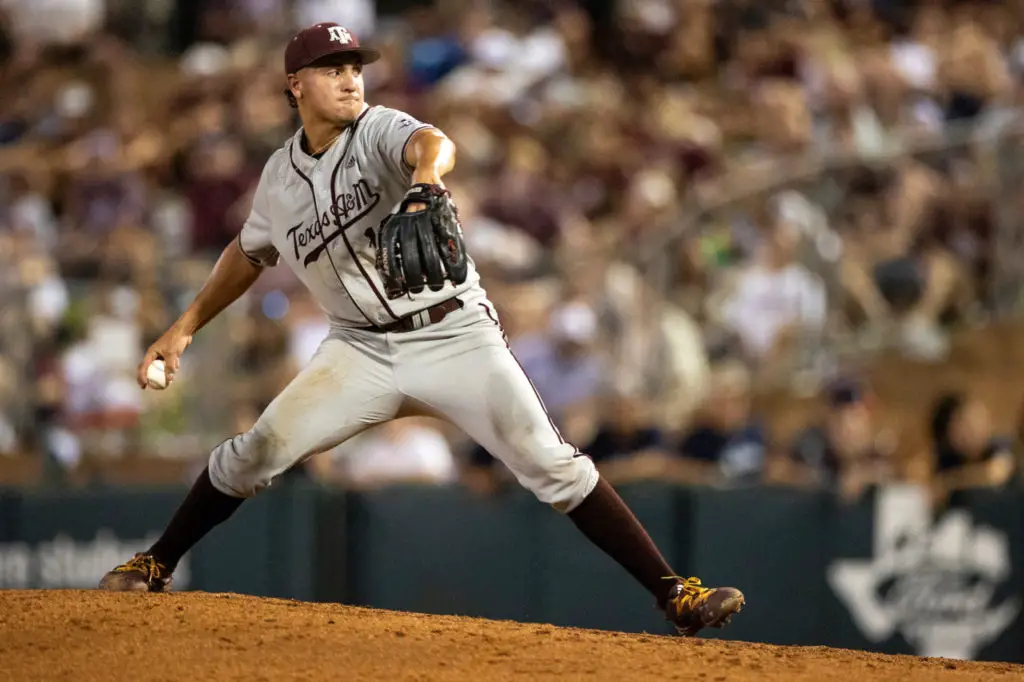 Three memories stand out. One was his first victory in college baseball against Fordham on Feb. 20. That feat was topped on a Friday night in Baton Rouge when he earned the decision at LSU for A&M's first SEC victory of the year. He also fondly remembers his five-inning performance against Mississippi State. 
Chris Cortez a symbol for some
Off the field, he also made a memory that he will likely never forget. He and his teammates were signing autographs a few weeks ago when an older Latino told him how much it meant to have Cortez starring for the Aggies. 
Of the hundreds of autographs he signed that day, this one stood out. Cortez assumes the man was in his 50s or perhaps 60s. The man was extremely excited to meet Cortez and ask him to take a picture together.
"This Hispanic guy came up to me and said, 'All the Hispanics got your back. They're rooting for you,'" Cortez said. "It made me happy and proud that I have a culture behind me and I'm doing something for them."
Drive for success
After the signing, the memory of that excited fan reminded Cortez of his paternal grandparents, Rudy and Maria. His paternal grandparents immigrated to the United States from Mexico. They're from Mexico City and Guadalajara, respectively.
Ultimately, though, Chris Cortez went to A&M to chase a national title. That was the goal last August when Chris and his father Carlos drove from Las Vegas to College Station.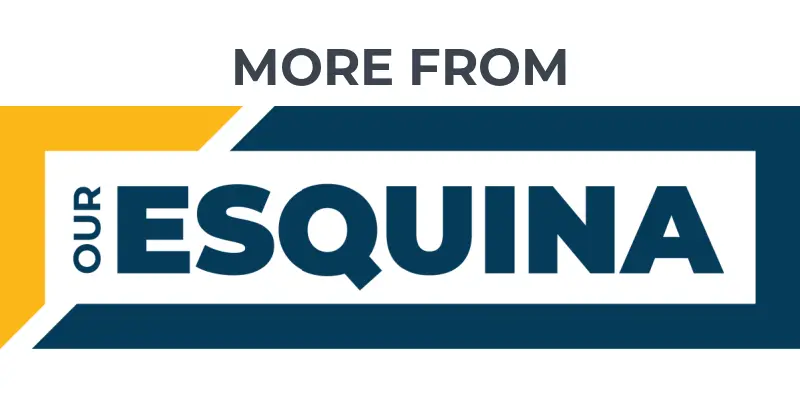 Carlos pulled Chris' white Toyota Tacoma truck with his gray Ford F-350 truck.
The elder Cortez is back on the road. He is now driving to Omaha to see his boy fulfill the goal he mentioned when he arrived in Aggieland. The Cortezes usually took flights to watch Chris pitch at A&M. But the flights from Vegas to Omaha were steep, so Cortez hit the road with his wife Tammy and youngest daughter LeAna, 16.
The Cortezes have seen tremendous growth and changes in Chris in the
last year. The 2022 SEC All-Freshman Team selection has become quite the Aggie. Even his wardrobe and musical preferences have changed.
A growing collection of boots
He didn't know anybody on campus last August other than new pitching coach Nate Yeskie, who had initially recruited him to the University of Arizona.
"He was nervous because he was by himself for the first time in his life," Carlos Cortez said of Chris. "But he was good. A week went by. Then two weeks went by, and he had friends and he was talking to girls and he was enjoying college life.
"Now he has like (three) pairs of boots. He doesn't have hats. He doesn't have the cowboy shirt, but he has the jeans and boots. He's turning a little bit country. He's listening to country music, which he never did."
Chris Cortez received his first pair of boots as a Christmas gift from A&M sophomore lefthander Will Johnston. He bought his next two on a trip to face Vanderbilt. He took advantage of a 2-for-1 special in Nashville, keeping two and giving the other to one of his two older brothers.
"It was kind of out of nowhere," Chris Cortez said of Johnston's gift. "I never had boots. He was the first teammate that took me under his wing in College Station. Now he's my best friend. That meant a lot." 
Chris Cortez definitely settled in with the Aggies. He is also throwing gas, lots of gas. His fastball sits at 96-mph to 98-mph. He has also touched 99-mph on the radar a few times. 
'Incredible arm'
Cortez has showcased the talent that had Major League Baseball scouts interested in drafting him last July.
"Cortez has an incredible arm," said a National League scout who has seen Cortez this season. "He's strong for his age and (has) solid strike-throwing ability. The Aggies have leaned on him all season.
"Could be a little more deceptive, but I believe he has a very bright future."
The New York Mets were interested in picking Cortez in the third round last July. They called him on the day of the draft and asked if he would take a signing bonus that would have been life-changing. Cortez said no because he wanted to attend college, so he went undrafted.
The 6-foot-1, 190-pounder from Las Vegas' Silverado High has thrown hard since before he could fully grip a baseball. He was only three years old when his parents first realized he threw much harder than kids several years older.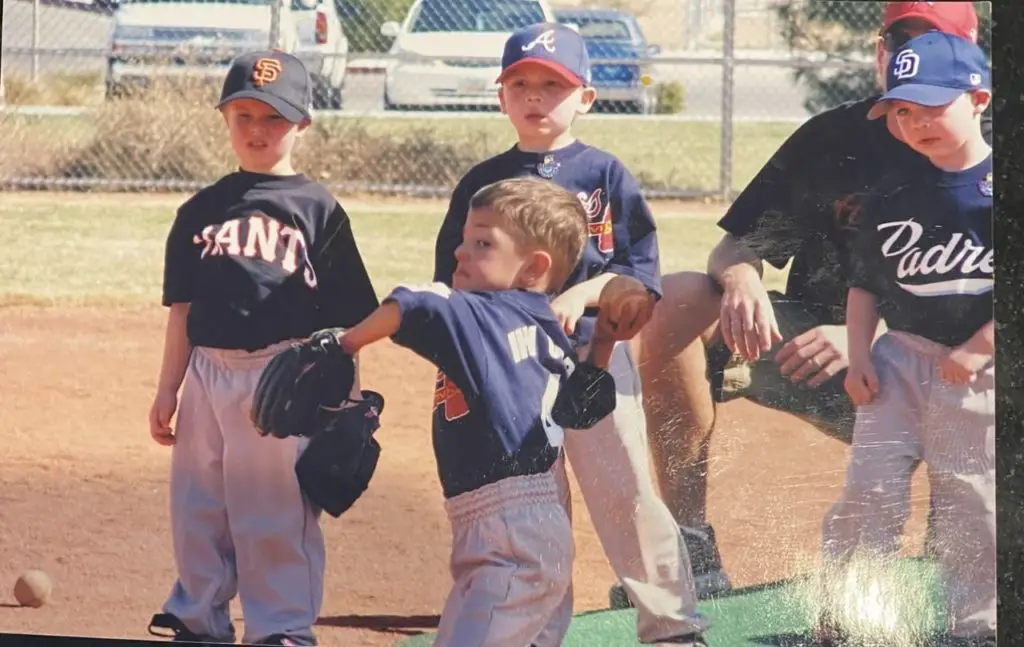 "Even when he was in Little League he was always throwing harder than older kids," Carlos Cortez says. "At 13 he was at 87-mph."
Chris Cortez focuses on winning
Chris is adamant that he's more concerned with winning than lighting up the radar gun. Just a few years ago, his biggest goal was to be as good as his older brothers, Chase, 24, and Nikolas, 22.
They both played baseball in college. They starred in high school and then college, but Chris Cortez has surpassed them. 
"It felt good that I caught them," Chris says of his brothers. "And now they can watch me past their stage."
There is no bigger stage in college baseball than Omaha. It's the destination Cortez focused on since Day 1 in Aggieland.
"I know for a fact I remember pointing down that hallway," Chris Cortez said. "I remember telling (Schlossnagle) that's where I wanted to go – Omaha."
Get the Our Esquina Email Newsletter
By submitting your email, you are agreeing to receive additional communications and exclusive content from Our Esquina. You can unsubscribe at any time.