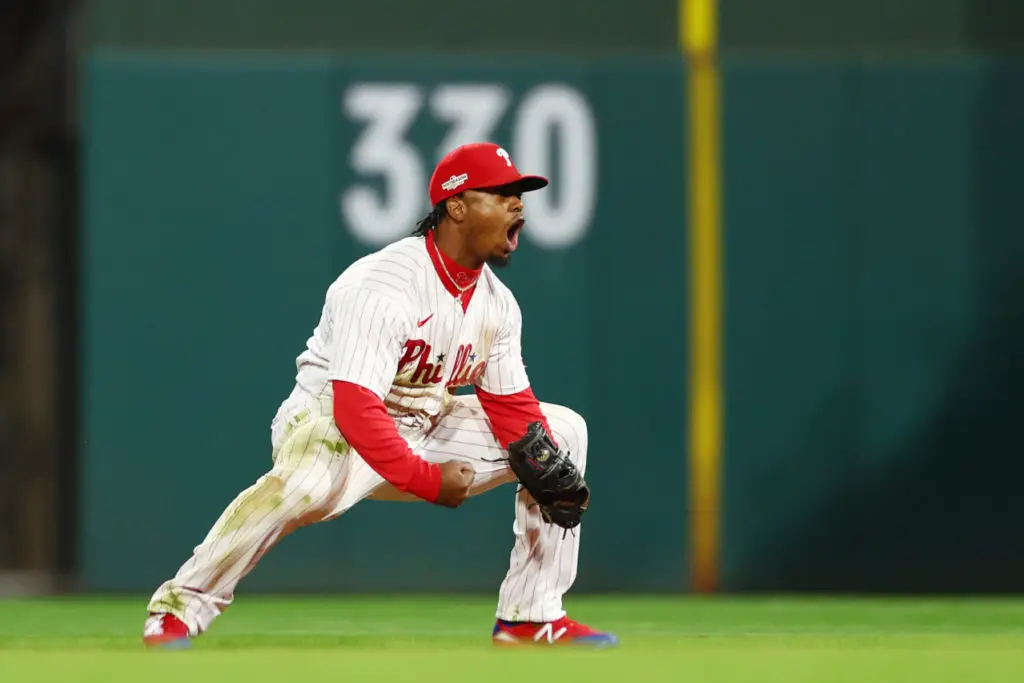 No machete threats, no fear for Jean Segura
Phillies veteran Jean Segura credits threats in the Dominican Republic for clutch NLCS hit
PHILADELPHIA – In the Dominican Republic, baseball is king. Players like Jean Segura have been forced to play under pressure from a very young age. 
For many players from the land of Segura, David Ortiz and Pedro Martinez, their livelihood and sometimes even their lives depended on it. This could explain why Segura, a two-time All-Star, came through when the Philadelphia Phillies needed him most in Game 3 of the National League Championship Series. 
"I'm from the Dominican," he said after beating the San Diego Padres 4-2 Friday to take a 2-1 lead in the best-of-seven NLCS. "We play a lot of baseball in the backyard. It's like where I'm from, we play way too much baseball, and there were people around like with machetes, with bets on the games."
Imagine playing a game of backyard baseball with the grim reaper watching over you. Only instead of holding a scythe, he wields a machete.
Jean Segura ready for October baseball
Even October baseball at Citizens Bank Park would seem tame in comparison.
"It's just the way we handle the pressure in the Dominican Republic," Segura said. "Even when we play winter ball, we've got guys in the stands (saying), 'Hey, when you get out, we're going to kill you. We're going to do something bad to you.' It's just the way we play the game out there."
Suárez and Segura examples of Phillies resilience
Errors don't rattle Astros lefty Framber Valdez
Astros' Yuli Gurriel adds 'extra' postseason chip
Fortunately for all involved, Major League Baseball isn't life or death. But don't tell Jean Segura that. Segura played in 1,328 games before finally getting a taste of October baseball. That's the most games played among active players before making the postseason.
For many the moment may loom large, especially playing under the pressure of Philadelphia's notoriously tough fans. For the 32-year-old Dominicano, this was child's play.
Different game
"Compared to here, when you come here, dude, it's a completely different type of game," Segura said. "I think the (MLP postseason) pressure, when you come from DR, it's nothing."
Segura dropped a relay throw from shortstop Bryson Stott in the fourth-inning of Game 3 of the NLCS. That error turned a potential inning-ending double play into a game-tying run for the San Diego Padres. 
Many would have hung their heads, adopting a self-defeating attitude. Not Segura. He atoned in the bottom of the inning. 
The 11-year veteran ripped a two-out, 1-2 pitch that was closer to the opposite batter's box than the strike zone to right field for a two-run single. Segura credited a childhood game he played back home in the Dominican Republic for that crucial hit. 
Vitilla lessons pay off
"I played a lot of vitilla growing up," he said. "I don't know if you guys hear about that."
Vitilla is essentially the Dominican Republic's version of stickball. It's the equivalent of whiffle ball played with a broomstick and water jug bottle caps.
The experience Segura gained playing vitilla paid off.
"I don't really know how I hit it," he said. "I did it, and probably you guys (will) see it millions of times."
That type of approach and hit isn't something you see a lot in today's iteration of baseball. Organizations are hyper-focused on launch angle and barrel percentages, but that's just not Segura's game.
"He's not one of the uphill hitters, get the ball in the air,"  Phillies manager Rob Thomson said of Segura. "He's a line drive hitter, and he's got really good bat-to-ball skills. And he uses the field a lot, whenever he wants to."
"He can hit (and) he can really manipulate the barrel, so that's really how he can handle all those different types of pitches."
The Philadelphia Phillies didn't look back after Segura's single. They beat the Padres 4-2 to take 2-1 lead in the best-of-seven NLCS.
Get the Our Esquina Email Newsletter
By submitting your email, you are agreeing to receive additional communications and exclusive content from Our Esquina. You can unsubscribe at any time.