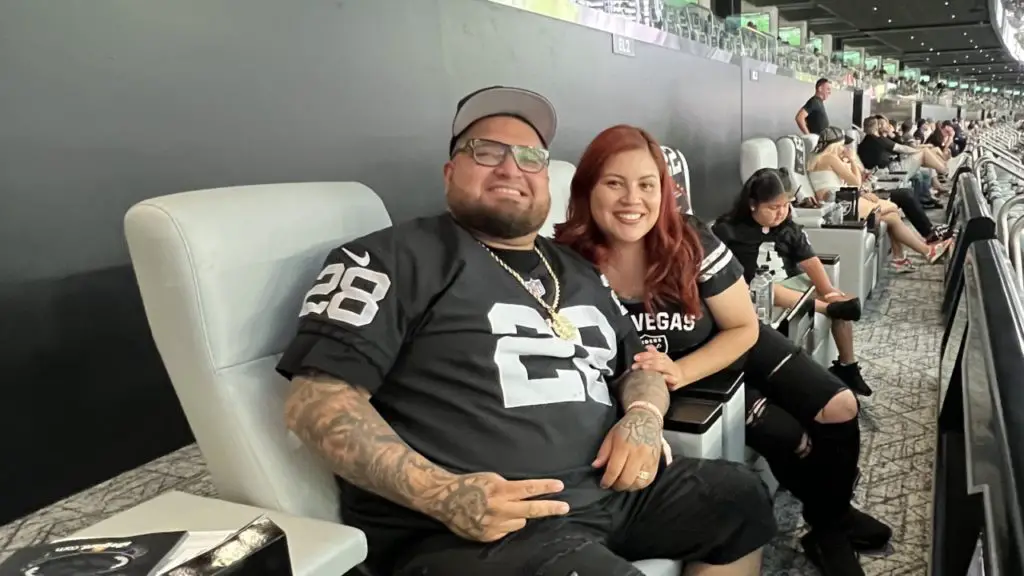 Micheladas El Gordo founder's story's bittersweet
Jenny 69 catapulted Esgar "El Gordo" Razo's sweet and sour story
SAN DIEGO – Like the taste of the chamoy sauce on his popular products, Esgar "El Gordo" Razo's life has been sour and sweet. The big smile on the ubiquitous logo on Micheladas El Gordo candies, rimming dips and michelada cups hides an almost impossibly difficult past.
Razo, 31, is eager to tell about his mercurial journey. The man behind one of Southern California's most popular treats hit bottom twice because of drugs and misfortune.
Razo was laid off from his job in 2018 as a substance abuse counselor in the federal probation system due to an injury sustained at work. The chaotic and traumatic departure destroyed Razo's ability to care for his family.  
Razo could not afford to keep up with house payments. His family relied on his in-laws. Esgar and his then-pregnant wife Cinthya, their child and a pet dog crammed into one bedroom at Cinthya's parents' home. Another daughter arrived later. 
SIGN UP FOR OUR ESQUINA'S FREE WEEKLY NEWSLETTER
Before he was laid off, Razo considered it his purpose to help those struggling with addiction. He knew what they were going through because he was also a recovering addict.
Razo was a drug addict at 10 years old. At age 11, Razo had moved on from marijuana to harsher substances. He was constantly moving from apartment to apartment while his mother went through her own substance abuse issues. Eventually, she withdrew from her parenting responsibilities as Razo was in his words "so out of control." 
Recovering addict
By 13, Esgar was homeless, hungry and hallucinating on the streets of Riverside, his hometown. After Razo's mother got clean, she was determined to save her son. Razo was 14 when he was taken to a drug rehabilitation center in Irapuato, Guanajuato, Mexico. It was a lengthy program with draconian methods that Razo somehow describes with humor. 
Razo says he lived with 60 other men in a three-bedroom recovery home. It was a verbally and physically abusive experience, he says. But they accomplished what they said they would when they picked him up at the airport and handcuffed him.
They told him they were going to save his life, and they did. In Mexico he also met his father, an inmate in a penitentiary for the first time.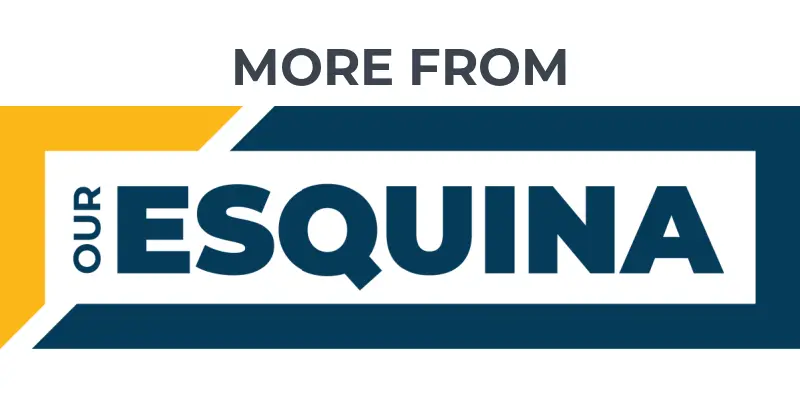 El Tri jersey honors Mexico's indigenous roots
MLB Power Rankings: The Cardinals Soar
Julio Rodriguez renews hope for Seattle Mariners
Mariano Sori-Marin has right ingredients
Razo returned to the United States. He even attended college while in high school. He earned a degree from Grand Canyon University. By 18, he worked as a drug counselor. He met his future wife, Cinthya. He became a motivational speaker. 
Then in 2018, he was unemployed and desperately in need of motivation. He went to a Mexican beach in the city of Popotla, just south of Rosarito.  
"I went to the beach and I crashed," he said. "I was exhausted with life and everything. Eight years of my life have gone down the drain."
Finding inspiration in Mexico
Nearby vendors were selling micheladas, a Mexican drink that has beer as its base with assorted sauces, spices, and chili peppers mixed in or on the rim of the glass or cup. He purchased a michelada cup and stared at it. 
"I got one," he said. "I saw the red cup. I kid you not. Cinthya took a picture of me. I was daydreaming. I looked at the cup. There was this glow. I didn't even drink it. I told Cinthya. Go take a picture of the cart and all the ingredients used. I slept with the cup on my mind. "
Shortly thereafter, Razo was out of work. His life began to quickly spiral downward. Razo was drawn to the memories of the cup. The cup became his obsession. 
However, without a job, money was not available. He asked his mom for $200 to purchase cups. After his mother gave him a few choice words in Spanish, she lent him the money.
"My mom has always supported me regardless," he says.
The Razos began experimenting with the cups. They would work on the mixes. Eventually, he gained enough confidence in the product to sell them.
Becoming El Gordo
But first he needed a name and a logo. For marketing purposes, he became "El Gordo."  He committed at that point to not sell micheladas if he did not have stickers. " 
Razo went out to sell first at barbershops and salons throughout the Southern California's Inland Empire. 
 "This is going to blow up," he remembers thinking at that point. "This is going to get big."
The michelada business was born, but success was still down the road. 
There was a demand for his product at times. There were lean times as well, especially during the winter when cold weather naturally limits backyard get-togethers. 
"I used to get humiliated," he said. "People would call and do orders and not show up."
This coupled with his living situation inspired Razo. Things changed when the norteño group Legado 7 introduced him to their audience and invited him to set up at a number of shows. Another Southland band, urban corrido group, La Fuerza Regida has hired him for events. 
Jenny 69 tipped scales for El Gordo
While those groups were very influential, Razo credits Instagram beauty influencer and musician Jenny 69 for changing his life. "La 69," as she's known on social media, helped Razo market his products. 
"She invited me to her birthday party in summer of 2019, and she shouted me out," he said. "I had 7,000 followers. Then Boom. I went to 12,000 followers immediately. My phone started freezing. People were saying, 'El Gordo está con La 69.'"
It wasn't a one time shout out. The entertainer shouted out El Gordo, on a video with over 900,000 views.
"I met her and, no lie, I didn't have to sell no more in the streets," he said. "The whole year of 2019 we were booked every single weekend."
The pandemic-related quarantine also produced an uptick in sales. 
"During the pandemic we were selling like crazy," he said. "We bought a mobile home. My motivation was to get out of the one bedroom and we did that. We opened a warehouse, a shack in San Bernardino. And we had to build everything. We got to work. Our dreams are coming true, and we are doing it."
Musicians, NFL players and WWE stars have tasted and shouted out the products.
Family first for El Gordo
Razo takes the greatest enjoyment in seeing his kids, Edgar (9) and Valentina (5) recognize that their father's products are in stores. He's also proud that the sale of his product allows him to do what he never could like, allowing them to take music lessons.
"I want to give them life I never had," he said. "I didn't have a dad. I don't know how to be a dad, but I'm trying."
While Razo enjoys taking care of his family and has plans for growth, his happiness comes from a much simpler accomplishment than just having Micheladas El Gordo become a larger company.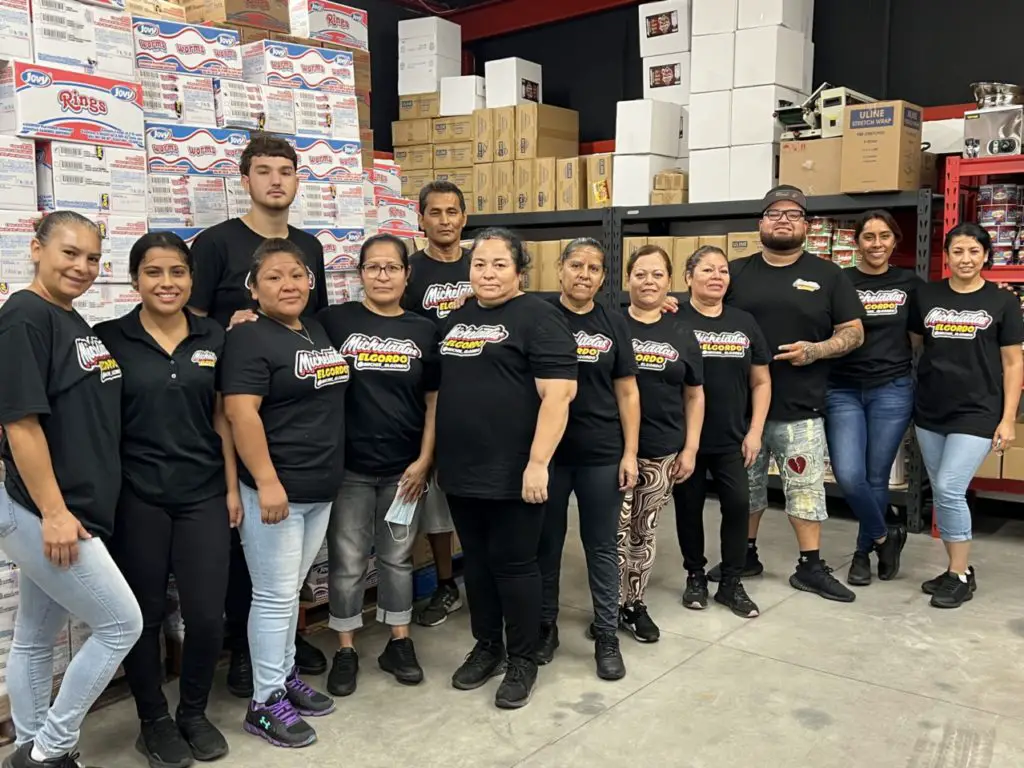 "As long as I pay my bills and I pay my employees, I'm happy and life is good," he said.
Razo employs 16 people. That's an almost unthinkable proposition considering he struggled to find employment only four years ago.
Giving back
He once gave back to the community through his work as a drug counselor. Now he is giving back as an entrepreneur. 
Micheladas El Gordo has a backpack and toy giveaway for underprivileged children of the Inland Empire. It's important for Razo to do this.
 "I didn't have shit twice," he says.
Razo's drive is both internal and in the blood. His entrepreneurial spirit came from his mother, even though she was fighting addiction for many years, she's always been a hustler, selling clothes. Razo's maternal grandfather was a landowner and worked as a de facto broker. His uncles sold fruit. The whole family was "en la movida," or "the hustle."
"Took that stairs," Cinthya Razo says. "And there was no elevator for success. There was no shortcuts."
They don't plan to stop soon. They plan to grow their business with new product offerings. There have been no shortcuts, and that makes their success that much sweeter and satisfying.
All the products are available on-line and in many Southern California convenience stores – or as we call them here the "likker stoh." 

They're not just in SoCal. They can also be found in many Latino communities throughout the United States.
The six-ounce packages of candies with unique product names such as "Culebras Toxicas" (toxic snakes) or "Sandias Sangronas" (bloody watermelon) sit on the top shelf underneath the cash register at my local store, Del Mesa Liquor Store, in San Diego's ethnically diverse Linda Vista neighborhood. 
"We can't keep them in stock," the lady behind the counter said. "I know when the deliveries are coming. The Gushers are the best seller. I keep one bag for myself because my kids will get them from me."
Get the Our Esquina Email Newsletter
By submitting your email, you are agreeing to receive additional communications and exclusive content from Our Esquina. You can unsubscribe at any time.