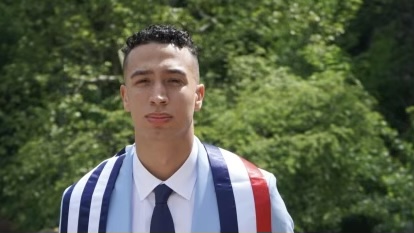 Justin Perez joins Louisville with NBA dreams
The son of Roc Nation CEO Desiree Perez honors his Cuban and Dominican Republic roots
Justin Perez was making a backdoor cut in practice during his freshman year at American University when his right knee gave out. He fell to the ground with a torn anterior cruciate ligament. Perez didn't know it at the time, but the knee injury put him on a path toward new goals and challenges off the court. 
As the son of a woman he describes as the "Michael Jordan of working," Perez got to work after he underwent surgery. As soon as he was healthy enough, the walk-on put himself through two-a-day practices in his quest to earn a scholarship on the basketball team. 
On his return to the court five months after the initial tear, he tore the ACL again. That's when the University of Louisville's new director of men's basketball administration changed his focus to plot a path toward one day becoming president of an NBA team.
"During the second tear, I had to really rethink how serious I could be about playing basketball for post college," he said. 
He employed the same dedication he devoted to rehabbing from his first ACL tear to prepare for the Law School Admission Test (LSAT). He graduated from American University in three years. Then he applied to eight law schools, earning acceptance letters from all of them except NYU.
Pivoting to academic pursuits
The son of two top executives at rapper Jay-Z's entertainment company Roc Nation chose Columbia University Law School. His NBA aspirations didn't go away while he was at one of America's most prestigious law schools even while he filled his resume with impressive internships and volunteering efforts.
He's the son of two prominent entertaining executives. His mother Desiree, the daughter of Cuban immigrants, is Roc Nation's CEO. Justin's father Juan, the son of Dominican Republic immigrants, runs Roc Nation's sports division.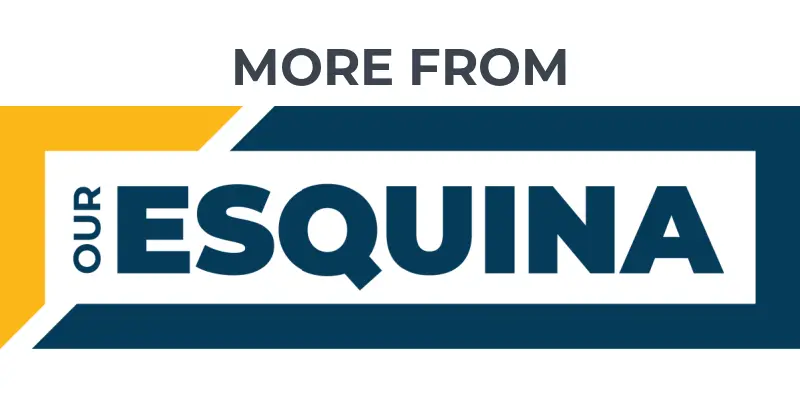 Astros' Lance McCullers Jr. ready after draining rehab
Giovanni Marquez prepares for third pro test
Astros legend Jose Cruz turns 75 years old
Desiree and Juan Perez were both the first of their siblings born in the United States. They rose from humble upbringings to the top of the entertainment business. Justin Perez honored his immigrant roots during his Columbia Law School graduation by wearing a stole that replicated the Dominican flag on the left side and the Cuban flag on the right.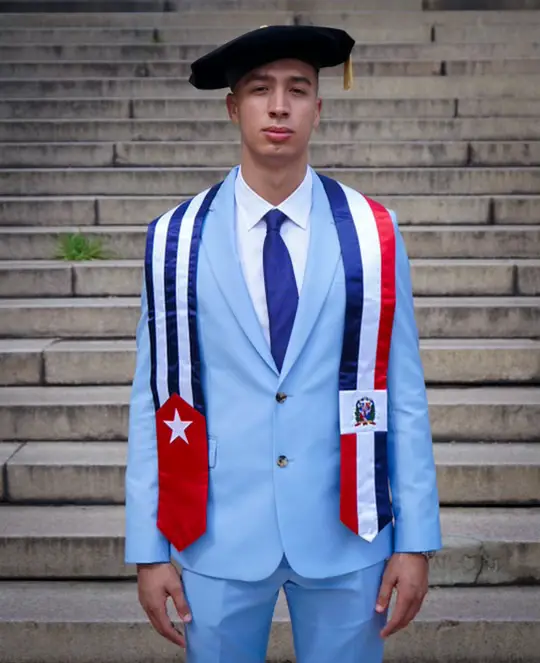 Perez strives to set an example and open doors in the future for other Afro Latinos, Blacks, women and other under-represented groups. He is proud of the work ethic his grandparents displayed after his maternal grandparents settled in the Bronx and his paternal grandparents settled in Harlem.
"Every immigrant family has to do work that seems unbearable," said Justin Perez, who was born in New York and attended high school in Miami. "I take every situation to the fullest. I'm not trying to take anything for granted. I have to keep pushing, keep pushing. It's more than just me." 
Justin Perez is fluent in Spanish and English
While at Columbia Law School, Justin Perez used his bilingual skills as a volunteer for Latino Justice's Cada Voto Cuenta (Each Vote Counts). He also volunteered as a court watcher for Reform Alliance, which fights to ensure fair trials.
He also interned at Roc Nation, where his parents gave him a first-hand look in different aspects of the sports and entertainment company.
"I've watched since I was 10 years old (2008) watching them grow this company from nothing," he said. "It's probably the biggest minority-owned entertainment business. Watching them build it and show that success can come from two Hispanic individuals and multiple African Americans to build a billion dollar company, it's been inspiring. 
"It always pushed me to strive for more and do right. I've watched high-level meetings. I've gotten to meet a lot of people with both my parents' working hard. Legitimately, my mom is like the Michael Jordan of working. I'd put her up against anyone."
It's clear that Justin Perez's parents are a major influence on him. His NBA aspirations, however, blossomed at home with his brother Christian Santini, who is 11 years older. Since around the time Justin was in fifth grade, he and his older brother played NBA2K in franchise mode. They would draft a team, build a roster and finesse the salary cap.
Late nights on NBA2K
Justin remembers often staying up until 3 a.m. playing NBA2K with his brother. 
"We'd do it over and over and over and over, getting to know how the salary cap worked," Justin Perez said. "I started playing basketball at the same time. The only thing that stopped me from playing was injuries."
Justin suffered a major shoulder injury in high school, hurting his recruiting prospects. Then the right knee ACL tears essentially ended his pro basketball dreams while accelerating his front office dreams.
An internship in the New York Knicks' front office last summer put him in contact with Kenny Payne, who helped Louisville win the 1986 NCAA title. Payne, 55, was an assistant with the Knicks during Perez's internship in the summer of 2021.
Payne, who was hired by Louisville, this year, mentored Perez last summer as the Knicks prepared for the draft.
Key mentor
 "Justin is one of the brightest young men I've ever met, a person who is goal-oriented and has high character," Payne said in a statement. "We're thrilled to have him on our staff with his background both as an athlete and a recent law school graduate."
Payne and Perez often sat together to prepare before watching players go through their pre-draft workouts for the Knicks. 
"I'd tell him strengths, weaknesses, and what I thought about (a player's) career (prospects)," Perez said. "That just really forged our relationship. Kenny is one of the most humble, honorable people I've met. I'm glad I'm here to help him and do anything. I'm a Swiss army."
Justin Perez is more than a Swiss Army knife for Louisville. He also brings some Cuban, Dominican and New York roots to the job with a prestigious law degree.
He's hungry to showcase what his immigrant grandparents' work ethic and his parents' lessons can help him accomplish. 
Justin Perez's ultimate goal at this time is to become president of an NBA team. Somehow, though, he seems destined for even more. And that's saying something considering there has been only one Latino president in NBA history, Gersson Rosas.
Get the Our Esquina Email Newsletter
By submitting your email, you are agreeing to receive additional communications and exclusive content from Our Esquina. You can unsubscribe at any time.