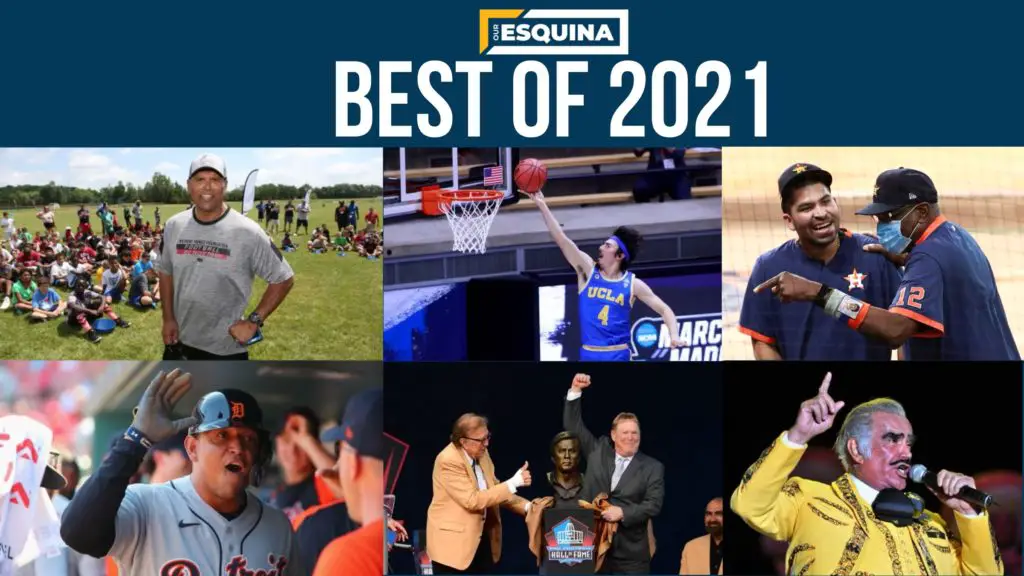 Our Esquina Year in Review: Best of 2021
Tom Flores' enshrinement in the Hall of Fame highlighted 2021
Our Esquina – Our Corner – of the sports world has been quite memorable this year. Latinos have left their marks throughout the world of sports, arts and culture. We've had stars at the Final Four, at the Women's College World Series and throughout College Football. We've also crushed it in UFC, boxing and Major League Baseball.
We've lost a pair of legendary singers, including the iconic Vicente Fernandez. We've also profiled the story of the young man behind the mariachi jacket that went from Dodger Stadium to the White House.
Legendary football coach Tom Flores finally earned his rightful place among the immortals at the Pro Football Hall of Fame. A few months earlier a Latina made NFL history with the Washington Football Team under another Latino coach.
Latinos also shone during the college football season, leading major upsets. Ole Miss quarterback Matt Corral even earned Heisman consideration. As we look back on 2021, we have gathered our favorite stories of the year.
Click on the headlines for the full stories on the Our Esquina staff's favorite stories of the year.
UCLA's Jaime Jáquez Jr. was one of the best stories of the NCAA Tournament. He helped the Bruins reach the Final Four while living up to his Mexican American family's legacy of success. He showed that Our Esquina included a place in March Madness.
"Fernando Valenzuela inspired so many people, especially in our town," Jaime Jáquez Sr. said. "He was really the first guy that we saw that we could relate to. He had a name like us, Fernando Valenzuela. …
"Watching Fernando, it made me want to go out and play baseball and become a pitcher. Even though I was right-handed, I would look up and do the same thing. I think my son can inspire other kids to do the same."
Two generations before Jaime Jaquez made his mark at UCLA, Anthony Muñoz was building his legend at rival USC.
The former USC football and baseball star, keeps opening paths for deserving students in his adopted hometown of Cincinnati. The Hall of Fame offensive tackle has created opportunities for hundreds of deserving students throughout his foundation.
Once his children moved closer to earning their degrees, Muñoz returned to his long-range mission. That project, the Anthony Muñoz  Foundation, has celebrated 20 years of providing life lessons and scholarships to more than 40,000 boys and girls in the Tri-State region.
The foundation features seven programs, ranging from an Impact for Eternity and Hispanic Character camps and leadership seminars.
With the help of dozens of executives and corporations, multiple recipients have earned $20,000 scholarships annually. In addition, 20 one-time scholarships, ranging from $2,000 to $5,000, are awarded.
Detroit Tigers slugger Miguel Cabrera joined an exclusive group of hitters when he hit the 500th home run of his career. This made him just the 28th MLB player to accomplish the feat.
Aside from a few celebrations among teammates and a curtain call in Rogers Centre, however, there was very little excitement surrounding the achievement. 
Over the past two decades or so, the milestone has become somewhat commonplace in the game. That is a result of the steroid era inflating power numbers. 
Astros manager Dusty Baker connects with his players better than most managers in baseball. Food is just one of the ways he connects with players.
Astros manager Dusty Baker doesn't know Jose Urquidy very well, yet their bond is already strong. The COVID pandemic, baseball's subsequent delay and the abbreviated season last year made it difficult for teams to get to know each other. 
That learning curve was even steeper for Baker and the Astros because he wasn't hired until late in January 2020, three weeks before pitchers and catchers reported. Then spring training was paused because of the pandemic. When they finally returned in July for a summer camp, Urquidy tested positive for COVID. He isolated for more than a month by himself at home, delaying his start of the season until September.
Soon thereafter, Baker began to build a bond with his Mexican pitcher in the purest of ways. They may not have been allowed to hang out in the clubhouse, but Baker knew how to connect with the second starting pitcher from Mexico to win a World Series start. 
Through tears of joy, Ibis Guillen cheered as Ozney Guillen walked across the stage to receive his degree from St. Thomas University last week. In between loud screams of "Bravo," she whispered in Spanish declaring love for her youngest son.
Memories of the previous three decades flashed through her mind. She thought back to Ozney's first day of elementary school and then middle school and high school. Ibis remembered helping Ozney with homework and taking him to school. 
"It was like a movie playing in my head," she said. Former White Sox manager Ozzie Guillen also cheered as tears of joy rolled down his cheek. They could read the message Ozney Guillen, 29, wrote in gold on the top his black graduation cap.
"One more championship for the Guillens … Adela, Ozzie #Love," read the black graduation cap.
Tom Flores finally got to Canton, Ohio, and the son of Mexican farm workers clearly loved what he saw. The legendary Raiders coach rose from his wheelchair Sunday evening as Raiders owner Mark Davis prepared to unveil Flores' bronze bust.
Flores, the son of farm workers in California's fertile Central Valley, smiled, dabbed at his eyes to wipe away tears and then offered a thumbs up. He was finally at his rightful place among the immortals. Not bad for a grape picker, as a former assistant coach once reminded him proudly.
Football had been Flores' life for 60 years, and a major part of it before that. It made him an American icon, a historical, trailblazing Mexican American leader.
The first Mexican quarterback in NFL history, first Mexican coach in NFL history, first coach of color to lead a team to a Super Bowl title, first Latino president and general manager in NFL history.
Our Esquina wouldn't be possible if Tom Flores hadn't shown our founder and many Latinos that there was a place for us in sports. Not surprisingly then, Our Esquina wrote several pieces on Flores when he was elected and then again when he was enshrined in the Pro Football Hall of Fame.
As sports business columnist Juan Lozano notes, Flores brought Latinos on his journey.
Tom Flores' reign as the Raiders' head coach from 1979-1987 was at a time when people weren't conditioned to be proud of their Latino heritage.
The Raiders were the team for Latinos in Southern California, arriving in Los Angeles from Oakland in 1982 after the Rams departed the city and the Los Angeles Memorial Coliseum for Orange County and Anaheim Stadium.
Flores created a large fanbase in Los Angeles. This makes sense considering Flores came from Sanger, a farming community southeast of Fresno, an area that is considered neither Northern or Southern California. 
Vicente Fernandez was always there. From my earliest memories as a child in Compton, Calif., through my many moves and travels, the Charro of Huentitán was always a soothing presence nearby.
He was the soundtrack of my life. Fernandez chaperoned us and kept us awake as my dad drove to his hometown of El Chante, Jalisco, for many summer and Christmas vacations. His music was always playing on the truck's stereo. 
From the first time I left home for basic training as a 17-year-old kid, Vicente Fernandez could make me feel at home and among family whenever I played his music. He was usually the one I leaned on when lonely in college, in empty apartments early in my career or on the road longing for my parents.
Fernandez wasn't family, but he might as well have been. That's why his death Sunday left a void akin to the loss of a grandparent. The man who sang "El Rey," was truly the king for many of us, whether you were born in Mexico, Latin America or the United States to Mexican parents. 
Manny Mota would gather most of the broken bats after each game when he managed in the Dominican winter league. Then when the Tigres of Licey were off, the Dodgers great would get to work in his shop.
Mota would then spend hours nailing the salvageable broken bats together. He would wrap tape around each bat, and then stack them all in the back of the family's station wagon. 
The man who grew to become one of Roberto Clemente's closest friends would then drive around Santo Domingo. 
"Whenever he saw a pickup game anywhere in Santo Domingo," Jose Mota recalls, "he dropped them out."
There's more to the story of the mariachi jacket the Los Angeles Dodgers' Joe Kelly got in a trade.  It isn't just a tale of music or mariachi or even baseball. It does not begin at Dodger Stadium and end at the White House.
The journey begins with Grover Castro's mother in Oaxaca. It is shaped by South Los Angeles and a piece of his father's Honduras too. Where the story goes remains to be seen. Like mariachi music, this story is fluid. It's breathing and living and subject to change.
It's a story about Los Angeles, specifically Latino Los Angeles. Maybe it's not the "L.A. Story" tourists seek when they visit. It isn't Hollywood. It's not about reality television stars or the like. Nonetheless, it's just as Los Angeles as anything that happens west of La Cienega, one of the largest thoroughfares that carves up the City of Angels, seemingly into different worlds. 
It's about a beautiful journey, complete with discovery, achievements, and even setbacks. Someone wore that jacket before Kelly gave it life and extra value. By wearing the jacket, the Dodgers' righthander gave it a bigger platform. 
Zach Calzada's personal route to the starting quarterback job at Texas A&M stretches across the length and breadth of SEC country, but the Calzada family's story begins in Cuba amid the tumultuous takeover of the island by the communist regime of Fidel Castro in the late 1950s.
Zach's journey to his first college start for the No. 5-ranked Aggies against New Mexico on Saturday night, a week after coming off the bench to pace the Aggies to a nail-biting 10-7 win over Colorado, shows the same determination and ingenuity exhibited by his grandparents, Hector and Maria Del Carmen Calzada, who fled Cuba 60 years ago in search of a better life.
The family odyssey has stretched from Panama to Florida, Missouri and Georgia and now, for Zach and his sister Carolyn, who has committed to play soccer for the Aggies, to College Station.
As the family grew after immigrating from Mexico, Natalia Dorantes' grandmother Elsy took on multiple jobs to help her husband raise their seven children. When she wasn't working at her job in a factory, she sold Avon cosmetics to her friends. She even sold flowers on the street while her husband Jorge worked in a factory in downtown Los Angeles.
For a time, the entire family lived in a one-bedroom apartment in South Central Los Angeles, one of the poorest areas in the City of Angels. Ten folks, comprising three generations, lived in that apartment. Space was so tight, some of the kids slept in hammocks.
As the Dorantes say, they were "amontonados," or living on top of each other. They were happy, though, and loved too. They sacrificed and pushed for each other. Fifty years after the parents immigrated from Yucatan, Mexico, much of the family lives in Phoenix in homes in the same cul-de-sac.
That's where Natalia Dorantes reached her father George to say she had been offered an opportunity to make National Football League history.
Rice University was the destination the last two times members of Jose Cruz's family took absences from their coaching jobs in the major leagues. In 2003, Jose Cruz Sr. was the first base coach of the Astros when he skipped a few games to attend the College World Series.
Last month, Detroit Tigers assistant hitting coach Jose Cruz Jr. was given permission to leave the team to attend his son Antonio's graduation from Rice. 
Cruz Jr., who is affectionately known as Cheito by his family and longtime friends, will officially leave the Tigers this weekend to become Rice's baseball coach. He's coming home to the school he pushed to prominence.
Rice holds a special place in the heart of the Cruz family.
Alfonso Marquez today occupies the biggest stage of America's Pastime as an umpire in his fourth World Series, but crowd noise at Truist Park can't drown out the sound he recalls of the knock of a motel door in Tijuana, Mexico, 42 years ago.
With his mother, Ermelinda Marquez, and sister, Cecilia, Marquez had spent two days on a bus ride from the tiny pueblo of La Encarnacion in the Mexican state of Zacatecas. 
He was seven years old with two pairs of pants, three T-shirts, a jacket and a father on the other side of the border anxiously waiting when the coyote, the man the family had paid to get them into the United States, came calling in the night.
"Vamonos. All right, let's go," said the coyote.
The coyote drove Ermelinda and her children toward the Tijuana-San Diego border. He lifted Alfonso with one arm and Cecilia with the other, as if carrying small sacks of potatoes. Then he ordered the family to run north.
"A correr! Vamonos!" he yelled. "Run! Let's go!"
Get the Our Esquina Email Newsletter
By submitting your email, you are agreeing to receive additional communications and exclusive content from Our Esquina. You can unsubscribe at any time.