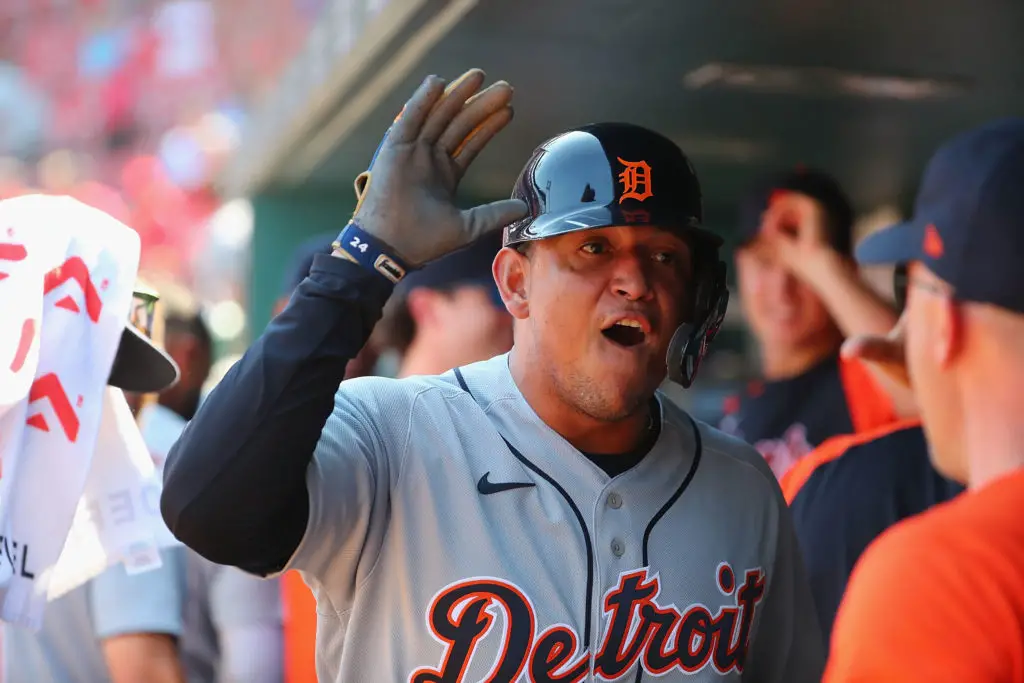 Miguel Cabrera falls victim to cheapened milestone
Miguel Cabrera's 500th home run was met with little excitement. Fans deserved better.
This week, Detroit Tigers slugger Miguel Cabrera joined an exclusive group of hitters when he hit the 500th home run of his career. This made him just the 28th MLB player to accomplish the feat.

Aside from a few celebrations among teammates and a curtain call in Rogers Centre, however, there was very little excitement surrounding the achievement. 
Over the past two decades or so, the milestone has become somewhat commonplace in the game. That is a result of the steroid era inflating power numbers.
In fact, since 1999, 13 players have joined the 500-home run club. That's a whopping 46% of the list in just a little over 20 years. Eight of those players were in one way or another implicated in using performance enhancing drugs.
| Player | Date of 500th | Implicated? |
| --- | --- | --- |
| Mark McGwire | August 9, 1999 | Yes |
| Barry Bonds | April 17, 2001 | Yes |
| Sammy Sosa | April 4, 2003 | Yes |
| Rafael Palmeiro | May 11, 2003 | Yes |
| Ken Griffey Jr. | June 20, 2004 | No |
| Frank Thomas | June 28, 2007 | No |
| Alex Rodriguez | August 8, 2007 | Yes |
| Jim Thome | September 19, 2007 | No |
| Manny Ramirez | May 21, 2008 | Yes |
| Gary Sheffield | April 17, 2009 | Yes |
| Albert Pujols | April 22, 2014 | No |
| David Ortiz | September 12, 2015 | Yes |
| Miguel Cabrera | August 22, 2021 | No |
Still, many of the players on the list – implicated and not –  received plenty of buzz upon connecting on number 500. Here are just a few examples.
Celebrations 
Like Miguel Cabrera, Ken Griffey Jr. was never suspected of using any type of performance enhancers. He was one of the most beloved players in the game's history. His teammates poured onto the field to congratulate him after he hit his 500th. This is pretty typical in these kinds of celebrations.
Having hit the home run while away, usually the crowd will cheer until the player comes out for a curtain call. In Griffey's case, he ran into the stands to embrace his family after celebrating with his teammates, extending the celebration to everyone's pleasure.
One of the more dramatic celebrations was when Rafael Palmeiro belted home run number 500 in front of a home crowd in Arlington, Texas. Sure, this was before the infamous finger-wag before congress and then the failed drug test. Still, the cloud of suspicion hung above MLB as home run records fell faster than a comet.
Nevertheless, as Palmeiro rounded the bases, the theme to the film "The Natural" played. Then, two children – his? – ran out to the outfield wall and unveiled a decal honoring his accomplishment. Also, the Rangers unfurled a banner in the stands that read, "Rafael Palmeiro 500 Home Run."
It was quite the scene. And none of it appeared to be offered to the likes of Griffey, Frank Thomas, Jim Thome, Albert Pujols, and Miggy. All of whom have never been suspected of taking PEDs.
Players Like Miguel Cabrera Overlooked
Granted, the aforementioned players – Griffey, Thomas, Thome, Pujols, and Cabrera – may never have wanted all the pomp and circumstance.

However, it appears that fans were never even factored into the equation and this – excuse my French – sucks. Take away those eight players who may have accomplished the feat through unfair means, and Cabrera becomes only the fifth player to do it since Eddie Murray 25 years ago.
Save for Griffey's celebration and Thome, who hit his 500th home run in walk-off fashion, the remaining "clean" players got a decent reception, but nothing like carting out Willie Mays and Willie McCovey for a photo op in the middle of a game, like Barry Bonds got.
You see, 20 years ago, to hit 500 home runs was the stuff of legends. It was a one-way ticket to Cooperstown. Today, it's akin to a no-hitter, and we've seen 28 of those since 2014. The crowd offers a warm reception, you celebrate with your teammates, take a curtain call, and that's it.
In the case of Miguel Cabrera, we forget that we are witnessing an incredible player cementing himself as a baseball legend. One of the greatest Latino players to step in an MLB stadium. The greatest Venezuelan player of all time.
How awesome would it have been to have Griffey, Thomas, and Thome come out to greet Cabrera as he crossed home plate? Welcoming him to the illustrious 500 home run club? Instead, we got the classic curtain call.
Fans deserve more than that, and, frankly, so did Miggy.
Get the Our Esquina Email Newsletter
By submitting your email, you are agreeing to receive additional communications and exclusive content from Our Esquina. You can unsubscribe at any time.