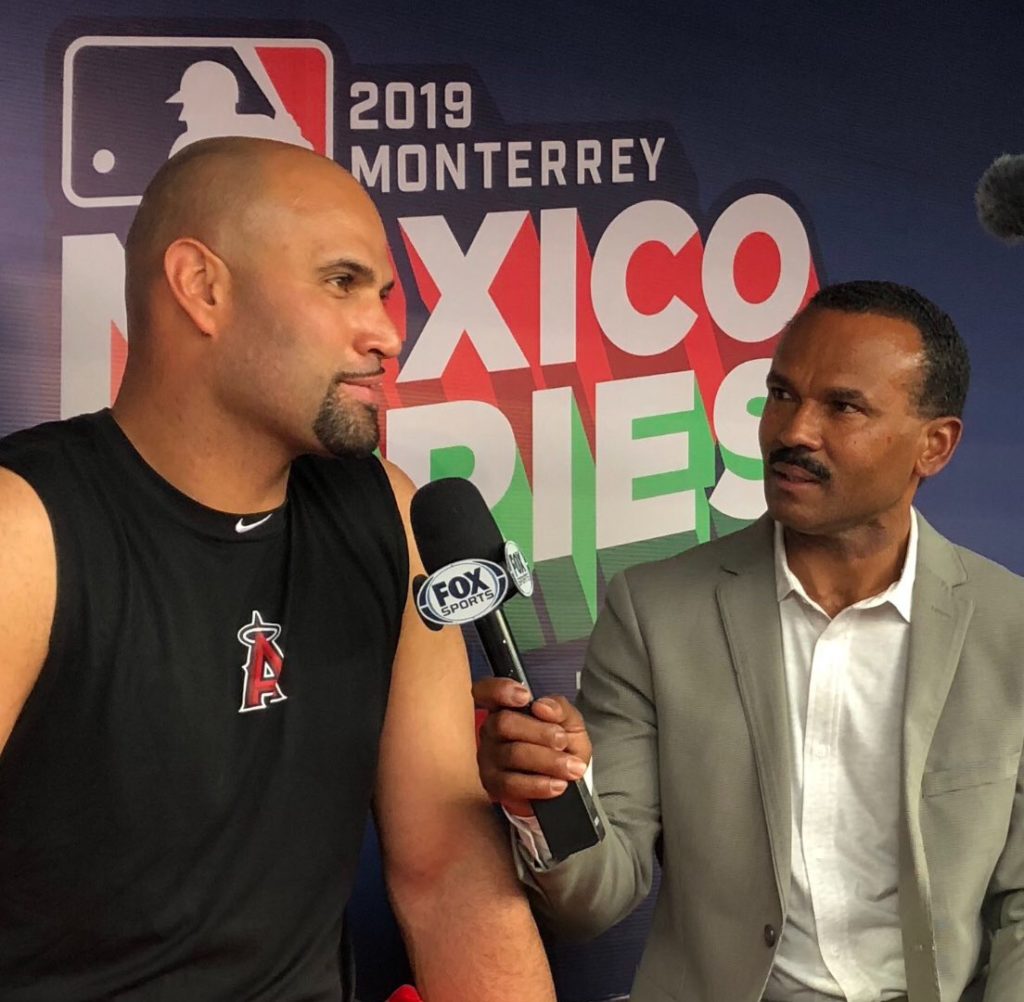 José Mota provides look into future of broadcasts
José Mota's role provides stepping stone for former players from Latin America to become English language broadcasters.
Imagine 20 years from now turning on the television and flipping the channels to see a New York Mets game with Francisco Lindor on color commentary. How about a World Series with Juan Soto as an analyst? Or maybe Yadier Molina breaking down pitching sequences during a Cardinals game.
Those realities aren't set in stone, but if Thursday's announcement is any indication, they became a whole lot more believable.
On Thursday, the Los Angeles Angels and Fox Sports West announced the broadcast booth for the upcoming 2021 season. Taking over for the departed Victor Rojas would be long-time national baseball commentator and host Matt Vasgersian with Daron Sutton, the son of former Los Angeles Dodgers pitcher and Hall of Famer Don, filling in as backup.
But another son of a former Dodger will also make his mark this upcoming season, a historical one at that. José Mota, the son of the legendary utility man Manny, has been elevated to the role of color-commentator/analyst, helping create a three-man booth in Anaheim.
Mota makes history
In being elevated to a new role, Mota becomes the first former player born in Latin America to become a full-time broadcaster in one of the 30 English-language booths.
Despite the presence of Latinos in baseball slowly increasing in the years following integration to where Latinos now make up (27.4% in 2016, per SABR) of all the representation, a voice like Mota's had yet to be heard in a broadcast booth.
Sure you can listen to American-born Latino Alex Rodriguez on Sunday Night Baseball, and Luis Gonzalez has filled in on occasion for Arizona D-backs broadcasts, but never has there been a Latin-born former player in a television booth on a full-time basis.
Over the course of his career, Mota has used his heritage and bilingual skills to help develop unique relationships with the Angels' Latino stars. He has translated stories, anecdotes and other tidbits into his work, giving audience members a unique understanding of their favorite players.
Now Mota helps create a reality in which seeing former Latin-born stars like Lindor and Soto in similar roles isn't too far-fetched.
Take Soto, for example. The 22-year-old Dominican native shot to superstardom during the Nationals' historic World Series run in 2019. But what stood out more than the extreme amount of poise displayed inside the batter's box was Soto's grasp of the English language.
Throughout the month of October, Soto casually went from crushing homers to being able to explain in-depth his process, a credit to the Nationals providing Soto with English lessons via Rosetta Stone.
Just listen to this pregame segment he did on Fox Sports alongside Rodriguez and David Ortiz.
Then there's Lindor. One of the best shortstops in the game, Lindor has seen his popularity rise immensely since being traded to the Mets.
Mr. Smile could follow one day
He recently made a $1 million donation to Monteverde Academy in Florida where he attended school and learned the English language. The newly established Lindor Hall will help empower and educate the next generation of young leaders.
Lindor was one of ESPN's featured guests during its Spring Training broadcasts. In near-perfect English Lindor talked about his affinity for pizza, his shoes and more.
He followed that up with a one-on-one interview for Sports Illustrated in which he is also the cover athlete for its annual baseball preview edition.
This doesn't even touch on other Latino stars like Javier Báez, Albert Pujols and José Altuve, all of whom are fluent in English.
New possibilities for Latin American players
Much like the NFL and NBA have benefited greatly from having recently retired players jump into the broadcast booth to offer their expertise, the possibility for the same inclusion of Latin-born MLB players is there.
Not only would these players, some of whom are the best at their given position, be able to break down the intricacies of hitting, base-running and defensive plays, but like Mota, they would be able to share stories and other important facts of other peloteros, something that comes as a result of their heritage and bilingual abilities.
More than anything, they would simply be able to relate. Relate to the struggles that come with being a full-time baseball player in a foreign land and not having a full understanding of English. Relate to the pride and joy a player feels when they go Plakata on a baseball. Relate to the food, the music, the dugout dance parties and more.
In turn, this would further expand the presence and popularity of the game's dozens of Latino stars, many whose words and personas are hidden behind translators and interpreters.
Mota and his trailblazing season this year will be the first stepping stones in achieving this sort of reality.
Get the Our Esquina Email Newsletter
By submitting your email, you are agreeing to receive additional communications and exclusive content from Our Esquina. You can unsubscribe at any time.