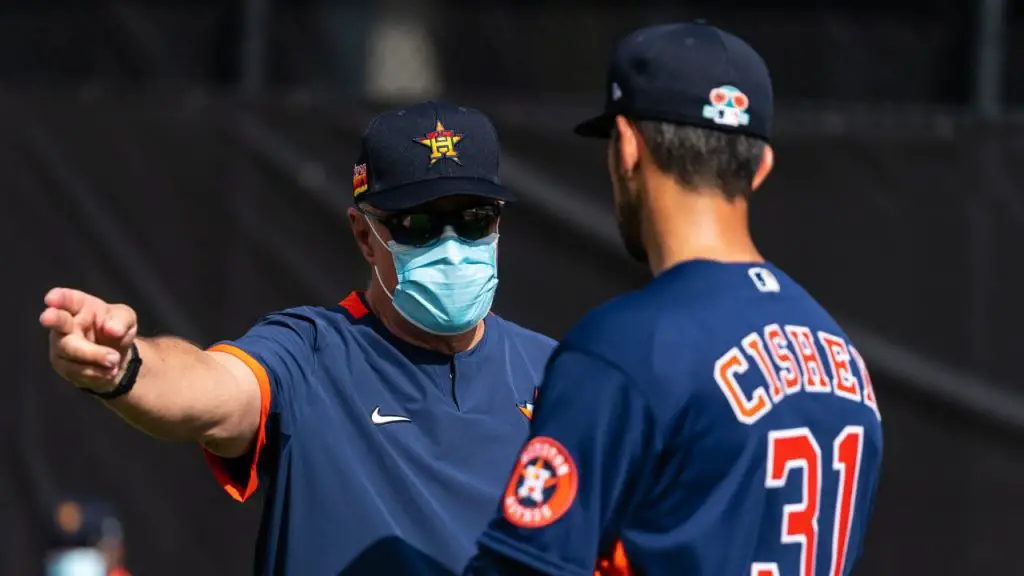 Astros pitching coach Brent Strom secures Mexican residency
Brent Strom hopes to hold clinics, give back in Puerto Peñasco.
Growing up in San Diego, Brent Strom spent quite a bit of his youth across the Mexican border in Tijuana. He even played winter ball in Baja California, one year in Tijuana, another in Mexicali.
The Astros' acclaimed pitching coach has developed a strong appreciation for Mexican culture over his 72 years. The love that blossomed in San Diego was nurtured in his longtime offseason hometown of Tucson, another city with a strong Mexican influence.
Strom's love of Mexico has only grown in recent years, prompting him and his wife Carrie to request and receive Mexican residency this offseason. He bought a condo in Puerto Peñasco, a resort on the Gulf California. 
Known as Rocky Point to American tourists, Puerto Peñasco is where Strom and his wife Carrie will spend part of their retirement. 
"We enjoy the town, the people," Strom said. "It's been kind of a dream to find a place by the water, and on a coach's salary I can't do it here for sure. Mexico is the best thing for me. 
"Puerto Peñasco is only 60 miles from the border. It's an easy drive for us from Tucson. Eventually I'm going to get out of the game pretty soon. It's just a place for my wife and I to enjoy kind of a quieter lifestyle, so to speak."
With permanent residency, Strom can now open a bank account and handle other official business in Mexico. 
Strom has command of Spanish
Although he downplays his grasp of Spanish, Strom has long been able to communicate well with his pitchers from Latin America in their native language. 
More importantly, perhaps, the regard he has for Mexicans and Mexican culture has been evident for years.
"Brent's appreciation for life, for others, for other cultures and the respect and understanding he has for Mexico and Latin America and its people make him an exemplar human being," said Francisco Romero, the Astros' Spanish language broadcaster.
Romero's wife Larissa helped guide the Stroms through the residency process. The two families traveled into Mexico together earlier this month to handle the paperwork.
Usually it takes about seven days to go through the process to become a resident of Mexico. With Larissa's help, the Storms handled everything in 12 hours this month.
Larissa Romero is well known in Mexican government circles, so she helped the Storms expedite the residency process. Otherwise, they would have had to wait until November. The next step would be to become a dual citizen, but he'll wait to see where that goes.
Strom is in the final year of his contract. He and his wife have been the primary caretakers of his mother in-law, who is now 103.
He has been in professional baseball since 1970, his first season at Class A Visalia. 
By 1972, he reached the majors and began learning from legends such as Tom Seaver and Tug McGraw. Fifty-one years after he was picked third overall by the Mets in the June Draft out of USC, Strom is entering what could be the last season of his major league coaching career.
Passion to teach remains strong
His passion for pitching, baseball and his players hasn't waned, though.
He was on the phone regularly with his pitchers this offseason. When he wasn't traveling to Mexico to secure his residency there, he was busy digging up nuggets of information to help him get to know the young pitching prospects. 
"I was talking a lot with him when I was home," Astros righthander Jose Urquidy said. "When I got here he told me that he's becoming a Mexican resident. 
"He likes Puerto Peñasco. I have a good relationship with him. We talk a lot. He gives me a lot of advice. He gives me confidence. I appreciate him. He told me he likes to be in Mexico. He was very excited."
Strom is already planning for life after Major League Baseball. Even if this is his last season as a pitching coach with the Astros, he has more to give. 
To help feed those struggling from food insecurity during the pandemic, he helped donate food to the church he attends in Puerto Peñasco.
His status as a major league pitching coach helped make the residency process easier and quicker. He already knew how much they love baseball in Mexico. He found that out as a young pitcher in winter ball almost half a century ago. 
Now he's committed to help groom the next generation of Mexican ballplayers. He has already spoken to the mayor of Puerto Peñasco about holding baseball clinics there. 
"I'd like to bring some baseball to that small little town and do some clinics for the young kids," he said. "They actually, at one time had a team called the Tiburones, which is no longer in existence. 
"Perhaps we can revise that because I think you got a nice little stadium down there. I just find the people to be extremely, extremely friendly, outgoing, just a wonderful group of people. I need to improve my Spanish more than the baseball Spanish that I own at this moment."
Urquidy and Romero are quick to point out that Strom's Spanish is strong already. More importantly, his love of Mexican culture is even stronger.
Subscribe: Apple Podcasts / Google Podcasts / Spotify / Amazon / Stitcher
Get the Our Esquina Email Newsletter
By submitting your email, you are agreeing to receive additional communications and exclusive content from Our Esquina. You can unsubscribe at any time.