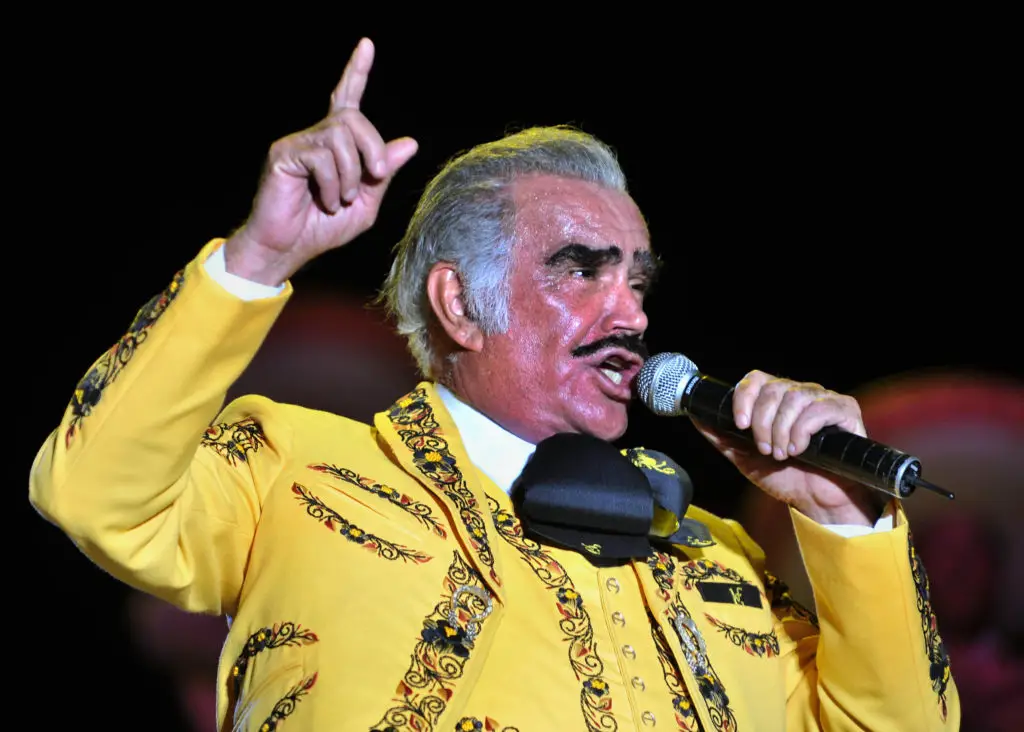 Vicente Fernandez anchored us to our roots
Fans throughout Latin America mourn Vicente Fernandez
Vicente Fernandez was always there. From my earliest memories as a child in Compton, Calif., through my many moves and travels, the Charro of Huentitán was always a soothing presence nearby.
He was the soundtrack of my life. Fernandez chaperoned us and kept us awake as my dad drove to his hometown of El Chante, Jalisco, for many summer and Christmas vacations. His music was always playing on the truck's stereo. 
From the first time I left home for basic training as a 17-year-old kid, Vicente Fernandez could make me feel at home and among family whenever I played his music. He was usually the one I leaned on when lonely in college, in empty apartments early in my career or on the road longing for my parents.
Fernandez wasn't family, but he might as well have been. That's why his death Sunday left a void akin to the loss of a grandparent. The man who sang "El Rey," was truly the king for many of us, whether you were born in Mexico, Latin America or the United States to Mexican parents. 
For many generations of Mexican Americans like me, El Charro de Huentitán connected us to our parents and grandparents. His rancheras accompanied our triumphs, our failures, our funerals and wedding celebrations, our drunken nights and lovestruck evenings. 
His soundtrack was also usually a sign that mom wanted you to start helping to clean the house. 
Vicente Fernandez was loved throughout Latin America
He sold out concerts throughout Latin America, in Peru, Colombia and countries in between. His heart belonged to his beloved Mexico, especially his home state of Jalisco. 
He packed Mexico's two greatest sports palaces, Plaza Mexico and Azteca Stadium. Fernandez also packed the biggest arenas in almost every major American city, from Los Angeles to New York and Chicago, Las Vegas, Houston and many smaller cities too.
He was an anchor for this veteran sportswriter from California and even made Boston's Fenway Park feel like home for Alex Verdugo, the bi-cultural Red Sox outfielder from Arizona.
Verdugo, the son of a Mexican dad and Anglo American mother, has used Fernandez's classic "Volver, Volver" as his walk-up song since he reached the majors with the Dodgers. The young outfielder quickly became a crowd favorite as fans at Dodger Stadium roared and sang along as "Volver, Volver" played while Verdugo went to the plate. 
Not far from Dodger Stadium, Fernandez earned a star on Hollywood long ago. He also earned three Grammy Awards and nine Latin Grammy Awards.
Fenway Park walk-up
Dodger Stadium crowds are heavily Latino of Mexican descent, and most of them identified with Fernandez's rancheras. Boston's Fenway Park doesn't have such a Latino flavor, but Verdugo stuck with "Volver, Volver" because it made him feel at home. 
"I'm Mexican American," Verdugo said. "Just every day my dad would pick me up from school or just cleaning the house and doing some stuff around the house, he would play Mexican music all through the house and blaring it.
"One of the guys that really stuck to me was Vicente Fernandez. I loved his voice. My dad loves him. My dad has some songs from him that just mean a lot. You can see the emotions that he starts to express."
Fernandez died Sunday at 81 in Jalisco, where he had been hospitalized since August after suffering a fall at his ranch. His family announced Sunday morning through his Instagram page that he died at 6:15 a.m.
"It was an honor and great pride to share with everybody a great music career and to give it all for his public," the family announced on Instagram. "Thank you for continuing to applaud him. Thank you for continuing to sing."
The message was accompanied by a hashtag that translates to "Chente continues being the king."
Vicente Fernandez a billboard hit
According to Billboard, which cited MRC Data, Fernandez sold 9.2 million albums in the United States with "23.4 billion in cumulative radio audience for all his songs and 5.5 billion on-demand streams."
It's almost impossible to pick a favorite Vicente Fernandez song. It essentially depends on the mood. As some in America embraced Donald Trump's racist rhetoric against Mexicans and immigrants, I became quite partial to "Los Mandados."
That song is an anthem for undocumented immigrants who endure while trying to cross into the United States. Although I was born here, I loved its message of fighting back.
"Nos Estorbo La Ropa" was also a favorite love song. The title translates into "The clothes got in the way."
Fernandez's "El Rey" and "Volver, Volver" were seemingly on a loop throughout my life, always making me feel more in control. "Lástima que seas ajena," (Shame that you're someone else's) was a romantic classic. 
George Strait pays tribute
Even country music icon George Strait was a fan of Fernandez, which makes sense because Strait is to country music and the U.S. what Fernandez meant to Mexico and ranchera music.
"Como Mexico no hay dos" (Like Mexico there aren't two) reminded me I was blessed with Mexican roots. 
Family is at the center of Mexican and Latino culture. Our parents want us to live at home until we're married and then remain close afterward. 
For those of us who go far from our hometowns chasing careers, we never quite fill that void. We always long to be with mom, dad, tios and siblings. Life and career usually get in the way. Home, however, always seemed nearby when Vicente Fernandez was playing.
Gracias for filling that void, Don Chente. We mourn you. Vicente Fernandez's "Botas de Charro" won't ever be filled. 
Feature photo by Luis Robayo/AFP via Getty Images.
Get the Our Esquina Email Newsletter
By submitting your email, you are agreeing to receive additional communications and exclusive content from Our Esquina. You can unsubscribe at any time.