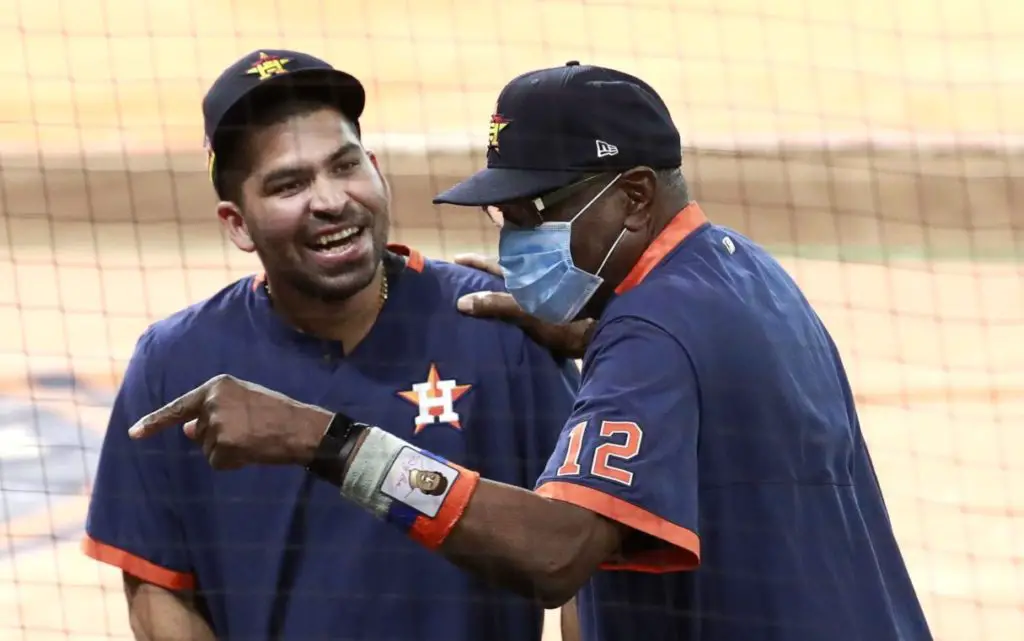 More than Pozole Power for Dusty Baker, Jose Urquidy
Dusty Baker builds special connections with his players
Astros manager Dusty Baker doesn't know Jose Urquidy very well, yet their bond is already strong. The COVID pandemic, baseball's subsequent delay and the abbreviated season last year made it difficult for teams to get to know each other. 
That learning curve was even steeper for Baker and the Astros because he wasn't hired until late in January 2020, three weeks before pitchers and catchers reported. Then spring training was paused because of the pandemic. When they finally returned in July for a summer camp, Urquidy tested positive for COVID. He isolated for more than a month by himself at home, delaying his start of the season until September.
Soon thereafter, Baker began to build a bond with his Mexican pitcher in the purest of ways. They may not have been allowed to hang out in the clubhouse, but Baker knew how to connect with the second starting pitcher from Mexico to win a World Series start. 
Baker did it in the same way he has been connecting since before he played on the Los Angeles Dodgers with the legendary lefthander Fernando Valenzuela, the first Mexican starting pitcher to win a World Series.  Urquidy arrived at the clubhouse one day to find Mexican food at his locker.
One day it was tacos. Another day it was burritos. And then ceviche. Another day it was menudo and then pozole. 
The meals were all typical Mexican delicacies, and the righthander from Mazatlan loved it. It made him feel at home, not in the physical sense, but in the familial sense.
Helping players feel valued
Urquidy, who was still technically a rookie last season even though he won Game 4 of the 2019 World Series, felt appreciated. Acknowledged. Valued.
That's just another example of why Baker has been one of the best teammates, managers and people in baseball since the late Hank Aaron ushered him into the majors.  
"For me that's beautiful," Urquidy said of the food deliveries. "We have a good relationship. We speak a lot. He loves Mexican food, and Mexican people more than anything.
"We have a good relationship. That gives me a lot of confidence, and I think it also gives him confidence in me."
At 71, Baker is just starting his second season of his fifth managerial stop since taking over the San Francisco Giants in 1993. 
The pandemic protocols last year made it difficult for him to build the bonds for which he has become famous and beloved by his players. Baker builds more than just professional relationships. He gets to know his players, their spouses, their parents. 
He once threatened to call a players' father. When the player didn't flinch, he inquired about calling the mom. That's when he got the reaction he sought, realizing the player didn't want to disappoint his mother. 
Former All-Star Russ Ortiz notes that Baker didn't just know his wife's name when he played for Baker with the San Francisco Giants. He also knew Ortiz's mother's name, and the names of his maternal grandparents who helped raise him after his father left the family. 
Baker's players respond to him, as the Astros did last year while capping a turbulent year by reaching the American League Championship Series. He was the perfect man to lead the team after the sign-stealing scandal cost manager AJ Hinch and general manager Jeff Luhnow their jobs. 
Derided by the rest of the baseball world, the Astros found a nurturing voice in Baker, who is old enough to be a grandfather but cool enough to not be seen as grandfatherly. 
Welcomed at the carne asada
It's more than just about burritos and tacos, pozole and ceviche or even menudo. If you ask Mexicans who have been around him, whether immigrants like Valenzuela and Urquidy or second-generation Mexican-Americans like Ortiz – Baker is always welcome at the carne asada. In other words, he's viewed as one of us.
"I love Urquidy," Baker said. "He can pitch. You know how I feel about Mexican pitchers. Like I've told you. I've told the world. That's the toughest league I've ever played in."
The Mexican food just tells part of the story of the man who could be the first African American manager inducted in the Baseball Hall of Fame. In fact, Dusty Baker is surely also welcomed at the barbecue just as much the barber shop. He connects with all his players, regardless of ethnicity or race. 
Dusty Baker's "Mexican partners"
Baker finds ways to connect, as he did Saturday morning in Oakland on the eve of Urquidy's first start of the season.
He had pozole brought to the clubhouse from Otaez Mexican restaurant in East Oakland. A day earlier, Baker's "Mexican partners from East Oakland," sent over burritos to the clubhouse.
Dusty Baker, Astros quality control coach Dan Firova, who managed and coached in Mexico, and Urquidy had pozole.
"Yes, it was very good," said Urquidy, who is from the state of Sinaloa.
More importantly, Baker's gesture meant a lot personally to Urquidy. It made him feel appreciated, cared for, valued. 
"Us Mexicans," Baker said, "we ate some pozole today."
They sure did. Dusty Baker is welcome at the carne asada any day too.
Featured photo by Bob Levey/Getty Images.
Get the Our Esquina Email Newsletter
By submitting your email, you are agreeing to receive additional communications and exclusive content from Our Esquina. You can unsubscribe at any time.