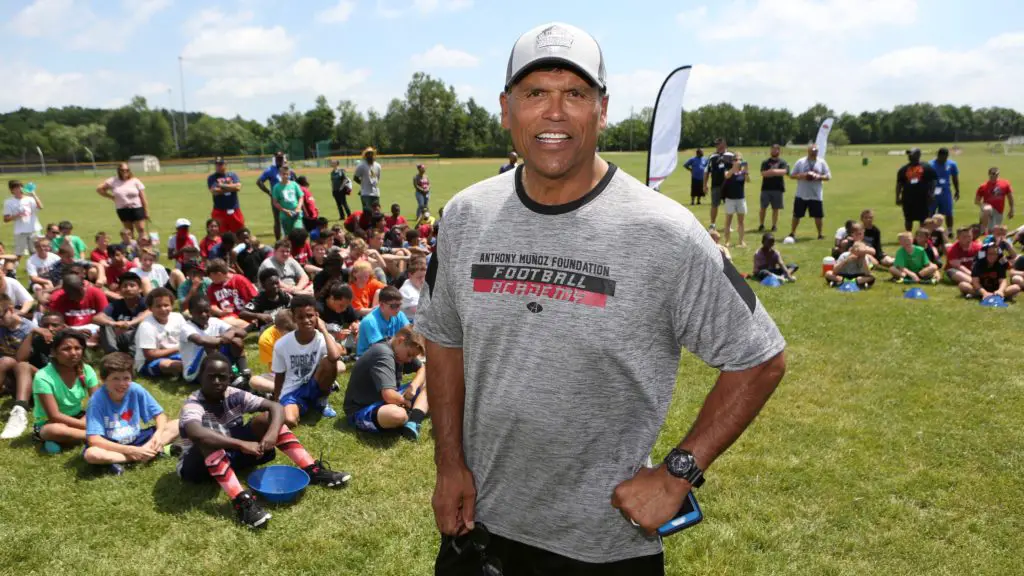 Legend Anthony Muñoz keeps opening paths for deserving students
Hall of Famer Anthony Muñoz has helped more than 40,000 kids through his foundation
After a 13-year career that culminated in his selection to the Pro Football Hall of Fame, Anthony Muñoz  wanted to provide an opportunity for kids coping with an array of hardships.
But Muñoz , who was raised with his four siblings by his mother, recognized the importance of a strong family and devoted the next nine seasons with his son Michael and daughter Michelle with wife DeDe.
"I wanted to be a dad and a fan," Muñoz said from his Cincinnati office. 
Once his children moved closer to earning their degrees, Muñoz returned to his long-range mission. That project, the Anthony Muñoz  Foundation, has celebrated 20 years of providing life lessons and scholarships to more than 40,000 boys and girls in the Tri-State region.
The foundation features seven programs, ranging from an Impact for Eternity and Hispanic Character camps and leadership seminars.
With the help of dozens of executives and corporations, multiple recipients have earned $20,000 scholarships annually. In addition, 20 one-time scholarships, ranging from $2,000 to $5,000, are awarded. 
Each scholarship recipient is screened and selected on the basis of their "financial need, academic achievement, ability to overcome adversity and their ambition to succeed," according to the foundation's website.
Muñoz , 62, said he spoke to several youth groups while recovering from three knee surgeries at the University of Southern California. But his retirement and his children going away at college allowed him and his wife to start his platform.
"I understand why guys start foundations when they're playing," said Muñoz , a 6-foot-7 offensive tackle. "You have the leverage, you have the name. But as a father, husband and football player, I didn't have the time to be engaged. And I wanted to be engaged in whatever I was going to do. So I waited."
Worth the wait for Anthony Muñoz
The delay paid off, as Muñoz  connected with local CEOs who were interested.  Assisting Muñoz is his wife, a 16-member board of directors, three full-time staff members and four to 10 college interns who learn how to operate a not-for-profit organization.
Despite the COVID-19 pandemic, Muñoz  said it's been an "amazing" period because of the ability to retain and add new partners who have enabled the foundation to sustain programs and provide scholarships.
Among the requirements for the Anthony Muñoz Scholarship applicants is displaying "a desire to overcome adversity and demonstrate a financial need." Some of the applicants, Muñoz  said, have lost their mother and are raised by their siblings or their grandmother but are committed to academics and the community.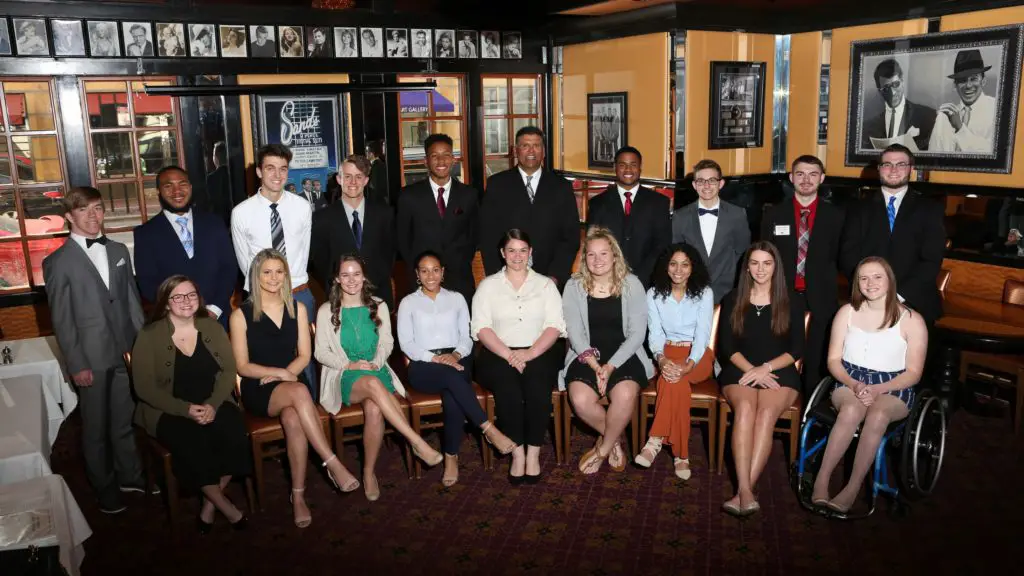 "The fun thing now is seeing these young people that we've been able to mentor or attend one of our leadership or mentoring camps and award them a scholarship, or to see them doing well in college and the business world," Muñoz  said.
One recipient, Muñoz  said, aspires to attend Harvard Medical School, perform her residence in Boston and return to Hamilton, Ohio, to practice and have an impact in the community.
"It's something that energizes me at my age," said Muñoz , who retired after the 1992 season. "I'm surrounded with a great team. I haven't played a team sport for a long time. I'll just say I'm a member of a bigger team, which includes my family, board, staff and community.
"We tell these young men and women that once they're involved with their program, they become part of the Muñoz  Foundation family."
Honor those who cleared path
As Muñoz dwells on the longevity of his foundation, he realizes he's honoring those who helped him as a youngster in Ontario, Calif. Those include Jim Semon, his baseball coach at Chaffey High School and the former head of the Parks and Recreation Department in Ontario.
Semon served as a fatherly role model for Muñoz , who named an impact award in honor of Semon. That award now includes Semon's wife Cheryl, who passed away last year.
"I'd get to the park at 7 a.m., open the shed and throw out the bases," recalled Muñoz , who has known Semon since he was 6 years old.
"Look at our overnight character camp. We take 150 young men away for three days and teach them football, team building and character. All I remember was putting a glove on the handlebar and leaving early in the summer morning and coming back for dinner."
But Muñoz  had to complete his chores to assist his mother Esther, who displayed the work ethic and responsibility that rubbed off on him.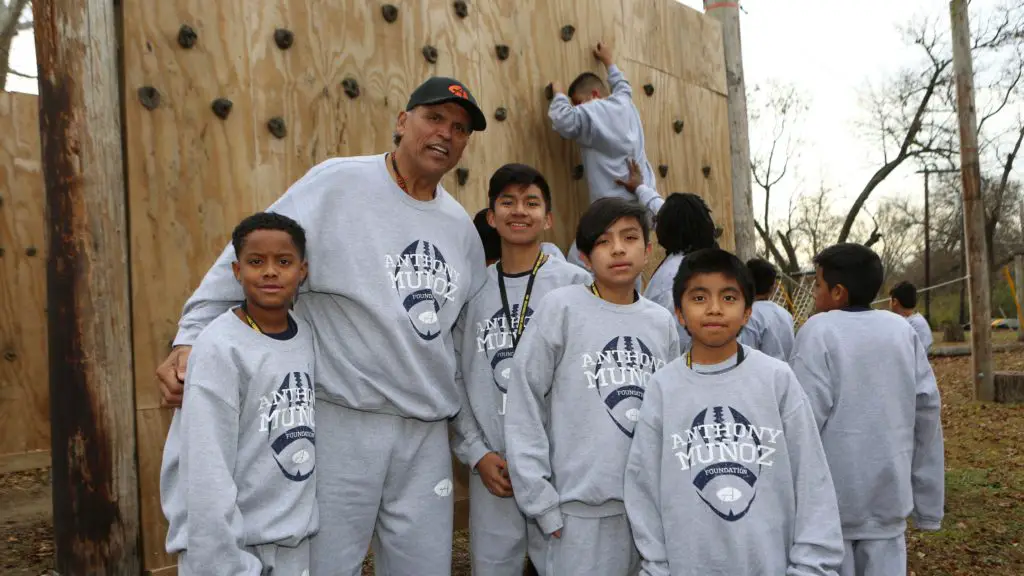 "She raised five kids by herself, working two to three jobs," Muñoz  said of his mom, who passed away five years ago. "Whether she was picking grapes in the field, packing eggs for an egg ranch or ironing clothes for teachers, it wasn't easy.
"As much I loved baseball, I couldn't go out and play after school unless I did my homework. And in the summer, we figure we'd head out. But only after you did your chores at home. We learned to cook, clean the house, wash clothes and wash dishes without a dishwasher before we'd go out."
Baseball was first Hall of Famer's first passion
Ironically, Muñoz  envisioned a baseball career before enrolling at Chaffey.
"Baseball is my first love," Muñoz  said. "I was going to be a Major League Baseball player. Football happened to come along.
"My dream was to play third base like Brooks Robinson and pitch like Juan Marichal."
Furthermore, Muñoz 's sights on playing quarterback, a position he played in flag football from third to eighth grade, faded during his freshman year when he was told to report with the linemen and change his facemask from a two-bar to a cage model.
"The first day of practice I wasn't happy about putting my hand in the ground," Muñoz  said. 
But Muñoz  grew to love the duty of pushing opponents around. He became a two-way starter with a 6-foot-5, 270-pound frame and earned All-State honors.
"That's when things started to explode with football recruiting," Muñoz  said.
But to his chagrin, none of the letters inquired about his baseball talents, even though he was named most valuable player of the 32-team Pomona Elks Club Tournament as a junior.
That disappointment was alleviated somewhat by legendary coach Rod Dedeaux, who told Muñoz  he could play baseball if he made the team at USC as well as football.
"A lot of schools said you could do that, but I knew USC was true to their word because (the Trojans) had a history of letting guys do that," Muñoz  said.
Knee injuries suffered during the football season limited Muñoz 's baseball career, but he did pitch in eight games for the Trojans' 1978 College World Series championship team. 
Dual-sport champion at USC
Muñoz  earned the rare distinction of winning national championship rings in baseball and football in the same season (1978).
"I wish I could have played more for Rod, but I got a ring," he said.
Before receiving his baseball ring, Muñoz  put a wedding ring on DeDe in April of 1978.
"It's been an amazing run," Muñoz  said. "We dated after our freshman year (1976). I knew she was the one.
"That's what it's all about," Muñoz  said. "I played 13 years in the NFL, and then it was over. I played four years in college. All those things come and go. But the marriage, to me, that's the most important thing to me that's lasted a lifetime."
Ready to welcome Tom Flores in Canton
Muñoz  is looking forward to making the four-hour drive to Canton, Ohio, for HOF ceremonies on Aug. 5, particularly because coach Tom Flores will be inducted after winning two Super Bowls with the Raiders.
"It's great, being a Latino and his accomplishments," Muñoz  said. "Those are big things. But I'm excited when there are guys who are worthy and have the credentials and can get in before they pass or don't understand what's going on. I'm excited he's getting in."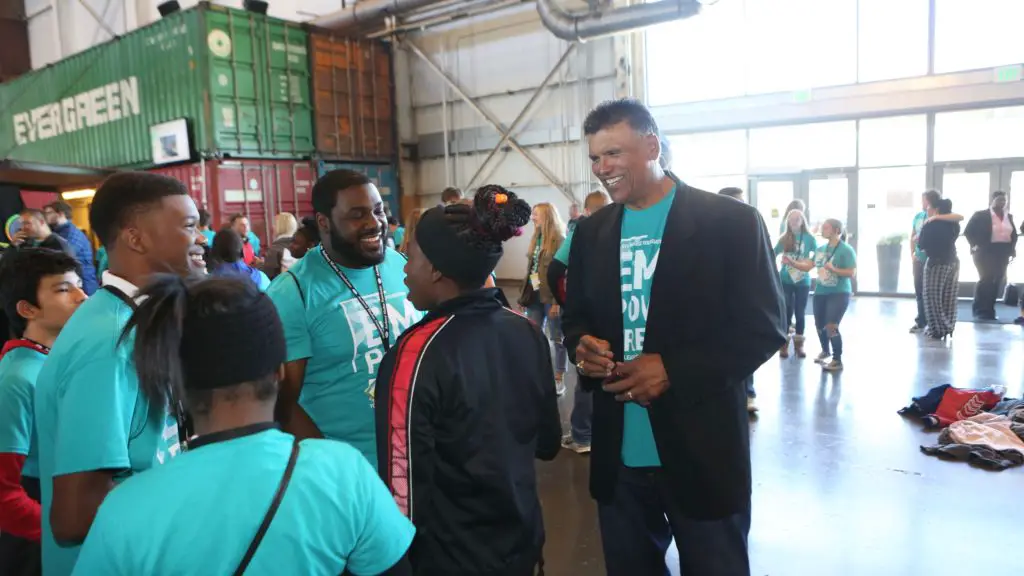 This marks Muñoz 's 23rd consecutive HOF appearance, but that pales in comparison to his 41 years as a Cincinnati resident despite his Southern California roots. 
In fact, Muñoz  said he passed up a chance to coach at his college alma mater.
"I wouldn't trade growing up in Sothern California or going to USC," Muñoz  said. "We all know it's a different place now.
"As much as I wanted to go back to USC, to coach young men and work with John Robinson, I said, 'we're going to stay here because we fell in love because of the people. To be able to stretch out, living a lifestyle conducive to raising kids. I have no regrets. I fell in love here when I was playing.
"I don't mind the winter, except the humidity."
Get the Our Esquina Email Newsletter
By submitting your email, you are agreeing to receive additional communications and exclusive content from Our Esquina. You can unsubscribe at any time.