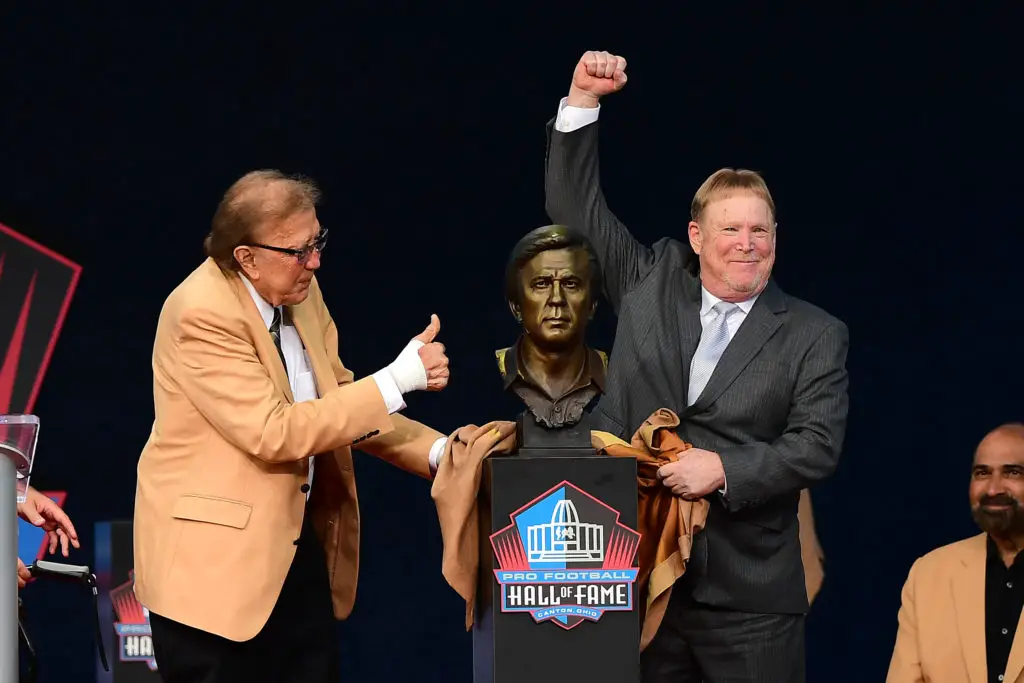 Tom Flores Enshrined in Canton: Not bad for a grape picker
Tom Flores proud to join immortals at Hall of Fame
Tom Flores finally got to Canton, Ohio, and the son of Mexican farm workers clearly loved what he saw. The legendary Raiders coach rose from his wheelchair Sunday evening as Raiders owner Mark Davis prepared to unveil Flores' bronze bust.
Flores, the son of farm workers in California's fertile Central Valley, smiled, dabbed at his eyes to wipe away tears and then offered a thumbs up. He was finally at his rightful place among the immortals. Not bad for a grape picker, as a former assistant coach once reminded him proudly.
Football had been Flores' life for 60 years, and a major part of it before that. It made him an American icon, a historical, trailblazing Mexican American leader.
The first Mexican quarterback in NFL history, first Mexican coach in NFL history, first coach of color to lead a team to a Super Bowl title, first Latino president and general manager in NFL history.
Sign up for Our Esquina's free newsletter.
Yet, his Pro Football Hall of Fame candidacy had stalled for more than two decades. Until this year. On Sunday in front of his longtime wife Barbara and his children, friends, former players and fans, Flores shared his inspirational story to the world.
Flores reminded us during his induction speech that his first home had dirt floors and no indoor plumbing in Sanger, Calif., a short drive from Fresno.
A long way from Sanger
A section of the crowd roared when he mentioned Sanger, prompting Flores to look up and acknowledge them.
"People from Sanger here," he said. "Long way to come. You ever try to get here. Not an easy place to get to. I've been trying a long time to get here."
Indeed, it took too long. 
It was bittersweet to see a frail Flores all weekend. The Pro Football Hall of Fame election committee made him wait far too long. He won a pair of Super Bowls as an assistant and one as a player. He also led the Raiders to a pair of Super Bowl titles as a head coach, becoming the first non-Anglo coach to win it all.
He was also general manager of the Seattle Seahawks, and one of less than two dozen men to have played 10 years in the old AFL. 
His mother cried when he decided to play quarterback for the Raiders in the AFL instead of returning home to be a teacher in Sanger.
Tom Flores' humble roots
To appreciate why she was so disappointed at first, it's important to understand the family's history.  Flores' dad Tomás Sr. was 12 years old when he emigrated from Durango, Mexico. He worked the fields in the San Joaquin Valley and married a woman who was born in California to immigrants from Jalisco, Mexico. 
"California was perfect for the migrant worker because of the produce," Flores told Our Esquina last year. "They were hardy workers, but the only problem was they depended on that money so the kids didn't get to go to school. My dad didn't go to school. He worked in the fields. 
"My mom went to the eighth grade because they had to earn money. The whole family had to earn money. That's how they got to California, and that's how they settled in the San Joaquin Valley. I was born in Fresno, right in the middle of the San Joaquin Valley. They lived there all our lives, as did I until I left for college."
Flores' mother was proud of her son's college education. She was thrilled to have a teacher in the family, especially one teaching children in their hometown. 
Ultimately, Flores declared, his mother was the proudest of them all about his accomplishments. He was a teacher, after all. He taught his players. More importantly, he taught us all that Latinos can lead at the highest levels of American sports.
Lessons from Tom Flores
Flores taught us all that we could win.
"I followed my passion," Flores said. "That's what brought me to this stage today."
His passion was football, and he spent 60 years working in professional football. Fifty-five of those years were with the Raiders, where owner owner Al Davis gave him his biggest break. 
Fittingly, Flores was introduced by Davis' widow Carol via a video presentation.
"He means everything to this organization," Carol Davis said. "He gave us two Super Bowls. He had players who wanted to come here. He had a wonderful wife who helped him. That was his life. He was a good representative of the organization.
"Everyone realizes how intelligent he was and how humble he was. He is a perfect person to go in."
Tom Flores was more than a good representative of the Raiders' organization. He represented us all, every Latino. He showed a path out of the fields. Tomás Ramon Flores showed the world the potential that lies in those hard-working men and women picking the crops that feed the country.
Grape pickers
Those farm workers sacrifice for little pay so their children can live the American dream. Flores picked those crops as well as a child. He developed his work ethic there and on that dirt floor of his youth.
He paid tribute to Sanger and farm workers by sharing a story of a conversation he had at the end of one of his Super Bowl victories. 
With about a minute to go in Super Bowl XV and the Raiders up by more than two touchdowns, the late Raiders assistant Sam Boghosian approached Flores.
"Not bad for a couple of grape pickers," Boghosian, who also grew up in the Central Valley, told Flores that day.
"Sam," Tom Flores responded, "not bad at all for a couple of grape pickers."
The former grape picker is finally among the football immortals. Not bad at all.
Get the Our Esquina Email Newsletter
By submitting your email, you are agreeing to receive additional communications and exclusive content from Our Esquina. You can unsubscribe at any time.