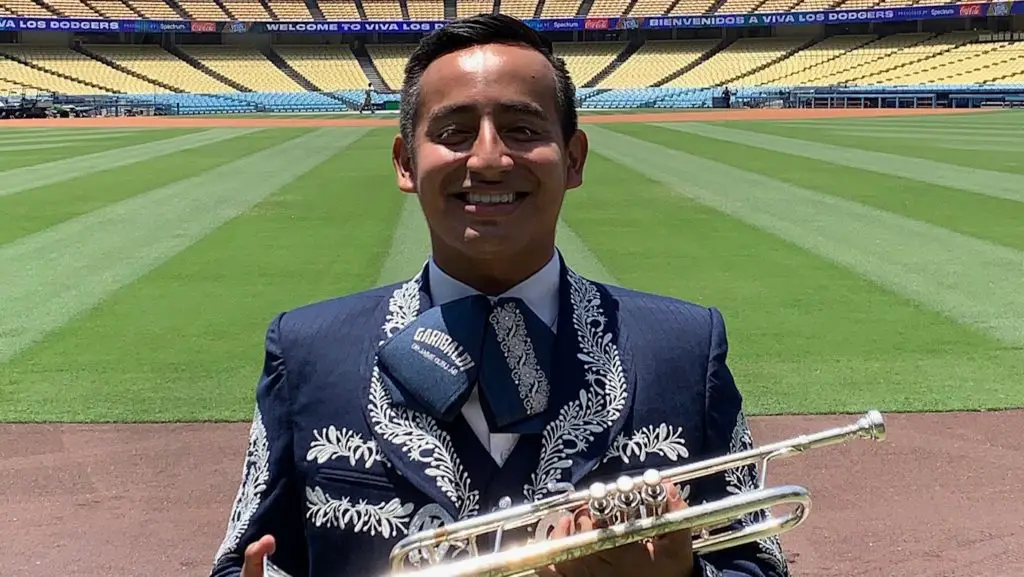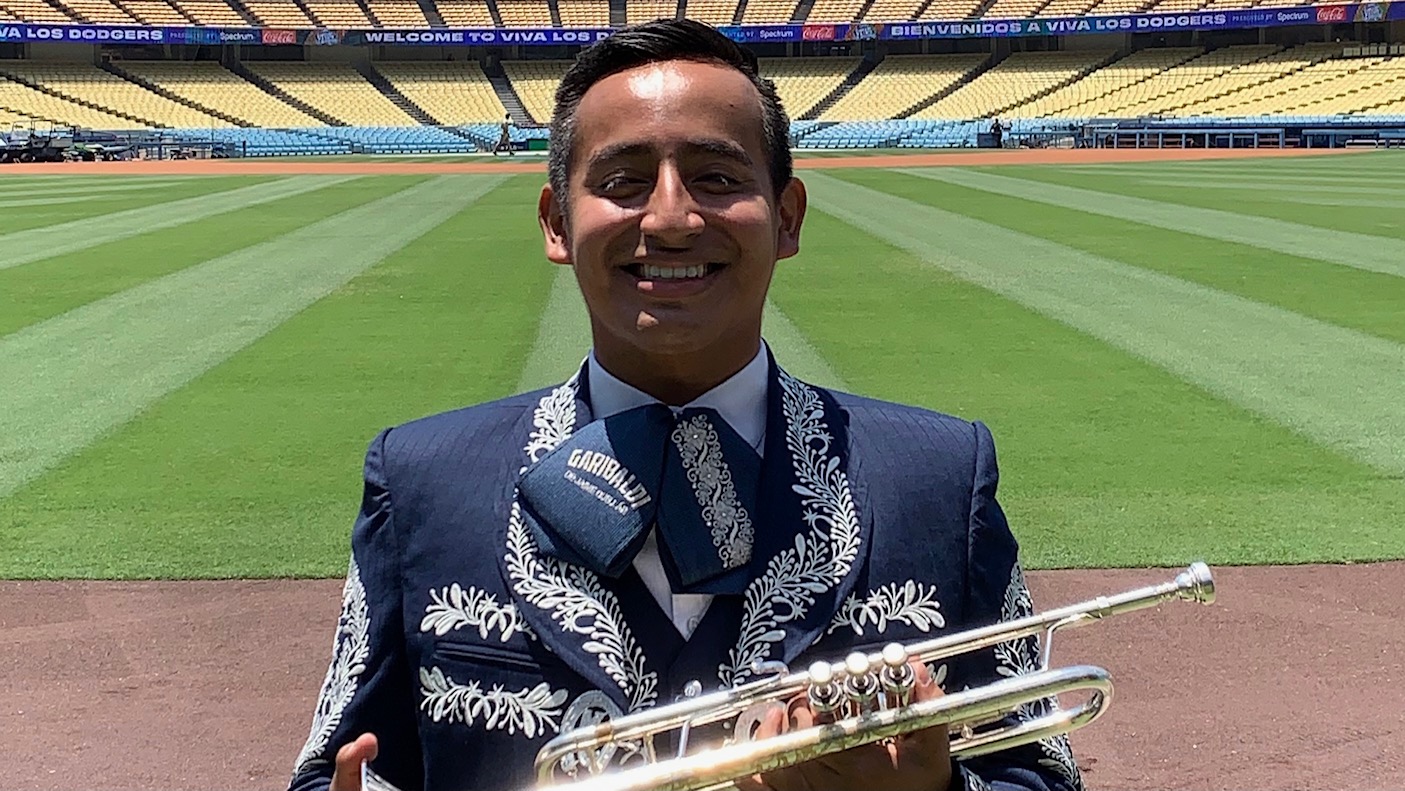 Grover Castro's story is emblematic of Los Angeles' diverse Latino community
There's more to the story of the mariachi jacket the Los Angeles Dodgers' Joe Kelly got in a trade.  It isn't just a tale of music or mariachi or even baseball. It does not begin at Dodger Stadium and end at the White House.
The journey begins with Grover Castro's mother in Oaxaca. It is shaped by South Los Angeles and a piece of his father's Honduras too. Where the story goes remains to be seen. Like mariachi music, this story is fluid. It's breathing and living and subject to change.
It's a story about Los Angeles, specifically Latino Los Angeles. Maybe it's not the "L.A. Story" tourists seek when they visit. It isn't Hollywood. It's not about reality television stars or the like. Nonetheless, it's just as Los Angeles as anything that happens west of La Cienega, one of the largest thoroughfares that carves up the City of Angels, seemingly into different worlds. 
It's about a beautiful journey, complete with discovery, achievements, and even setbacks. Someone wore that jacket before Kelly gave it life and extra value. By wearing the jacket, the Dodgers' righthander gave it a bigger platform. 
This story is about that someone – trumpeter Grover Castro, a native of South Los Angeles. His story mirrors the formation of the mariachi genre in Mexico. Castro's roots are far from the land of mariachi. 
Castro's father Tomás, a house painter, is from San Pedro Sula, Honduras. His mother Maurilia, a housekeeper, is from Mexico. She's from Villa Hidalgo Yalálag, a Zapotec village located in the Sierra Juárez Mountains of Oaxaca. 
Before learning about the Mexican Catracho, let's appreciate mariachi music's place in Mexican culture.
From Jalisco to the world
The cultural origins of mariachi, a traditional Mexican style of music and song, has its origins in the western part of Mexico. The exact birthplace is the subject of debate. Mexican states of Colima, Michoacán, and Nayarit all take some claims to playing an important role in the formation and development of the musical genre.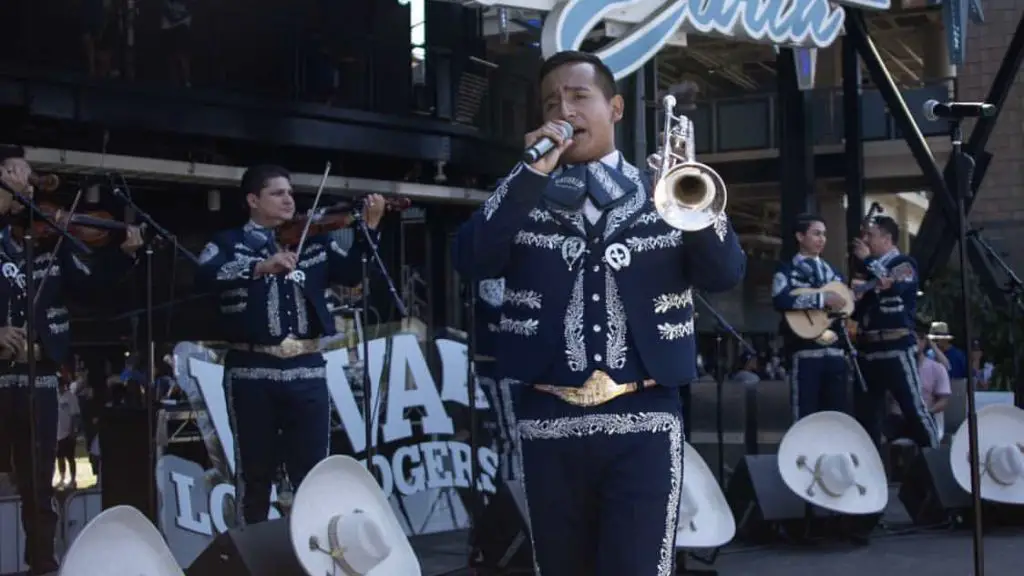 This is to say nothing of Jalisco, the most collectively vociferous of the states. Jalisco claims to be the only ancestral home of mariachi, and of course, Tequila. 
Among Jaliscienses, mariachi is an institution. It's something that the natives are most proud of, perhaps rivaling our incessant boasting about our large, almond eyes known colloquially as Ojos Tapatíos, popularized in song by legendary Mexican crooner Jorge Negrete. 
Cultural observers and commentators claim mariachi even has roots in Mexico's indigenous past and Mexico's French and Spanish colonial eras. More recently, some have suggested that other Latin American countries – Cuba, for example – have impacted the sound of the mariachi. 
Whatever the case, the most Mexican of music is eclectic. It has been influenced by many. Thus, it belongs to no one and everyone at the same time. 
It is heard in all parts of the world now. By now, you may be familiar with the story of relief pitcher Joe Kelly. He wore a mariachi suit jacket to the White House when President Joe Biden honored the Dodgers' 2020 World Series championship team. 
A rare trade at Dodger Stadium
Kelly is the one who brought Grover Castro, a half Catracho, half Oaxacan, into the spotlight after he gave Castro a signed Dodgers jersey in exchange for a mariachi jacket. Castro is not from a traditional mariachi background. Oaxaca is a southwestern Mexican state with sounds and traditions that differ greatly from western Mexican mariachi sound.  
Honduras, of course, is another country altogether. But this story is based in Los Angeles, where you can try to be whatever you want. After all, Hollywood gave Natalie Wood the opportunity to play a Puerto Rican named Maria. 
Your past can help define you, but it's not an anchor. In Los Angeles, if you want to be a mariachi, you can be a mariachi. 
Grover Castro grew up in Chesterfield Square, a challenging neighborhood in Los Angeles, off the 110 Freeway. The infamous Slauson Avenue cuts through the neighborhood. It's a diverse community with a significant Oaxacan population. 
Castro's musical formation began in third grade. It was encouraged by his mother. She enrolled him in traditional Oaxacan music courses in Los Angeles' Mid-City area. Grover took to the Oaxacan style of trumpet music, which Castro described as more "traditional, classical and symphonic" and in sharp contrast to the mariachi style of trumpet play, one that Castro describes as more aggressive. 
At El Sereno Middle School, Castro gravitated toward music classes. He was disinterested in most of the electives offered by the school. Castro was encouraged by band director Ariel Legaspi to pursue music in high school and he was directed to attend Hamilton High School in Culver City. 
A schedule change to mariachi class
At Hamilton High, a teacher switched his class schedule and put him in a mariachi class. Upperclassmen in the mariachi program, namely Billy Flores and Eduardo Ambrosio, both of Oaxacan descent, took the impressionable musician under their wings and introduced him to the northern Mexican musical genre of Banda Sinaloense and tamborazo. Three Oaxacan youth playing western and northern style music is quite uncommon. But again this is Los Angeles where there's not overwhelming rigidity about who can do what. 
Castro then began "gigging" with various bands on weekends, playing weddings, quinceañeras, and backyard functions, the type where drunk tios and tias ask the band to play the favorites: "El Rey,"Mariachi Loco," "Volver, Volver," "Acá Entre Nos," and "Hermoso Cariño."
Mariachi Garibaldi de Jaime Cuellar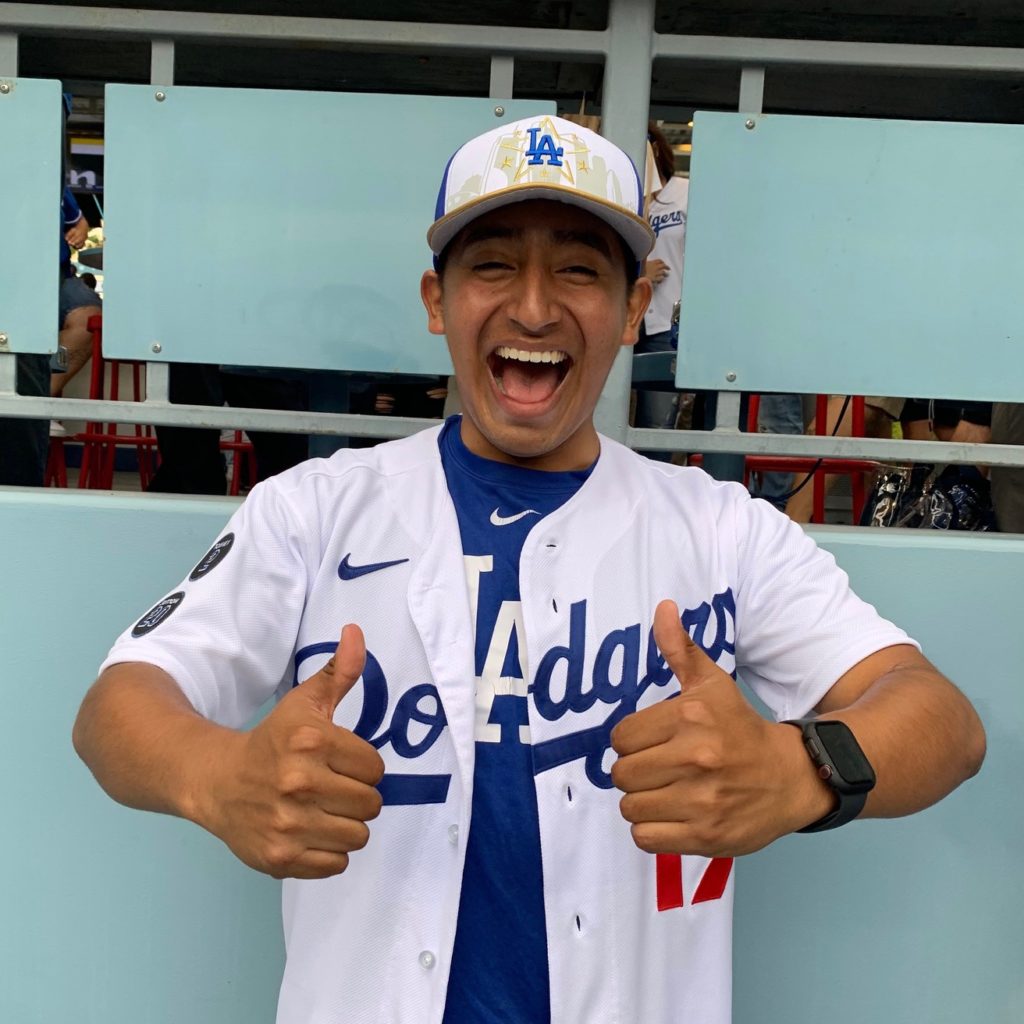 Alberto Peña recruited Castro to Mariachi Garibaldi de Jaime Cuellar. Castro was hesitant to call the group because the style of play differed from what he was accustomed. Castro auditioned and was welcomed to the group.
After high school, Castro attended California State University, at Northridge. He graduated in 2019 with a degree in Music Education. He joined Mariachi Garibaldi de Jaime Cuellar, one of the preeminent touring mariachis, that year. 
In college, Castro toured Hawaii and Kentucky. The transition from playing in a backyard to a professional stage has been the biggest adjustment. Castro described the transition as "going from driving stick to an automatic."
Castro's youthful exuberance is evident and refreshing. He's appropriately gregarious and punctuates sentences with "man" in that cool Southern California common dialogue. For example, with a gleam in his eye and a chipper tone in his voice, he described excitement about an upcoming summer concert performance in Michigan as well as in San Diego in fall. 
Challenges beyond mariachi
As positive as Castro's musical experience has been, there have been challenges. The pandemic impacted mariachis like it did other music professionals. It was impossible to play gigs in front of live audiences. Accustomed to playing in front of a live audience, they had to play to a recording device. They oftentimes were recorded on an iPad, and that performance then was disseminated to the faceless and non-reacting audience. 
"As musicians, we are people of attention," he said. "If you're an artist, you like the attention, and not getting that feedback was really weird. It's an adjustment for how concerts go.  But we got pretty good and solid with this."
Castro's greatest challenge to date,  however, was not being able to continue to make progress toward a graduate degree at the University of Southern California after completing studies at CSUN. It was just too cost prohibitive to continue after the first summer sessions. 
"It was all financial. I've always been low income. I was born and raised in South L.A.. It was heartbreaking. My goal was to become a music educator as soon as possible."
Dreams of USC graduate degree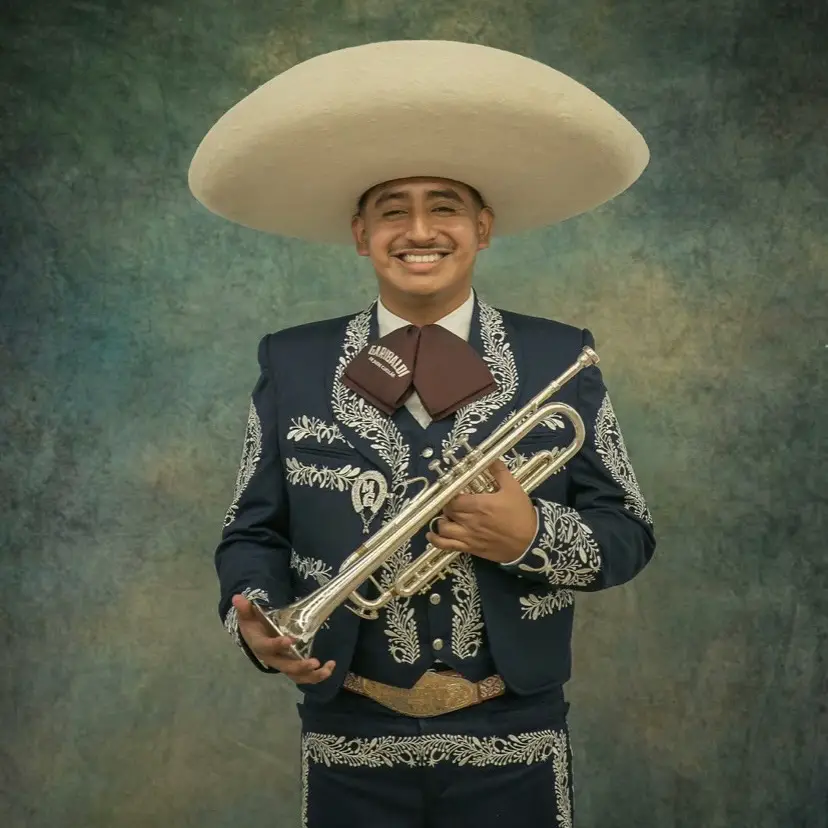 Castro has not abandoned the dream of earning a graduate degree. The young musician seems determined to earn the degree in order to teach music education in schools.  His mentors advised him to look for a credential program at a public university.
Grover recently earned his license to allow him to work as a phlebotomist. It is his hope to earn enough money to return to graduate school. 
There is something that feels systematically unfair about this. USC is located in his neighborhood, but it is financially inaccessible. Contrast Castro's experience with wealthy students who were admitted as part of the "Varsity Blues" scandal. 
"I grew up about 10 minutes from USC," he says. "Not a lot of people from my community or neighborhood make it out to USC. To be in that room and have to let it go was a very hard concept to understand and grasp and accept. It hurt me a lot. That day I had to withdraw from USC was a really, really hard day."
Dodgers lore
While he's no longer a part of that Los Angeles institution, he's now part of the lore of another one, the Dodgers. 
As enthusiastic as Grover Castro is in talking about mariachi, he's equally as enthusiastic about the Dodgers. 
Castro's love of the Dodgers began at CSUN. He and his high school sweetheart, Elizabeth Becerra, a Mexican-Salvodoran public health professional, would head to Dodger Stadium to watch games. 
His favorite players are Mexican pitchers Julio Urias and Victor Gonzalez, the duo who won and got the save in 2020 World Series-clinching Game 6.
"I have to start with those two," he said. "The (Game 6) win is recorded under a Mexican name. The save is under a Mexican name. You know? No one can take that from us. They put the Mexican name up high."
Castro was quick to point out his unsolicited approval for each of their "walk-up" music selections, "Mi Lindo Nayarit" for Gonzalez and "El Sinaloense" for Urias. 
He also expressed an appreciation for pitcher Walker Buehler and position players such as Max Muncy, Mookie Betts, Corey Seager, and, of course, now Joe Kelly. 
Castro's favorite Dodger Stadium memory came in 2019 on "Jackie Robinson Day" when former Dodgers outfielder Joc Pederson hit a walk-off home run to give the victory to the home team. 
The Dodgers have a complicated relationship with Latinos in the city. This love affair has its roots in tragedy as Latino families were displaced from their homes to eventually build Dodger Stadium. 
The Dodgers complicated history with Latinos
This isn't ancient history. The collective memory of that experience is something that has been brought to the forefront by artists such as Judith Baca in the Great Wall of Los Angeles and Eric Nusbaum's "Stealing Home."
It's not a collective amnesia for Latinos in the Southland, but something where time intervenes and it just becomes something else that the community must endure. They moved the Mexicans to make way for Dodger Stadium and the freeways and likely will do so again. 
The community was destroyed. There were many older Mexican Los Angelenos who refused to go to Dodger Stadium. Fernando Valenzuela and Fernandomania erased many of those angry sentiments. 
Similarly, there's an old Mexican mariachi guard that thinks Grover giving away his jacket was disrespectful.
This is what makes the symbolic exchange between Joe Kelly, with Mexican lineage from his mother's side and Grover Castro, a unique Los Angeles story. It's two half Mexican guys embracing that side of their background in a new Los Angeles where the vestiges of this unfortunate history fade. 
The lasting impression I have of Castro is his selflessness. He gave away his jacket to someone who wanted it. He was quick to point out people who helped him – his mother, teachers, classmates and friends. And he made sure to say he wants the public to support all mariachi groups in Los Angeles. 
Supporting next generation of L.A. mariachis
The public can get their hands on a mariachi jacket via the group's website. Proceeds will fund mariachi scholarships in the hopes of providing funding to encourage the next Grover Castro. We need to encourage the future generations. 
Mariachi is part of the sound of Los Angeles just as it is the sound of Mexico. 
What else does Los Angeles sound like? It sounds like 2PAC in "To Live and Die in L.A." It sounds like Fuerza Regida's homage to South Central Los Angeles. It sounds like "flashbacks." It sounds like "Tehrangeles." 
And of course it's like Grover Castro's trumpet just as much as it is Randy Newman's satirical "I Love L.A." that is played after Dodger victories at Dodger Stadium. 
Joe Kelly and Castro reminded folks that Los Angeles is more than just the Hollywood sign. They made you aware of the people who live in the shadows of downtown and contribute to the city's mosaic. 
Get the Our Esquina Email Newsletter
By submitting your email, you are agreeing to receive additional communications and exclusive content from Our Esquina. You can unsubscribe at any time.