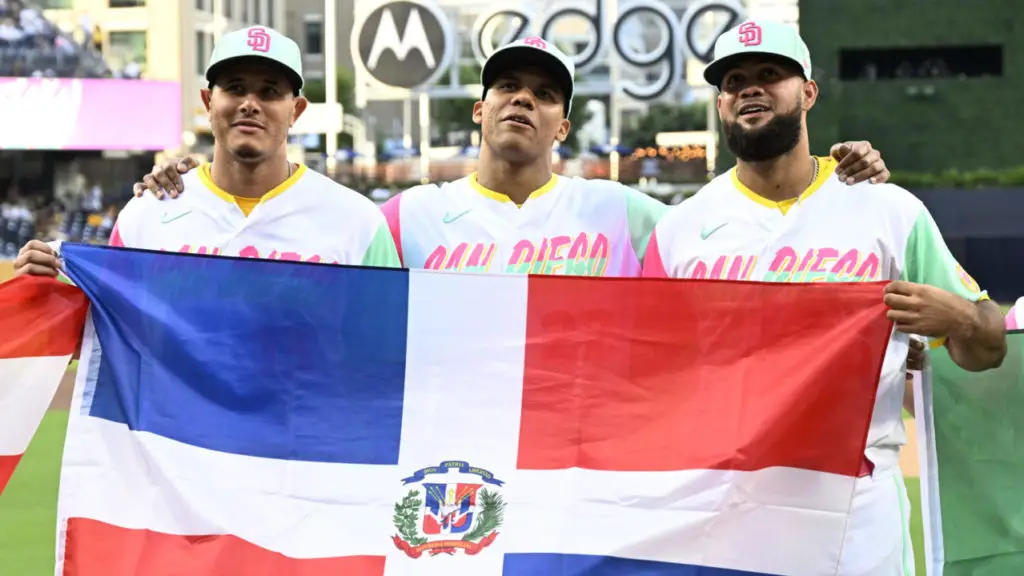 Dominican Republic fields its best WBC team yet
Team D.R. is full of stars in their prime
It's the mother of all teams. That's one way to describe the Dominican Republic's roster for the 2023 World Baseball Classic.
When the tournament starts on March 8, 2023, opponents will have to face the Dominican version of the Dream Team. This is a team with the 2022 World Series MVP Jeremy Peña potentially sitting on the bench.
There isn't enough space to field a team for the land aptly known as Quisqueya. The talent-level manager Rodney Linares will fill is just too high. The outfield could feature 2022 American League Rookie of the Year Julio Rodriguez in center, 2021 National League MVP runner-up Juan Soto in right. Starling Marte will be in left.
Great odds
The starting infield will have 2022 NL MVP runner-up Manny Machado at third. Perennial AL MVP candidate Jose Ramirez will be at second. Two-time All-Star Vladimir Guerrero Jr. will be at first, and prodigy Wander Franco will be at short.
Imagine having $331 million man Rafael Devers as a luxury on the bench. The pitching staff will be led by 2022 NL Cy Young Award winner Sandy Alcantara.
One month out of the WBC and popular online casinos already have Team D.R. winning the thing. Fanduel has the Dominican Republic with the best odds (+200) to win the WBC, as does BetMGM.
Right behind them is Team U.S.A., (+250) which is also loaded, but lacking in the type of depth the Dominican Republic has.
Not So Fast
Team Dominican Republic, which has spent time this winter working with children, should dominate the tournament if each player's respective team allows them to compete in the popular quadrennial event. Already, Seattle Mariners president of baseball operations Jerry Dipoto announced that Luis Castillo won't participate in the WBC.
"He's going be in camp with us," Dipoto said told Seattle media. "That is something we are pleased with. It is a choice that we made together."
It's easy to understand why teams wouldn't want their players to compete in the WBC. With a 162-game slog ahead, losing a player in the WBC could be devastating.
Losing a player in spring training wouldn't be much better. At least players would be under the watchful eye of their organization.
In the WBC, teams would be surrendering a lot of control for what they deem to be a glorified exhibition. Do not be surprised if more teams announce that their players won't be participating.
Dominican Republic: 2023 vs. the Past
Past Dominican teams have fielded Cy Young winners, MVPs, and World Series winners in the WBC. Hall of Famers David Ortiz, Pedro Martinez, and Vladimir Guerrero all played in the WBC.
Yet, the 2023 WBC would be the first in which Team D.R. fields a trove of incredible talent in their primes at once. You already saw the potential lineup and rotation (above). We haven't even mentioned the bullpen arms and bench players this team has in store.
All Stars like Teoscar Hernández and Ketel Marte are slated to come off the bench for Team D.R. Arms like Emmanuel Clase, who won the 2022 Mariano Rivera Reliever award, look forward to close games out.
It's not a forgone conclusion. The tournament must go on. However, if I had to bet, I'd put my money on D.R.
Get the Our Esquina Email Newsletter
By submitting your email, you are agreeing to receive additional communications and exclusive content from Our Esquina. You can unsubscribe at any time.