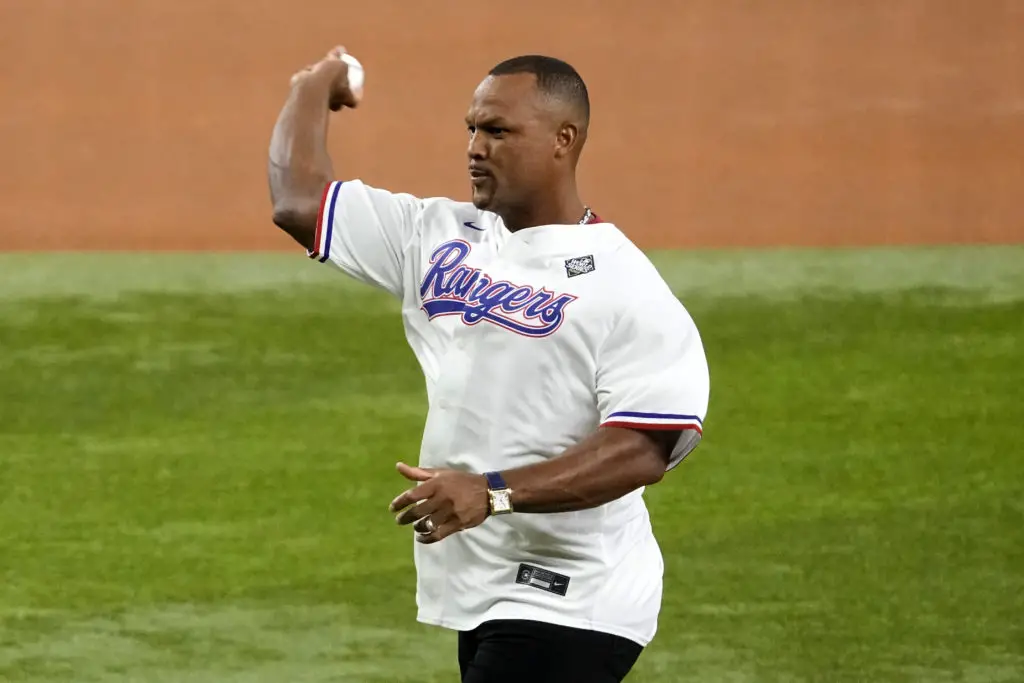 Adrián Beltré appears like a lock for Hall of Fame
Adrián Beltré aims to become fifth Dominican inducted in Cooperstown, N.Y.
The last time Adrián Beltré appeared before a crowd in Arlington, he was joined by fellow Rangers legend Fergie Jenkins. On that glorious night, Beltré threw out the first pitch to Jenkins before Game 2 of the 2023 World Series before a sellout crowd at Globe Life Field.
A few days later, Beltré was in Phoenix celebrating with his former team and holding the World Series trophy that had eluded him during his playing career.
A World Series ring is perhaps the only thing missing from an impressive resume that should secure Beltré a place alongside Jenkins and the rest of the immortals in the National Baseball Hall of Fame. 
"I'm not going to lie," Beltré said on Oct. 28 when asked about appearing on the Hall ballot for the first time. "The fact that yes, next (November), I'm eligible to be on the ballot. But I don't like to think about it. 
"I do sometimes because of the questions you guys ask me and family and because it's normal. But it's something that I cannot control. So I don't know how I'm going to feel."
Adrián Beltré likely to form Dominican quintet
Beltré should be a first-ballot Hall of Famer, which would make him the fifth Dominican inducted in Cooperstown, N.Y. He'll definitely earn my vote.
He'll likely easily receive the required 75 percent of the vote from veteran members of the Baseball Writers' Association of America. He actually visited the Hall in 2019, leaving in awe.
"It's more beautiful and wonderful than people expect," Beltré said at the time.
Beltré hopes to join Juan Marichal, Pedro Martinez, Vladimir Guerrero Sr. and David Ortiz as the fifth Dominican in the Hall. Marichal made history as the first Dominican elected to Cooperstown in 1983. He earned his place in the Hall in the third year on the ballot.
Martinez got in 32 years later as a first-ballot Hall of Famer in 2015. Guerrero was voted in three years later in 2018 in his second year on the ballot. Ortiz became the third first-ballot Hall of Famer from the Dominican in 2022, when he received votes from 77.9 percent of the voters.
Ortiz was arguably a more popular figure than Beltré. Nonetheless, Beltré's Hall of Fame resume may be stronger. 
3,000 hit club
Beltré is a member of the exclusive 3,000 hit club. The four-time All-Star finished his 21-year career with 3,166 hits. All of the members of the 3,000 hit club who are eligible and not linked to performance-enhancing drugs are in the Hall.
Beltré was also a four-time Silver Slugger winner. He was also a five-time Gold Glove winner and two-time Platinum Glove winner at third base. His 93.5 career bWAR is 38.2 points higher than Ortiz's.
MORE FROM OUR ESQUINA
David Ortiz hits right notes in Hall induction speech
Pedro Martinez welcomes David Ortiz into Hall
Adrian Beltré up next for Hall of Fame
Beltré 's bWAR is 20.4 higher than fellow third baseman Scott Rolen, who was part of the 2023 Hall of Fame class. Rolen was voted into the Hall in his sixth year on the ballot. It shouldn't take so long for Beltre, who hit 477 career home runs with 1,707 RBIs.
Beltré had never thrown a ceremonial first pitch until Game 2 of the 2023 World Series. 
Beltré is one of three Dominicans making their debut on the Hall of Fame ballot. Pitcher Bartolo Colon and shortstop José Reyes are the others. Venezuelan catcher-designated hitter Victor Martinez is also making his debut this year. 
Helton, Wagner lead returners
James Shields, catcher-first baseman Joe Mauer, second baseman Chase Utley, and outfielder Matt Holliday are the other players on the ballot for the first time. 
They join 14 holdovers, led by Todd Helton and Billy Wagner. Helton gained support from 20 percent of the voters to reach 72.2 percent. Wagner jumped to 68.1 percent in his eighth year on the ballot. Helton and Wagner appear likely to cross the required 75 percent threshold this year or next.
MORE HALL OF FAME
Carlos Beltran belongs in the Hall of Fame
Underrated Bobby Abreu deserves a place in Cooperstown
Andruw Jones trends toward Hall of Fame
Outfielders Andruw Jones (58.1) and Gary Sheffield (55.0) are the other top returners in terms of past support. Alex Rodriguez, Francisco Rodriguez, Omar Vizquel, Carlos Beltran, Manny Ramirez, Bobby Abreu, Mark Buehrle, Andy Pettitte, Jimmy Rollins, and Torii Hunter are the other returnees.
The results of the BBWAA election will be announced on Jan. 23. It would be surprising if Beltré Adrian Beltré isn't elected as a first-ballot Hall of Famer.
"Pretty much I'm going to be happy," he said. "But I don't like to get ahead of things that I can't control. So if it happens, when it happens I'll see how I'll react and see how I'm going to enjoy it."
Get the Our Esquina Email Newsletter
By submitting your email, you are agreeing to receive additional communications and exclusive content from Our Esquina. You can unsubscribe at any time.