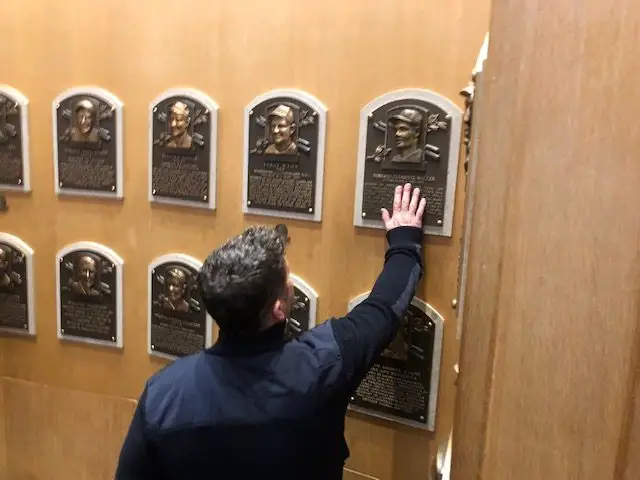 Underrated Bobby Abreu deserves a place in Cooperstown
Bobby Abreu's stats rate favorably among baseball's Hall of Fame right fielders
Growing up in Venezuela, Bobby Abreu never allowed himself to dream of following Luis Aparacio's path to the National Baseball Hall of Fame. Once he established himself as a star with the Phillies, however, he wondered about Cooperstown, N.Y.
The two-time All-Star's goals were more modest after he signed with the Astros as an international free agent as a 16-year-old. The focus originally was to reach the Astrodome.
By the time Abreu's 18-year career was over, he built a resume worthy of eventually joining Aparicio in Cooperstown. Abreu was criminally underappreciated despite being one of the best right fielders of his era. 
"Well, when I left Venezuela to start to play baseball in the United States you always just want to make it to big leagues," Abreu said. "You want to be  a big-league player. In the beginning you never talk about the Hall of Fame.
"But when you start to play in the big leagues, you want to make the All-Star game. And of course when you start to put numbers you start to think about the Hall of Fame. When you really think about it is when you end the career, when you take a look at the numbers."
Bobby Abreu put up Hall of Fame stats
A look at the numbers reveals that Abreu belongs among the immortals. He will earn a vote on my Hall of Fame ballot for the 2021 class.  
Let's begin with his 60.2 Wins Above Replacement, which is higher than 11 of the 26 right fielders in the Hall of Fame. Look past Abreu's 288 home runs, 2,470 hits and career .291 batting average. 
It's fair to say that Abreu's value would be appreciated even more in this era of advanced metrics. That's not to say former Phillies general manager Ed Wade didn't know he had a gem.
As assistant GM to Lee Thomas, Wade scouted Abreu during the 1996 and 1997 spring training camps.
"Bobby was a star player who by and large flew under the radar," Wade said. "His raw numbers speak for themselves: 13 seasons of 150 or more games, 400 stolen bases, 922 extra-base hits, eight years with 100 or more RBI and eight years with 100 or more runs scored. 
"Bobby showed up ready to play every day, and that started on Day 1 of the 1998 season. He came over in the 1997 Expansion Draft trade with Tampa Bay and played 151 games."
Thomas made one of the best steals of the 1990s when he acquired Abreu from the Devil Rays for shortstop Kevin Stocker. The Devil Rays were actually the second team to miss on Abreu. The Astros left him unprotected in the 1997 Expansion Draft for the Devil Rays and Arizona Diamondbacks.
Thomas sent Stocker to the Devil Rays soon after they picked Abreu from the Astros. Wade and scout Jimmy Stewart vigorously pushed for Abreu. The Phillies staff was split between getting Abreu or Quinton McCracken. Thomas went with Abreu, and the rest is history.
"He was a key piece of our club as we worked to build a core nucleus in Philadelphia," Wade said of Abreu. "I think his presence really helped players like Jimmy Rollins, Chase Utley, Carlos Ruiz, Pat Burrell and Ryan Howard  become stars in their own right."
Wade, who built the core that won the Phillies' 2008 World Series title, was ahead of his time when it came to appreciating Abreu. He saw what the fans and even the media failed to truly appreciate. 
Underrated Bobby Abreu
Consider that Abreu received MVP votes in seven seasons, yet 12th was the highest he ever got in an MVP race. Nonetheless, his numbers compare favorably to the right fielders enshrined in Cooperstown.
In a list with the 26 right fielders in the Hall of Fame, Abreu would rank third in doubles, walks and stolen bases. Hank Aaron and Paul Waner are the only right fielders in the Hall with more doubles than Abreu's 574. In that group of immortal right fielders, Babe Ruth and Mel Ott are the only ones who drew more walks than Abreu's 1,476.
Abreu would rank seventh in on-base percentage and 10th in extra-base hits among Hall of Fame right fielders. He was durable and consistent.  
Nobody played more games from 1998 through 2009 than Abreu, who played in 1,877. Over that 12-year span only Barry Bonds drew more walks, and only Todd Helton hit more doubles. 
From the time he landed in Philadelphia in 1998 through 2005, Abreu's 45.2 WAR in that span was higher than Hall of Famers Vladimir Guerrero (44.3), Chipper Jones (43.8), Derek Jeter (40.6), Ivan Rodriguez (37.4), Jeff Bagwell (36.8), Larry Walker (35.9).
"I can't remember Bobby ever going into a slump," Wade said. "If he went six or seven at-bats without a hit, he'd massage a soft liner to left and we'd say 'slump's over,' and he'd go on a two-week tear. Bobby was always a professional with us and he's gone on to be very successful in the business world. I think his credentials and character make him a solid Hall of Fame candidate."
Omar Vizquel and Abreu give Venezuela two men on the Baseball Hall of Fame ballot. Aparicio was elected in his sixth year on the ballot. This is Abreu's second and Vizquel's fourth year on the ballot. 
"Venezuelans, we love baseball," Abreu said. "It's the traditional sport for us. When you have Luis Aparicio as a Hall of Famer, you want to follow that. You want to be with him. It would be such an honor to be with him and  represent my people in Venezuela."
Get the Our Esquina Email Newsletter
By submitting your email, you are agreeing to receive additional communications and exclusive content from Our Esquina. You can unsubscribe at any time.