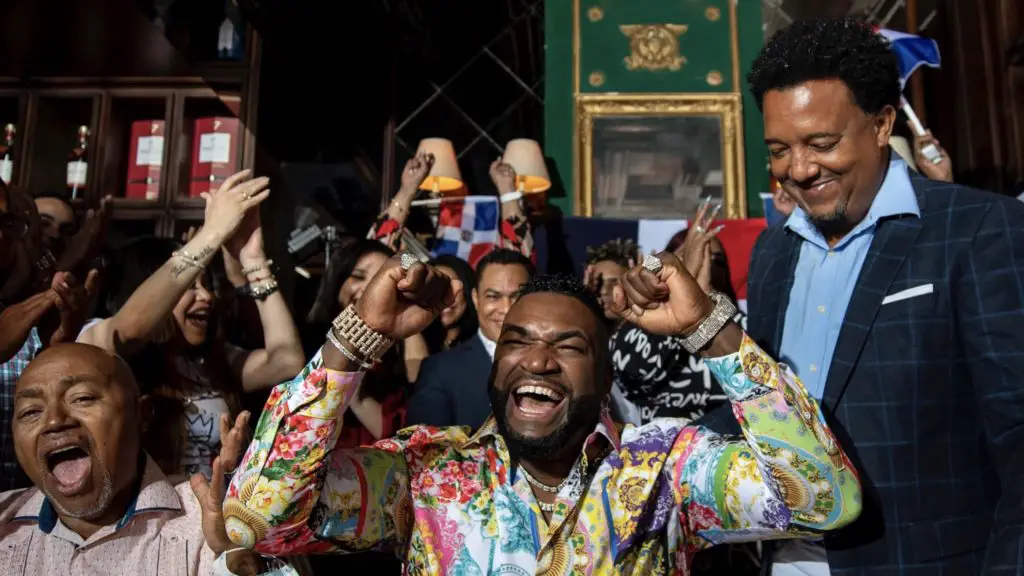 Pedro Martinez welcomes David Ortiz into Hall
Sports figures rejoice after David Ortiz gets Hall nod
Superstar Pedro Martinez had a front row seat Tuesday night when David Ortiz got the most important call of his career. The former Boston Red Sox ace righthander stood behind Big Papi when Ortiz learned he had been elected to the National Baseball Hall of Fame.
Martinez and Ortiz were teammates when they helped the Red Sox break the so-called Curse of the Bambino in 2004. They built a deep bond as teammates for the Red Sox and the Dominican Republic.
More importantly, they've worked together to make life better for their fellow natives Dominican Republic with their charitable efforts.
They are compadres in every sense of the world. Now they're brothers in the most exclusive fraternity of them all – the Baseball Hall of Fame.
"Compa, let me be one of the first to welcome you into the Hall of Fame, Cooperstown," Martinez said via Twitter. "Well deserved. I feel like I'm so proud of you. I feel so proud to have been your teammate, to have been your brother, to have been someone there for you when you needed me.
"I'm so glad I have you in my life. God has funny ways to work his way through, and you're one of them who happens to come across my life. God bless you."
NBA love for David Ortiz
Minnesota Timberwolves superstar Karl-Anthony Towns, the son of a Dominican mother, showed his pride with a simple line on Twitter.
Towns posted three Dominican Republic flag emojis and tagged @davidortiz in a quote tweet over SportsCenter's tweet reporting Big Papi had been elected.
Towns, one of the best big men in the NBA, has shown his love of the Dominican Republic by representing his mother's island in international competitions.
The Machine honors David Ortiz
Only one Dominican slugger was more feared than David Ortiz during his career, and that man paid tribute to Big Papi too.
St. Louis Cardinals legend Albert Pujols congratulated Ortiz on being a first-ballot Hall of Famer. Ortiz became the fourth native of the Dominican elected into the Baseball Hall of Fame. Pujols will surely join him as a first-ballot Hall of Famer five years after he retires.
"Congratulations to my brother Big Papi on his election into Cooperstown," Pujols wrote on Twitter. "Not only does he deserve to be a first-ballot Hall of Famer, but he is also one of the most talented, generous, and gifted mentors in the game of baseball today."
A-Rod not bitter
Alex Rodriguez and Ortiz were both on the ballot for the first time, but performance-enhancement ties proved more costly to A-Rod.
Ortiz received 307 votes, easily passing the 75 percent threshold needed to be elected with 77.9 percent. Rodriguez received only 135 votes, which accounted for only 34.3% of the votes, in his first year of eligibility.
Rodriguez, who was suspended for a year by Major League Baseball for his ties to the Biogenesis scandal, has nine more years of eligibility as long as he continues to be named on at least 5% of the ballots. He must hope voters are kinder to him than they were to Barry Bonds, Roger Clemens and Sammy Sosa.
Bonds, Sosa and Clemens failed to reach the 75 percent threshold on their 10th and final year on the ballot this year.
Whatever the case, Rodriguez congratulated his friend.
"Congrats to my brother @davidortiz on your election to the Baseball Hall of Fame!' Rodriguez wrote. "A champion on and especially off the field."
Featured photo courtesy Twitter/@BostonRedSox
Get the Our Esquina Email Newsletter
By submitting your email, you are agreeing to receive additional communications and exclusive content from Our Esquina. You can unsubscribe at any time.