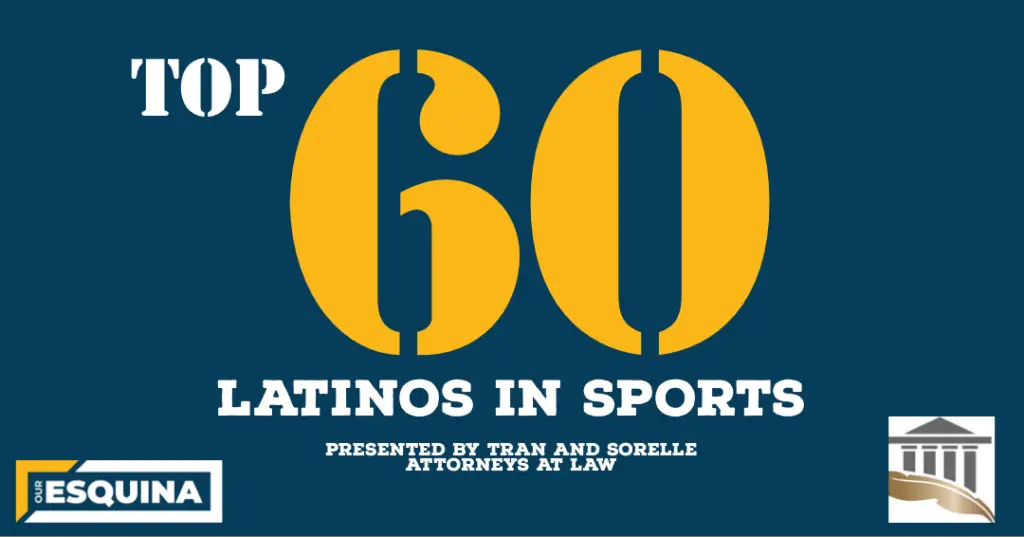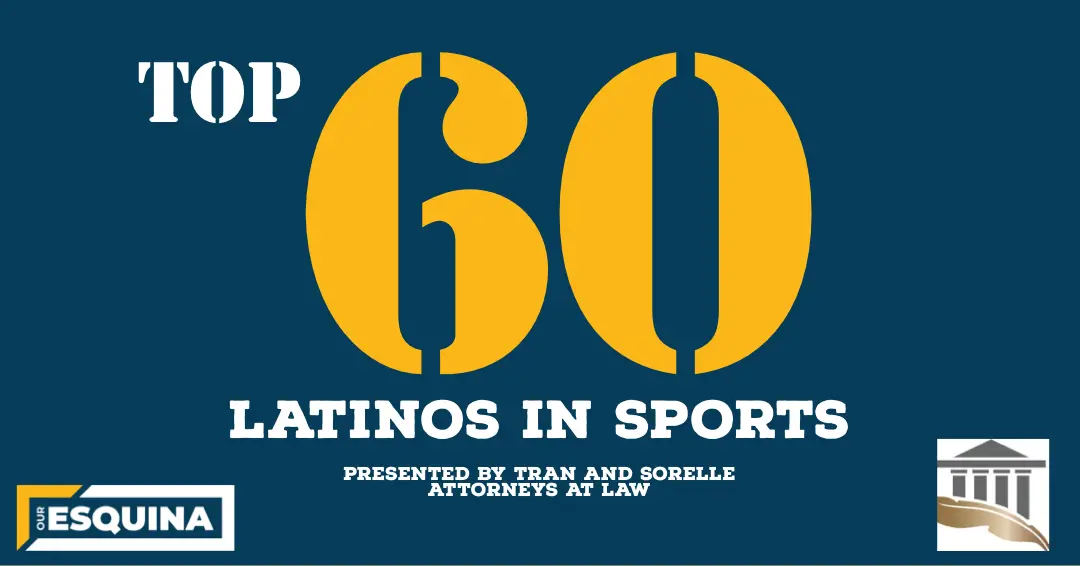 Here are 60 Latinos making major contributions in sports.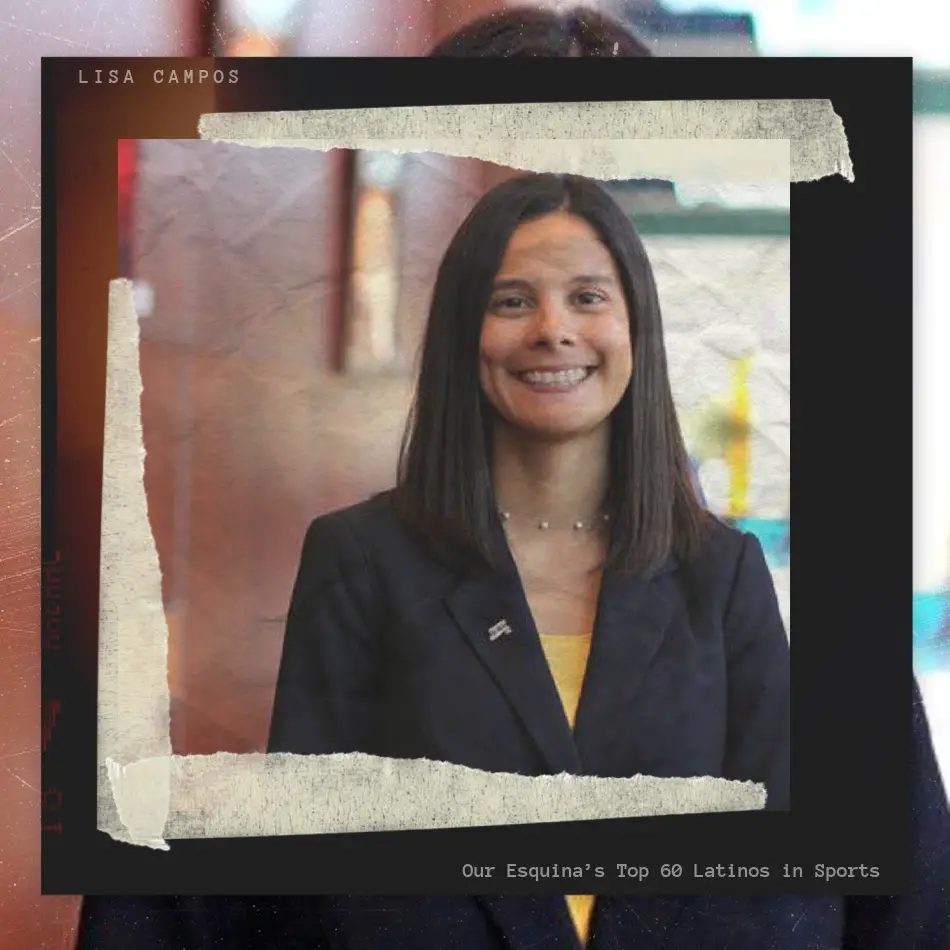 Lisa Campos
11
Lisa Campos is in her fifth season as athletic director at the University of Texas – San Antonio after previously serving as athletic director for Northern Arizona University from 2012 to 2017.
Prior to joining NAU, Dr. Campos was an associate athletic director at the University of Texas at El Paso from 2003 to 2012.
Campos has won an NCAA Championship as athletic director, having won a men's cross country national championship at NAU in 2016, the school's first ever NCAA Division I Championship in school history.  
Her decision to hire Jeff Traylor as head football coach after the 2019 season is paying off dividends already. The Roadrunners upset the University of Illinois, a member of the B1G Conference, in Week Two of the 2021 college football season. This is a major accomplishment considering that the program only began competing in 2011. 
Dave Canales
12
Dave Canales, 40, has worked for Seahawks head coach Pete Carroll since 2009, Carroll's last season as USC head coach. Canales made the trek north to Seattle with Carroll and has called the Emerald City home since 2010. During his time in Seattle, Canales has coached wide receivers, quarterbacks and is now a Passing Game Coordinator for the team. 
Canales is rumored to have resisted offensive coordinator overtures this off-season from Power Five conference schools.
Originally from Harbor City in Metro Los Angeles, Canales played at Azusa Pacific before beginning his coaching career at Carson High School as an offensive coordinator for two years before becoming a special teams/tight ends coach for El Camino College from 2006-2008. 
Greg Castillo
13
Greg Castillo is the son of Chicago Bears offensive line coach, Juan Castillo. The former college defensive back  at the University of Iowa attended Tulane Law School after his playing days and worked as a Scouting Assistant for the New Orleans Saints  during law school. Castillo is now in his fourth year with the Chiefs. 
Castillo is a licensed attorney in the state of Missouri and served as a Judicial Extern at U.S. District Court for the Eastern District of Louisiana and Judicial Clerk for the State of Louisiana Court of Appeal. 
Leonor Colon
14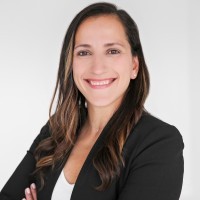 Leonor Colon is one of the highest ranking Latinos in sports. The Nuyarican has a wealth of experience in baseball, beginning with the MLB commissioner's office and then with the New York Mets.
Colon is the first person to work for the commissioner's office, a club and the MLB Players' Association.
She left the commissioner's office to work for the Mets. She became a trusted and helpful member of Omar Minaya's front office. That's when she realized how much still needed to be done to help Latino players. Some of the issues were seemingly minor, yet they were major.
Alex Cora
15
Alex Cora become just the second Latino manager in major league history to win a World Series in 2018 when he led the Boston Red Sox to the title in his first year at the helm. He returned to the Boston Red Sox in 2021 after serving a one-year suspension related to his involvement in 2017 with the Astros' cheating scandal.
Cora won a World Series title in his first season as Red Sox manager in 2018. He enjoyed a fourteen-year big league. The native of Puerto Rico is one of the most respected Puerto Rican figures in baseball. In 2017 with the Astros he helped rally his fellow Puerto Ricans in the majors to raise funds and gather supplies for victims of Hurricane Maria.
He brought the World Series trophy back to his hometown of Caguas after the Red Sox victory.
Mario Cristobal
16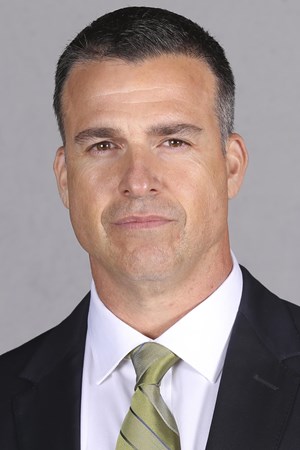 Cristobal was one of the hottest coaching names in college football this year before returning home earlier this month to take over his alma mater, the University of Miami. His Oregon Ducks reached the Pac 12 Championship Game.
The Ducks have been a nationally recognized program for about 20 years, and Cristobal was a major reason for their success under his watch. He returns to Miami in search of a national title. Cristobal has already won two as a player at the University of Miami as an offensive lineman. He won another as an Alabama offensive line coach.
Cristobal, a Cuban-American, has helped open the door for Latino coaches. He has employed two coaches on this list – Arroyo and Avalos.
Jose Cruz Jr.
17
Jose Cruz Jr., the son of legendary Astros slugger Jose Cruz, is the baseball coach at his alma mater Rice University.
The former big league outfielder is one of a handful of Latino coaches in Division I baseball. Cruz was the third overall pick of the 1995 June Draft as a junior at Rice, which he led to the first NCAA Tournament appearance in school history.
He set several school records during his three-year career. He returned to school after his playing career and graduated two decades after he began his pro career. After his 12-year career in the majors, he worked for the MLB Players' Association before joining AJ Hinch's staff with the Detroit Tigers as a hitting coach in 2001.
He left the Tigers in June when his alma mater called.
Octavio de La Grana
18
Octavio de La Grana, 60, has worked his way up from the prep ranks. He began his career as a scout for the team in 2006 before moving over to player player development in 2009. De La Grana, who was born in Havana, became an assistant the following season.
He later served as an assistant for the NBDL Heat affiliate before rejoining the Heat coaching staff in 2017.
Manny Diaz
19
Manny Diaz, a Cuban-American, wasn't unemployed long after he was dismissed after his third season as head coach of the storied University of Miami Hurricanes. He was hired as Penn State's defensive coordinator.
One of the reasons he was hired was the belief that he understood Miami football traditions and the politics of the game. He is a son of the city, after all. Diaz, 47, isn't just a Miami native. He's Miami royalty. His father, Manny Sr., is a former mayor of the Magic City. 
Miami was Diaz's second head coaching opportunity. He returned to Miami after a two-week stint as head coach at Temple University after the 2018 season. If he performs as expected at Penn State, he'll surely be a prime candidate for another head coaching job.
Tony Diaz
20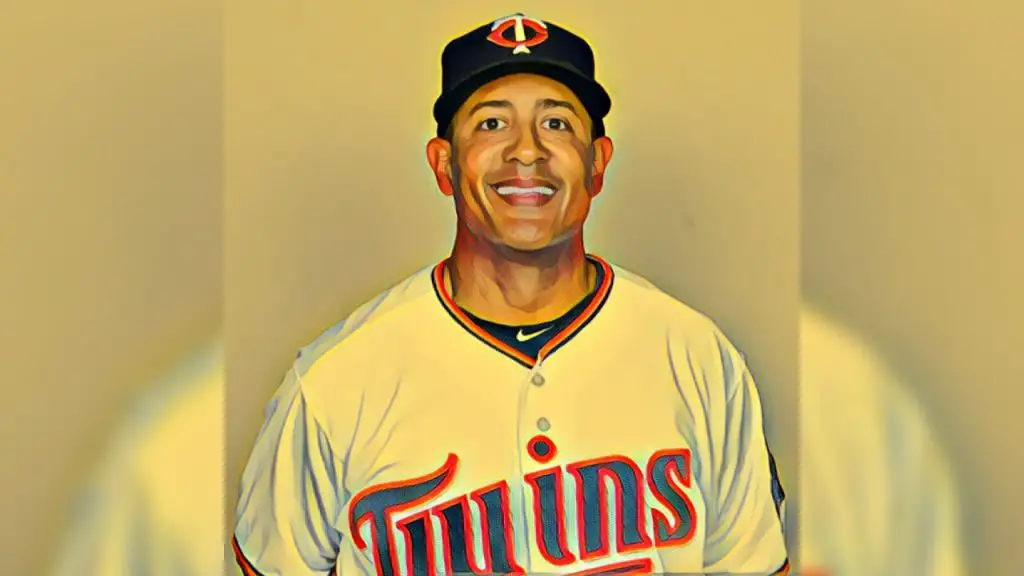 Currently, Tony Diaz, 44, is in his 21st year coaching professional baseball. Having spent much of his career with the Colorado Rockies organization, in 2019 he became the third base coach for the Minnesota Twins.
This year he was hired to be the manaager of Los Tigres del Licey, the winningest organization in the Dominican Winter League. This position is seen as a stepping stone for up-and-coming Major League Baseball managerial candidates.
Many have spoken glowingly about Diaz, including Los Angeles Dodgers legend Manny Mota.
"In my point of view, Tony was an excellent player and will be an excellent manager," Mota said of Diaz. "Because on top of all his talents, he is above all an excellent man."
Get the Our Esquina Email Newsletter
By submitting your email, you are agreeing to receive additional communications and exclusive content from Our Esquina. You can unsubscribe at any time.