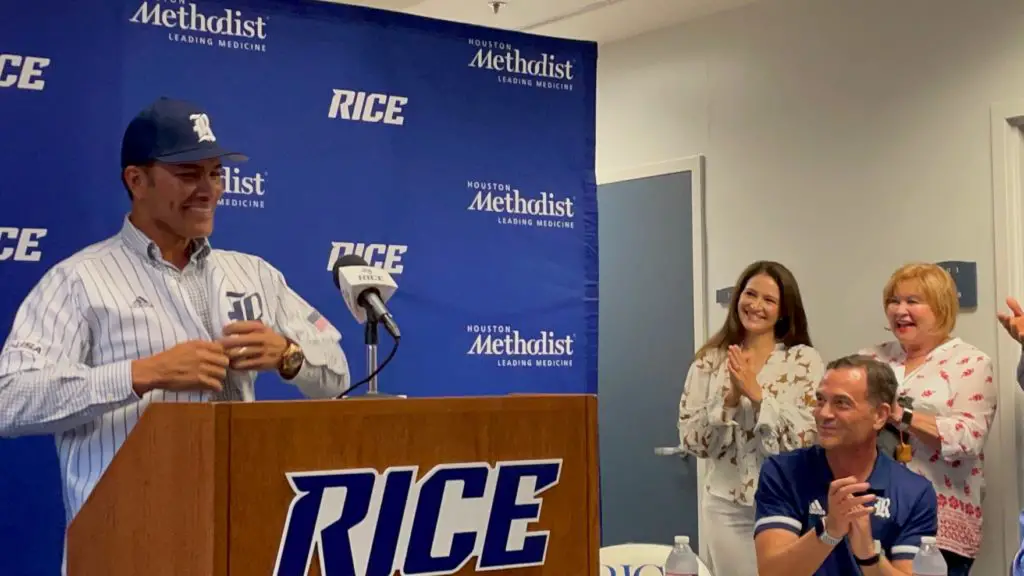 Cruz sets tone for Rice's return to prominence
Jose Cruz Jr. hopes to plant Rice's Old English R on the mound in Omaha
Jose Cruz Jr. donned his Rice University cap, cupped the bill just right and turned slightly to his left. The Owls' new baseball coach then smiled as he made eye contact with his mother Zoraida and wife Sarah. The trio's smiles could have powered Texas' vulnerable power grid. 
It was truly a family affair for the Cruzes and Rice University yet again Tuesday after the son of Astros icon Jose Cruz was introduced as the Owls' new baseball coach.
Then after Rice athletics director Joe Karlgaard and Cruz Jr. were done taking questions and the family posed for pictures, Cruz's aunt Millie reminded him of the goal.
Tia Millie hung to her nephew's neck in a way only Puerto Rican and Latina aunts do. She then brought Cheito close, practically cheek to cheek, and pointed her index finger for emphasis.
Omaha in three years?
"In three years," she said in Spanish, "we're going to Omaha!"
That's the goal, Tia!
Sign Up for Our Esquina's Weekly Newsletter
The intimate crowd that braved the rain to listen to the Rice legend couldn't have outlined the goals any better. Cruz has been around long enough to know better than to put a timeline on those goals, but Omaha is indeed the goal.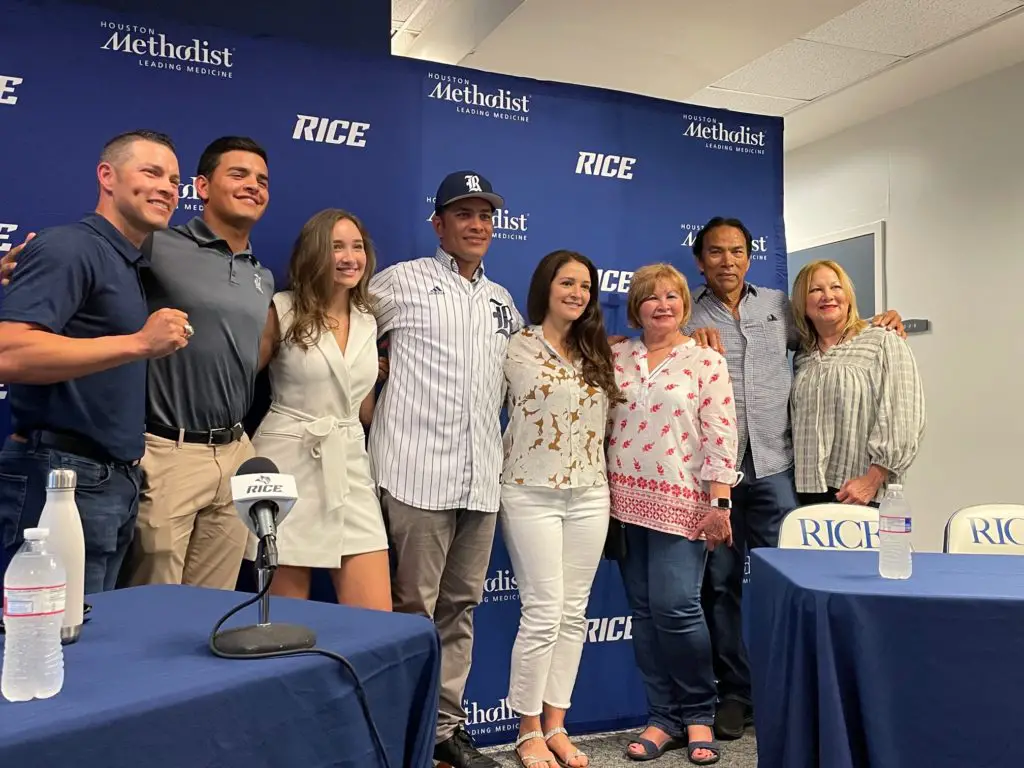 He wants a College World Series ring like the one his younger brother Jose Enrique won with the 2003 Rice Owls. Jose Enrique wore that ring to the press conference. 
"This is going to be an excellent follow," Cruz Jr. said. "It's going to be fun to have all the Rice Nation come together. The support's been outstanding. Just see us on TV. See us on the Regionals. See us in a Super Regional, and see us in Omaha. That's the goal (to) be the last standing and plant that Old English R in the middle of the mound to celebrate."
Rice baseball has fallen in recent years. It is perhaps unreasonable for anybody to expect the Owls in Omaha without a ticket anytime soon.
Cruz did make one promise, however. He vowed to have a better team next year than the Owls had this year. 
Karlgaard is excited to welcome the man who propelled Rice baseball to prominence 26 years ago. 
"Jose Cruz Jr. lifted up Rice baseball"
"Jose Cruz Jr. lifted up Rice baseball as a player, celebrated the success of his brother in 2003 and sent two sons to play in this (Reckling) ballpark,"  Karlgaard said. "While you consider the accomplishments of his father with the Astros, the Cruz family is synonymous with baseball in the city of Houston.
"Before he left to coach with the Tigers this year, I'd wager to say there weren't many people who had seen more Rice baseball games over the past five or six years than Jose."
Cruz Jr. is back, and so are almost all of Jose Cruz and Zoraida's children and grandchildren.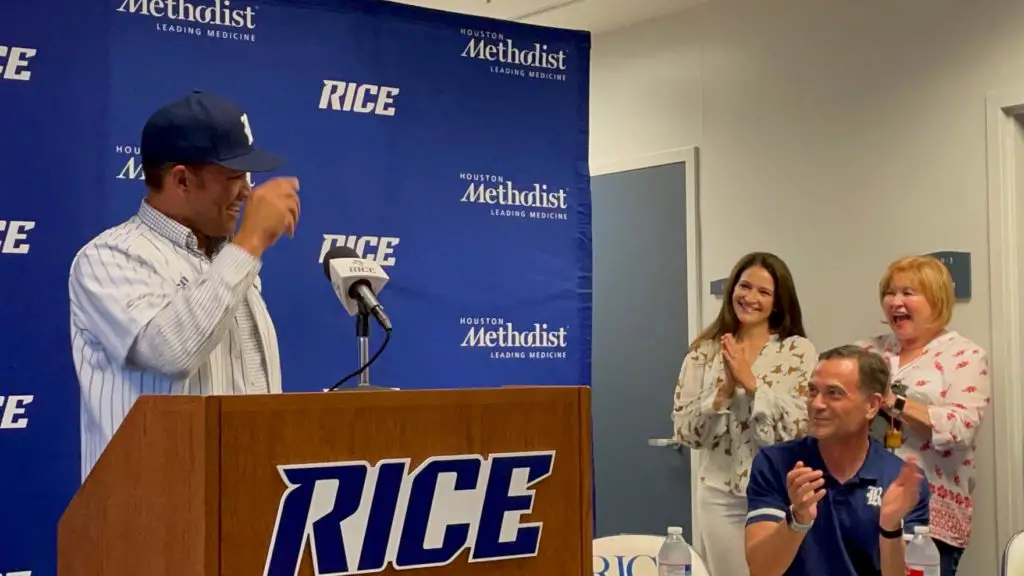 Cheito dreamed of being on the staff with the Tigers when his son Trei, another former Owls star, finally reached the majors. Now he's excited to coach his youngest son Antonio next season at Rice.
"It's just crazy to me," said Antonio, who graduated from Rice last month. "I'm so proud to wear this R right now. It's pretty emotional. 
"My teammates are so excited that we can go in the direction we want to and just get better to improve in all aspects of our lives. We're just so excited. It means the world to me and my family."
Get the Our Esquina Email Newsletter
By submitting your email, you are agreeing to receive additional communications and exclusive content from Our Esquina. You can unsubscribe at any time.