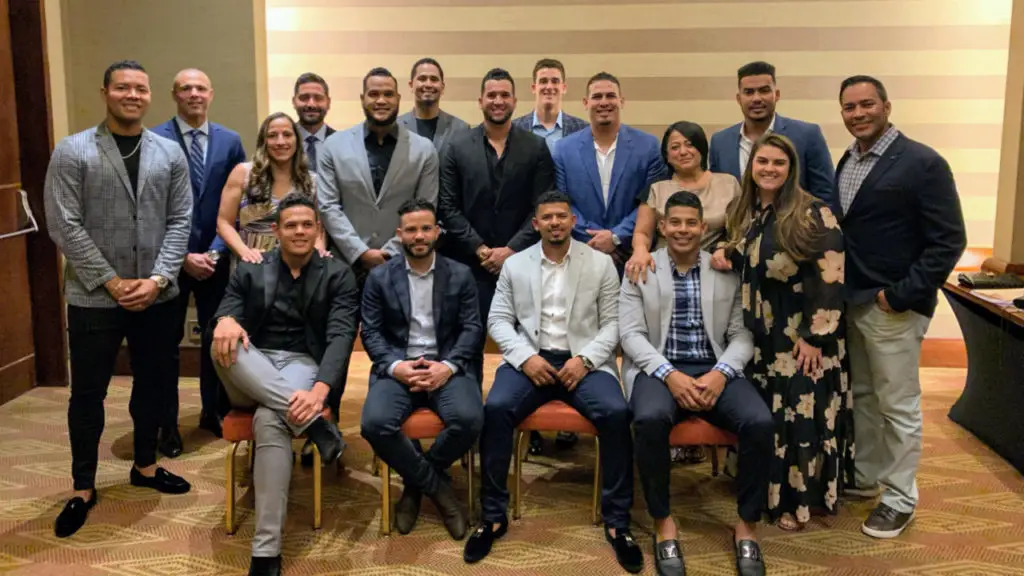 Helping at Heart of Leonor Colon's Mission with Players Association
Leonor Colon makes a difference with MLB Players Association
As a child, Leonor Colon dreamed of becoming a doctor. She aspired to help and give back. Those were among the first attributes that her single mother Norma Muñiz and maternal grandparents Agustin and Angela Muñiz instilled in her when they lived together in New York's Hell's Kitchen.
Even though the Nuyarican's career goals shifted after Colon joined the workforce immediately after college to help her family, the foundation was set in terms of her values. She has spent her career helping others through the world of baseball, which she grew to love growing up surrounded by an extended family full of boys.
Colon fell in love with baseball in 1986. She hardly had a choice. There was one television at her aunt's apartment, where she would go play a few blocks away from her grandparents' home because there was a safer playground. The MLB Players' Association's senior director of international and domestic player operations was often at her aunt's home as a child.
On one of those visits, the entire family was glued to her tia's television watching the New York Mets in the World Series. Uncles, cousins, aunts, mom, grandpa, everybody. 
"We were all watching that World Series game as if we were going to die if the Mets didn't win," Colon said. "From then on, that's where I started to love the game. 
"And I started to learn about (Roberto) Clemente and how this sport is so important and exciting. … That's really the story about how I started to love the game."
The legendary Clemente would surely be proud of Colon, whose grandparents moved to New York from Puerto Rico when Colon's mom was young. 
Devotion to Help
Colon has devoted much of her career to helping ballplayers, especially Latino players who have benefited from her bilingual skills.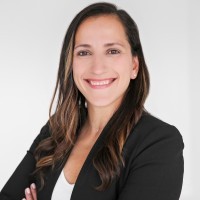 "I think in the core of my soul I just wanted to help," Colon says. "And I thought at first being a doctor was the path to go on. Due to family situations I just had to start working immediately after college to help my family, and I couldn't dedicate my time to study to become a doctor."
A willingness to help actually led to Colon's first interview with Major League Baseball. She was at her first job out of college as an assistant in the human resources department at Madison Square Garden.
A receptionist needed somebody to cover the phones one day while she handled a personal matter. On the phones that day, Colon answered a call from a head-hunter who wanted to meet with the head of HR. 
While chatting with the recruiter, Colon promised to lobby the head of HR to meet with him on one condition. If he could get her an interview with a sports organization, she would persuade the head of HR to meet with him. 
The recruiter landed her an interview with MLB. She handled the rest. She got a job in the commissioner's office, where she worked in the labor relations department for five years.  
"I just did somebody a favor," she said. "I really look back, and I just did somebody a favor. You have to be kind. You gotta help people, gotta just do it. That's how it unfolded. That's how I got to Major League Baseball."
At the advice of mentor John Ricco, she used even the most menial tasks to learn. As part of her job at MLB early on, she needed to make three copies of each player contract.
Leonor Colon Developed Even Doing Menial Tasks
Ricco encouraged Colon to pass the time by reading the contracts and learning how contracts were negotiated. 
"Leonor's work ethic always stood out to me," said St. Louis Cardinals assistant general manager Moises Rodriguez. "Her interpersonal skills are excellent. She's a great person with an infectious personality. But don't let her fool you. She's intense and takes her work very seriously. I have a lot of respect for her and am not surprised by her success."
Rodriguez worked with Colon at the commissioner's office. He was in baseball operations, and she was in labor relations. There was plenty of interlap between the two departments, so the two Boricuas had a lot of work interactions.
More than 15 years since they worked together, she's still one of his favorite people.
Rodriguez saw Leonor Colon's work ethic and devotion early on. 
She became fascinated with what baseball contracts would look like, the terms and conditions, what the clauses meant, and how the sides negotiated.
"I learned a lot," she said. "As I was typing and seeing what they were negotiating back and forth, I was doing tedious work but I was learning in the process about the game."
Over time, she began to help her bosses prepare exhibits to support teams in arbitration cases. Then she started attending the hearings to take notes for the lawyers. That's when and where she realized her heart was more in favor of the other side, the players' sides. 
Heart on Players' Side
"I would sit and listen to these cases and see these players go through this process where their employers say, 'You're not this good. You don't deserve this. I got to the point where I was like, 'This is terrible. I hope the player wins the game.' …
"Then after the hearing the club would be like, 'You're going to do a great job this year.' Even though we just told you how much you suck, please do your best. I was just like, there's something wrong with this. I became very player-centric because I know how hard it is for them to get to this point. The process fascinated me.'"
After five years with MLB, she and her mentor moved to the Mets at the same time to work for then-general manager Jim Duquette. A year later, Omar Minaya replaced Duquette as Mets GM.
Trusted Confidant of Omar Minaya
Colon remembers that one of Minaya's goals was to remove as much unnecessary stress from the players as possible so they could focus on baseball. Minaya allowed Colon to work with the players and their families.
"New York is not for everybody," Colon says. "It could be overwhelming. Anything we could do to alleviate a player's stress that we were able to assist with is what we did. And it's helpful. You want to be able to do that. Because then they're going to perform well. What can we do to help them and their families?"
To that end, Leonor Colon became a trusted and helpful member of Minaya's front office, for Minaya and his players. 
That's where she realized how much still needed to be done to help Latino players. Some of the issues were seemingly minor, yet they were major. Consider a player worried about his mom finding her seat at the stadium when she's never been there and doesn't speak English? 
Or consider a player needing to sign important documents written in English when he doesn't speak or read English? Colon would remind them they could call their agents for help or she could help them. 
Leonor Colon Saw A Need With Union
In that time with the Mets, she also realized the union could do a better job helping the players. She made her pitch to the late Michael Weiner when he became the head of the union in 2009. 
They had met over the years and developed a cordial relationship. With a true Nuyarican's candor, she sat down with Weiner and delivered her message. 
"I think you have to do a better job with the Latinos," she remembers telling him. "I work with them, and there's probably things that I help them with that they need to have someone from the union to really take care of them in a way that they're not being taken care of. 
"People put papers in their face, 'Sign these documents, do this, do that.' They don't explain it. It's not in their language."
She told him that although the Mets helped their players with those issues, she knew that wasn't the norm around the majors. 
A week later, Weiner asked if she'd like to help grow the union's support system for Latino players. She had never intended to move to the union, but she was excited for the opportunity to fill that void. 
"I knew it was going to take a long time," Leonor Colon said, "because it's something that hadn't been done at any level, the union level in the way I envisioned it."
First to Work with MLB, a Club, Players Association
Thus, Colon became the first person to work for the commissioner's office, a club and the MLB Players' Association. 

The kid who grew up wanting to be a doctor suddenly landed in a spot where she's helped players help thousands around Latin America.
She played a pivotal – if not the most important – role in helping Cuban players return to their native island on a goodwill tour. 
As part of her duties, she runs the Major League Baseball Players Trust, which is the union's philanthropic arm that supports the players' charitable efforts. 
She has highlighted the diversity of the game on those goodwill tours with players from different ethnic and racial groups while also representing multiple countries.
On the last goodwill tour before the pandemic, the Players Trust gathered several superstars to visit Colombia. They donated $300,000 to the United Nations High Commissioner for Refugees (UNHCR) to support the refugees who fled neighboring Venezuela. 
Former MVP José Altuve and Félix Hernandez were among more than a dozen current and former major leaguers on that trip, including Francisco Cervelli, José Quintana, Julio Teheran, Tayron Guerrero, Marwin González and Carlos Carrasco. Union executive director Tony Clark was also there with Colon.
Helping Grow Understanding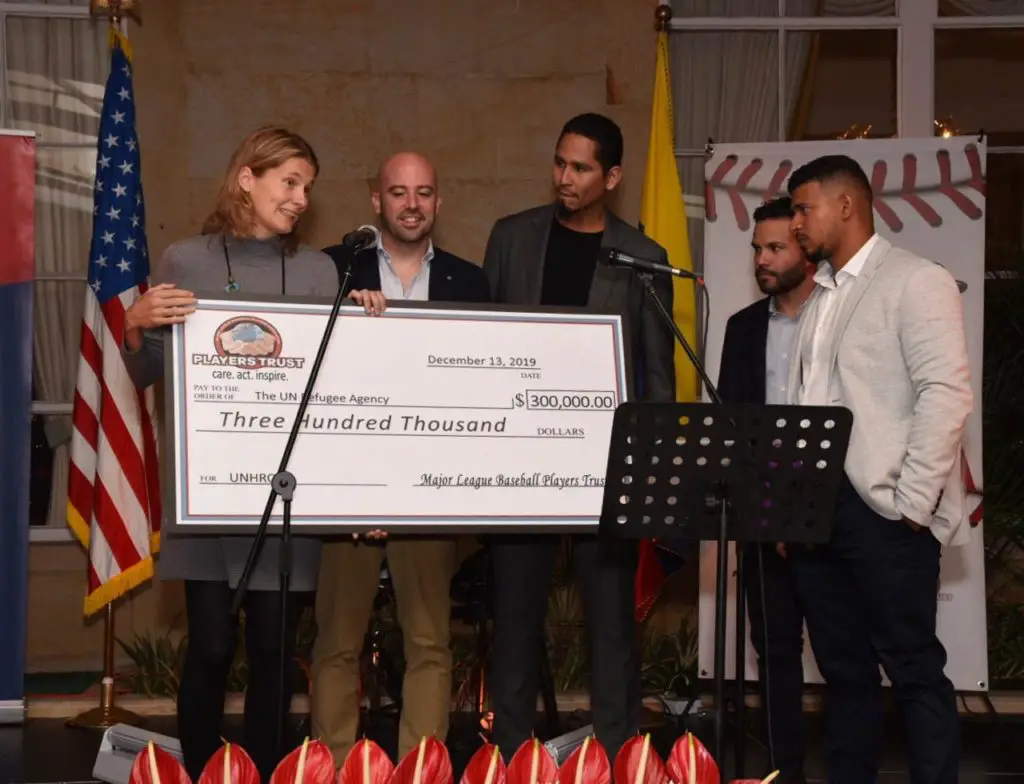 "Our players' message was like, 'Hey, we're Venezuelans, we're Colombians, look at us, we embrace each other, we're brothers, we're family and we want you to see that we can all really work together to provide opportunities for each other,'" Colon said. "It was received very well in the country. Our players were amazing."
The Players Trust worked closely with the state department, which gave the players an award for their groundbreaking effort to inspire people to get along and not promote hate from one country over another. 
Colon is sure the players will remember that trip forever. The kid who dreamed of being a doctor is still helping. Only this time she's leading the efforts to help superstars make impacts throughout Latin America. Whether returning to an island once closed to them by the Castro regime, helping Venezuelan refugees in Colombia or making a goodwill tour of the grandparents' beloved Puerto Rico, Colon is making a difference. 
"I think what's been instilled in me since as a child from my whole family is that we always have to help people," Leonor Colon said. "Always give back. Even if you have nothing, you can always help someone. I've taken that with me until now. I'm not better than anyone. I just want to help people. Right now I have an opportunity to help players help others. That's kind of the domino effect of it. That's kind of the core of what makes me happy, what makes me get up every day."
Get the Our Esquina Email Newsletter
By submitting your email, you are agreeing to receive additional communications and exclusive content from Our Esquina. You can unsubscribe at any time.