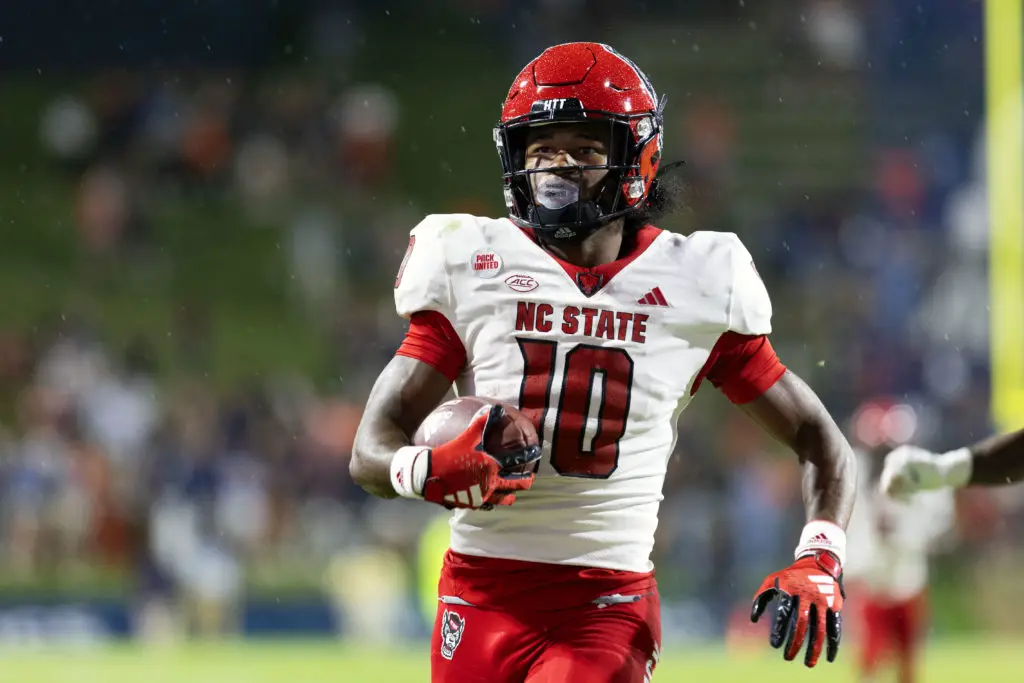 Freshmen Kevin Concepcion, Rico Flores Jr. find end zone
Notre Dame's Rico Flores Jr., N.C. State's Kevin Concepcion highlight Latinos in college football in Week 4
Wide receivers Kevin Concepcion and Rico Flores Jr. were among the top Latino high school football players last year. They earned spots on Our Esquina's 2022 Latino All-America team, and they've wasted no time making a splash in college football.
Kevin Concepcion and Flores had breakout performances this past weekend, finding the end zone for the first time in their respective college careers.
The speedy Flores actually put Notre Dame in position to beat Ohio State before the Buckeyes' late comeback. Kevin Concepcion had the best performance of his young career Friday night to help North Carolina State beat Virginia.
Concepcion, a 5-foot-11, 187-pounder from Charlotte, N.C., scored the first two touchdowns of his career in the 24-21 victory. He had a team-high six catches for 116 yards and two touchdowns.
Two touchdowns for Kevin Concepcion
Concepcion gave N.C. State the early lead with a 12-yard touchdown catch early in the second quarter. He added a 48-yard touchdown catch late in the third quarter to take a 21-13 lead.
A night after Kevin Concepcion had his brilliant performance, Flores starred on prime time against Ohio State. Flores, a 6-foot, 205-pounder from Folsom (Cal.) High, scored the first touchdown of his career.
He made a two-yard touchdown catch to help the Fighting Irish take a 14-10 lead with 8:22 to play. Unfortunately for the Irish, Ohio State scored the winning touchdown in the 17-10 victory with a second to play.
Nonetheless, Flores continues to blossom for Notre Dame. He had three receptions for 20 yards.  
Oregon State running back Damien Martinez accounted for 100 yards of offense. He rushed for 81 yards on 17 carries. He added 19 yards on two receptions. Oregon State's 38-35 loss to Washington State was Martinez's first game in which he didn't rush for at least 100 yards this season. Washington State freshman receiver Carlos Hernandez had seven catches for 39 yards.
MORE FROM OUR ESQUINA
Iowa's Sebastian Castro learned patience, love early
USC commit Marquis Gallegos proudly raises Mexican flag
Class of 2023 loaded with Latino football recruits
Gallegos, Woodyard, Sanchez highlight Latino High School All-America Football Team
Kansas State sophomore running back Anthony Frias had two carries for eight yards. He also had one reception for five yards in the 44-31 victory over UCF. 
Appalachian State quarterback Joey Aguilar had a game-high 200 passing yards against Wyoming. He was 22 of 40 with one interception in the 22-19 loss. Aguilar, who lost a fumble, also rushed for 20 yards on six carries. Ryan Marquez had a one-yard catch for Wyoming.
Thomas Castellanos accounts for four TDs
Boston College quarterback Thomas Castellanos accounted for 314 yards and four touchdowns, but it wasn't enough. He completed 17 of 33 pass attempts for 265 yards and three touchdowns. Castellanos added 49 rushing yards and a touchdown on 10 carries in the 56-28 loss to Louisville.
UCLA senior receiver Logan Loya had five catches for 63 yards. He added a six-yard punt return in the 14-7 loss to Utah. Hawaii's David Cordero had a three-yard reception in a 20-17 win over New Mexico State.
Oklahoma State redshirt freshman quarterback Garret Rangel didn't play in the Cowboys' loss. Miami's Xavier Restrepo had seven catches for 41 yards and two touchdowns against Temple. He also caught a punt in the 41-7 victory.
Kent State running back Gavin Garcia rushed for 50 yards on 13 carries. He added a 3-yard catch in the 53-10 loss against Fresno State. UTSA's Oscar Cardenas made four catches for 31 yards in a 45-14 loss to Tennessee. He added a three-yard carry. Freshman David Amador added a catch for UTSA.
East Carolina quarterback Mason Garcia completed nine of his 12 pass attempts for 89 yards. He added 18 yards on six carries in the 44-0 victory over Gardner-Webb.
Western Carolina quarterback Cole Gonzales made a strong case for being Our Esquina's Player of the Week for the second week in a row. He completed 14 of 16 passes for 299 yards and five touchdowns in a 77-21 victory over Charleston Southern. He added a three-yard carry.
North Carolina receiver Kamari Morales had a 13-yard catch in the 41-24 victory over Pitt. Texas Tech's Nehemiah Martinez I had an 11-yard carry in the 20-13 loss against West Virginia.
Defensive Player of the Week: Kain Medrano
Kain Medrano led UCLA with two sacks, 2 ½ tackles for a loss and 10 tackles overall against Utah. The senior from Pueblo, Col., collected his first two sacks of the season.
Georgia freshman Raul Aguirre Jr. had four tackles, including one for a loss, against UAB. Sophomore defensive back Nikai Martinez had six tackles for UCF against Kansas State. Iowa's Sebastian Castro had three tackles in the 31-0 loss to Penn State. Washington State's Ron Stone Jr. had four tackles in the victory over Oregon State.
Idaho State freshman Mathew Sanchez had two interceptions and five tackles. Adrian Rodriguez added three tackles in Idaho State's 31-21 victory over Northern Colorado. Defensive back Franky Morales had two tackles for Northern Colorado in the loss.
Tulane linebacker Jesus Machado had a career-high 10 tackles in a 36-7 victory over Nicholls. The junior from Miami entered the game with nine tackles for the season. Syracuse defensive lineman Denis Jaquez Jr. had three tackles in a 29-16 victory over Army.
Wisconsin's Gio Paez had one tackle in a 38-17 victory over Purdue.  Kent State's Jesus Duran had one tackle against Fresno State. Sophomore Dupre Mendoza had a tackle for Fresno State.
New Mexico State's Gabriel Inigues had two tackles for a loss and five tackles overall against Hawaii. New Mexico's Bryce Santana had five tackles, including half a sack, in a 34-31 overtime victory over UMass. Gabriel Lopez added two tackles for the Lobos. Texas Tech's Bryce Ramirez had one tackle against West Virginia.
Notre Dame's defensive tackle Gabriel Rubio returned to action. He had one tackle in the loss to Ohio State. Wilfredo Aybar had two tackles for Stanford in a 21-20 loss against Arizona.
Special Team Player of the Week: Ricardo Chavez
Ricardo Chavez accounted for 12 points to help Idaho beat Sacramento State 36-27. The 6-foot-2, 195-pound senior from Riverside Community College serves as the Vandals' kicker and punter.
He drilled a 50-yard field goal while going perfect on his three field goal attempts. Chavez also added a 42-yard punt. His 30-yard field goal with a second to play put the Vandals ahead for good.
Miami kicker Andres Borregales accounted for 11 points against Temple. He was 5-for-5 on PATs and hit two field goals, including a 39-yarder. Tarleton State's Adrian Garcia made his two field goal attempts against Southwest Baptist. He also averaged 39.2 yards over six punts in the 27-13 victory.
LSU kicker Damian Ramos hit a 20-yard field with five seconds to play to beat Arkansas 34-31. The sophomore from Baltimore made two field goals and was 4-for-4 on PATs. 
Colorado kicker Alejandro Mata had his only extra point attempt blocked against Oregon. New Mexico punter Aaron Rodriguez averaged 37.5 yards over five punts. He had a 51-yard punt and pinned two punts inside the 20-yard line.
Chase Contreras drills a 51-yard field goal
Iowa State's Chase Contreraz accounted for 10 points in the 34-27 victory over Oklahoma State. He hit two field goals, including a 51-yarder. He was perfect on four PATs. Texas Tech kicker Gino Garcia was 2-for-2 on field goal attempts with a long of 39 yards.
Southern Utah punter Alyas Vigil averaged 37.3 yards on three punts in a 37-17 victory over Western Illinois. Tulane kicker Valentino Ambrosio was 3-for-3 on field goals and 3-for-3 on PATs. 
Wake Forest punter Ivan Mora had two punts for a 32-yard average. He drilled a punt for 48 yards. Old Dominion kicker Ethan Sanchez hit a 22-yard field goal in the fourth quarter. He added an extra point in the 10-9 victory over Texas A&M-Commerce.
South Alabama kicker Diego Guajardo made a 32-yard field goal. He was also 3-for-4 on PATs in the 34-30 loss to Central Michigan. UCLA kicker RJ Lopez kicked one extra point.
Get the Our Esquina Email Newsletter
By submitting your email, you are agreeing to receive additional communications and exclusive content from Our Esquina. You can unsubscribe at any time.