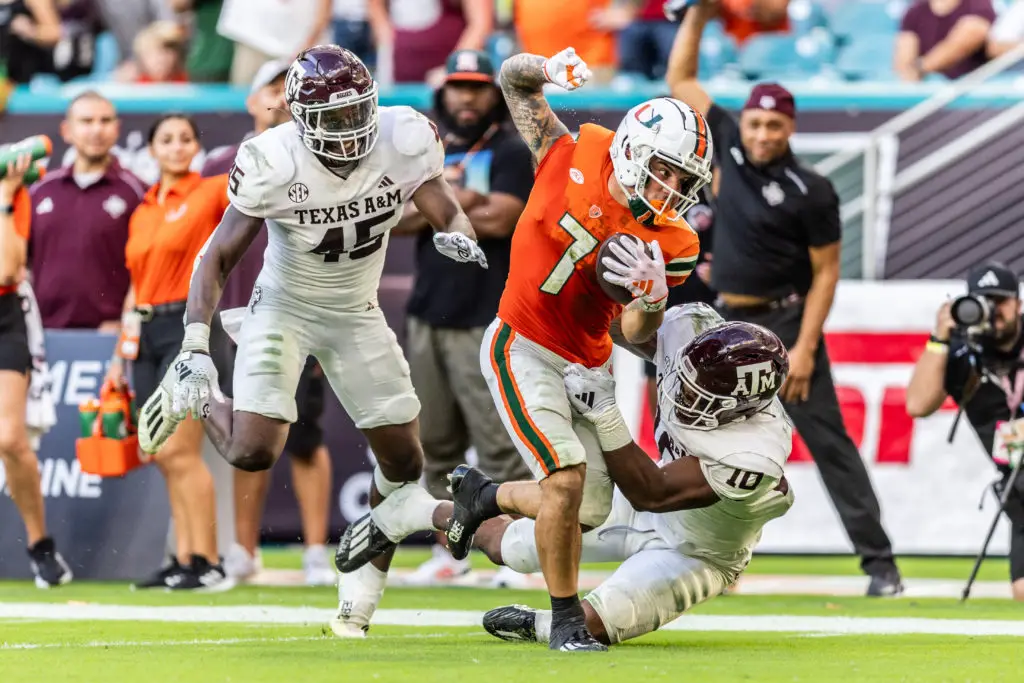 Miami's Xavier Restrepo helps down Texas A&M
Iowa Sebastian Castro earns Defensive Player of the Week honors
The U appears to be back, and wide receiver Xavier Restrepo is a major reason why. A year after missing Miami's loss against Texas A&M, Restrepo helped the Hurricanes deliver a powerful statement.
Restrepo, Our Esquina's Offensive Player of the Week for Week 2, played a crucial role in the Hurricanes' 48-33 upset over Texas A&M.
The 5-11, 195-pounder led the Hurricanes with 126 yards and six receptions. He also had a 9-yard kickoff return. Equally important, he made a crucial block to help Brashard Smith score a 98-yard kickoff return for a touchdown.
Here's how other Latinos in Division I football did in Week 2:
Appalachian State quarterback Joey Aguilar almost pulled off the upset of the week against North Carolina, which was coming off an impressive victory over Clemson.
Aguilar was 22 for 43 for 275 yards passing with two touchdowns and one interception against North Carolina, which needed two overtimes to beat Appalachian State. The 6-foot-3, 220-pounder from Antioch, Calif., added 42 yards rushing on six carries.
Damien Martinez goes off again
A week after being Our Esquina's Player of the Week, running back Damien Martinez had a 64-yard rushing touchdown on Oregon State's first offensive play.
Martinez needed only seven carries for 104 yards to help the Beavers beat UC Davis 55-7. The sophomore now has eight 100-yard rushing games in his career. 
Kansas State receiver RJ Garcia II had three catches for 31 yards. Sophomore running back Anthony Frias II added a two-yard carry for the Wildcats. Boston College quarterback Thomas Castellanos was 17 for 23 for 201 yards with two touchdowns. He added 69 yards on 16 carries.
UCLA senior receiver Logan Loya had four catches for 77 yards and one touchdown. Running back Josiah Gonzales added a three-run carry for the Bruins.
Redshirt freshman quarterback Garret Rangel came off the bench for Oklahoma State. He passed for 46 yards and a touchdown while connecting on six of his nine passes. 
Nehemiah Martinez I had a 31-yard catch for Tech Tech in a 38-30 loss to Oregon. Kent State running back Gavin Garcia had a team-high 68 yards rushing on 18 carries in the 28-6 loss against Arkansas. 
Senior tight end Ryan Rivera had a 12-yard catch for Louisiana Tech in the 51-21 victory over Northwestern State. Southern Utah's Francisco Calderon had two catches for 24 yards in a 41-16 loss to BYU. 
MORE FROM OUR ESQUINA
Gallegos, Woodyard, Sanchez highlight Latino High School All-America Football Team
Lineman Raymond Pulido settles in at Arizona
Class of 2023 loaded with Latino football recruits
Washington State receiver Carlos Hernandez, had two catches for 14 yards. Josh Lopez and Aaron Romero each had a tackle for Southern III Utah. Lopez also had a 14-yard kick return.
North Carolina State freshman wide receiver Kevin Concepcion had five catches for 24 yards in a 45-24 loss to Notre Dame. UTSA freshman David Amador II had a four-yard catch in a 20-13 victory over Texas State. Oscar Cardenas added two catches for 14 yards for the Roadrunners in the victory.
Wyoming's Ryan Marquez had two catches for 33 yards in a 31-17 victory over Portland State.
QB Mason Garcia adds to running game
East Carolina quarterback Mason Garcia was 10 for 23 yards for 62 yards with a touchdown and interception in a 31-13 loss to Marshall. He also rushed for 118 yards on 16 carries. 
Western Carolina sophomore quarterback Cole Gonzalez was 29 for 35 for 262 yards with two touchdowns. The 6-foot, 195-pounder also rushed for 68 yards on 13 carries in the 30-7 victory over Samford. New Mexico's Zach Vigil rushed for five yards on three carries.
Defensive Player of the Week: Sebastian Castro
With Iowa ahead 10-0 against rival Iowa State late in the second quarter, Iowa senior Sebastian Castro made the play of his career. 
Castro returned an interception 30 yards for a touchdown against Iowa State. The Pick 6 was the first interception of his career.
"It was like slow motion," Castro told Iowa beat writers. "I saw it the whole way. It's something I'll never forget. I saw the ball coming really slow. I brought it in, and I was like, 'Bring it home.' ″
Castro earned the Big Ten Defensive Player of the Week and Our Esquina Defensive Player of the Week honors.
The 5-foot-11, 205-pounder from Oak Lawn, Ill., is a fifth-year senior. He plays the CASH position, which is a linebacker-defensive back role at Iowa.
Texas Tech linebacker Bryce Ramirez had two tackles. Washington State's Ron Stone Jr. had a sack. Tulane linebacker Jesus Machado was credited with eight tackles, four of them solo and half a tackle for a loss.
Ohio State safety  Cameron Martinez had one tackle. Stanford linebacker Wilfredo Aybar had one tackle. Syracuse defensive lineman Denis Jaquez Jr. had a tackle. Wisconsin's Gio Paez had a tackle. 
Georgia freshman defensive back Joenel Aguero and New Mexico's Gabriel Lopez each had one tackle. 
Texas Tech's Bryce Ramirez had a pair of tackles. 
Special Team Player of the Week: Andres Borregales
Miami kicker Andres Borregales was 2-for-3 on field goal attempts, hitting a 50-yard field goal. He was perfect on six PATs to help beat Texas A&M.
Iowa State's Chase Contreraz was 2-of-3 on field goal attempts with a long of 46 yards against Iowa. Texas Tech kicker Gino Garcia hit a 45-yard field goal and went 3-for-3 on PATs while going 1-for-2 on field goal attempts.
Idaho's Ricardo Chavez was the Big Sky Special Teams Player of the Week. He was 4-for-4 on field goals and 3-for-3 on PATs. He also drilled punts for 60 and 70 yards.
Alabama A&M kicker Victor Barbosa made seven PATs. LSU kicker Damian Ramos made nine PATs.
Colorado kicker Alejandro Mata made one PAT against Nebraska. New Mexico punter Aaron Rodriguez averaged 46 yards over two punts. 
Tulane kicker Valentino Ambriso made two field goals with a long of 44 yards. He also made his two PATs. Wake Forest punter Ivan Mora had two punts for 73 yards with a long of 42 yards.
Get the Our Esquina Email Newsletter
By submitting your email, you are agreeing to receive additional communications and exclusive content from Our Esquina. You can unsubscribe at any time.