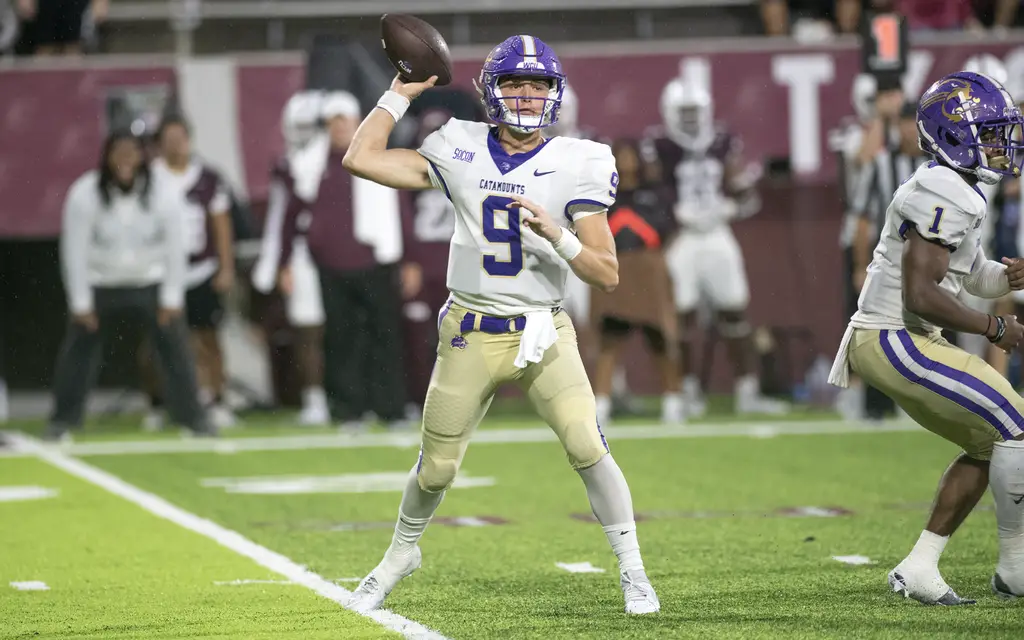 Western Carolina QB Cole Gonzales: Player of the Week
Alejandro Mata proves crucial for Colorado's Coach Prime
Western Carolina quarterback Cole Gonzales had the best performance of his brief career to earn Our Esquina's Player of the Week honors.
In a week in which multiple Latino quarterbacks shone, Cole Gonzales edged out Boston College's Thomas Castellanos for the Player of the Week honors.
Cole Gonzales accounted for 355 yards in Western Carolina's 27-24 victory over Eastern Kentucky. He was 18-for-33 with 340 passing yards, three touchdowns and one interception.
The 6-foot, 195-pound sophomore from Ocala, Fla., also added 15 yards on two carries. Trailing 24-20 with less than two minutes to play, Cole Gonzales marched the Catamounts 87 yards on eight plays in 1 minutes, 31 seconds for the go-ahead touchdown. The Catamounts are now 2-1 to start the season.
Oregon State sophomore running back Damien Martinez added his third consecutive 100-yard rushing game. He rushed for 102 yards on 15 carries in the Beavers' 26-9 victory over San Diego State.
Martinez, who has nine career 100-yard games, got almost half of his yards Saturday on a 43-yard run. He also caught one pass for four yards. Kansas State receiver RJ Garcia II had two catches for 18 yards in the upset loss against Missouri.
Thomas Castellanos shines against FSU
Cole Gonzales wasn't the only Latino quarterback to shine in Week 3. Thomas Castellanos almost led Boston College to an upset over No. 3 Florida State. The UCF transfer accounted for 400 yards and two touchdowns for the Eagles.
He passed for a game-high 305 yards with a touchdown and an interception in the 31-29 loss. 
Castellanos completed 20 of his 33 pass attempts. The 5-foot-10, 195-pounder added 95 rushing yards and one touchdown on 16 carries. 
UCLA freshman Minaya Olivo got the first carry of his career in the 59-7 victory over North Carolina Central. He didn't account for a yard, though. Fellow freshman Marquise Villahermosa added the first two tackles of his career. 
UCLA senior receiver Logan Loya had four punt returns for 21 yards.  Running back Josiah Gonzales added two yards on two carries. Notre Dame freshman receiver Rico Flores Jr. made three catches for 60 yards with a 42-yard reception in the victory over Central Michigan.
David Cordero had a three-yard catch for Hawaii in a 55-10 loss to Oregon. He also rushed for one yard on four carries. Oklahoma State redshirt freshman quarterback Garret Rangel threw for eight yards on 1-for-8 passing. He also rushed for one yard on two carries in the 33-7 loss to South Alabama.
Miami's Restrepo shines again
Miami's Xavier Restrepo had six catches for 120 yards in a 48-7 victory over Bethune-Cookman. He also had two punt returns for 21 yards with a longest of 19 yards. Texas Tech running back Nehemiah Martinez rushed for 38 yards on six carries in a 41-3 victory over Tarleton State.
Kent State running back Gavin Garcia rushed for 125 yards on 21 carries. He scored two touchdowns in a 38-10 victory over Central Connecticut. Washington State receiver Carlos Hernandez had four catches for 36 yards in the 64-21 victory over Northern Idaho.
UTSA's Oscar Cardenas had one catch for nine yards in the 37-29 loss against Army. East Carolina quarterback Mason Garcia passed for three yards on two passes. He also rushed for six yards on two carries. North Carolina tight end Kamari Morales had two catches for 64 yards. The senior from Buck Lake, Fla., got most of his yardage on a 55-yard catch.
Appalachian State quarterback Joey Aguilar threw three touchdowns and ran for another in a 43-28 victory over East Carolina. He was 17-for-29 passing for 241 yards with three touchdowns and one interception. He also ran for 13 yards on six carries. 
Defensive Player of the Week: Jesus Machado
Tulane linebacker Jesus Machado led the Green Wave with seven tackles in a 21-3 victory over Southern Miss. Iowa's Sebastian Castro, who was Our Esquina's Week 2 Defensive Player of the Week, accounted for one tackle for a loss against Western Michigan.
Washington State's Ron Stone Jr. had one sack, two tackles for a loss and four tackles overall against Northern Colorado. Defensive back Franky Morales led Northern Colorado with nine tackles in the loss to Washington State.
Ohio State safety  Cameron Martinez  and Wilfredo Aybar had one tackle. Syracuse defensive lineman Denis Jaquez Jr. had three tackles in the 35-20 victory over Purdue. 
Wisconsin Gio Paez had three tackles in the 35-14 victory over Georgia Southern. Jesus Duran had a tackle for Kent State. Khristan Hernandez had a tackle for Central Connecticut. 
Freshman Raul Aguirre Jr. had two tackles. He also got credit for half of a tackle for a loss. New Mexico State's Gabriel Inigues had a sack in the 27-17 victory over New Mexico. Tyler Martinez added a tackle for the Aggies. New Mexico's Gabriel Lopez had two tackles. Zach Vigil had one tackle for the Lobos. Texas Tech's Bryce Ramirez had a tackle.
Special Team Player of the Week: Alejandro Mata
In a thriller that went into overtime, Alejandro Mata didn't get much of the hype during Colorado's thriller against Colorado State. But Mata's two field goals helped keep Colorado in the game before they eventually tied it.
Mata replaced the starter and was 2-for-2 on field goal attempts with a long of 41 yards in the overtime victory over Colorado State.
"Mata don't miss," Colorado coach Deion Sanders said. "I know that."
Miami kicker Andres Borregales hit five of his six PATs. Will Rocha added one PAT for the Hurricanes. Iowa State's Chase Contreraz hit one PAT and missed two field goal attempts in a 10-7 loss to Ohio.
Texas Tech kicker Gino Garcia was 2-for-2 in field goals and 5-for-5 on PATs. His longest was 43 yards. Tarleton State's Adrian Garcia hit a 21-year field goal to account for the only points against Texas Tech.
New Mexico punter Aaron Rodriguez averaged 42.7 per punt on three punts. His longest punt was 48 yards. Southern Utah punter Alyas Vigil was busy against UC Davis. He averaged 40.3 punts on six punts in the 23-21 loss to UC Davis.
Damian Ramos was perfect for LSU
LSU kicker Damian Ramos was 2-for-2 on field goal attempts with a long of 41 yards. He also converted all 5 PATs in the 41-14 victory over Mississippi. 
Central Connecticut's Nick Andrade was busy against Kent State. He had six punts for 227 yards in the 38-10 loss. Tulane kicker Valentino Ambrosio was 3-for-3 on PAT, but he missed his field goal attempt.
Wake Forest punter Ivan Mora averaged 29.6 yards per punt over seven punts in the 27-24 victory over Old Dominion. Ethan Sanchez was 1-for-3 in field goal attempts with a 49-yarder in the loss against Wake Forest. South Alabama kicker Diego Guajardo made both of his field goal attempts, one from 42 yards out. He added three PATs in the 33-7 victory over Oklahoma State.
Featured art courtesy of Western Carolina University.
Get the Our Esquina Email Newsletter
By submitting your email, you are agreeing to receive additional communications and exclusive content from Our Esquina. You can unsubscribe at any time.