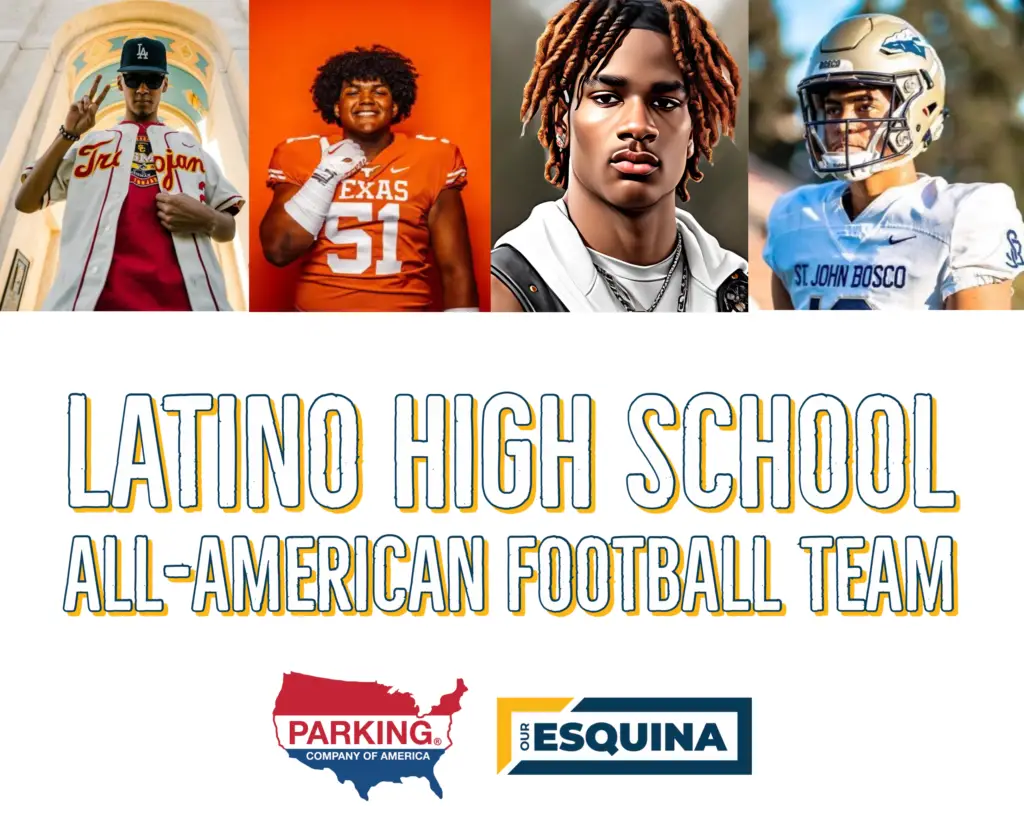 Gallegos, Woodyard, Sanchez highlight Latino High School All-America Football Team
Texas commit Daniel Cruz highlights stacked offensive line
Two of the stars are senior safeties turning heads on the West Coast. The other is a five-star junior cornerback in the Lone Star State. Marquis Gallegos and Peyton Woodyard, the senior safeties from California, are committed to USC and Alabama, respectively. Devin Sanchez, the junior from the Houston area, is down to a Top 10 among 35 scholarship offers.
The 6-foot-1 Gallegos, 6-foot-2 Woodyard and 6-foot-3 Sanchez are among the best of the best in high school football this season. They also highlight Our Esquina's second annual High School All-America Football Team, presented by Parking Company of America.
Gallegos stars at Sierra Canyon in Chatsworth, Calif. He showed off his Mexican pride by taking the Mexican flag with him throughout his recruiting visits around the country. Woodyard is a four-year starter at St. John Bosco (Bellflower, Calif.), the No. 1 ranked high school team in America. Devin Sanchez is drawing top college recruiters to the Eastside of the Houston area.
Woodyard, the son of a Mexican mom and African American dad, plays at the same school where another Sanchez is turning heads. St. John Bosco quarterback Caleb Sanchez, wasted no time making an impression on national television Saturday. The Salvadoran-Filipino American completed 36 of 48 passing attempts for 349 yards and two touchdowns to beat Florida power St. Thomas Aquinas, 20-7, in Florida.
Devin Sanchez, Our Esquina's preseason Football Player of the Year, is rated as the No. 8 player nationally in the Class of 2025 and the No. 2 ranked junior in Texas.
Many of the players on Our Esquina's 2023 All-America Football team have already committed to major Division I colleges. Caleb Sanchez and several others are expected to see their stock rise significantly this season.
Big time college offers
The University of Texas received the commitment from Richland (Texas) High offensive lineman Daniel Cruz, who is arguably the top Latino offensive lineman in the Class of 2024.
Cruz will compete in the Red River Rivalry for years to come against Odessa (Texas) High wide receiver Ivan Carreon, who is headed to Oklahoma.
MORE FROM OUR ESQUINA
Joenel Aguero leads 2022 Latino All-America team
Lineman Raymond Pulido settles in at Arizona
Five-star Devin Sanchez has football elites after him
Class of 2023 loaded with Latino football recruits
Texas gunslinger Marcos Davila from Midland (Texas) is committed Purdue. He'll be joined in the Big Ten by Pittsburgh Central Catholic receiver Peter Gonzalez, who is committed to Penn State.
The team is loaded with quality offensive linemen. Although there aren't as many defensive players on this year's All-America squad, the members of the team on that side of the ball are going to big time schools like USC, Missouri and Kentucky.
All-America Offense
Samir Camacho, OT, Cy Falls (Houston) High, 6-foot-3.5, 281 points, uncommitted.
Johann Cardenas, RB, St. Thomas (Texas), 6-foot, 215 pounds, committed to Virginia.
Ivan Carreon, WR, Odessa (Texas), 6-foot-6, 196 pounds, committed to Oklahoma.
Alonzo Contreras, QB, Calabasas (Calabasas, Calif.), 5-foot-11, 180 pounds, committed to San Jose State.
Luis Cordova, OT, Salpointe Catholic (Tucson, Arizona), 6-foot-4, 270 pounds, uncommitted.
Daniel Cruz, OL, Richland High (Texas), 6-foot-3.5, 295 pounds, Class of 2024 Committed to Texas
Marcos Davila, QB, Midland (Texas) Legacy, 6-foot-3, 230, committed to Purdue.
James Diaz, WR, Cienega (Coronado National Forest, Arizona) High, 6-foot-3, 180 pounds, uncommitted.
Isaiah Garcia, OT, Cyprus High in Magna, Utah, 6-foot-5, 280 pounds, committed to Utah.
Peter Gonzalez, WR, Central Catholic (Pittsburgh) 6-foot-2.5, committed to Penn State.
Jose Leon, WR, Columbus (Miami), 5-foot-10, 170 pounds,  committed to Appalachian State.
Juan Minaya, OT, Paramus Catholic (Paramus, N.J.), 6-foot-6, 335 pounds, committed to Miami.
Richard Muñoz, ATH, Bishop Amat (La Puente, Calif.) 5-foot-10, 185 pounds, uncommitted. 
David Perez, IOL, Downey (Calif.), 6-foot-3, 275 pounds), uncommitted. 
Mateo Rodriguez, OT, Chandler (Arizona) High, 6-foot-5, 275 pounds, uncommitted.
Eduardo Saldaña, OL, Servite, 6-foot-3, 250 pounds, uncommitted.
Manuel Serna, OT, Clayton Valley (Concord, Calif.), 6-foot-5, 300 pounds, committed to San Jose State.
Caleb Sanchez, QB, St. John Bosco (Bellflower, Calif.), 6-foot-3, 220 pounds, uncommitted.
Manuel Serna, OT, Clayton Valley (Concord, Calif.), 6-foot-5, 300 pounds, committed to San Jose State.
All-America Defense
Charles Correa, LB, Bishop Gorman (Las Vegas), 6-foot-2, 230, committed to UNLV.
Marquis Gallegos, S, Sierra Canyon (Chatsworth, Calif.), 6-foot-1, 175 pounds, committed to USC.
Ruben Gamboa, S, Sierra Canyon (Chatsworth, Calif.), 5-foot-11, 175 pounds, uncommitted.
Maddox Gonzalez, OT, Standish-Sterling Central (Mich.) 6-foot-5, 315 pounds, committed to Eastern Michigan.
Jordan Ochoa, Edge, Castle View (Castle Rock, Col.), 6-foot-4, 220 pounds, committed to Wyoming.
Juan Rodriguez, OL, Salesian (Los Angeles), 6-foot-3, 290 pounds, uncommitted.
Nicholas Rodriguez, LB, St. Thomas Aquinas (Fort Lauderdale), 6-foot-1, 190 pounds, committed to Missouri.
Willie Rodriguez, TE, Covington Catholic (Alexandria, Kentucky), 6-foot-4, 240 pounds, committed to Kentucky.
Devin Sanchez, DB, Galena Park (Texas) North Shore, 6-foot-2, 179 pounds, Class of 2025 uncommitted.
Zeus Venegas, DL, Mater Dei (Santa Ana, Calif.), 6-foot-4, 255 pounds, uncommitted.
Peyton Woodyard, S, St. John Bosco, 6-foot-2, 188 pounds, committed to Alabama.
All-America Special Teams
Jonathan Dimas, K, Westfield High, Texas, 5-foot-10, 175 pounds
Get the Our Esquina Email Newsletter
By submitting your email, you are agreeing to receive additional communications and exclusive content from Our Esquina. You can unsubscribe at any time.