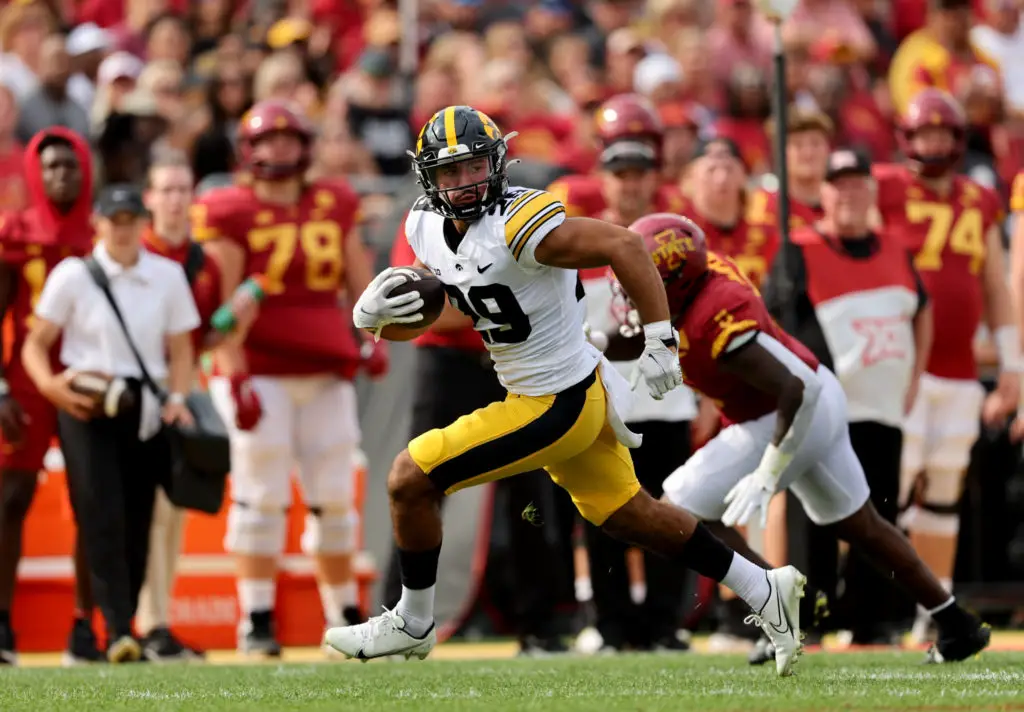 Iowa's Sebastian Castro learned patience, love early
Sebastian Castro credits grandparents who helped raise him
Jose and Teresa Gonzalez's home was always full of people and love. Some might say it was even crowded with three generations under one roof, usually totaling at least 10 people. University of Iowa senior Sebastian Castro and his older brother Roque shared a bed with their mother Ruby Gonzalez until the future college football players grew too big for all three to sleep in the same bed. 
Sebastian Castro was only a month old when his father was sent off to prison, leaving Ruby Gonzalez with a four-year-old and a baby to raise by herself. Sebastian and Roque Castro eventually settled into their maternal grandparents' home. 
In that household in the Chicago suburb of Oak Lawn, Ill., you'll find the foundation that gave Sebastian Castro the patience that kept him in Iowa City and, ultimately, led to his breakout performance last Saturday for the Hawkeyes.
That is where the Big Ten Conference's Defensive Player of the Week learned to play football and much more.
"I'm appreciative of my family," Sebastian Castro says. "They're always in the back of my mind. Even though I don't live there, I just know who I do it for. At the end of the day, it's all about family.
"It was a lot of fun growing up. I was the baby of the family, the youngest one. I'm very family oriented because of that."
Castro's grandfather has attended only one of his games at Iowa. His grandmother has attended a few games, but his mom and brother don't miss any games at Kinnick Stadium. His brother, mother, aunt Victoria Gonzalez and a family friend drove from the Chicago suburbs to Ames, Iowa, to watch the Hawkeyes face rival Iowa State last Saturday. 
A shot of joy  
A few plays before Sebastian got the first interception of his career, Ruby vowed to take a shot if her boy made the interception. 
"I just have a feeling he's going to do something big," Ruby told the group. "I have a feeling it's going to be a Pick-6."
Then she watched in awe as Sebastian intercepted the pass and ran it back 30 yards for a touchdown, pushing the Hawkeyes' lead to 17-0 after the PAT. As Sebastian Castro got closer to the end zone, the tears began to flow for the lady who had her first baby at 17.
"We were all getting emotional," Roque said. "It was a sense of relief."
Sebastian had no idea where his family was sitting, so he couldn't acknowledge them. But they all knew why they were all so emotional. 
From Mexico to Chicago
It has been a long, difficult road for all of them, after all. The journey to Iowa City began in Guadalajara and Zacatecas, Mexico. Jose Gonzalez was born in Texas, but his family moved back to Mexico when he was very young. Teresa Gonzalez is from the small town of Monte Escobedo, Zacatecas. Jose was a fireman before moving back from Mexico when he was 18.
Teresa immigrated to the U.S. at 17 years old in 1975. The couple met in Chicago. They married in 1977 when Jose was 36 and Teresa was 19.
Jose worked construction in Illinois while he and his wife raised their five daughters.
"He's just very quiet and works, and he loves his family," Sebastian says of his grandfather. "He's the provider and protector of his family. I always looked up to him."
Sebastian was four years old when his grandparents moved the family from Chicago to Oak Lawn, Ill. They settled in a modest home on a cul de sac. Roque Castro learned to play tackle football on the field outside their home. He eventually taught his brother.
MORE FROM OUR ESQUINA
Miami's Xavier Restrepo, Iowa's Sebastian Castro lead Latinos in College Football
Gallegos, Woodyard, Sanchez highlight Latino High School All-America Football Team
Five-star Devin Sanchez has football elites after him
Sebastian is certain the hard tackles he delivered and endured early in life in front of his house helped prepare him for Division I football.
"We didn't play with pads," he said. "I got used to the physicality. We played tackle. We didn't care."
Inspired by the Chicago Bears
Sebastian and Roque spent most of their free time playing sports outside until nightfall with the neighborhood kids. When they weren't playing outside, they were usually visiting their friends' homes.
They were hesitant to bring friends over to play at their house, though, because they shared a bedroom with their mom.
"For a while it was kind of like embarrassing," Roque said. "It was embarrassing to invite your friends over."
As the boys grew older and more confident, though, they realized there was no shame in their humble, loving home. Nonetheless, the brothers aspire to buy their mother a home one day. By eighth grade, Sebastian began to take football seriously.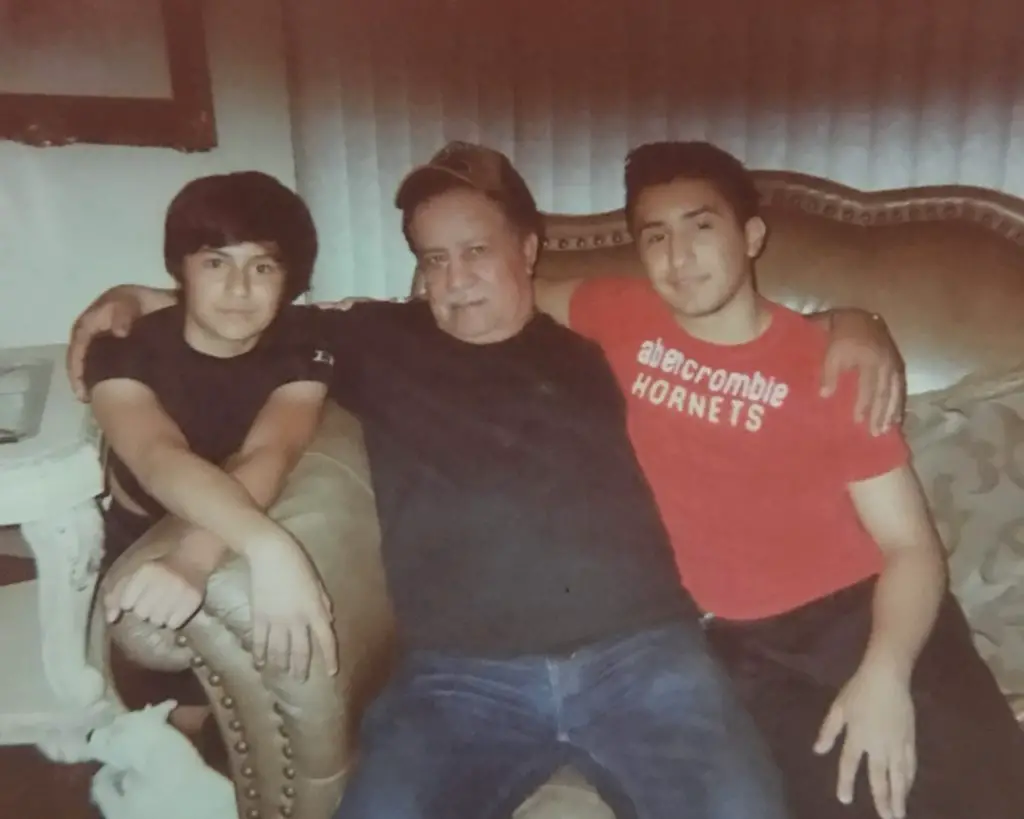 He followed the Chicago Bears religiously. Sebastian, who is called Mario by his immediate family, arrived at Iowa with hopes of playing in the NFL.
The 5-foot-11, 205-pounder was a star quarterback and defensive back at Richards High, the same school that produced Basketball Hall of Famer Dwayne Wade.
Although Iowa and Illinois border each other, Castro didn't know anything about the Hawkeye state before he stepped foot on the beautiful Iowa City campus as a high school junior.
A new world
His high school coach wanted him to take a visit to Iowa. Castro was hesitant.
"'Why go visit over there?' That's what I was thinking," he says.
Syracuse, Iowa State and Minnesota had already offered Castro a scholarship before he took a visit to Iowa. Castro's coach told him he would need to visit Iowa before the Hawkeyes would offer him a scholarship.
With his brother as a chaperone, Castro attended a junior day at Iowa for football recruits. Castro remembers that nobody was saying much to him during the first few hours of the campus tour. Toward the end of the tour, assistant coach Brian Ferentz introduced himself and soon mentioned that the Hawkeyes were going to offer Castro a scholarship.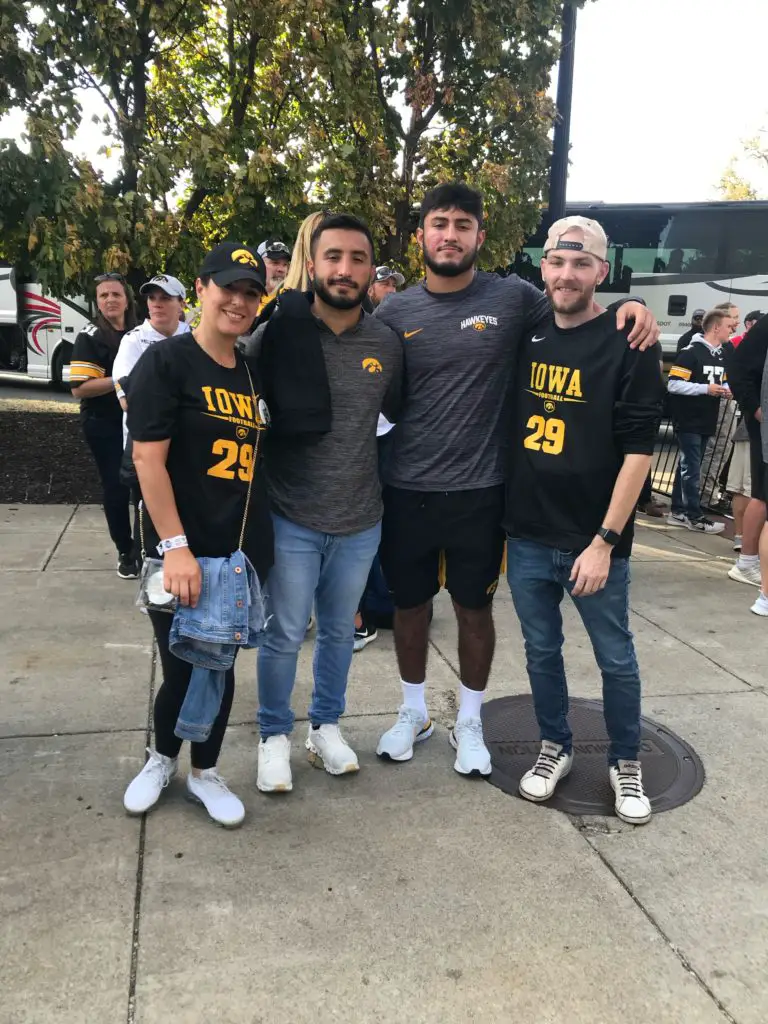 "Of course I was excited because I saw what Iowa was about," Sebastian Castro said. "I wanted to commit right away. I fell in love with the program. Listening to them talk about the work and dedication and how they're going to help me get to the League, that's how I chose."
Castro signed with Iowa. Then he waited for playing time. He redshirted as a freshman and then saw action in only one game in 2020. Castro saw limited action as a redshirt sophomore, making only six tackles in 2021.
Sebastian Castro or "Cash 'Stro"
He now starts in the CASH position, which is essentially a nickel back. It's a defensive back-linebacker position for a guy strong enough to take on linemen and fast enough to cover receivers. 
Castro started seven of the 13 games in which he played for the Hawkeyes last year, collecting his first sack, two forced fumbles and 33 tackles.
"I got way more, I guess, experience and knowledge about life and not just football," he said. "It took me forever. I got really humbled being at Iowa. Iowa is a developmental program. It took me more time to be on the field.
"I was a star player in high school, and I'm thinking I'm going to walk into Iowa and just start. I had the talent, but I wasn't a good player. It was hard for me to accept that as an 18-year-old, 19-year-old, 20-year-old."
Like his abuelo (grandfather), though, Castro just kept working. He had a family to represent, after all. 
"The credit goes for a guy sticking it out and keep banging away," Iowa coach Kirk Ferentz says. "That's a fun part about Saturday. You think about all the time he was on the scout team or the times he was playing special teams, not really out there defensively for us.
"Now for him, I don't want to call it a bonus or reward, but it's a nice play.  I never scored a touchdown, I know that. Pretty cool for a defensive guy to score a touchdown."
Patience key for Sebastian Castro
Now that players can transfer once without having to sit out a season at their new school, many players in Castro's situation would have been tempted to transfer. Castro, however, preferred to work and fight for playing time.
He still hopes to play the NFL, so he knew he had to improve. Castro didn't make excuses.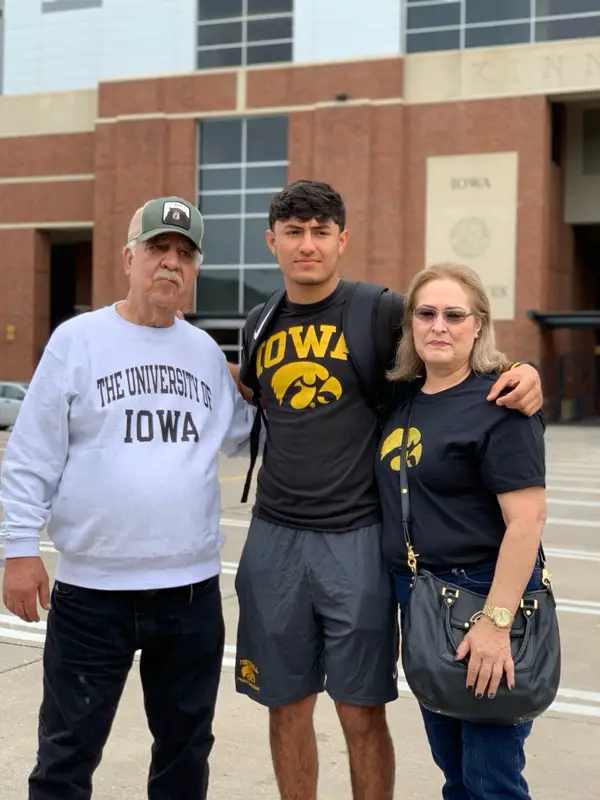 "I just wasn't the player they needed me to be," he says. "I was honest that I just wasn't good enough to be on the field just to perform. So I made a deal with myself that until you start playing at a high level consistently all the time you don't have the right to transfer. I felt if I did (transfer) I would regret it."
Castro is on pace to graduate from Iowa in December. He is finishing what he started. He's close to accomplishing something that he and his brother admittedly didn't even dare dream about for much of their childhood.
Castro's grandparents didn't attend college, and neither did his mom. Football, though, was the reason the Castro boys began to consider college. Nobody in their family talked to them about college growing up.
A path to an education for Sebastian Castro
Roque was a junior in high school when coaches began to tell him that he could play football in college. He played collegiately at St. Xavier, an NAIA school.
Ruby Gonzalez cried when her oldest boy graduated from college, becoming the first in her immediate family to get a degree. She had more tears of joy when her youngest had his first interception at Iowa. 
From a humble beginning in a shared bedroom in Illinois to Kinnick Stadium, Ruby and her boys continue to make endearing memories while keeping family first.
Get the Our Esquina Email Newsletter
By submitting your email, you are agreeing to receive additional communications and exclusive content from Our Esquina. You can unsubscribe at any time.