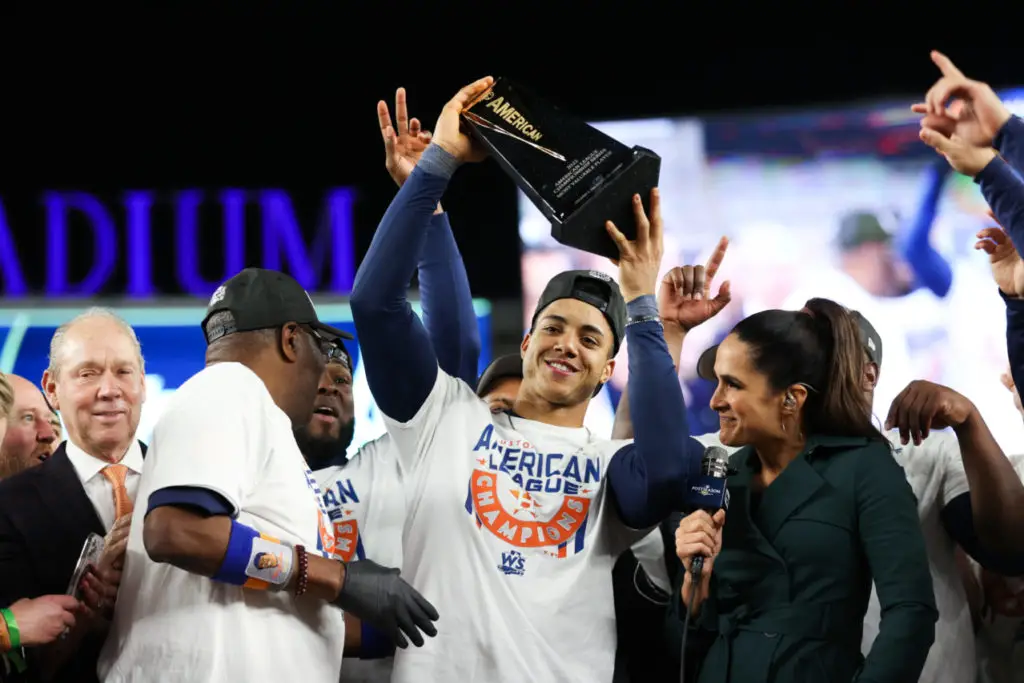 Jeremy Peña pushes Astros into World Series
Rookie shortstop Jeremy Peña earns ALCS MVP
NEW YORK – As Jeremy Peña was named MVP of the American League Championship Series, his Astros teammates roared. It was almost as though they had all been named MVP.
Yuli Gurriel, standing right in front of Peña, clapped, yelled and whipped around with both arms raised triumphantly. As the sheepish Peña momentarily bowed his head, teammates joyfully slapped him on his back and head just past midnight in the Bronx. The rest of the team on the platform jumped and cheered.
These were the moments Peña dreamed about as a kid, he insisted after helping the Astros sweep the Yankees to earn a spot in their second consecutive World Series and fourth Fall Classic since 2017. They'll face the National League champion Philadelphia Phillies in the Fall Classic, beginning Friday at Minute Maid Park.
From taxi squad to center stage
Nobody had the right to expect so much from Peña when Carlos Correa bolted via free agency in March, making Peña the starting shortstop.
Peña could only watch last year as the Braves beat the Astros in the 2021 World Series. This October, however, he's center stage playing a leading role.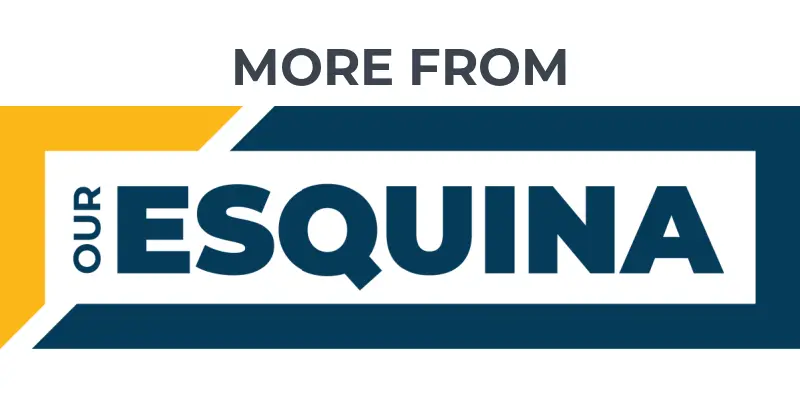 Ranger Suarez seals Phillies' World Series berth
No machete threats, no fear for Jean Segura
Cristian Javier puts Astros closer to World Series
Suárez and Segura examples of Phillies resilience
"Last year Peña was on the taxi squad, which he was paying attention and yearning to be on the team to get to the World Series," Astros manager Dusty Baker said after beating the Yankees 6-5 in Game 4. "And here he is now. A year ago he was on the taxi squad, and now he's MVP of this series.
"So I think that's going to motivate some of the young kids that are on the taxi squad now. And these guys, I mean, we want it, we earned it, and we think we deserve it, but nobody's going to give it to you, you got to go out and take what you want."
As he insisted in March, Peña has made a name for himself this season. The young man nicknamed "La Tormenta," which is The Storm in English, has wreaked havoc this postseason.
He set the table for Yordan Alvarez in the first two games of the Division Series. Then he hit one of the most memorable home runs in postseason history in the 18th inning of Game 3 of the Division Series against the Seattle Mariners to clinch the ALCS berth.
Sweeping through October
Peña capped the Astros' scoring in the 4-2 victory in Game 1 of the ALCS with a solo home run. Then as the Yankees showed signs of life with a 3-0 lead in Game 4, Peña hit a three-run home run off Nestor Cortes to tie the score in the third inning.
"It's surreal," he said. "You dream about this stuff when you're a kid. And shout-out to my teammates, we show up every single day. We stayed true to ourselves all year. Yeah, we're a step away from … the ultimate goal."
The Mariners actually gave the Astros more competition in the Division Series than the AL East champion Yankees did in the ALCS. Nonetheless, the Astros have swept through the postseason.
They're a perfect 7-0 so far after two rounds. The ALCS MVP trophy could have easily gone to veteran third baseman Alex Bregman, who hit a three-run homer to win Game 2, 3-2.
Gurriel gave the Astros a 4-3 lead with an RBI single in the third. The Yankees countered in the fourth to tie it at 4 on Anthony Rizzo's RBI single. Harrison Bader's homer put the Yankees on top 5-4 in the sixth, but the Astros countered. 
In the middle of it all
After Jose Altuve led off the seventh with an infield single, the speedy Peña hit a fielder's choice grounder to second. That grounder could have been a double play grounder, but Gleyber Torres made an errant throw to second attempting to force Altuve out. 
Instead, Altuve and Peña reached safely. Alvarez followed with an RBI single to right. Bregman then put the Astros ahead for good with a single to right, driving in Peña with the winning run.
18 was enough for Jeremy Peña, a 'godsend'
Astros rook Jeremy Peña out of Correa's shadow
Jeremy Peña ready to make name for himself
"He's a very confident but humble young man," Dusty Baker said of his rookie shortstop. "He's in a position where, people say it's hard to win with a young shortstop, catcher, and center fielder and young pitching staff, but he's grasped the situation, the responsibility of that. 
"He's hitting second in the order and playing shortstop. That's a lot of responsibility and a lot of work. He hasn't shied away from it. He's actually embraced it."
Get the Our Esquina Email Newsletter
By submitting your email, you are agreeing to receive additional communications and exclusive content from Our Esquina. You can unsubscribe at any time.