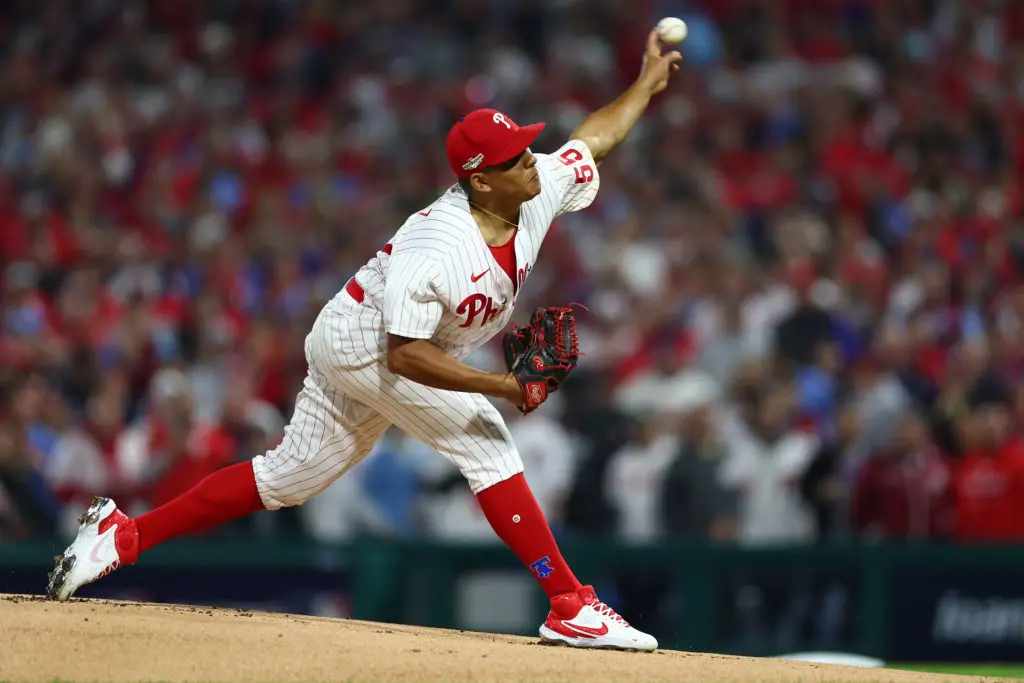 Suárez and Segura examples of Phillies resilience
Ranger Suárez efficient in Game 3 start.
PHILADELPHIA – Nearly two weeks ago, Phillies starter Ranger Suárez took the mound in the postseason for the first time in his career. A lack of control forced him out of the game in the fourth inning.
The Piedecuesta, Venezuela, native then sat 10 days waiting for his next opportunity.
Suárez finally got his chance against a hot San Diego Padres squad in Game 3 of the National League Championship Series. He was sharp while putting the Phillies within two victories of a return to the World Series.
With the support of 45,279 fans in Citizens Bank Park, Suárez was sharp. Through five innings of work, he threw 65 percent of his pitches for strikes and he didn't issue a walk.
This is in stark contrast to his first postseason start, where he walked five batters.
"I was locked in today," he said after the 4-2 victory. "I was focused on getting my job done and it actually paid off for me. It felt really good and I feel that I did a good job."
A possible game 7?
The 27-year-old lefty allowed just one earned run and didn't come out for the sixth inning after throwing just 68 pitches. He was so efficient, some wondered why rookie Phillies manager Rob Thomson would remove Ranger Suárez after a 10-pitch fifth inning.
"He hadn't pitched in nine days," Thomson said. "He's had close to 70 pitches, plus we're coming through a right-handed pocket there, third time through, starting at (Manny) Machado. So I just thought it was the right time to go to a right-hander, and that was (Zach) Eflin."
Suárez agreed with this decision. He said his manager was protecting him.
It also allows Suárez to be available for a possible Game 7.
"Let's hope we don't get there, but I'll be ready for it," Suárez said. "Whatever the team needs me for."
Unmatched Phillies resilience
Suárez encapsulates the Phillies' state of mind for a large part of the second half of the season. They don't get bogged down on the negative.
Take the fourth inning for example. With one out, Jean Segura committed an error that allowed the Padres to tie the score at 1.
Later that inning, the San Juan de Maguana, Dominican Republic, native hit a 2-run single that gave the Phillies a 3-1 lead. Standing at first, Segura turned to his dugout and channeled his inner "Goku" – his words, not mine. 
"The way you go about your business when you make a mistake, that's what makes you special," Segura said. "We're all going to make mistakes. We're human. 
"For example, I felt really bad when I made that mistake, but I didn't let that bother me. I kept playing the game the right way, I keep hustling, I keep diving for baseballs. That's the way you want to handle a mistake, not let it get to your head."
Suárez and Segura demonstrate why the Phiilies are so dangerous this postseason. 
Among the teams remaining, they may be the most flawed. At the same time, their resilience cannot be questioned.
Get the Our Esquina Email Newsletter
By submitting your email, you are agreeing to receive additional communications and exclusive content from Our Esquina. You can unsubscribe at any time.