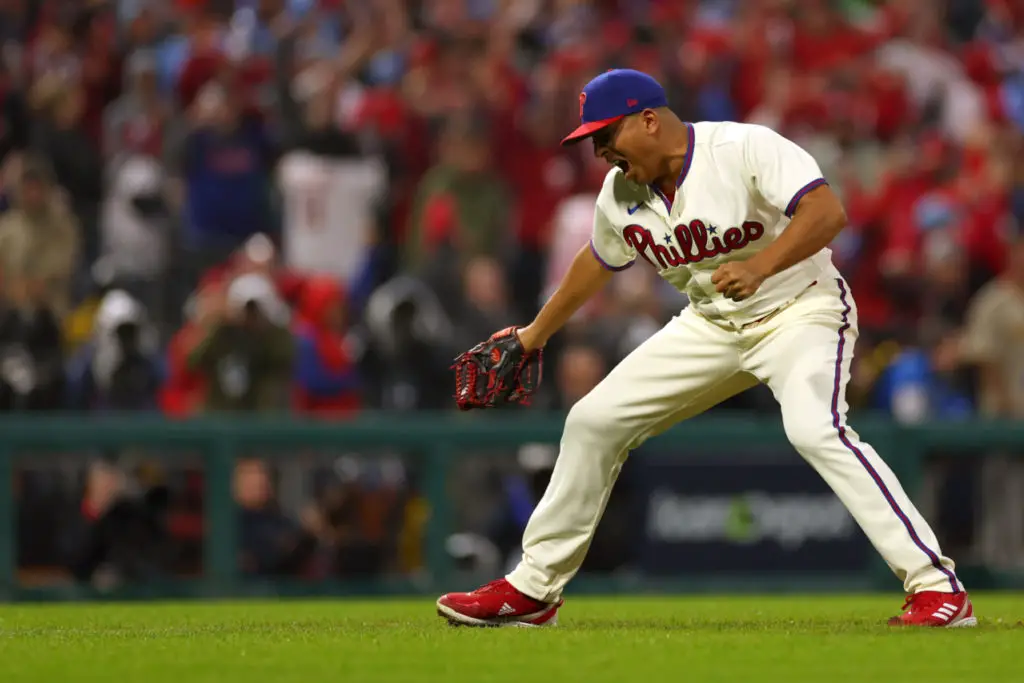 Ranger Suarez seals Phillies' World Series berth
NLCS MVP Bryce Harper's blast puts Phillies in the Fall Classic
PHILADELPHIA – Ranger Suarez watched from the front of the mound as Austin Nola launched a high fly ball to right field. As the ball nestled into Nick Castellanos' glove Sunday evening, Suárez pumped his fists as his team descended upon him in celebration. 
Earlier in the day, while riding into Citizens Bank Park together, Seranthony Domínguez urged Suárez to join him in the bullpen. He wanted to finish the job here in Philadelphia, a sentiment many of his teammates shared.
As luck would have it, when Ranger Suarez arrived, his coaches asked him if he was ready to come out of the bullpen. The 27-year-old lefty from Piedecuesta, Venezuela, said, "yes!"
Little did Suarez know, with his team leading in the ninth inning by one run and runners on first and second base, manager Rob Thomson would call upon him to close the doors on the San Diego Padres.
Ranger Suarez closes the door
Suárez didn't have the best track record when closing games. That resumé has improved dramatically, however. On Sunday he closed the 4-3 victory in Game 5 of the National League Championship Series, sending the Phillies to the World Series. 
Last season, he was called upon in seven save situations. He earned saves in just four of those opportunities. This postseason, Ranger Suarez has shown a knack for staying calm in difficult moments. This time was no different.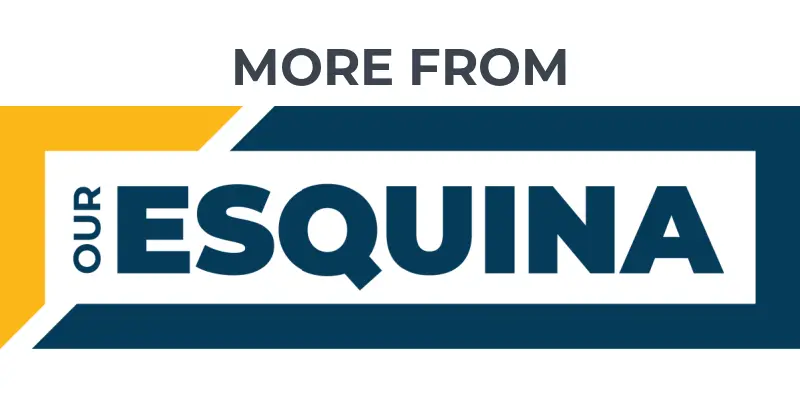 Cristian Javier puts Astros closer to World Series
No machete threats, no fear for Jean Segura
Suárez and Segura examples of Phillies resilience
Pitching in relief before "helped me a lot," he said while drenched in champagne and beer. "I came into the game and I was pretty calm. It wasn't a big moment for me because I did it last year."
It took Suárez just two pitches to finish the job. 
Now, the Fightin' Phils have won the National League pennant for the eighth time in franchise history and the first time since 2009.
Continued resilience
Resilience continues to be the theme of this organization in 2022. The Phillies underwent a managerial change after a 22-29 start. At the time, nobody could have thought that the they would be headed to the World Series.
"These guys have overcome a lot of things, one being a slow start, a lot of expectations, but they just kept going," Thomson said after the game. "That's why I always talk about resiliency and how tough these guys are — physically, mentally, emotionally. It's just such a great group to be around."
Even in this game, the Phillies had to overcome the odds to come out on top. After leading for most of the game, Seranthony Domínguez relieved starter Zack Wheeler in the seventh inning. With the rain pouring down, the 27-year-old from Esperanza, Dominican Republic, threw three wild pitches, allowing the Padres to take the lead.
The comeback
"I felt really bad about letting those runs score," Domínguez said. "My expectations were to not allow those runs to score and to keep us in the game."
Fortunately, NLCS MVP Bryce Harper picked Dominguez up just an inning later with a memorable two-run shot to left field.
"I hit the ball, and I just looked at my dugout and kind of it's for all of them," Harper said. "It's for this whole team. It's for this whole organization."
Harper was adamant that he didn't just do it for his team either. He also did it for Philadelphia, the place he decided to call home for the rest of his career when he signed as a free agent in 2019.
"We haven't been here for a long time," he said. "It's for every single fan that's here now and that isn't here. It's for all of them no matter — like I said, where you came from, who you are, you've got Phils on your chest, you're family. I really believe that.
Then he put his hand over his heart for emphasis. 
"That's from right here," he added. 
Get the Our Esquina Email Newsletter
By submitting your email, you are agreeing to receive additional communications and exclusive content from Our Esquina. You can unsubscribe at any time.