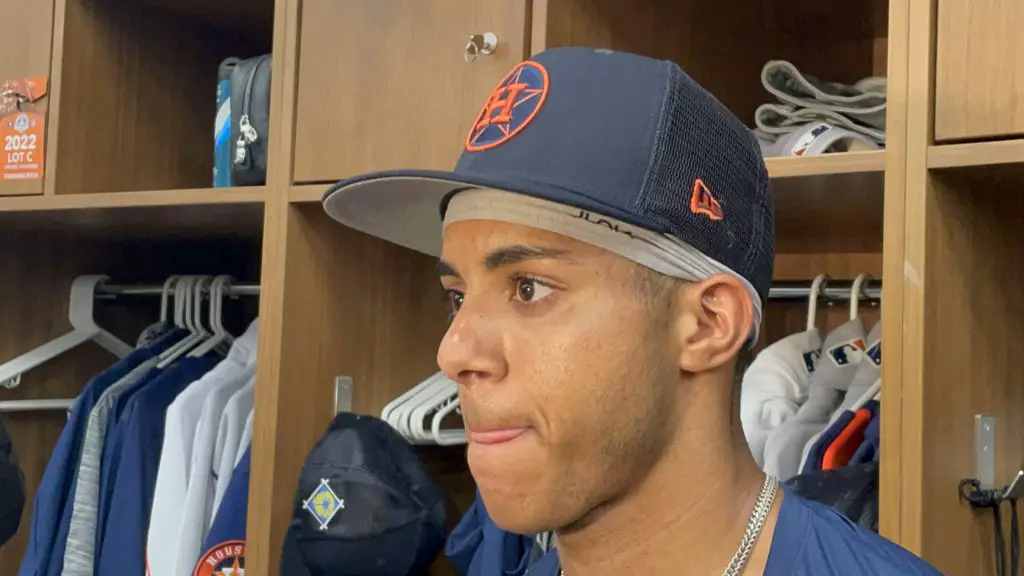 Jeremy Peña ready to make name for himself
Jeremy Peña shies away from 'El Niño' nickname
WEST PALM BEACH, Fla. – The kid smiled and shook his head disapprovingly when he was asked about the nickname Dusty Baker has for him. Jeremy Peña noted that the "El Niño" nickname already belongs to Padres superstar Fernando Tatis Jr.
In Spanish, El Niño translates to "The Boy" or "The Kid." Peña, who was born in the Dominican Republic, prefers the nickname his father gave him, "La Tormenta," or The Storm.
Moreover, Peña wants to make his own name for himself. He doesn't want Tatis' nickname.
"That's a name Dusty Baker has been calling me since the first day he saw me," Peña said. "Going from Fernando Tatis, he was also my teammate in winter ball. That's his nickname, so I don't want to, don't want to do that. …
Jeremy Peña, 'La Tormenta'
"My dad called me 'La Tormenta.' That's like a storm. I guess I was a bad kid when I was little, but he's been calling me that ever since."
Peña also doesn't want to be compared to two-time All-Star shortstop Carlos Correa. There aren't many superstar shortstops like Tatis Jr. or Correa, a two-time All-Star and 2015 American League Rookie of the Year.
While the Astros waited to see where Correa would land, Peña was the favorite to start at short for Baker if Correa bolts via free agency.
In the same way he shies away from Tatis' nickname, Peña doesn't think about replicating Correa's numbers in Houston.
Front-runner to replace Carlos Correa
"For myself, I never see it as I'm replacing Carlos Correa," Peña said. "I'm Jeremy Peña. Carlos Correa is a great ballplayer. He's done great things in Houston, but I'm Jeremy Peña. I want to play my game. I don't need to fill anyone else's shoes."
To the surprise of nobody, Baker declared Peña the front-runner to replace Correa as the starting shortstop if Correa signs elsewhere.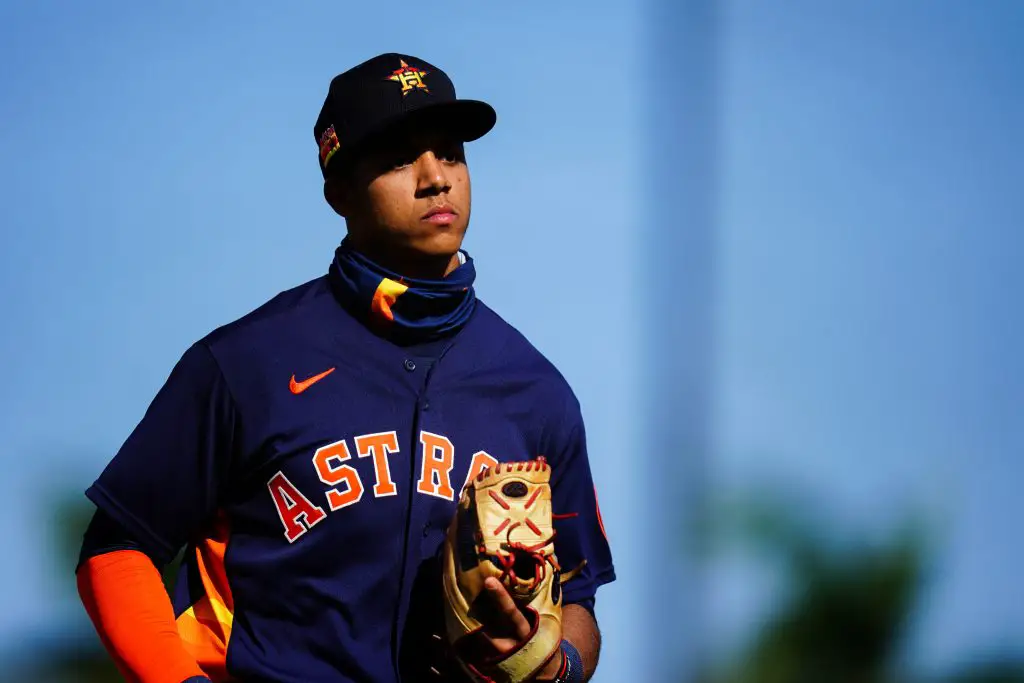 "He's the front-runner, so you've gotta have patience," Baker said of Peña. "When you're dealing with young guys, you have to have patience. You cannot expect them to be Hall of Famers right away. 
"It might work, but most of the time it doesn't. You just got to be patient. We have great instructors. He has a great outlook on life and baseball. He's a very mature young man. He listens."
Utility man and former All-Star shortstop Aledmys Diaz is also in the mix. Despite what he told the media, Baker hadn't told Peña that he was a front-runner to start at short if Correa didn't return.
Jeremy Peña feels ready
"Dusty's been great to me," he said. "He's taken me in since the first day. He's encouraged me to be the best player that I can be. I would love to get the opportunity. 
"I feel ready, and whatever happens, happens."
Peña is adamant that he won't take Baker's "front-runner" comments into his mindset. The Astros' third round pick in 2018 out of the University of Maine isn't taking anything for granted. The Santo Domingo native vows to work hard, improve daily and compete for the job.
Peña, 24, and Correa, 27, actually share the same birthday, Sept. 22. Correa made his debut as a 20-year-old phenom on June 8, 2015.
Peña has steadily worked his way up the Astros' farm system. He missed most of last season after suffering a left wrist injury last April in a game at the Astros' alternative camp in Corpus Christi. Nonetheless, he gained valuable experience while traveling with the club throughout the 2021 playoffs as they reached the World Series.
Baker has praised Peña for the maturity and willingness to learn he showed late last season with the club. The Astros' veteran manager also says his rookie shortstop benefits from being the son of a former big league.
Big league pedigree
He is the son of former major leaguer Geronimo Peña, who played parts of seven seasons in the majors. Jeremy Peña's dad played his first six seasons in the majors with the St. Louis Cardinals from 1990 through 1995. 
Geronimo Peña finished his big league career with the Cleveland Indians in 1996. Geronimo and Jeremy Peña speak on the phone daily, and the elder is expected to visit spring training next week.
"My dad has taught me pretty much everything, from baseball to being a human, just being a man, being a gentleman and respect," Jeremy Peña said. "He's taught me everything. 
"Just work hard, have discipline. And whenever you want to do something and you feel like it's the right thing, just go for it."
La Tormenta is hungry to make a name for himself in the majors. He doesn't want Tatis' nickname, and he doesn't want to carry the burden of Correa's legacy. 
Geronimo Peña's son prefers to live up to his original nickname and make his own name for himself.
Get the Our Esquina Email Newsletter
By submitting your email, you are agreeing to receive additional communications and exclusive content from Our Esquina. You can unsubscribe at any time.