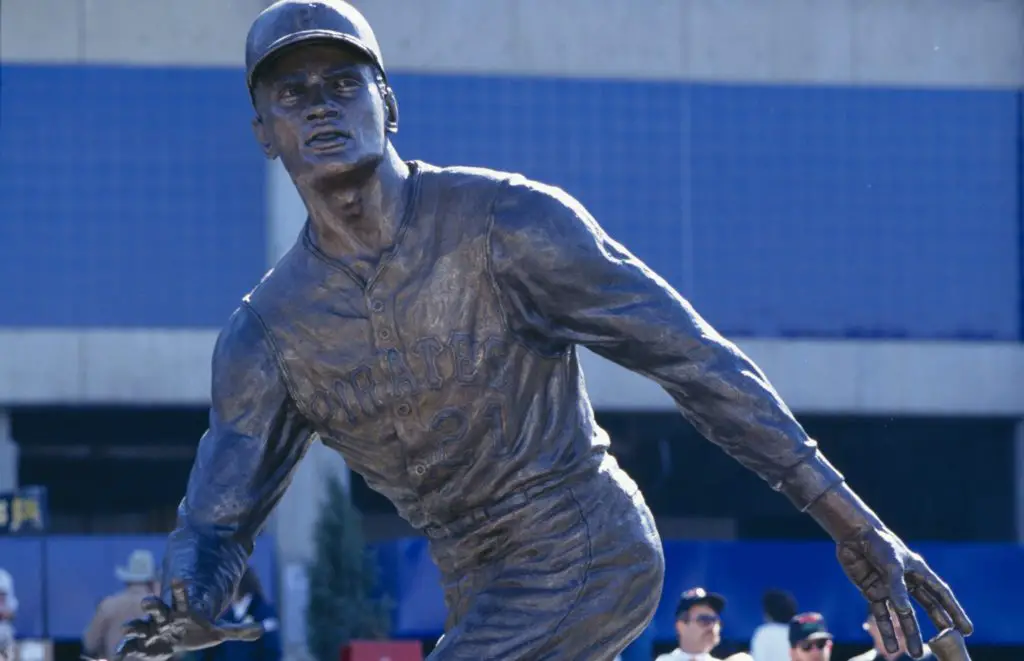 Roberto Clemente Legacy of Giving Thrives In All Sports
Roberto Clemente would appreciate the stars who embody his legacy
On Roberto Clemente's 87th birthday, the chorus will surely grow for Major League Baseball to retire the late Puerto Rican icon's jersey. To best celebrate the Great One's birthday, it's important to remember why his legacy endures beyond Pittsburgh, Puerto Rico, the United States and throughout Latin America.
MLB should definitely retire No. 21 throughout baseball in the same way the Brooklyn Dodgers' Jackie Robinson's No. 42 was retired in 1997. More importantly, let's remember how Clemente lived and how he died – trying to help his fellow man.
On Clemente's 87th birthday, we highlight Latino athletes and sports figures who embody Clemente's spirit. They are in every sport, whether football legends such as Anthony Muñoz or baseball Hall of Famers like Pedro Martinez.
Pro Football Hall of Famer Anthony Muñoz
Cincinnati Bengals and USC legend Anthony Muñoz has helped more than 40,000 children through the Anthony Muñoz  Foundation. Whether with scholarships or through his Hispanic Character camps, Impact for Eternity and leadership seminars, he has steered children on the right path.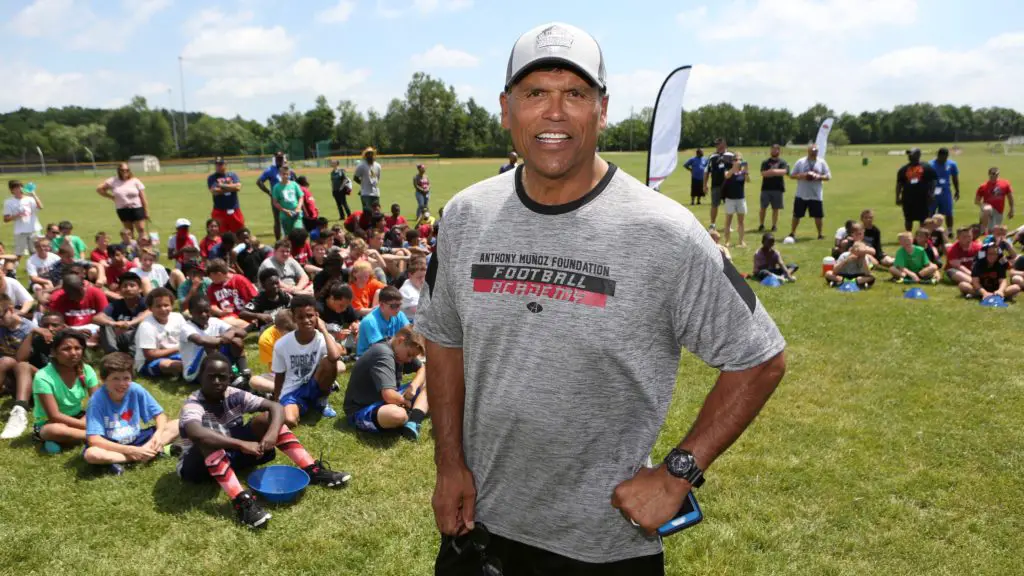 He has given multiple $20,000 scholarships annually. His foundation also awards 20 one-time scholarships, ranging from $2,000 to $5,000.
The 6-foot-7 offensive tackle was a giant on the field. He has been even bigger off the field for so many children.
Manny Mota still pinch hits
When Manny Mota retired, he had more pinch hits than anybody in MLB history. He was also one of Roberto Clemente's best friends when they played together in Pittsburgh. 
Few have had the impact on people the way Mota has had on his community in the Dominican Republic. Remembering the lack of opportunities he had as a child growing up in the Dominican Republic, Mota is always working to give back. He created the Manny Mota League in the 1970s to provide opportunities he never had growing up.
"We created the league in order to give kids the opportunity to play their favorite sport and to have fun," he said. "At the same time, we wanted them to interact and get to know each other as human beings, without having to worry about socioeconomic status."
Former Manny Mota League players are throughout the majors, whether as coaches, players an even an umpire. 
Albert Pujols
Since establishing the Pujols Family Foundation in 2005, Albert Pujols has helped thousands of people in his native Dominican Republic, his adopted hometown of St. Louis and the Los Angeles and Anaheim, Calif., area.
His work with those living with Down Syndrome is as legendary is his prodigious home runs. He also has led annual medical mission trips to the Dominican Republic with doctors from the St. Louis area. 
Even the pandemic hasn't stopped Pujols' work. The Pujols Family Foundation offers virtual programming on its website. Not surprisingly, Pujols is a Roberto Clemente Award winner. 
Nelson Cruz 
You would be hard pressed to find a more beloved player in the big leagues than Nelson Cruz. Minnesota Twins teammates and coaches were literally crying when the seven-time All-Star was traded to the Tampa Bay Rays last month.
"He's a very special man," Twins third base coach Tony Diaz said. "Everybody loves him. He's very helpful to everyone."
Cruz has almost singlehandedly changed the infrastructure in his hometown of Las Matas de Santa Cruz, Dominican Republic. He donated a firetruck, ambulance and helped build a hospital. He was the Twins' Roberto Clemente Award nominee in 2020, the year he won the 2020 Muhammad Ali Sports Humanitarian Award at the ESPYS. 
Pedro Martinez
Pedro Martinez, only the third Dominican Republic native inducted in the National Baseball Hall of Fame in Cooperstown, N.Y., is a national treasure in Quisqueya.
It's not so much his efforts on the field that make him such a beloved figure in the Dominican Republic either. It's also his humility and willingness to give back, especially in times of need.
Most notably, Pedro el Grande's efforts throughout the COVID-19 pandemic made a huge difference in his homeland. Throughout the pandemic, the Pedro Martinez Foundation has delivered hundreds of thousands of meals, personal protective equipment (PPE), and more to vulnerable communities throughout the DR and the United States.
Roberto Clemente Award winner Carlos Delgado
Long before Colin Kaepernick dominated the headlines for his peaceful protest against police brutality, Puerto Rican baseball legend Carlos Delgado was public enemy No. 1 for his very own protest. 
During a game in Yankee Stadium, Delgado refused to stand for "God Bless America" in protest of the United States' war efforts post-9-11. This incensed the New York fan base, who chanted "USA!" each time he made an out.
Ultimately, Delgado ended his protest because he didn't want to be a distraction to his team.
Additionally, his charitable efforts, especially during Hurricane Maria, were simply heroic. Through his Extra Bases Foundation – which has donated more than $5 million to different organizations to help disadvantaged children throughout Puerto Rico – Delgado and a group of volunteers delivered food and water to communities ravaged by the storm.
Francisco Lindor honors Roberto Clemente legacy
Mets shortstop Francisco Lindor lived up to the legacy of fellow Puerto Rican Roberto Clemente by showing his commitment to education with his first major donation.
He donated $1 million in March to his alma mater Montverde, which serves Pre-K through 12th grade students. His donation helped build Lindor Hall, which serves 203 middle school students on the campus where Lindor learned English after arriving as a 12-year-old from Puerto Rico.
"It's going to start here, but it's not going to end here," Lindor said. "We want this to spread around the nation, around the world. It's not just impacting the people in my community, everybody around us in need. 
"I want people that are just like I was, somebody that's trying to accomplish a goal and a dream, but with a great educational foundation. That's the model. Bring people that have goals that want to succeed in life, that want to be someone bigger in life, but have the education being the main thing."
Others embodying Roberto Clemente legacy
Here are others who deserve special mention: Future Hall of Fame catcher Yadier Molina played a major role helping his community recover after Hurricane Maria. He and St. Louis Cardinals veteran ace Adam Wainwright are more than just a special battery.
They have both made major impacts off the field with their charitable efforts. Hall of Fame broadcaster Jaime Jarrin, the Spanish voice of the Dodgers, has started a foundation to give back in Los Angeles.
Astros All-Star shortstop Carlos Correa, former All-Star Carlos Beltran, and Boston Red Sox manager Alex Cora were key leaders rallying fellow Puerto Ricans in MLB to raise funds for Hurricane Maria victims.
Golf legend Chi Chi Rodriguez, Hall of Famer Mariano Rivera, former big leaguer Felix Mantilla and Manny Sanguillen have spent decades helping their communications in the United States and abroad.
Get the Our Esquina Email Newsletter
By submitting your email, you are agreeing to receive additional communications and exclusive content from Our Esquina. You can unsubscribe at any time.