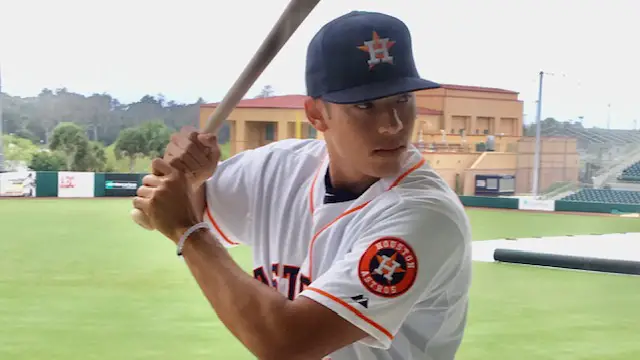 Houston Awards Show reminds us why Astros must extend Carlos Correa
Carlos Correa and Astros must find path to long-term deal
Carlos Correa was busy playing, so he couldn't be among Houston's all-time greats Monday night. He belonged in more ways than one, though, when National Baseball Hall of Famers Craig Biggio and Jeff Bagwell capped off a beautiful night at the Houston Sports Awards.
Watching Biggio and Bagwell – or as some would say, Jeff Bagwell and Craig Biggio – it reminded us of special commitments to a city, a team and the reciprocal commitment by that organization. Biggio and Bagwell always took a little less in their contracts to stay in Houston. In turn, former Astros owner Drayton McLane always found the cash to keep them in Houston.
"I think mostly what stands out is that Craig and Jeff played together in one uniform in this city and then made this city their home," former Astros catcher Brad Ausmus said. "This is their home, and that doesn't happen anymore. It just doesn't happen in pro sports."
Carlos Correa should follow Biggio, Bagwell leads
This could and should be Carlos Correa's forever home too, just as it has been for the first Puerto Rican superstar who captured Houston's heart, Jose Cruz and his kids and grandkids.
Watching Bagwell and Biggio on Monday night at The Club at Carlton Woods, you could see how the kids from Connecticut and Long Island have become Houstonians. Bagwell, who played his entire 15 seasons with the Astros, noted that Lance Berkman told him he could never become a Texan, but he could become a Houstonian? Who would dare tell old No. 5 he's not a Houstonian now?
Heck, Bagwell even sounded like one of Houston's Latinos as he mentioned his "compadre and comadre" during his acceptance speech while talking about his best friend Moises Alou and his wife.
"The love of my life is my wife, but Moises is a close second," Bagwell said.
You don't see many players like Derek Jeter, Mariano Rivera, Edgar Martinez, Bagwell and Biggio anymore. Those Hall of Famers spent their entire careers with their respective teams. Biggio spent his entire 20-year career with the Astros. Jose Altuve, who is in his 11th season with the Astros, may well spend his entire career in Houston. Who will be his Bagwell or Biggio?
Which teammate will join Altuve in the Houston Sports Hall of Fame fifteen years from now? George Springer is a near lock to earn a spot in that special Houston Hall of Fame group, but his time in Houston ended last season. The Astros let Springer bolt via free agency to the Toronto Blue Jays.
Will Correa exit this winter too? Will Astros owner Jim Crane keep him in Houston? Will Correa be in the Bronx next season playing for the New York Yankees while his Puerto Rican counterpart Francisco Lindor leads the rival Mets?
Astro for life?
Correa declared that he would like to be an Astro for life this spring. A few weeks later, though, the negotiations with the Astros stalled. The 2015 American League Rookie of the Year didn't receive a contract offer close to what he wanted while Lindor signed a 10-year, $341 million contract with the Mets.
"Once I hit free agency, I'm going to look for a big, long contract," Correa said earlier this month. "They made it very clear that they did not believe in that."
Correa has lived up to Biggio's legacy of giving. Biggio has spent 30 years helping the Sunshine Kids, which is devoted to helping children with cancer. Correa was honored at the Houston Awards Show for his charitable contributions with the Carlos Correa Foundation.
On the field, Correa has lived up to his status as the first overall pick in the 2012 draft. He was an outspoken leader when the team needed it most, as the Astros did last year in the aftermath of the cheating scandal. Bagwell was proud of the way Correa stood up for his teammates and backed it up last year.
"When he got on (the Dodgers' Cody) Bellinger, I texted him and called him after that and told him how proud I was of him, that he's really growing up," Bagwell said on the Digging Deep Podcast with Russ Ortiz. "He's been Showrrea for a long time, since he got drafted.
"And then to come out and to step out and all through the season he was making the right statements. He got to the postseason and said 'Here we are,' and went out and showed it. The maturity last year that he showed, I was very proud of him. And I let him know that as many times as I can, because he's doing the right things."
Locked at the hip
Correa and the Astros must figure out a way to keep the All-Star shortstop in Houston. Bagwell and Biggio has a great ring to it, and so does Altuve and Correa. The latest duo brought a World Series title to Houston. There's so much more to achieve, however, at Minute Maid Park and in the community.
"I cannot think of a better person to be locked at the hip with than Craig Biggio," Bagwell said Monday night.
Will Altuve say the same thing 15 years from now? Can Crane keep Correa.
Jose Altuve and Carlos Correa or Carlos Correa and Jose Altuve. Either way, it has a nice ring to it.
Is it too much for Astros fans to ask for Correa and Altuve to make Houston their home for their entire playing careers and after they're done? "It doesn't happen anymore," Ausmus noted. But it should.
Crane and the Astros must find a way to keep Correa in Houston.
Get the Our Esquina Email Newsletter
By submitting your email, you are agreeing to receive additional communications and exclusive content from Our Esquina. You can unsubscribe at any time.