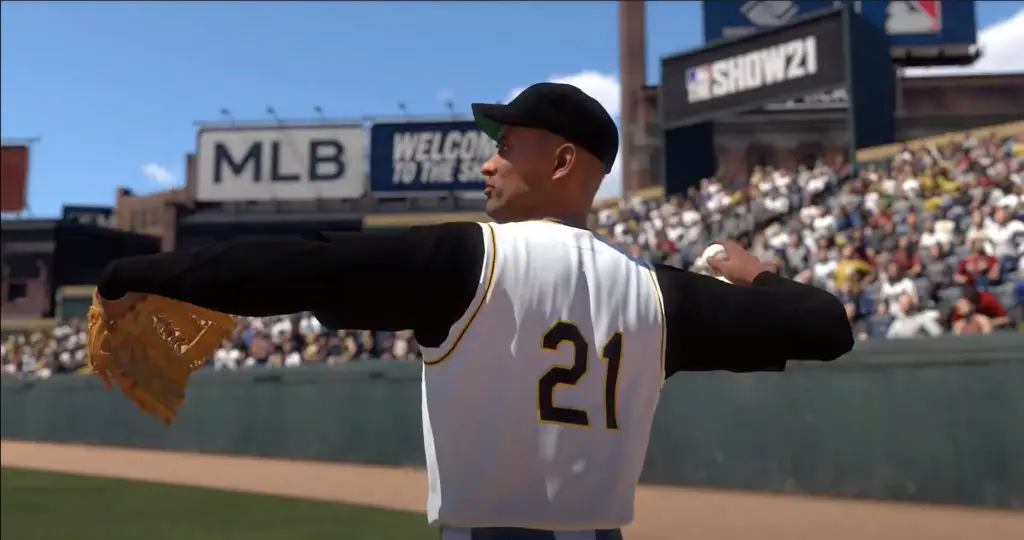 Roberto Clemente's addition to MLB: The Show a momentous occasion
Roberto Clemente's inclusion in MLB The Show could be groundbreaking, educational
For years the MLB: The Show video game franchise developed by San Diego Studio and published by Sony Interactive Entertainment has been a love letter to fans of baseball. It has allowed players to take their favorite teams to the World Series, create a player and live out their baseball-playing dreams, and create and build a team with players both past and present among other in-game modes and features. 
On Monday, that love letter got a little bit deeper when the annual franchise revealed that the legendary Roberto Clemente would be joining the game for the first time. 
Clemente joins the likes of Mickey Mantle, Babe Ruth, Ted Williams, Ty Cobb and Honus Wagner as playable "Legends" in the game's Diamond Dynasty mode. The Great One joins the recently announced Grady Sizemore and Alfonso Soriano as 2021's legends. 
A highly requested legend, Clemente slashed .317/.359/.475 across his 18-year career with the Pittsburgh Pirates, compiling 3,000 hits, 240 home runs and 1,305 RBIs. He was selected to 15 All-Star Games, had 12 Gold Glove wins, two World Series championships, World Series MVP honors and National League MVP honors. 
He stands as the first Latin American to compile 3,000 hits and the first Latino to be inducted into the Hall of Fame when he was posthumously inducted in a special election in 1973 following his untimely death. Baseball's highest off-the-field honor is also named after Clemente.
Roberto Clemente a fitting choice for MLB The Show
It's a fitting inclusion that in 2021, the man synonymous with No. 21 is included in MLB The Show.
More than anything, it continues San Diego Studio's longstanding commitment of inclusion and education. 
While Clemente will stand as the most prolific Latino to join the game, he isn't the only Latino of note to be included over the years. 
Hallmark Latino greats such as Iván "Pudge" Rodríguez, Mariano Rivera, Luis Aparicio, Juan Marichal, Williams, David Ortiz, Minnie Miñoso and Vladimir Guerrero are also playable and obtainable in-game. 
The game even features other fan favorite Latinos like Hanley Ramírez, Carlos Gonzalez and Jorge Posada along with suped up versions of current Latino mainstays, including an Albert Pujols card based on his 2009 MVP season and a postseason card for George Springer with stats based on the 2017 World Series among countless others.
To put it simply: It's a celebration of baseball and the contributions that Latinos have added to the game. It's also wholly educational, exposing fans to players who were the Babe Ruth of their times and, equally as important, culturally.
Opportunity to teach about Roberto Clemente
With the addition of Clemente, the studio has a rare opportunity to help further educate fans on an inspiration to so many of us. 
It stands to reason that Clemente will receive at least two, potentially three types of cards in the '21 life cycle. He will undoubtedly receive a 99 high diamond card based on his entire career arc or MVP season.
He'll also receive a low diamond, potential pre-order bonus card centered on the start or tail end of his career, and potentially a third bronze or silver card such as a low-end rookie card.
Doing so will allow fans to experience Clemente throughout his entire career from former Dodgers prospect to Pittsburgh icon. 
Card ratings aside, there's hope that San Diego Studio will dedicate a portion of its "Moments" game mode to Clemente's career.
The game mode allows fans to experience some of baseball's biggest "Moments" through the eyes of that individual player. 
Iconic instances such as Pujols' 3,000th hit have been made playable in the past along with more nuanced efforts such as recreating the time when Pudge went 2-for-4 with an extra-base hit on April 9, 1999. 
As game designer Kyle Blake told me in 2019, "Often we'll pick a player or team to focus on and then create moments to pay homage to who that player was. Whether that's recreating a historical at-bat from their career or showcasing what was special about that player, we're always looking to make you feel like you're in the cleats of that player.
"When building Moments, I even found myself researching and learning about players I wasn't familiar with. This definitely motivates us to find lesser known or interesting things that players have done in their career. Baseball has such a rich history that can be enjoyed and celebrated by many, and we love being able to teach our users in such a fun way."
Plenty of potential to recreate
The framework is there to do the same for Clemente. Imagine being able to recreate his legendary 1971 World Series performance, his 3,000th and final hit of his career or his inside-the-park walk-off grand slam. 
Oftentimes these moments are accompanied by brief descriptions that outline what exactly made that particular date or play special.
And it's no secret that Clemente was a special player and even more special human, helping inspire hundreds of future peloteros in his native Puerto Rico and serving as an icon for legions of Latinos both fans of baseball and non. 
Helping share what made Clemente special to fans, especially considering that nearly all of them never had a chance to see Clemente play, will go a long way in further establishing his long term legacy. It could even help create enhanced momentum for his number to be retired league wide, something that's gained recent traction. 
Monday's announcement isn't groundbreaking on its own merit. But the potential it has in educating fans of Clemente's legacy and the overarching theme of inclusion in regard to celebrating baseball does have the potential long term to be just that. Groundbreaking.
Get the Our Esquina Email Newsletter
By submitting your email, you are agreeing to receive additional communications and exclusive content from Our Esquina. You can unsubscribe at any time.