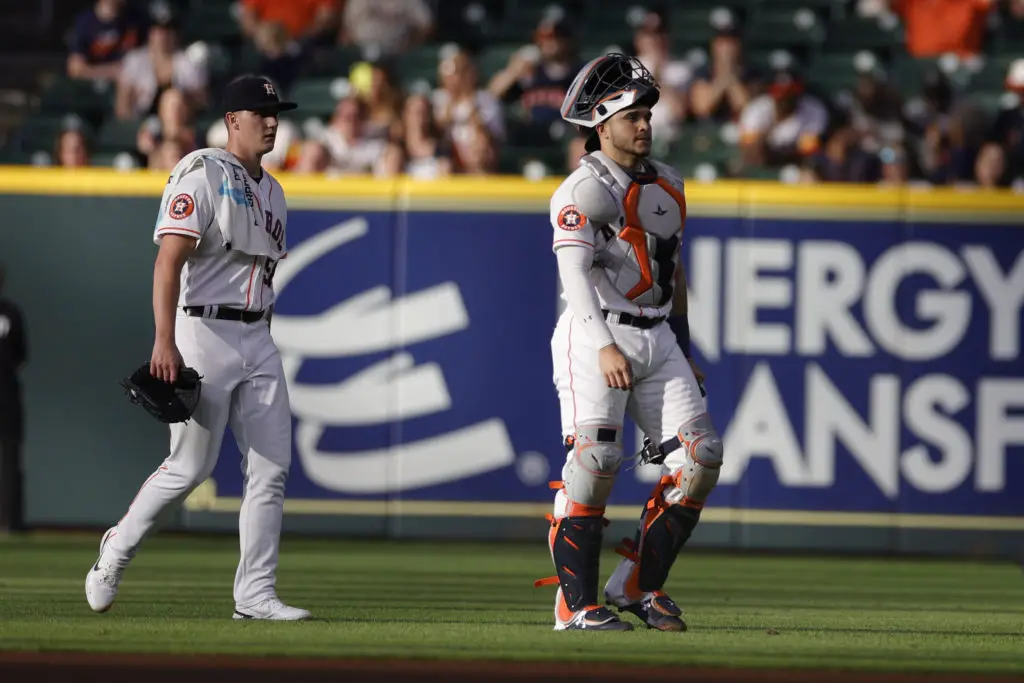 Yainer Diaz guides Astros within two outs of no-hitter
Diaz adds another highlight to impressive rookie season
HOUSTON – Yainer Diaz could feel a few nerves heading into the ninth inning Wednesday night. The crowd at Minute Maid Park was stirring in anticipation as the Astros' rookie catcher got close to calling his first no-hitter in the majors.
Diaz had already guided four Astros through eight hitless innings by the time closer Ryan Pressly took the mound in the ninth inning. The raucous crowd of 37,630 were all hoping to see the Astros throw their second no-hitter of the season and fourth over the last two seasons.
Hunter Brown rebounded from two consecutive poor starts in which he couldn't complete five innings. He threw five no-hit innings while allowing only two walks. Dominican righthanders Rafael Montero, Hector Neris, and Bryan Abreu each followed with one clean inning and struck out one.
Pressly was brought in to seal the no-hitter. But he surrendered a single up the middle to A's first baseman Ryan Noda with one out in the ninth with a runner on. The Astros settled for a much needed 6-2 victory to avoid a three-game sweep against the lowly A's.
'Grateful' Yainer Diaz
"Obviously that is what we all want," Diaz said of the no-hitter. "But I just feel grateful to God for being able to be placed in that position there. But it just wasn't meant to be."
Learning the catcher role at the major league level is complicated. Having a mentor like Martin Maldonado, who has caught in meaningful games, is starting to wear off into Diaz. Maldonado caught a no-hitter in the World Baseball Classic this year. He also caught two others in the majors over the last two seasons.
Maldonado guided Cristian Javier, Neris and Pressly through a no-hitter against the Yankees last season. He also guided Framber Valdez through a no-hitter this season. Abreu, Pressly and Montero pitched in Javier's no-hitter in the World Series last year against the Phillies.
Yainer Diaz has patience and pop
Astros ace Framber Valdez no-hits Guardians
Cristian Javier leads Astros World Series no-hitter
He is also mentoring Diaz. Maldonado is helping Diaz build trust with his pitching staff. Many of Diaz's Astros teammates have noticed the work he's put in. 
"What I can see is that he is making adjustments pitch by pitch," Montero said of Diaz. "He knows how to call a game, and what happened today is that they just broke the no-hitter. That is something normal that happens in the game because you never know what can happen."
Rookie of the Year contender
As the Astros took the field Wednesday night a sense of urgency was in the air. The Astros had lost consecutive games to the lowly A's and saw their 2 ½ game lead atop the AL West diminish to one game. 
Tuesday's loss to the Athletics led the Astros to have a team meeting. Veterans urged their teammates to not take things for granted. Astros manager Dusty Baker had said he pairing Brown with Maldonado in Brown's previous start to "straighten him out."
Baker returned to the Yainer Diaz-Brown battery that had much success earlier in the season. The move paid off. Diaz, 24, is highly-regarded for his superior offensive abilities. He ranks first in slugging percentage (.535) among rookies. His .286 batting average is second among qualified rookies. He is also the seventh Astros rookie to hit over 20 home runs.
Diaz has been great on the defensive end too. He has zero passed balls and a 3.0 WAR, which is sixth best among rookies. He's thrown out 33% percent of base runners which is 10 percent above the major league average. 
Calling a great game leading up to the postseason has definitely been a confidence boost for Diaz but for his pitching staff too. The Astros could rely on Diaz's offensive and defensive production moving forward. 
Get the Our Esquina Email Newsletter
By submitting your email, you are agreeing to receive additional communications and exclusive content from Our Esquina. You can unsubscribe at any time.