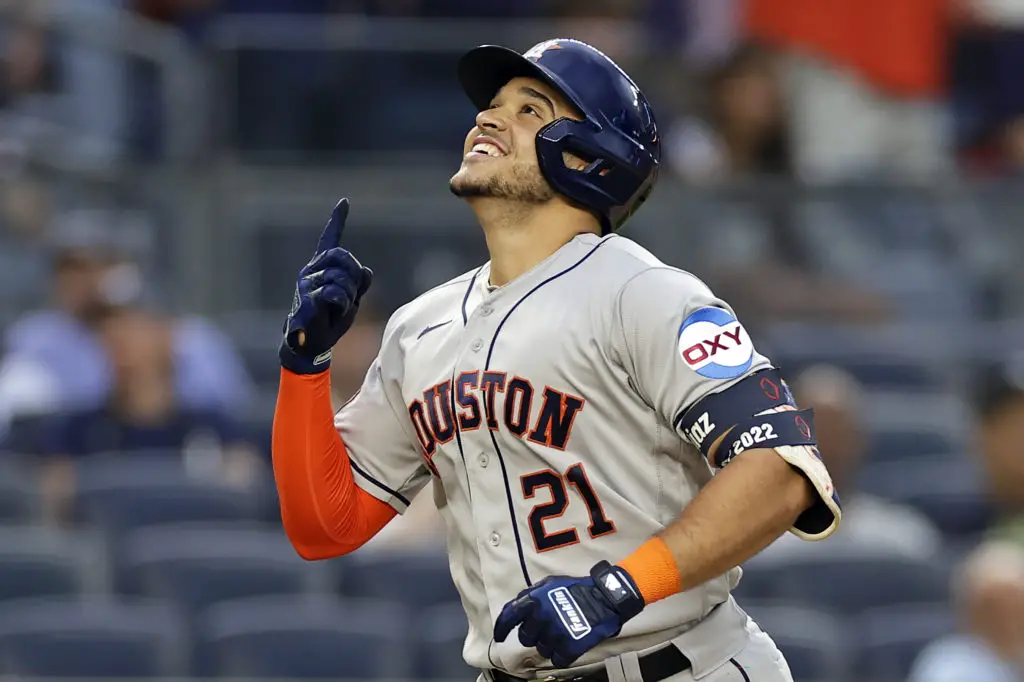 Astros rookie Yainer Diaz has patience and pop
Yainer Diaz is the Astros' catcher of the future
Yainer Diaz and many of the kids in his barrio in Azua, Dominican Republic, could usually be found at their local park after 3 p.m. There wasn't a baseball diamond, per se, in their barrio, so they outlined one at their local soccer field.
They would sketch out the baseball diamond inside the soccer field, which was surrounded by a running track. Any ball that was hit over fair territory and onto the track was deemed a home run, and that's where the switch-hitting Diaz dropped his first bomb.
Diaz, 24, is no longer a switch hitter. He strictly bats from the right side now. Up until that point, however, the rookie on the verge of setting the Astros' single-season home run record by a catcher was a switch hitter. He batted lefthanded against righthanded pitchers.
At least 13 years later, Yainer Diaz cannot remember if he was 10 or 11 years old when he drilled that homer. But he'll never forget that first one. You never do, after all.
Yainer Diaz called his first shot
After he struck out in his first at-bat that afternoon in the Dominican Republic, Diaz promised the pitcher that he would hit a home run against him in the next at-bat. Sure enough, Diaz teed off for a shot that landed on the track behind left field on the baseball diamond/soccer field. 
"I had gone about two months without hitting righthanded," Diaz said in his native Spanish. "I hit a homer hitting righthanded, and it was a very good sensation. After that, I no longer batted lefthanded. I focused on batting righthanded."
MORE FROM OUR ESQUINA
Astros catcher Martin Maldonado calls third no-hitter
MLB Should Visit Dominican Republic Field Of Dreams
Eugenio Suarez still gets his kicks with Mariners
Diaz's hitting helped him garner a $25,000 signing bonus as a 17-year-old with the Cleveland Guardians. He was admittedly a free swinger back then, and he's still an aggressive swinger. But his bat has carried him to the majors. 
Hall of Famer Jeff Bagwell, a special assistant with the Astros, raved about Diaz after seeing him at Class AA Corpus Christi last year. 
"That kid can hit," Bagwell said before Diaz was promoted to Class AAA and then the majors later that year.
He credits Jose Altuve, Dusty Baker and the Astros' hitting coaches with helping him refine his aggressive approach at the plate.
'Catcher of the future'
Diaz has impressed fans, teammates and his manager with his bat. He's still learning the catcher's position while also learning how to play first base. Nonetheless, Baker has heard the loud chorus of fans hankering for Diaz to be the starting catcher.
"He's the catcher of the future," Baker says of Diaz. "But there's a few things that take time to learn while you're trying to win ballgames. And his bat is what got him to the big leagues, really, because he went from Double-A to Triple-A to the big leagues. 
"And how much (time) did you have to learn your skill? The last time a team won a pennant with a rookie catcher was Buster Posey, but Buster was a Johnny Bench Player of the Year, a college player. It's a totally different scenario and totally different pathway."
Veteran catcher Martin Maldonado is the Astros' starting catcher. He is one of the most respected players on the defending World Series champions' roster, if not the most respected.
Pitchers trust him because of the way he prepares and calls games. Diaz has a sensational arm to slow down opposing running games, but he's still learning how to call games in the majors.
Patience is key
His bat, however, is legit. Diaz has 18 home runs and 46 RBIs over 82 games, 68 of them as a starter. Entering Thursday afternoon, Diaz had started seven games at first, 31 behind the plate and 30 as the designated hitter. 
"Everybody wants him to play every day, but it's tough," Baker said. "It's much like a young quarterback. How many young quarterbacks come in and take over right away? The way we've handled it, he'll thank me. The city will thank me and the organization will thank me later."
Diaz is the eighth rookie in Astros history to hit 18 home runs. Some credit him with tying the record for the most home runs in a season by an Astros catcher, but only 10 of those have been on days he has played behind the plate. Barring injury, though, it's fair to assume he'll set the franchise's single-season home run record at some point in his career.
He has hit 10 of his homers as a catcher, five at DH and three at first. He leads all AL rookies in slugging percentage and OPS. Defensively, he has thrown out 11 of 31 attempted base stealers, which was tied for eighth best in the AL even though he has played only 31 games behind the plate. 
"With time I'll keep showing my talent," he said. "I think in the first month of the season nobody imagined that I would do what I've been doing."
Get the Our Esquina Email Newsletter
By submitting your email, you are agreeing to receive additional communications and exclusive content from Our Esquina. You can unsubscribe at any time.