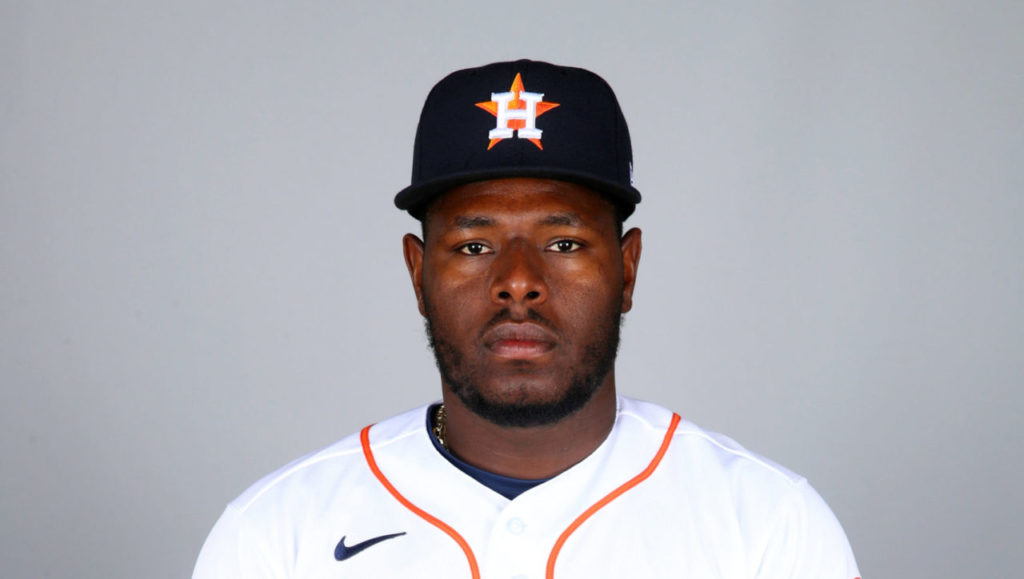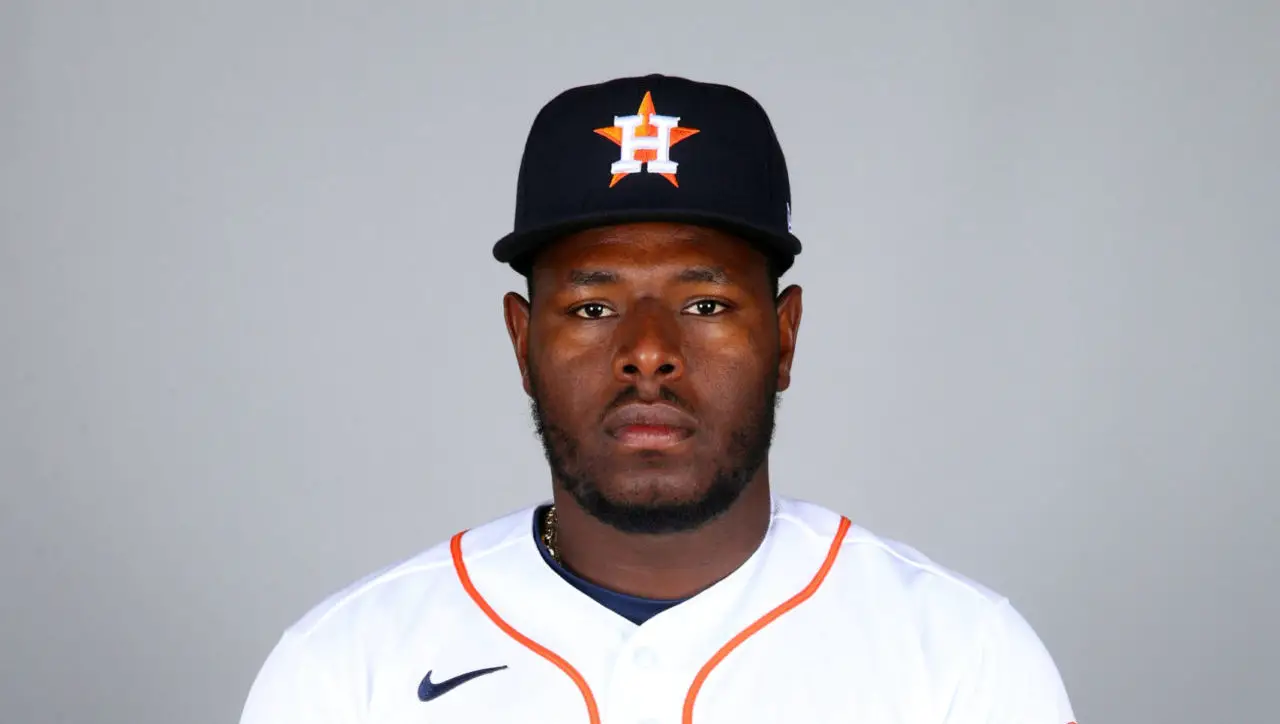 Gunpoint demand paid off for Hector Neris
Astros reliever Hector Neris' faith proves key
HOUSTON – Hector Neris has always had plenty of faith in the spiritual sense. Yet, he didn't have much belief in his baseball abilities as a teen growing up in the Dominican Republic. He was practically forced at gunpoint to appreciate his potential.
As a child he never envisioned himself as a major league pitcher, much less a veteran. Neris actually spurned persistent requests from a local buscon, or trainer, who thought he had big league potential if he devoted himself to baseball.
A trainer named Jose Neval in Neris' hometown of Villa Altagracia in the southern part of the Dominican often sent for Neris in hopes of getting him to train. Neris would decline the invitation, but the trainer refused to give up. 
Neris was walking home from the lake one day when he strolled by the local baseball diamond. Neval saw him and pounced, getting the then-17-year-old righthander with a gun.
"He told me that in my hands I had the ability and the tools to help my mom and family to get ahead," Neris said of Neval. "I doubted, but he forced me. I had to go practically. … At gunpoint. Yes."
Hesitant Hector Neris
Neval believed in Neris when Neris didn't believe in himself, and Neris capitalized. The road to the majors, however, was hardly easy. It rarely is, after all.
"He believed in me when I didn't believe in myself. He forced me against my will," Neris said. "And he told me he would fail if he needed to fail, but it was for something that he knew was worth it."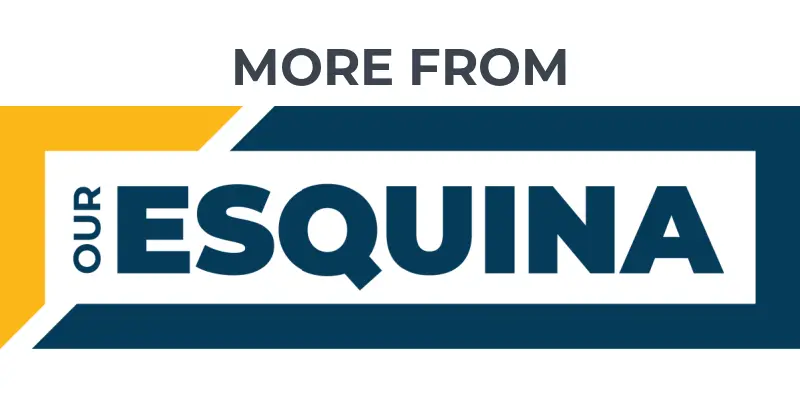 Neris almost signed with the Cleveland Indians as an amateur free agent when he was 17 after a scout practically stumbled on to him.
The scout had actually gone to see another player who trained with Neris' trainer. The scout brought out his radar gun and asked Neris to throw. 
Neris hit 89-mph with his fastball, drawing the scout's interest. That's the day Neris realized he had talent. 
"I didn't sign, but then my trainer said, 'That's the proof that you have talent,'" Neris said. "I made a promise to him that from that moment nobody would have to force me to work."
Almost a Royal
Less than a year later, Neris signed with the Kansas City Royals as an 18-year-old amateur free agent. He received a mere $5,000 signing bonus, but the Royals and Major League Baseball voided the contract because of questions about his identity. 
Moreover, MLB barred Neris from signing with another major league organization for a year.
Neris is adamant that MLB suspended him unjustly. He kept training and working out. Fortunately for Neris, Philadelphia Phillies scout Koby Perez signed him as soon as his suspension was over. 
The Phillies gave Hector Neris a $16,000 signing bonus in 2010. That was a modest bonus compared to the contracts top prospects receive. It was a life-changing bonus for Neris and his family, though.
"For somebody who had nothing, who didn't have anything more than a dream, that was the start of a new life," Neris said.
Neris gave most of the $16,000 bonus to his grandmother Cristina de la Cruz so she could finish building her home in Villa Altagracia. Neris' mother Minerva de La Cruz was allowed to keep the rest of the signing bonus.
Starting against the Astros
Neris made his major league debut a little more than four years later as a 25-year-old. He entered the game in the top of the 15th inning for the Phillies with the score tied at 1 on Aug. 5, 2014, against the Astros.
Neris struck out Jake Marisnick, induced a groundout to second from Marwin Gonzalez and then induced a fly out to center from Jake Buchanan. The Phillies then scored a run in the bottom of the 15th to give Neris a walk-off victory in his debut.
Neris didn't pitch in the majors again until 2015. He is now a respected veteran. The Astros signed Neris to a two-year, $17 million contract this winter with a team option for the 2024 season.
He entered Thursday's action with a 1-1 record and 0.64 ERA over 15 appearances. Equally important, he's a respected leader in the clubhouse and the Astros' farm system.
"He's pitching pretty good, pitching real good," Dusty Baker said of Neris. "He can throw every day. He's a great guy to have on the team. He's really gotten the Latin guys together.
"I just kind of notice how they kinda gravitate toward him, especially the young guys. He's not going to steer them wrong. He's a real Christian guy, but he's a fun-loving guy. And he works hard."
Grateful for those who helped
Much of Neris' Instagram feed is filled with messages about faith, God and family. He's a proud father of two. Neris and his wife Johani have a six-year-old son, Derik, and an 11-month-old daughter, Johani. 
When Neris tells his life story, he credits his uncles, the scout who signed him, all the trainers he's had and his current trainer. He mentions them all by name, making sure not to forget any of them.
Neris is quick to say he has not done this alone. The boy who didn't believe in his baseball skills is now a 32-year-old veteran eager to help others. During his first spring training with the Astros, he took all of the organization's Latin American players out to eat this past March. 
The dinner was more than just about sharing a meal and camaraderie. He answered questions and let the minor leaguers know he would be there if they needed advice. Hector Neris wants to help others in the same way he has been helped along the way.
"Truly, I doubted my talent as a kid," he said. "I didn't see myself being the person I am now. God put people in my path who believed in me and saw my talent. But at the moment I didn't see it. But that's why I say I was dedicated. 
"I saw that I had the talent to get there, and God allowed me to see it.  I've been dedicated and I've maintained myself respecting my profession."
The journey started at gunpoint. Hector Neris took the rest of the steps through his and God's will.
Get the Our Esquina Email Newsletter
By submitting your email, you are agreeing to receive additional communications and exclusive content from Our Esquina. You can unsubscribe at any time.