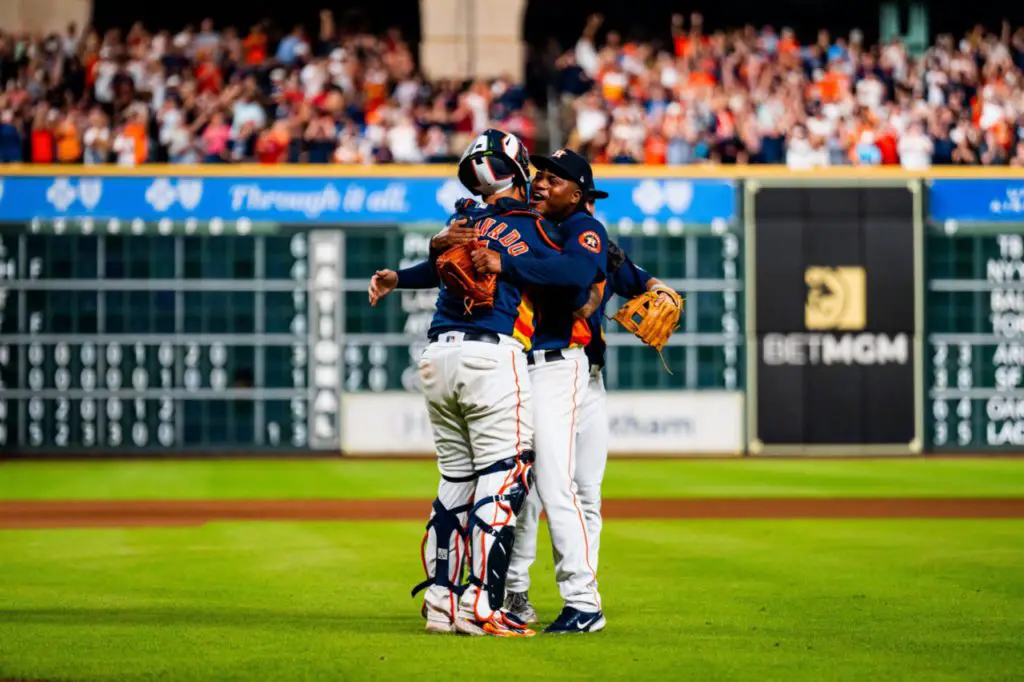 Astros catcher Martin Maldonado calls third no-hitter
Martin Maldonado guides Framber Valdez through no-hitter
HOUSTON – As Framber Valdez warmed up Tuesday night, catcher Martin Maldonado noticed that the Astros ace's bullpen session was better than it had been recently. The lefthander's sinker was better, and his curveball was on point again.
Then, the batterymates delivered a no-hitter against the Cleveland Guardians at Minute Maid Park.
There had been an extra buzz of excitement in the Astros' clubhouse after the club acquired former ace Justin Verlander from the Mets hours before the trade deadline. Yet, Valdez and Maldonado began to focus on the work ahead.
Martin Maldonado and Valdez in sync
Valdez, who made a strong case to start the All-Star Game for the American League last month, had struggled mightily since the Midsummer Classic. It was Maldonado's job to help Valdez get back on track. That's exactly what the veteran Puerto Rican catcher did.
Maldonado called a brilliant game in the Astros' 2-0 victory before a crowd of 33,703. He guided Valdez through a 93-pitch masterpiece for the 16th no-hitter in franchise history and the first in Astros history by a lefthanded starter.
Valdez's no-hitter was also the first complete game no-hitter by a Latino in Astros history.
MORE FROM OUR ESQUINA
Astros ace Framber Valdez no-hits Guardians
Another magical Astros no-hitter in the Bronx
Cristian Javier leads Astros World Series no-hitter
"He started out with a bang," manager Dusty Baker said of Valdez. "He had his breaking ball from the very, very beginning. … You could tell he was on, and he stayed on. A lot of times Framber will start off on and great and then have a rough inning somewhere in between there lately. 
"But today his concentration was at a superior level. Him and Maldy worked great together. He only shook him off a couple of times, I think, if that."
Third big league no-hitter for Maldonado
Valdez and Maldonado were adamant that the Dominican lefty shook off Maldonado no more than twice Tuesday. They were in sync as Maldonado called a major league no-hitter for the third time in his career. 
If you add the seven-inning no-hitter he called for Puerto Rico in the World Baseball Classic in March, Maldonado has called four no-hitters since reaching the majors. Maldonado called the Astros' combined no-hitter against the Yankees at Yankee Stadium on June 25, 2022. He also guided the Astros' combined no-hitter on Aug. 3, 2019.
Maldonado, 36, helped Valdez dominate the Guardians with a heavy dose of sinkers and curveballs. Valdez, who struck out seven and walked one, had posted a 9.00 ERA while giving up 15 runs in 15 innings in his previous three starts since the All-Star break.
"His bullpen was a little better," Maldonado said. "He was focused on the game from the first pitch that he threw.'
As usual, Valdez and Maldonado didn't speak much between innings Tuesday. Maldonado set the game plan before the game, and Valdez executed better than ever.
"Overall," Maldonado said, "I think all the hard work over there, the time I put in on a daily basis on how I call a game or how I put a game plan together, I think it shows."
Get the Our Esquina Email Newsletter
By submitting your email, you are agreeing to receive additional communications and exclusive content from Our Esquina. You can unsubscribe at any time.