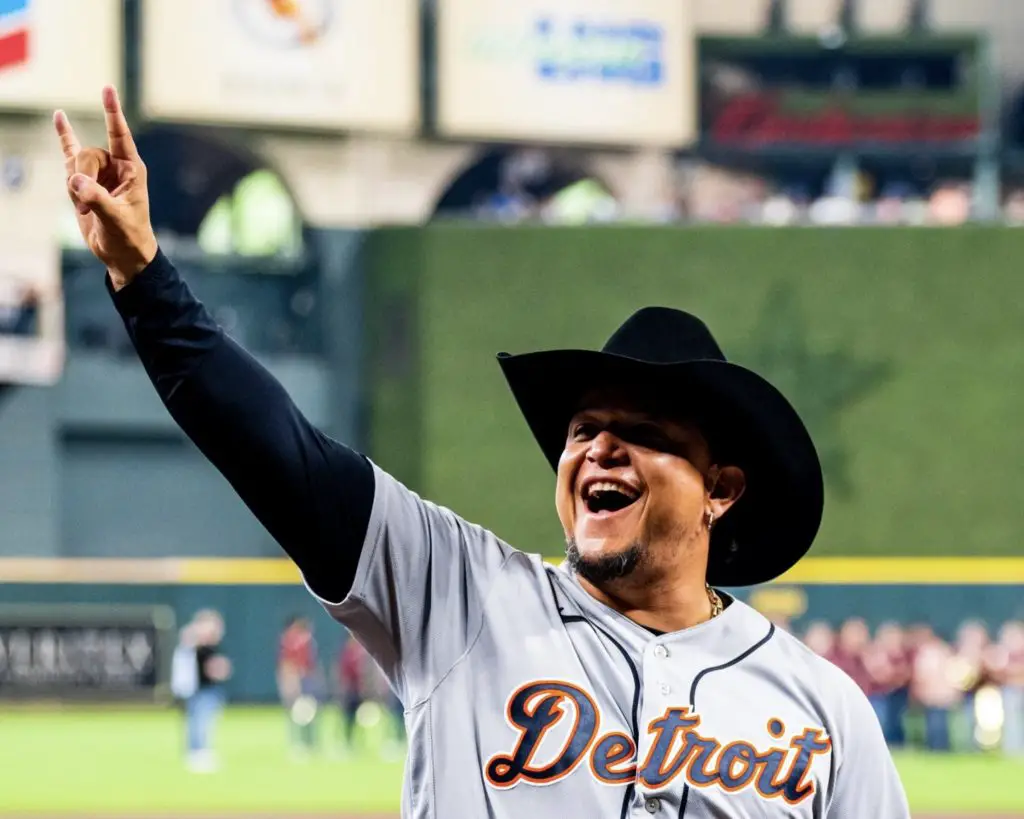 Miguel Cabrera should have his numbers retired
Five Latinos should have their numbers retired
Now that Fernando Valenzuela finally had his No. 34 retired by the Dodgers, we take a look at Miguel Cabrera and next Latinos who should have their numbers retired by their Major League Baseball teams. 
Some appear rather obvious. Others are not so obvious because they're still relatively young. Here are five Latino baseball stars who will likely be the next to have their jersey numbers retires.
Miguel Cabrera, No. 24.
Miguel Cabrera should have his number retired by the Detroit Tigers and perhaps even the Miami Marlins. He spent only five years with the Marlins, but he led them to the 2003 World Series title as a rookie and then earned All-Star berths in his next four seasons with the club. 
The two-time American League MVP has earned eight of his 12 All-Star berths in a Tigers uniform. He earned his four batting titles in Detroit, including the Triple Crown.
MORE FROM OUR ESQUINA:
Miguel Cabrera deserves a legend's sendoff
Albert Pujols puts Dominicans in 700 homer club
Cabrera falls victim to cheapened milestone
Cabrera is one of the all-time greats. His biggest moments outside of the 2003 World Series title were all during his 16 years with the Tigers. He joined the 3,000-hit club, the 500-homer club with the Tigers. 
Albert Pujols, No. 5.
Albert Pujols' career was a tale of two parts. He had his best seasons over his first 11 years with the Cardinals. He earned his three MVP awards and the NL Rookie of the Year Award with St. Louis.
He earned only one of his 11 All-Star berths in 10 seasons in Anaheim, Calif. 
Pujols joined the 3,000-hit and 600-home run clubs with the Angels. Only 1,180 of those hits were with the Angels, though. By comparison, he had 2,156 hits in 12 seasons with the Cardinals. He also collected his 700th homer back in St. Louis in his last season. 
It would be a stretch to say the Angels should retire Pujols' jersey. The Cardinals definitely should, though.
Felix Hernandez, No. 34.
Felix Hernandez was inducted into the Seattle Mariners' Hall of Fame this weekend, but his No. 34 hasn't been retired yet. 
The Mariners have retired only two numbers. Those belong to Hall of Famers Ken Griffey Jr. and Edgar Martinez. Ichiro Suzuki's number will surely be retired after he's inducted into the Hall of Fame, as expected, in his first year of eligibility.
King Felix, a six-time All-Star, won a Cy Young and two ERA titles in 15 seasons with the Mariners. 
Considering that Hall of Famer Randy Johnson's jersey hasn't been retired in Seattle, Hernandez's jersey probably won't be retired anytime soon. If ever.
Jose Altuve, No. 27.
Jose Altuve, 33, is already one of the three greatest players in Astros history. Only Hall of Famers Jeff Bagwell and Craig Biggio can be considered ahead of him as the greatest players in franchise history. Some would say he has surpassed them because of his postseason brilliance and World Series titles.
Altuve has anchored the greatest era in Astros history. He played a key role in their two World Series titles and four AL pennants. Altuve and Bagwell are the only Astros to win a league MVP Award. The three-time batting champ also became the first player in franchise history to win a batting crown.
His eight All-Star berths over his first 11 seasons are the most in franchise history, one more than Biggio had over 20 seasons. He enters the week only seven hits shy of 2,000 for his career. Altuve definitely appears headed for 3,000 as long as he isn't hampered by injury. 
His No. 27 will surely join Bagwell's No. 5, Biggio's No. 7, Jose Cruz's No. 25 and Nolan Ryan's No. 34 among the Astros' retired jerseys. The Astros also retired Jim Umbricht's No. 32, Don Wilson's No. 40, Mike Scott's No. 33, and Larry Dierker's No. 49.
By those standards, Altuve is a lock to have his number retired. 
Nolan Arenado No. 8
Nolan Arenado played only eight seasons with the Rockies, so that might not be enough to have his No. 8 jersey retired in Colorado. Yet, there's definitely a strong case for the Rockies to retire his number.
Arenado won a Gold Glove each of his eight seasons in Colorado. He was also a five-time All-Star with the Rockies. In only his 11th season in the majors, Arenado appears well on his way to earning a place in the National Baseball Hall of Fame.
If he lands in Cooperstown, N.Y., the Rockies might decide to retire his No. 8.
Others to consider: 
Ronald Acuña Jr. is only in his sixth season, but he has already been a four-time All-Star. The 2018 NL Rookie of the Year appears like a lock for the 2023 NL MVP Award. At this pace, the 25-year-old might have his No. 13 retired by the Braves one day.
Manny Machado has been one of the best players in baseball during his career. He's a six-time All-Star and two-time Gold Glove Award winner. Machado spent only seven seasons in Baltimore, so that might not be enough for the Orioles to retire his No. 13. If he stays in San Diego and continues to excel, the Padres might retire his No. 13.
Get the Our Esquina Email Newsletter
By submitting your email, you are agreeing to receive additional communications and exclusive content from Our Esquina. You can unsubscribe at any time.