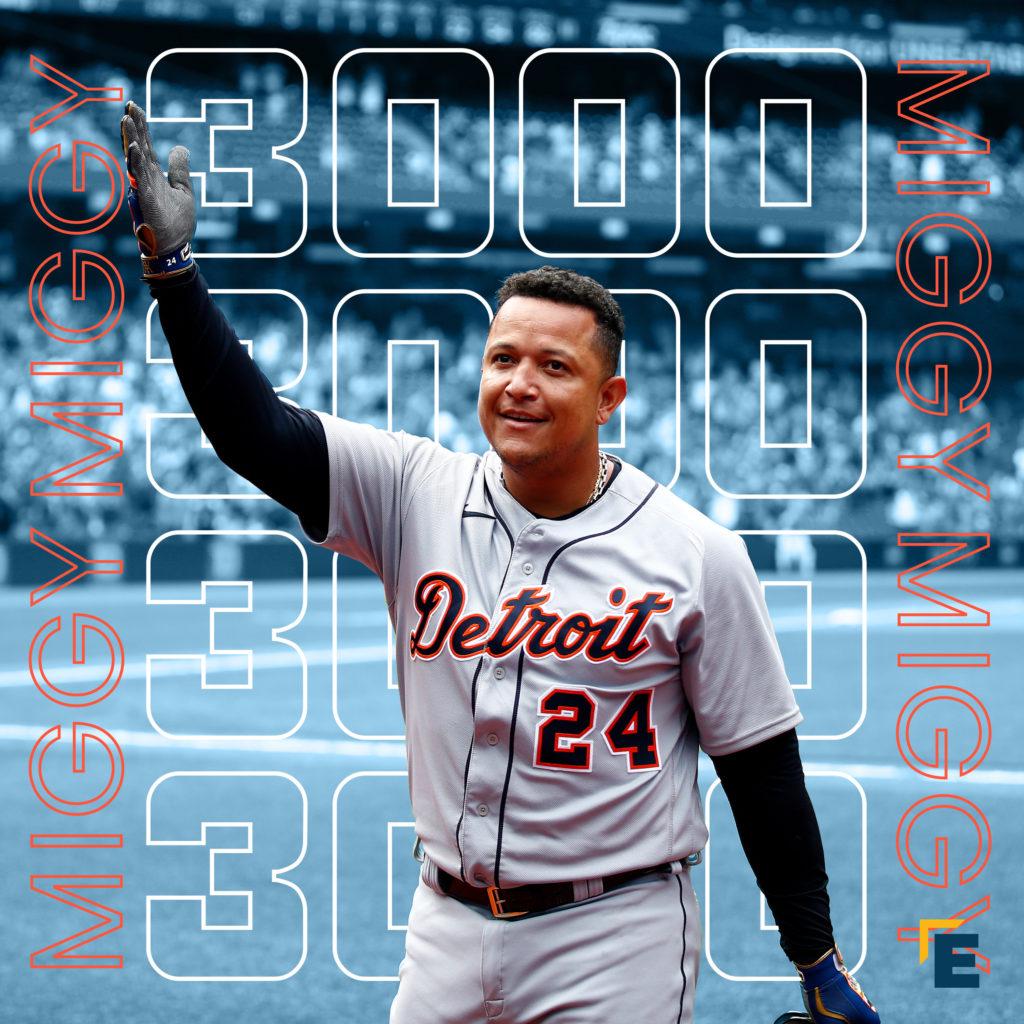 Miguel Cabrera puts Venezuela in 3,000 hit club
Miguel Cabrera becomes first Venezuelan in 3,000 hit club.
Venezuela has now added its own member to Major League Baseball's exclusive 3,000 hit club. Detroit Tigers slugger Miguel Cabrera collected his 3,000th hit today.
Reaching this accomplishment was no easy task for Cabrera, 39, who turned in an 0-3 performance against the New York Yankees on Thursday before being intentionally walked in his fourth plate appearance. Then, Friday's game against the Colorado Rockies was suspended due to inclement weather.
On Saturday, however, the two-time American League MVP was ready. Facing off against Venezuelan paisano Antonio Senzatela, Cabrera slapped a fastball to right field for a single. The crowd erupted as he ran to first base, where he was promptly greeted by fellow Latino and former teammate José Iglesias.
Soon after, the Tigers' entire bench emptied and made its way to the future Hall of Famer. After celebrating with his teammates, Cabrera's family, including his mother, his wife, and two children, embraced him with love.
It was a celebration fit for an all-time great.
The 11-time All-Star from Maracay, Venezuela, became the sixth Latino to join this exclusive club.
Cabrera joined the legendary Roberto Clemente (3,000), Rafael Palmeiro (3,020), Rod Carew (3,053), Alex Rodríguez (3,115), Adrián Beltré (3,166), and Albert Pujols (3,308).
Cabrera became the 33rd member of MLB's 3,000 hit club.
Señor 3,000
Last season, Cabrera sat on 499 home runs for a span of eight games, including a six-game homestand, before finally becoming "Señor 500" in front of a limited crowd in Toronto. Though the celebration was a tad anticlimactic, he felt enough love to warrant a curtain call.
The 20-year veteran is the seventh player in MLB history with at least 3,000 hits and 500 home runs. The other six players are Hank Aaron, Alex Rodriguez, Pujols, Willie Mays, Palmeiro, and Eddie Murray.
Aaron, Mays, and Murray are members of the National Baseball Hall of Fame. Pujols is still an active player with the St. Louis Cardinals. A positive test for performance-enhancement drugs sank Palmeiro's Hall of Fame chances, and PED suspensions hurt Rodriguez's Hall chances in his first year on the ballot this year.
Considering he has not been linked to PEDs, Cabrera's latest milestone practically seals his Hall of Fame case.
Most Accomplished Latino?
Cabrera joins only Aaron and Mays as the only players in history with 3,000 hits, 500 home runs, and a career batting average of at least .300.
It's an important moment for Latinos as Cabrera solidifies himself as arguably the most accomplished Latino player in MLB history. Throughout his career, he has collected two Most Valuable Player awards, seven Silver Sluggers, four batting titles, and a World Series ring.
One of his most impressive accomplishments came in 2012 when he won the Triple Crown. It was the first time a hitter won a triple crown since 1967 when Carl Yastrzemski did it. Cabrera is the only Latino ever to do it.
Only 21 players other players have ever hit for the Triple Crown. That's a more exclusive list than the number of pitchers with a perfect game (23).
Venezolanos should wave their flags up in the air today as Miggy continues making history.
Get the Our Esquina Email Newsletter
By submitting your email, you are agreeing to receive additional communications and exclusive content from Our Esquina. You can unsubscribe at any time.