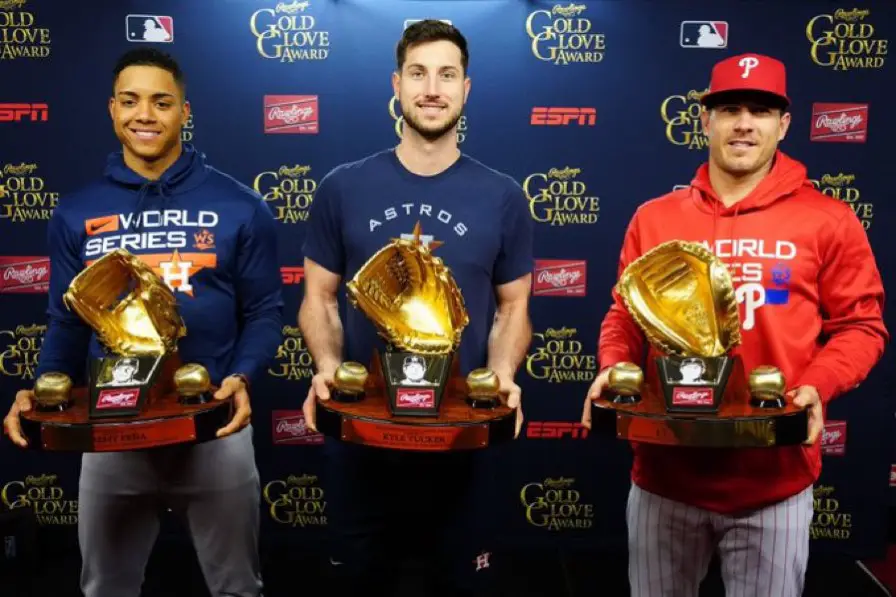 Jeremy Peña, Nolan Arenado make Gold Glove history
Jeremy Peña becomes first rookie shortstop to win a Gold Glove
Astros rookie shortstop Jeremy Peña added another impressive feat to his resume. He became the first rookie shortstop to win a Rawlings Gold Glove for defensive excellence. Cardinals third baseman Nolan Arenado became the first third baseman to win 10 consecutive Gold Gloves to start a career.
Peña was one of two Astros to win their first Gold Gloves. Right fielder Kyle Tucker is the other. Arenado's teammate Brendan Donovan was the first winner of the NL Gold Glove for utility players. 
Peña was surprised to learn he is the first rookie to win a Gold Glove at shortstop.
"So I heard that today, and I was in shock because I didn't know that was a thing," he said. "But it's pretty cool. Pretty cool."
Following Correa
Peña, 25, is the second consecutive Astros shortstop to win a Gold Glove. He follows two-time All-Star Carlos Correa, whose departure via free agency in March handed Peña the starting spot.
"It's a pretty cool moment, for sure," Peña said at Citizens Bank Park before Game 3 of the World Series against the Phillies. "I mean, congratulated by our teammates. … Yeah, we know the focus is the game, so we're going to enjoy this for a little bit and then get ready for the game."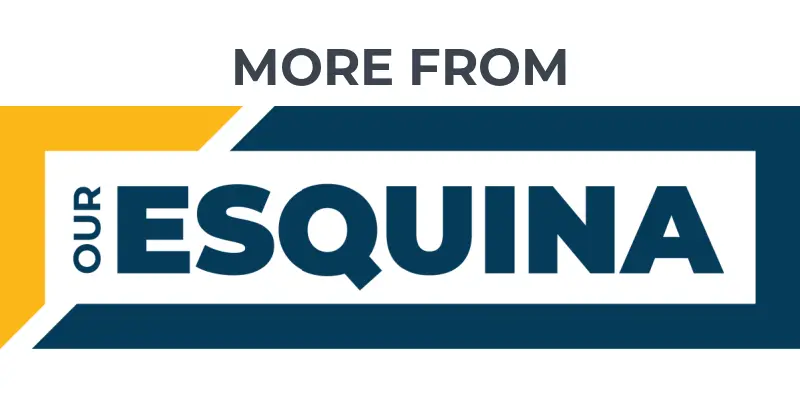 Bryan Abreu appreciates Pedro Martinez's advice
Justin Turner shares Clemente Award with wife Kourtney
Mauricio Dubon makes World Series history
Peña has had a storybook rookie season while making a name for himself. He was the American League Championship Series Most Valuable Player while helping the Astros reach the World Series for the fourth time in six seasons.
Six Latino Gold Glove winners
Peña and Arenado were two of six Latinos to win Gold Gloves. Yankees catcher Jose Trevino, Toronto Blue Jays Vladimir Guerrero Jr., Guardians second baseman Andres Gimenez and Orioles third baseman Ramon Urias were the other Latino Gold Glove winners.
Trevino, a Mexican American, and Arenado, a Cuban American, were born in the United States. Peña and Guerrero Jr. are from the Dominican Republic. Gimenez is from Venezuela. Urias is from Mexico.
Few players could have replaced a superstar fan favorite as well as Peña has since taking over Correa's job. Peña has had a smooth transition in place of the 2015 American League Rookie of the Year. 
Ten in a row for Arenado
Astros manager Dusty Baker praises Peña for an ability to not dwell on mistakes. Baker notes that many young players dwell on a mistake so long they make another mistake or two.
"I was told by José Alguacil, who had him in the Dominican and who was with me at the Giants, and now he's my son's infield coach with Washington, that he was going to be a heck of a player," Baker said. "He helped him improve. I think Joe Espada took it to another level because (Peña) works with Joe and Omar López every day on his defense.
"So that's quite an honor to get a Gold Glove for him and Kyle, but especially for a rookie to be, to get a Gold Glove as a shortstop."
Arenado, 31, has won 10 consecutive Gold Gloves since winning one his rookie season in 2013. Former Seattle Mariners great Ichiro Suzuki is the only other player to win Gold Glove Awards in his first 10 seasons. 
Suzuki won his Gold Gloves in the American League. Arenado is the only National League players to win 10 Gold Gloves in a row to start a career. Hall of Famer Brooks Robinson, who won 16 Gold Gloves, is the only player in history to win more Gold Gloves at third base. Arenado and Hall of Famer Mike Schmidt are tied for the second most Gold Gloves among third basemen. 
Get the Our Esquina Email Newsletter
By submitting your email, you are agreeing to receive additional communications and exclusive content from Our Esquina. You can unsubscribe at any time.