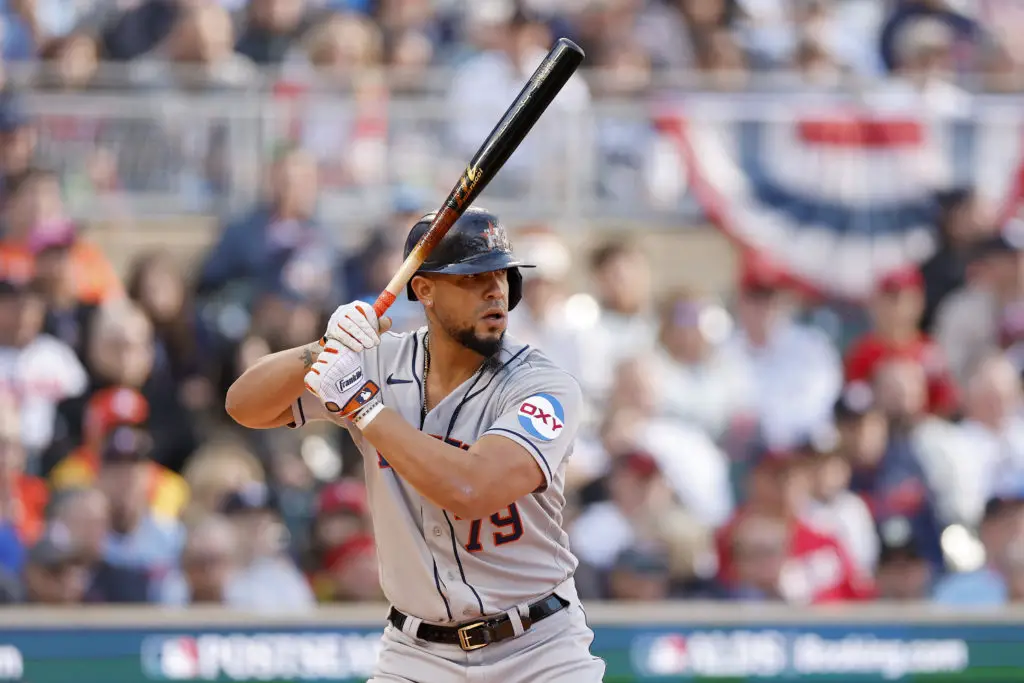 Jose Abreu on stage he envisioned in November
Jose Abreu blasts two homers in Game 3 of Division Series
HOUSTON – The champagne had barely dried in the home clubhouse at Minute Maid Park last November when Hall of Famer Jeff Bagwell traveled to meet Jose Abreu. Joined by Abreu's longtime agent Diego Bentz, they gathered at a private room at Graciano's in Coral Gables, Fla.
Not by accident, they chose an Argentine restaurant. It was a place where two former MVPs could meet without customers and employees recognizing the baseball royalty.
From early afternoon until the evening that day, Bagwell and Jose Abreu spoke for almost four hours. They spoke in the Cuban Abreu's native Spanish and Bagwell's English. Astros bench coach Joe Espada and former assistant GM Bill Firkus were also in attendance. 
On that evening last November, Abreu and Bagwell envisioned a setting like the one in which Abreu shone Tuesday afternoon at Target Field. He wanted the postseason stage, and he capitalized with two homers and five RBIs to help the Astros beat the Twins 9-1 in Game 3 of the Division Series.
In the Astros, Abreu saw a legitimate opportunity to chase a World Series. In Abreu, Bagwell saw a slugger who could help Jim Crane bring a third World Series title to his adopted hometown.
"The setting was very conducive to create a conversation instead of an interview," Bentz said. "It was a conversation between two great baseball figures. The connection between Bagwell and Abreu was natural."
Good fit for Jose Abreu, Astros
It was the first of multiple meetings between the Astros and Abreu. Crane eventually met with Abreu as well. The Astros ultimately signed Abreu to a three-year, $85 million deal.
Abreu, 36, got off to a slow start with his new team. But when the Astros' entered the final series of the season needing to sweep the Arizona Diamondbacks, Abreu drove in the only three runs the Astros scored in a 2-1 victory and a 1-0 victory to enter the final game of the season with a chance to win the American League West pennant.
Abreu led the American League with 28 RBIs in September/October to finish the regular season with 18 homers and 90 RBIs. He hit seven of his home runs in that final stretch.
MORE FROM OUR ESQUINA
Jose Abreu spreads mental health awareness
Jeff Bagwell, Craig Biggio still give back to Astros
Jeff Bagwell hopes Billy Wagner earns Hall nod
"That was the goal since Day 1 to be with a playoff contender, a team contending for a World Series," Abreu said. "I think that I have to give a lot of respect for my agent (Bentz). We found a good team to be in the right spot today."
Abreu had his best performance of the postseason in Game 3 to give the Astros a 2-1 lead in the best-of-five series. He hit a three-run blast to left field in the first inning to give the Astros a 4-0 lead. He added a two-run blast to left in the ninth to cap the scoring against the Twins.
Both blasts were monstrous. The first homer went an estimated 441 feet. The second went 440 feet. 
'Indomitable will'
"Jose lives his life in gratitude, every single moment of every single day, notwithstanding the daily challenges we all face or the trials and tribulations weathered by a player throughout an MLB season," Bentz says. "Since the moment Jose signed with the Astros, he felt the warm embrace of the city of Houston, Astros' fans, Mr. Crane, his teammates, and every person who is a part of the Astros.
"No words can express his level of gratitude that drives his indomitable will. To me, Jose epitomizes the beautiful words from Mahatma Gandhi: 'Strength does not come from physical capacity. It comes from an indomitable will.'"
That may explain why some Astros folks noticed that Abreu attacked his struggles by seemingly trying to work his way out of them. Some in the organization wondered if Abreu was actually working too hard before games in an attempt to get out of his prolonged slump.
Abreu had career lows in batting average (.237), on-base percentage (.297) and slugging percentage (.383) this season. The 18 homers were the second lowest of his career and actually one fewer than the 19 he hit in the COVID-shortened 60-game season in which he won the 2020 AL MVP Award.
Abreu kept working. He believed in himself and delivered in the pennant stretch and Division Series.
Jose Abreu remained confident
"The most important thing is that I knew what I could do," he says. "For as difficult as it was at times, I never stopped. I kept marching forward. At the end of the day, we Latinos are very competitive, independently of a moment. It was a learning experience. 
"I learn. I take the most valuable things, and the most valuable thing was that I always tried. When I was between the two lines I tried to do the best. In the end it went better, thank God. But that's in part because the family was always there, the coaches too."
Jose Abreu appreciates that hitting coach Alex Cintron never stopped insisting that he would have success. Several folks throughout baseball also reached out to Abreu to express their support.
Bagwell wasn't the only Hall of Famer confident that Abreu would break out. David Ortiz called Abreu a few times during the regular season to give Abreu pep talks.
Abreu's new teammates saw the character that Bagwell learned about over a meal at an Argentine restaurant where few knew who they were last November. 
"He's been the same guy every day," Alex Bregman said of Jose Abreu. "A hard worker, great teammate, shows up ready to play, ready to prepare. He's fun to be around. Just an incredible guy, and it's an honor to be able to play with him every single day. To be on this team, I've loved every second of it."
Get the Our Esquina Email Newsletter
By submitting your email, you are agreeing to receive additional communications and exclusive content from Our Esquina. You can unsubscribe at any time.