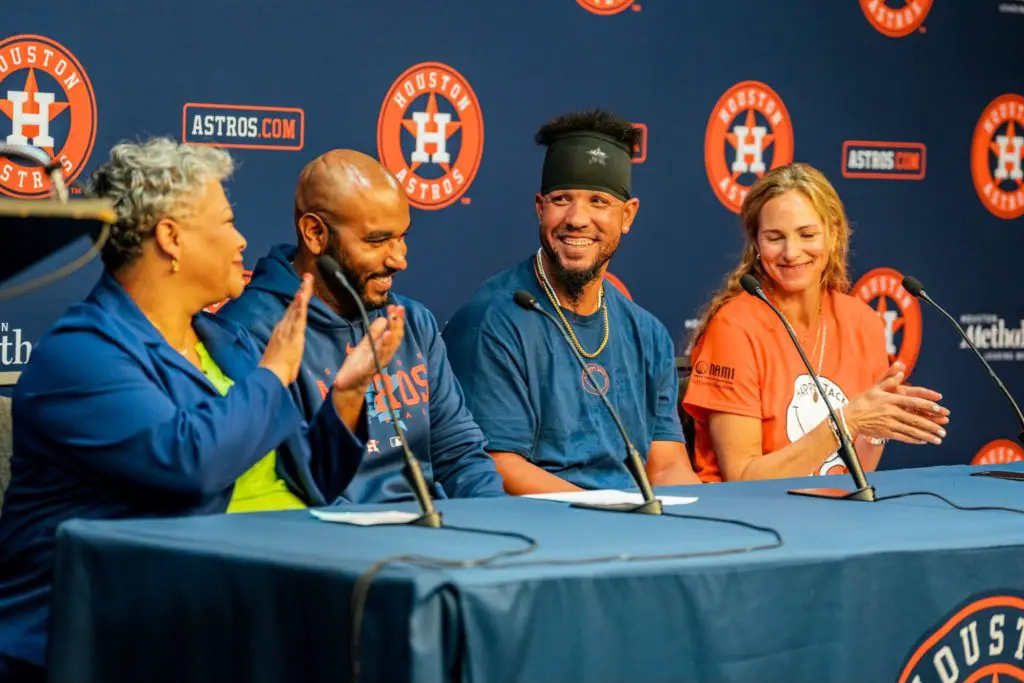 Jose Abreu spreads mental health awareness
Jose Abreu, Astros donate to Happy Jack Foundation.
HOUSTON – Jose Abreu is a man on a mission both on and off the field. Abreu joined the Astros last November to potentially aid them to another World Series championship. What enticed the former American League MVP to sign with Houston was the team's strong camaraderie and family lifestyle. 
Now, the native of Cienfuegos, Cuba, is returning his gratitude throughout the Houston community. Abreu and the Astros Foundation partnered up with the National Alliance on Mental Illness (NAMI) and Happy Jack to provide resources and spread awareness of the importance of mental illness. 
Abreu is no stranger to offering a helping hand. He was the Chicago White Sox's Roberto Clemente Award nominee — which is awarded annually to a player for their distinguished charitable work in their community — from 2016 to 2018 for his work with the Abreu Amigos. 
His initiative with the Abreu Amigos was to give children with autism and other special needs a chance to be seen and valued. 
This year, with the help of the Houston Astros, Abreu continues to display his dedication to making a difference. 
Happy Jack
An emotional Abreu started his press conference by giving thanks and appreciation to all the parties involved who made his charitable project possible, especially to Happy Jack.
Happy Jack was founded by 19-year-old Jack Nathan, who struggled with anxiety and depression. Nathan valued the importance of being open about his struggles in order to demonstrate to others they are not alone in their fight. 
Nathan started the online platform as a tool to provide resources for mental illness. He also sold his artwork, so he could donate to mental illness organizations and raise awareness. 
"When I first learned about Jack and Happy Jack I was impacted," Abreu says. "I just want to thank you from the bottom of my heart. A young man with a singular purpose of letting others know that it is OK to have a crooked smile."
With Abreu's donation to the Happy Jack organization, he has expanded and amplified the tools they offer. Tragically, Nathan passed away at the age of 19. Now, his mother Brady Nathan has devoted time to keep the movement alive. 
"I am filled with gratitude to have all of your support and the fact that you are willing to be a voice for my child who no longer has one means everything, " Brady Nathan said to Abreu. "Not just my son but for all of the kids who perhaps are not brave enough or courageous enough to come forward to talk about how they feel, you are giving them a voice."
Jose Abreu sees this as a personal cause
According to the CDC, suicide is the leading cause of death in the United States. Suicide is responsible for 15% of deaths in children and young adults, who range from the ages of 10-24. In addition, suicide is the second leading cause of death for this age group.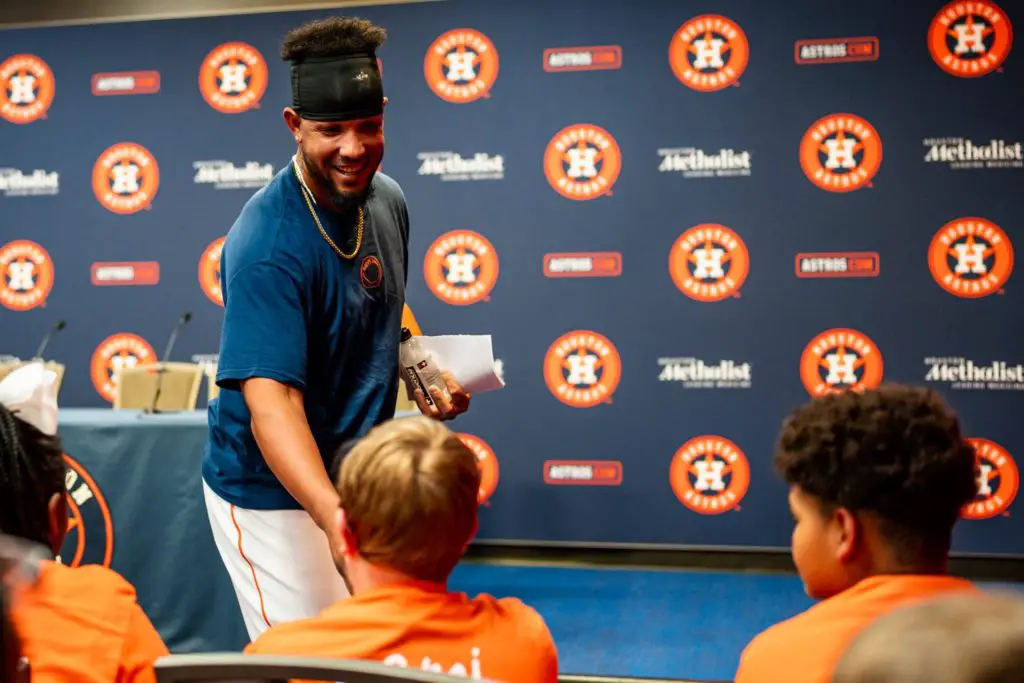 Being a father to two children of his own, this initiative has pushed Jose Abreu to inform Houstonians and others that mental illness is a real thing people go through. His goal and the reason for partnering with these organizations is to decrease the suicide rate and to let young children know they have support and resources to guide them through their mental illness battle. 
"What breaks my heart as a father is seeing that the vast majority of the youth is not OK and is suffering just because they don't understand this," Abreu said. "A lot of the youth are coping with a lot of different things with their mental health – without the tools, without speaking to someone, and also without seeking support. 
"Sadly, today a lot of young people consider suicide to be the solution to mental health; and I think united we can all work towards a solution so in the future that doesn't happen. That is not the solution."
Call 988 for a suicide prevention hotline.
Get the Our Esquina Email Newsletter
By submitting your email, you are agreeing to receive additional communications and exclusive content from Our Esquina. You can unsubscribe at any time.