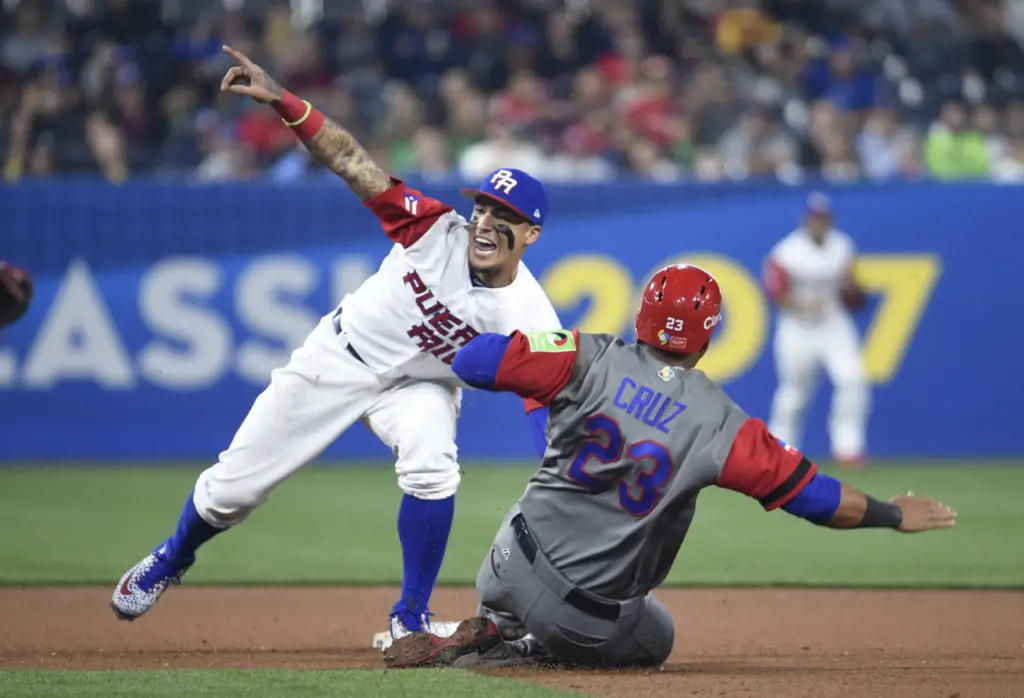 Javy Baez looks fondly back at no-look WBC tag
Javy Baez hopes to inspire next generation of Puerto Rican ballplayers
TAMPA, Fla. – It has been almost six years since Javy Baez pulled off the most memorable play in World Baseball Classic history. Yet, hardly a day goes by without a fan mentioning it to him.
They call Baez El Mago for a reason, and that play was magical indeed. The stakes got a lot higher later in the 2017 WBC for Baez and Puerto Rico, which lost in the championship game against the United States. Yet, the Pool F Game between Caribbean rivals Puerto Rico and the Dominican Republic gave baseball the play of the tournament.
Nelson Cruz, who is now the Dominican Republic's player-general manager, was attempting to steal second base on March 14, 2017. Future Hall of Famer Yadier Molina was behind the plate at San Diego's PETCO Park, and Edwin Diaz was on the mound for Puerto Rico.
No-look magic
As Cruz attempted to steal second, Molina received Diaz's pitch and fired a throw toward second. Cruz was still running toward second when Baez caught Molina's throw, extended his right arm toward Molina to point at him while applying the no-look tag.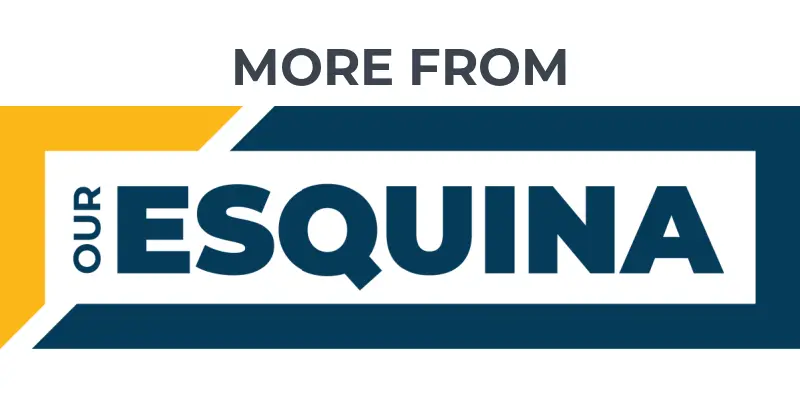 Mexico's Alexa Grasso makes UFC history
Texas A&M's Chris Cortez carries ACE message
About time! MLB pitch clock a success
The crowd at Petco Park erupted with the type of energy usually reserved for home runs or runs batted in. Baez, 30, was already considered one of the best infielders at applying tags by then.
That play, however, was ridiculously impressive even by his standards. It was as audacious as it was spectacular, putting a cocky ending to Molina's perfect throw. Fans loved it. Even Dominicans loved it. Puerto Ricans obviously loved it too.
Baez, who helped the Cubs win the 2016 World Series, has accomplished quite a bit in his nine-year career. He has a World Series ring, a Gold Glove and a Silver Slugger Award. 
The two-time All-Star was also the National League Championship Series MVP in 2016, the year the Cubs broke their 108-year championship drought. One of his plays stands out about all the others, though. It's the play fans have mentioned to him thousands of times.
Javy Baez is reminded often about his no-look tag
"Many times, man," the Detroit Tigers' infielder said in Spanish. "Anytime I go somewhere it's many people's favorite play. They remind me, and they remind me that we're going to the Classic and ask me what I expect in this Classic."
Baez and his Puerto Rican teammates dubbed themselves Team Rubio during the 2017 WBC. Rubio means blond in Spanish. They all dyed their hair blond in 2017, and they're doing it again for the 2023 WBC.
Javy Baez dyed his hair blond before he reported to the Tigers' camp in Lakeland, Fla. 
"Obviously it's an honor to represent my island," he said. "I'm proud of what I've accomplished. I'm looking to have fun in the Classic with all my teammates.
"In reality, I'm looking forward to a lot of fun and a lot of competition. I'll keep learning from the older players who are on our team, and obviously try to win. That's our goal, to take that medal to Puerto Rico."
Tigers manager AJ Hinch saw how much Puerto Rico and its people mean to Baez when he visited Baez on the island.
Proud Boricua
"He's very fired up," Hinch said. "His homeland means so much to him and his family. The fact that he lives there permanently, I had a chance to visit him down there to see exactly what it meant to him.
"When he wears that uniform, it's met with so much pride for him and his family. His ancestry, his teammates, you see a bright smile on his face when he gets a chance to do that."
Baez definitely appreciates the connection between Team Puerto Rico and their fans on the island. He was inspired as a child by the island's great major leaguers. Asked to name his top five favorite Puerto Rican ballplayers, Baez couldn't stop at just five.
El Mago flashed that bright smile and began to name his favorites. He started with Roberto Clemente and Juan Gonzalez, who is affectionately known as Igor. Then he mentioned Carlos Delgado, Molina, Ivan Rodriguez and Benito Santiago. 
"There are many," he says before adding more names. "Jose Vidro, Carlos Baerga. In reality, I've followed them my whole career. Since I was a child I watched them play, and baseball was in my blood. 
"And they were always representing Puerto Rico also. It's something big for Puerto Rico. I was part of that (as a fan) at that time. Now I'm blessed to be like that and have the privilege to give this blessing to our youth to motivate them so they can go far too."
Get the Our Esquina Email Newsletter
By submitting your email, you are agreeing to receive additional communications and exclusive content from Our Esquina. You can unsubscribe at any time.