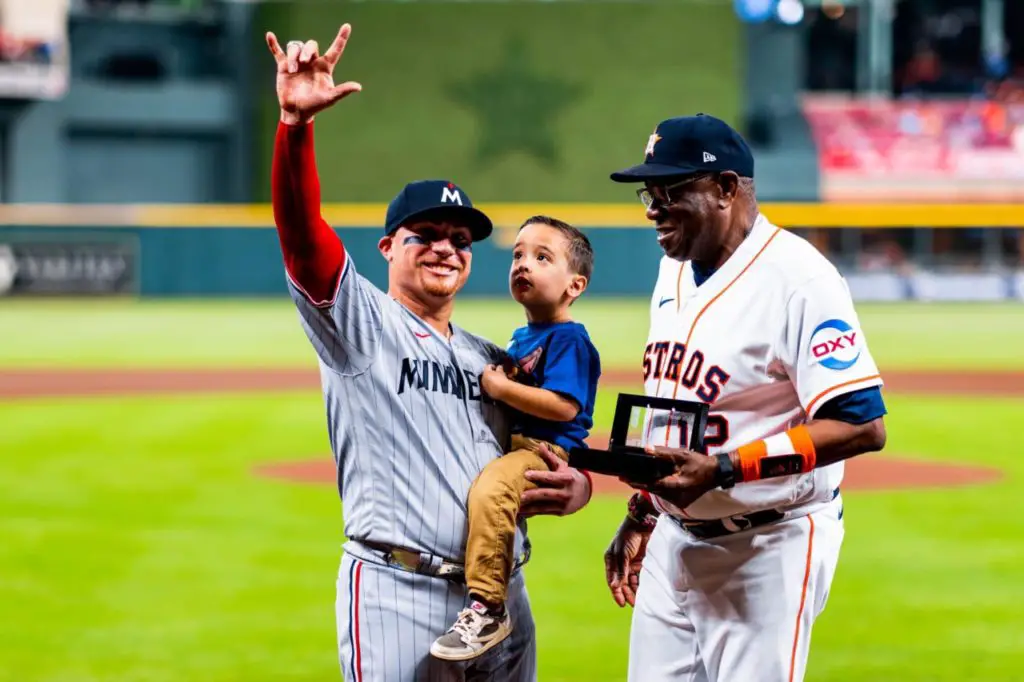 Christian Vazquez receives Astros World Series ring
Christian Vazquez hopes to inspire Twins teammates with championship ring
HOUSTON – By his count, Christian Vazquez has worn the 2018 World Series ring he won with the Boston Red Sox only twice. The Twins' veteran catcher vows to wear that ring and the one he received from the Astros on Tuesday night more often.
Astros manager Dusty Baker presented Vazquez his 2022 World Series championship ring before the second game of the three-game series against the Twins at Minute Maid Park.
"Yeah, it's very special," he said. "It's my second ring on my finger, so I have a family with me here so it means more. It's special. That's a dream for every player in MLB, to win a World Series. 
"I'm very lucky and blessed that this is my second one. I'm going to enjoy it."
Family affair
With his one-year-old son Daniel and wife Gabriela watching from near the on-deck circle, Vazquez carried his three-year-old son Diego to home plate. 
Baker greeted Vazquez with a hug and playfully cupped his hands near his ears and mimicked the "night-night" gesture he made after his RBI in Game 6 of the World Series. 
Then Baker took the ring out of its box and put it on Christian Vazquez's finger as the crowd cheered. Gabriela then carried Daniel to home plate for a family picture with Baker.
"It's fun to be with the kids and the wife," he said. "Now it's going to be special because they're going to be on the field with me appreciating that ring."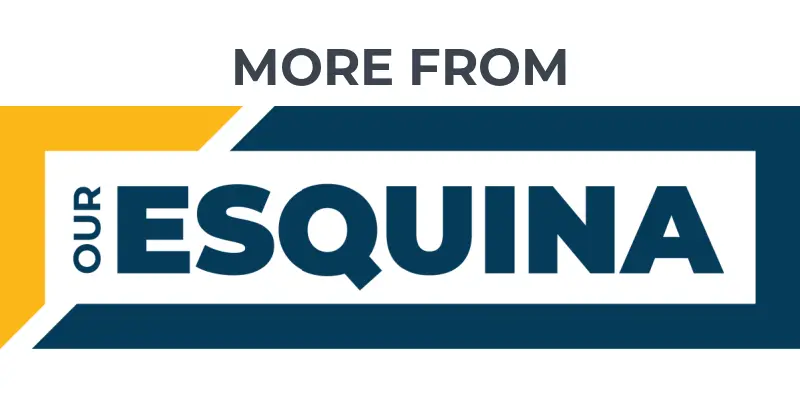 Inspired by Josh Beckett, Jhoan Duran throws gas
Emiliano Grillo wins Charles Schwab Challenge
Healthy again, Matt Corral is ready to compete
Vazquez, 32, tipped his cap to his former Astros teammates before walking into the visitors' dugout, where he was greeted by hugs from his Twins teammates.
The Astros acquired Vazquez last Aug. 2 to back up fellow Puerto Rican catcher Martin Maldonado. He played in 35 games down the stretch, starting 24. Vazquez also appeared in six playoff games, including three in the World Series.
His highlight, of course, was the combined no-hitter he called in Game 4 of the World Series at Citizens Bank Park. The Phillies' potent offense hit five home runs to win Game 3 at home against Lance McCullers Jr. to take a 2-1 lead in the best-of-seven Series. 
Christian Vazquez recalls combined no-hitter
Cristian Javier then threw six no-hit innings in Game 4. Christian Vazquez didn't realize he was calling a no-hitter until he looked at the scoreboard in the top of the seventh inning. 
Bryan Abreu, Rafael Montero and Ryan Pressly followed with an inning apiece to complete the second no-hitter – and first combined – in World Series history.
"Coming back from 2-1 after a lot of homers that they gave to Lance McCullers, it was special," Vazquez said of the no-hitter. "We met like a team and we talked about how we're going to do this. And we did it together.
"I think that's the most beautiful thing I'm going to remember after the combined no-hitter, the special group we have there. It was an amazing group."
Vazquez vowed to encourage his Twins teammates to try on his new World Series ring. 
He hopes the ring helps to motivate the young Twins, who lead the AL Central. Vazquez wants his teammates to know what it feels like to wear a championship ring.
"I think we can do it here and win it all," Christian Vazquez said of the Twins. "That's a little thing to motivate the players. They can see their hands with rings on their fingers. That's very important so they can see that."
Get the Our Esquina Email Newsletter
By submitting your email, you are agreeing to receive additional communications and exclusive content from Our Esquina. You can unsubscribe at any time.